Abstract
The human gut microbiota plays an important role in human health and might also be implicated in kidney disease. The interest in butyrate producing bacteria has recently increased and is a poorly understood faecal condition in chronic kidney disease (CKD). Therefore, we evaluated differences of the butyrate producing species Roseburia spp. and Faecalibacterium prausnitzii in the faeces of Chinese patients with CKD. A case–control study was carried out for 65 CKD patients and 20 healthy controls. Differences were quantitatively validated using quantitative real-time polymerase chain reaction (qPCR). Spearman rank correlation was used to analyse the correlation between gut microbiota and clinical variables. Roseburia spp. and F. prausnitzii were significantly different in CKD patients and controls (p = 0.001; p = 0.025, respectively) and reduced more markedly in end stage renal disease (p = 0.000; p = 0.003, respectively) and microinflammation (p = 0.004; p = 0.001, respectively). Roseburia spp. and F. prausnitzii were negatively associated with C-reactive protein in plasma (r = −0.493, p = 0.00; r = −0.528, p = 0.000; respectively) and Cystatin C (r = −0.321, p = 0.006; r = −0.445, p = 0.000; respectively). They were positively associated with eGFR (r = 0.347, p = 0.002; r = 0.416, p = 0.000; respectively). The negative correlation between Roseburia spp., F. prausnitzii and CRP and renal function suggested that the depletion of butyrate producing bacteria may contribute to CKD-associated inflammation and CKD progression. Roseburia spp. and F. prausnitzii may thus serve as 'microbiomarkers'.
Access options
Buy single article
Instant access to the full article PDF.
US$ 39.95
Tax calculation will be finalised during checkout.
Subscribe to journal
Immediate online access to all issues from 2019. Subscription will auto renew annually.
US$ 119
Tax calculation will be finalised during checkout.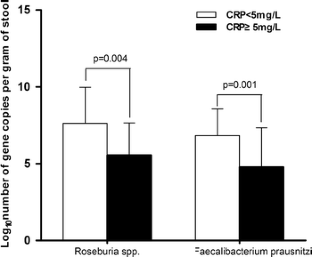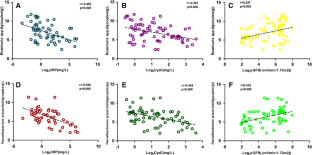 References
Anders HJ, Andersen K, Stecher B (2013) The intestinal microbiota, a leaky gut, and abnormal immunity in kidney disease. Kidney Int 83:1010–1016. doi:10.1038/ki.2012.440

Andrade-Oliveira V et al (2015) Gut bacteria products prevent AKI induced by ischemia-reperfusion. J Am Soc Nephrol JASN 26:1877–1888. doi:10.1681/ASN.2014030288

Cachofeiro V, Goicochea M, de Vinuesa SG, Oubina P, Lahera V, Luno J (2008) Oxidative stress and inflammation, a link between chronic kidney disease and cardiovascular disease. Kidney Int Suppl 74(111):S4–S9. doi:10.1038/ki.2008.516

Cao Y, Shen J, Ran ZH (2014) Association between Faecalibacterium prausnitzii reduction and inflammatory bowel disease: a meta-analysis and systematic review of the literature. Gastroenterol Res Pract 2014:872725. doi:10.1155/2014/872725

Carrero JJ, Stenvinkel P (2009) Persistent inflammation as a catalyst for other risk factors in chronic kidney disease: a hypothesis proposal. Clin J Am Soc Nephrol CJASN 4(Suppl 1):S49–S55. doi:10.2215/CJN.02720409

Cummings JH, Pomare EW, Branch WJ, Naylor CP, Macfarlane GT (1987) Short chain fatty acids in human large intestine, portal, hepatic and venous blood. Gut 28:1221–1227

Furusawa Y et al (2013) Commensal microbe-derived butyrate induces the differentiation of colonic regulatory T cells. Nature 504:446–450. doi:10.1038/nature12721

Hedin CR et al (2014) Altered intestinal microbiota and blood T cell phenotype are shared by patients with Crohn's disease and their unaffected siblings. Gut 63:1578–1586. doi:10.1136/gutjnl-2013-306226

Hendrikx TK et al (2009) End-stage renal failure and regulatory activities of CD4 + CD25bright + FoxP3 + T-cells. Nephrol Dial Transplant 24:1969–1978. doi:10.1093/ndt/gfp005

Herbelin A, Urena P, Nguyen AT, Zingraff J, Descamps-Latscha B (1991) Elevated circulating levels of interleukin-6 in patients with chronic renal failure. Kidney Int 39:954–960

Hida M, Aiba Y, Sawamura S, Suzuki N, Satoh T, Koga Y (1996) Inhibition of the accumulation of uremic toxins in the blood and their precursors in the feces after oral administration of Lebenin, a lactic acid bacteria preparation, to uremic patients undergoing hemodialysis. Nephron 74:349–355

Krishnamurthy VM et al (2012) High dietary fiber intake is associated with decreased inflammation and all-cause mortality in patients with chronic kidney disease. Kidney Int 81:300–306. doi:10.1038/ki.2011.355

Kumari R, Ahuja V, Paul J (2013) Fluctuations in butyrate-producing bacteria in ulcerative colitis patients of North India. World J Gastroenterol WJG 19:3404–3414. doi:10.3748/wjg.v19.i22.3404

Louis P, Flint HJ (2009) Diversity, metabolism and microbial ecology of butyrate-producing bacteria from the human large intestine. FEMS Microbiol Lett 294:1–8. doi:10.1111/j.1574-6968.2009.01514.x

Machiels K et al (2014) A decrease of the butyrate-producing species Roseburia hominis and Faecalibacterium prausnitzii defines dysbiosis in patients with ulcerative colitis. Gut 63:1275–1283. doi:10.1136/gutjnl-2013-304833

Mafra D, Lobo JC, Barros AF, Koppe L, Vaziri ND, Fouque D (2014) Role of altered intestinal microbiota in systemic inflammation and cardiovascular disease in chronic kidney disease. Future Microbiol 9:399–410. doi:10.2217/fmb.13.165

McIntyre CW et al (2011) Circulating endotoxemia: a novel factor in systemic inflammation and cardiovascular disease in chronic kidney disease. Clin J Am Soc Nephrol CJASN 6:133–141. doi:10.2215/CJN.04610510

Nugent RA, Fathima SF, Feigl AB, Chyung D (2011) The burden of chronic kidney disease on developing nations: a 21st century challenge in global health. Nephron Clin Pract 118:c269–c277. doi:10.1159/000321382

Pereira BJ, Shapiro L, King AJ, Falagas ME, Strom JA, Dinarello CA (1994) Plasma levels of IL-1 beta, TNF alpha and their specific inhibitors in undialyzed chronic renal failure, CAPD and hemodialysis patients. Kidney Int 45:890–896

Pryde SE, Duncan SH, Hold GL, Stewart CS, Flint HJ (2002) The microbiology of butyrate formation in the human colon. FEMS Microbiol Lett 217:133–139

Quevrain E et al (2016) Identification of an anti-inflammatory protein from Faecalibacterium prausnitzii, a commensal bacterium deficient in Crohn's disease. Gut 65:415–425. doi:10.1136/gutjnl-2014-307649

Rehman A et al (2016) Geographical patterns of the standing and active human gut microbiome in health and IBD. Gut 65:238–248. doi:10.1136/gutjnl-2014-308341

Rose DJ, DeMeo MT, Keshavarzian A, Hamaker BR (2007) Influence of dietary fiber on inflammatory bowel disease and colon cancer: importance of fermentation pattern. Nutr Rev 65:51–62

Rossi M et al (2014) Protein-bound uremic toxins, inflammation and oxidative stress: a cross-sectional study in stage 3-4 chronic kidney disease. Arch Med Res 45:309–317. doi:10.1016/j.arcmed.2014.04.002

Sabatino A, Regolisti G, Brusasco I, Cabassi A, Morabito S, Fiaccadori E (2015) Alterations of intestinal barrier and microbiota in chronic kidney disease. Nephrol Dial Transplant 30:924–933. doi:10.1093/ndt/gfu287

Shi K, Wang F, Jiang H, Liu H, Wei M, Wang Z, Xie L (2014) Gut bacterial translocation may aggravate microinflammation in hemodialysis patients. Dig Dis Sci 59:2109–2117. doi:10.1007/s10620-014-3202-7

Simenhoff ML, Saukkonen JJ, Burke JF, Wesson LG Jr, Schaedler RW, Gordon SJ (1978) Bacterial populations of the small intestine in uremia. Nephron 22:63–68

Smith PM et al (2013) The microbial metabolites, short-chain fatty acids, regulate colonic Treg cell homeostasis. Science 341:569–573. doi:10.1126/science.1241165

Sokol H et al (2008) Faecalibacterium prausnitzii is an anti-inflammatory commensal bacterium identified by gut microbiota analysis of Crohn disease patients. Proc Natl Acad Sci USA 105:16731–16736. doi:10.1073/pnas.0804812105

Sommer F, Backhed F (2013) The gut microbiota–masters of host development and physiology. Nat Rev Microbiol 11:227–238. doi:10.1038/nrmicro2974

Stevens PE, Levin A (2013) Evaluation and management of chronic kidney disease: synopsis of the kidney disease: improving global outcomes 2012 clinical practice guideline. Ann Intern Med 158:825–830. doi:10.7326/0003-4819-158-11-201306040-00007

Takahashi K et al (2016) Reduced Abundance of Butyrate-Producing Bacteria Species in the Fecal Microbial Community in Crohn's Disease. Digestion 93:59–65. doi:10.1159/000441768

Vaziri ND (2004) Oxidative stress in uremia: nature, mechanisms, and potential consequences. Semin Nephrol 24:469–473

Vaziri ND (2012) CKD impairs barrier function and alters microbial flora of the intestine: a major link to inflammation and uremic toxicity. Curr Opin Nephrol Hypertens 21:587–592. doi:10.1097/MNH.0b013e328358c8d5

Vaziri ND, Pahl MV, Crum A, Norris K (2012) Effect of uremia on structure and function of immune system. J Renal Nutr 22:149–156. doi:10.1053/j.jrn.2011.10.020

Vaziri ND et al (2013) Chronic kidney disease alters intestinal microbial flora. Kidney Int 83:308–315. doi:10.1038/ki.2012.345

Vaziri ND, Zhao YY, Pahl MV (2015) Altered intestinal microbial flora and impaired epithelial barrier structure and function in CKD: the nature, mechanisms, consequences and potential treatment. Nephrol Dial Transplant. doi:10.1093/ndt/gfv095

Wang Z et al (2011) Gut flora metabolism of phosphatidylcholine promotes cardiovascular disease. Nature 472:57–63. doi:10.1038/nature09922

Wang F, Jiang H, Shi K, Ren Y, Zhang P, Cheng S (2012) Gut bacterial translocation is associated with microinflammation in end-stage renal disease patients. Nephrology (Carlton) 17:733–738. doi:10.1111/j.1440-1797.2012.01647.x

Wong J, Piceno YM, Desantis TZ, Pahl M, Andersen GL, Vaziri ND (2014) Expansion of urease- and uricase-containing, indole- and p-cresol-forming and contraction of short-chain fatty acid-producing intestinal microbiota in ESRD. Am J Nephrol 39:230–237. doi:10.1159/000360010

Wu IW et al (2011) p-Cresyl sulphate and indoxyl sulphate predict progression of chronic kidney disease. Nephrol Dial Transplant 26:938–947. doi:10.1093/ndt/gfq580

Zhang L et al (2012) Prevalence of chronic kidney disease in China: a cross-sectional survey. Lancet 379:815–822. doi:10.1016/S0140-6736(12)60033-6
Acknowledgments
This study was supported by "Guangzhou Pilot Project of Clinical and Translational Research Center (early gastrointestinal cancers,No. 7415696196402)" Center, "Guangdong Provincial Bio-engineering Research Center for Gastroenterology Diseases", National Natural Science Foundation of China (NSFC) (8157041627) and The National High Technology Research and Development Program of China (863 Program) (2015AA020701).
Ethics declarations
Ethical approval
The study was reviewed and approved by the Medical Ethics Committee of the Southern Medical University, Guangzhou, China. The study was conducted according to the principles of the Declaration of Helsinki.
Competing interests
The authors declare that they have no competing interests.
Electronic supplementary material
Below is the link to the electronic supplementary material.
About this article
Cite this article
Jiang, S., Xie, S., Lv, D. et al. A reduction in the butyrate producing species Roseburia spp. and Faecalibacterium prausnitzii is associated with chronic kidney disease progression. Antonie van Leeuwenhoek 109, 1389–1396 (2016). https://doi.org/10.1007/s10482-016-0737-y
Received:

Accepted:

Published:

Issue Date:
Keywords
Gut microbiota

Chronic kidney disease

Butyrate

C-reactive protein