Abstract
A Gram-stain positive, facultatively anaerobic, non-motile and rod to coccoid-shaped bacterium, designated XZ17T, was isolated from Namtso Lake of Tibet, China. Strain XZ17T grew optimally at pH 8.0–9.0, at 30–33 °C and in the presence of 0–1.0 % (w/v) NaCl. Phylogenetic analysis based on 16S rRNA gene sequences demonstrated that strain XZ17T belongs to the genus Nocardioides in the family Nocardioidaceae. Strain XZ17T shared pairwise 16S rRNA gene sequence similarities of 97.2, 96.8, 96.5, 96.4 and <96.0 % to Nocardioides solisilvae KCTC 39528T, Nocardioides daejeonensis JCM 16922T, Nocardioides jensenii NCIB 9770T, Nocardioides dubius KCTC 9992T and other Nocardioides species, respectively. It contained MK-8 (H4) as the predominant menaquinone and C17:1 ω8c, C15:0, C17:0 and C18:1 ω9c as the major fatty acid. The strain had cell wall peptidoglycan based on ll-2,6-diaminopimelic acid. The polar lipids of strain XZ17T comprised diphosphatidylglycerol, phosphatidylglycerol, three unidentified phospholipids, three unidentified glycolipids and two unidentified lipids. The DNA G+C content of strain XZ17T was 68.9 mol%. Based on distinctive phenotypic characteristics, phylogenetic analysis and chemotaxonomic data, it can be concluded that strain XZ17T represents a novel species within the genus Nocardioides, for which the name Nocardioides gilvus sp. nov. is proposed. The type strain is strain XZ17T (=KCTC 39561T = MCCC 1H00114T).
Access options
Buy single article
Instant access to the full article PDF.
US$ 39.95
Tax calculation will be finalised during checkout.
Subscribe to journal
Immediate online access to all issues from 2019. Subscription will auto renew annually.
US$ 119
Tax calculation will be finalised during checkout.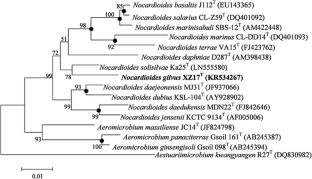 References
Altschul SF, Gish W, Miller W, Myers EW, Lipman DJ (1990) Basic local alignment search tool. J Mol Biol 215:403–410

Bligh EG, Dyer WJ (1959) A rapid method of total lipid extraction and purification. Can J Biochem Physiol 37:911–917

Cho Y, Jang GI, Cho BC (2013) Nocardioides marinquilinus sp. nov., isolated from coastal seawater. Int J Syst Evol Microbiol 63:2594–2599

Collins MD (1985) Isoprenoid quinone analyses in bacterial classification and identification. Society for Applied Bacteriology: Technical, pp 267–287

Du HJ, Wei YZ, Su J, Liu HY, Ma BP, Guo BL, Zhang YQ, Yu LY (2013) Nocardioides perillae sp. nov., isolated from surface-sterilized roots of Perilla frutescens. Int J Syst Evol Microbiol 63:1068–1072

Du ZJ, Wang Y, Dunlap C, Rooney AP, Chen GJ (2014) Draconibacterium orientale gen. nov., sp. nov., isolated from two distinct marine environments, and proposal of Draconibacteriaceae fam. nov. Int J Syst Evol Microbiol 64:1690–1696

Felsenstein J (1981) Evolutionary trees from DNA sequences: a maximum likelihood approach. J Mol Evol 17:368–376

Felsenstein J (1985) Confidence limits on phylogenies: an approach using the bootstrap. Evolution 39:783–791

Fitch WM (1971) Towards defining the course of evolution: minimum change for a specific tree topology. Syst Zool 20:406–416

Han JH, Kim TS, Joung Y, Kim MN, Shin KS, Bae T (2013) Nocardioides endophyticus sp. nov. and Nocardioides conyzicola sp. nov., isolated from herbaceous plant roots. Int J Sys Evol Microbiol 63:4730–4734

Kim KH, Roh SW, Chang HW, Nam YD, Yoon JH, Jeon CO, Oh HM, Bae JW (2009) Nocardioides basaltis sp. nov., isolated from black beach sand. Int J Syst Evol Microbiol 59:42–47

Kim OS, Cho YJ, Lee K, Yoon SH, Kim M, NaH Park SC, Jeon YS, Lee JH, Yi H, Won S, Chun J (2012) Introducing EzTaxon-e: a prokaryotic 16S rRNA gene sequence database with phylotypes that represent uncultured species. Int J Syst Evol Microbiol 62:716–721

Kimura M (1980) A simple method for estimating evolutionary rates of base substitutions through comparative studies of nucleotide sequences. J Mol Evol 16:111–120

Komagata K, Suzuki KI (1988) 4 Lipid and cell-wall analysis in bacterial systematics. Methods Microbiol 19:161–207

Kroppenstedt RM (1982) Separation of bacterial menaquinones by HPLC using reverse phase (RP18) and a silver loaded ion exchanger as stationary phases. J Liq Chromatogr 5:2359–2367

Lane DJ (1991) 16S/23S rRNA sequencing. In: Stackebrandt E, Goodfellow M (eds) Nucleic acid techniques in bacterial systematic. Wiley, Chichester, pp 115–175

Lee DW, Hyun CG, Lee SD (2007) Nocardioides marinisabuli sp. nov., a novel actinobacterium isolated from beach sand. Int J Syst Evol Microbiol 57:2960–2963

Lee DW, Lee SY, Yoon JH, Lee SD (2011) Nocardioides ultimimeridianus sp. nov. and Nocardioides maradonensis sp. nov., isolated from rhizosphere soil. Int J Syst Evol Microbiol 61:1933–1937

Meier-Kolthoff JP, Alexander FA, Klenk HP, G#ker M (2013) Genome sequence-based species delimitation with confidence intervals and improved distance functions. BMC Bioinform 14:60

Mesbah M, Premachandran U, Whitman WB (1989) Precise measurement of the G+C content of deoxyribonucleic acid by high-performance liquid chromatography. Int J Syst Bacteriol 39:159–167

Park SC, Baik KS, Kim MS, Chun J, Seong CN (2008) Nocardioides dokdonensis sp. nov., an actinomycete isolated from sand sediment. Int J Syst Evol Microbiol 58:2619–2623

Prauser H (1976) Nocardioides, a new genus of the order Actinomycetales. Int J Syst Evol Microbiol 26:58–65

Prauser H (1984) Nocardioides luteus spec. nov. Zeitschrift Für Allgemeine Mikrobiologie 24:647–648

Qin S, Yuan B, Zhang YJ, Bian GK, Tamura T, Sun BZ, Li WJ, Jiang JH (2012) Nocardioides panzhihuaensis sp. nov., a novel endophytic actinomycete isolated from medicinal plant Jatropha curcas L. Antonie Van Leeuwenhoek 102:353–360

Saitou N, Nei M (1987) The neighbor-joining method: a new method for reconstructing phylogenetic trees. Mol Biol Evol 4:406–425

Sasser M (1990) Identification of bacteria by gas chromatography of cellular fatty acids. MIDI Inc, Newark

Singh H, Yin CS (2016) Nocardioides flava sp. nov., isolated from rhizosphere of poppy plant, Republic of Korea. Arch Microbiol 198:279–285

Smibert RM, Krieg NR (1994) Phenotypic characterization. In: Gerhardt P, Murray RGE, Wood WA, Krieg NR (eds) Methods for general and molecular bacteriology. American Society for Microbiology, Washington, DC, pp 607–654

Srinivasan S, Lee SS, Lee JJ, Kim MK (2014) Nocardioides soli sp. nov., a bacterium isolated from a mountain soil. Antonie Van Leeuwenhoek 106:271–278

Stackebrandt E, Goebel BM (1994) Place for DNA-DNA Reassociation and 16S rRNA sequence analysis in the present species definition in bacteriology. Int J Syst Bacteriol 44:846–849

Sultanpuram VR, Mothe T, Mohammed F (2015) Nocardioides solisilvae sp. nov., isolated from a forest soil. Antonie Van Leeuwenhoek 107:1599–1606

Tamura K, Stecher G, Peterson D, Filipski A, Kumar S (2013) MEGA6: molecular evolutionary genetics analysis version 6.0. Mol Biol Evol 30:2725–2729

Thompson JD, Gibson TJ, Plewniak F, Jeanmougin F, Higgins DG (1997) The CLUSTAL_X windows interface: flexible strategies for multiple sequence alignment aided by quality analysis tools. Nucleic Acids Res 25:4876–4882

Tindall BJ, Sikorski J, Smibert RM, Kreig NR (2007) Phenotypic characterization and the principles of comparative systematics. In: Reddy CA, Beveridge TJ, Breznak JA, Marzluf G, Schmidt TM, Snyder LR (eds) Methods for general and molecular microbiology, 3rd edn. ASM Press, Washington DC, pp 330–393

Wang FQ, Xie ZH, Zhao JX, Chen GJ, Du ZJ (2015) Mesonia sediminis sp. nov., isolated from a sea cucumber culture pond. Antonie Van Leeuwenhoek 108:1205–1212

Woo SG, Srinivasan S, Yang J, Jung YA, Kim MK, Lee M (2012) Nocardioides daejeonensis sp. nov., a denitrifying bacterium isolated from sludge in a sewage-disposal plant. Int J Syst Evol Microbiol 62:1199–1203

Yoon JH, Rhee SK, Lee JS, Park YH, Lee ST (1997) Nocardioides pyridinolyticus sp. nov., a pyridine-degrading bacterium isolated from the oxic zone of an oil shale column. Int J Syst Bacteriol 47:933–938

Yoon JH, Cho YG, Lee ST, Suzuki KI, Nakase T, Park YH (1999) Nocardioides nitrophenolicus sp. nov., a p-nitrophenol-degrading bacterium. Int J Syst Bacteriol 49:675–680

Yoon JH, Kim IG, Lee MH, Lee CH, Oh TK (2005) Nocardioides alkalitolerans sp. nov., isolated from an alkaline serpentinite soil in Korea. Int J Syst Evol Microbiol 55:809–814
Acknowledgments
This work was supported by the National Natural Science Foundation of China (31370057, 31290231) and 2013 Shandong Provincial Second Group Projects on Resource Platforms for Marine Economic and Innovative Development Regions: Marine Microorganisms Preservation Platform (2150299).
Additional information
The GenBank accession number for the 16S rRNA gene sequence of strain XZ17T is KR534267.
Electronic supplementary material
Below is the link to the electronic supplementary material.
About this article
Cite this article
Zhang, HX., Wang, K., Xu, ZX. et al. Nocardioides gilvus sp. nov., isolated from Namtso Lake. Antonie van Leeuwenhoek 109, 1367–1374 (2016). https://doi.org/10.1007/s10482-016-0735-0
Received:

Accepted:

Published:

Issue Date:
Keywords
Nocardioides gilvus sp. nov.

16S rRNA gene

Namtso Lake