Abstract
A bacterial strain, py1294T, isolated from a root of Paris polyphylla Smith var. yunnanensis collected from Yunnan province, southwest China, was characterised by using a polyphasic approach to clarify its taxonomic position. Strain py1294T was found to be Gram-positive, aerobic, spore-forming, peritrichous flagella and rod shaped. Growth was found to occur in the presence of 0–8 % (w/v) NaCl (optimum 1–3 %), at pH 6.5–9.5 (optimum 8.0) and at 10–42 °C (optimum 30 °C). The major cellular fatty acids were identified as anteiso-C15:0, anteiso-C17:0, iso-C16:0 and iso-C14:0. The predominant quinone was identified as MK-7 and a minor amount of MK-6 was detected. The diagnostic polar lipids were diphosphatidylglycerol, phosphatidylglycerol and phosphatidylethanolamine. The cell wall peptidoglycan was found to contain meso-diaminopimelic acid. Phylogenetic analysis of the 16S rRNA gene sequence showed that strain py1294T forms a well-supported clade with Oceanobacillus damuensis PT-20T (97.9 % sequence similarity) within the genus Oceanobacillus, although it also shares a high sequence similarity with Ornithinibacillus contaminans (97.5 %). Crucially, the DNA–DNA relatedness value between strain py1294T and O. damuensis PT-20T was 29.7 ± 3.2 %. The G+C content was determined to be 42.3 mol%. On the basis of the phylogenetic and phenotypic data, a novel species Oceanobacillus endoradicis sp. nov. is proposed, with py1294T (=DSM 100726T = KCTC 33731T) as the type strain.
Access options
Buy single article
Instant access to the full article PDF.
US$ 39.95
Tax calculation will be finalised during checkout.
Subscribe to journal
Immediate online access to all issues from 2019. Subscription will auto renew annually.
US$ 119
Tax calculation will be finalised during checkout.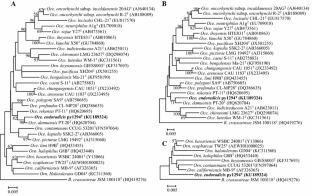 References
Amoozegar MA, Bagheri M, Makhdoumi-Kakhki A, Didari M, Schumann P, Spröer C, Sánchez-Porro C, Ventosa A (2014) Oceanobacillus limi sp. nov., a moderately halophilic bacterium from a salt lake. Int J Syst Evol Microbiol 64:1284–1289

Collins MD, Pirouz T, Goodfellow M, Minnikin DE (1977) Distribution of menaquinones in actinomycetes and corynebacteria. J Gen Microbiol 100:221–230

Ezaki T, Hashimoto Y, Yabuuchi E (1989) Fluorometric deoxyribonucleic acid deoxyribonucleic acid hybridization in microdilution wells as an alternative to membrane filter hybridization in which radioisotopes are used to determine genetic relatedness among bacterial strains. Int J Syst Bacteriol 39:224–229

Felsenstein J (1981) Evolutionary trees from DNA sequences: a maximum likelihood approach. J Mol Evol 17:368–376

Felsenstein J (1985) Confidence limits on phylogenies: an approach using the bootstrap. Evolution 39:783–789

Fitch WM (1971) Toward defining the course of evolution: minimum change for a specific tree topology. Syst Zool 20:406–416

Goris J, Suzuki KI, De Vos P, Nakase T, Kersters K (1998) Evaluation of a microplate DNA:DNA hybridization method compared with the initial renaturation method. Can J Microbiol 44:1148–1153

Gregersen T (1978) Rapid method for distinction of Gram negative from Gram-positive bacteria. Eur J Appl Microbiol Biotechnol 5:123–127

Groth I, Schumann P, Rainey FA, Martin K, Schuetze B, Augsten K (1997) Demetria terragena gen. nov., sp. nov., a new genus of actinomycetes isolated from compost soil. Int J Syst Bacteriol 47:1129–1133

Hasegawa T, Takizawa M, Tanida S (1983) A rapid analysis for chemical grouping of aerobic actinomycetes. J Gen Appl Microbiol 29:319–322

Heyrman J, Logan NA, Busse H-J, Balcaen A, Lebbe L, Rodriguez-Diaz M, Swings J, De Vos P (2003) Virgibacillus carmonensis sp. nov., Virgibacillus necropolis sp. nov. and Virgibacillus picturae sp. nov., three novel species isolated from deteriorated mural paintings, transfer of the species of the genus Salibacillus to Virgibacillus, as Virgibacillus marismortui comb. nov. and Virgibacillus salexigens comb. nov., and emended description of the genus Virgibacillus. Int J Syst Evol Microbiol 53:501–511

Hirota K, Hanaoka Y, Nodasaka Y, Yumoto I (2013) Oceanobacillus polygoni sp. nov., a facultatively alkaliphile isolated from indigo fermentation fluid. Int J Syst Evol Microbiol 63:3307–3312

Kim Y-G, Choi DH, Hyun S, Cho BC (2007) Oceanobacillus profundus sp. nov., isolated from a deep-sea sediment core. Int J Syst Evol Microbiol 57:409–413

Kim O-S, Cho Y-J, Lee K, Yoon S-H, Kim M, Na H, Park S-C, Jeon YS, Lee J-H, Yi H, Won S, Chun J (2012) Introducing EzTaxon-e: a prokaryotic 16S rRNA gene sequence database with phylotypes that represent uncultured species. Int J Syst Evol Microbiol 62:716–721

Kim W, Siamphan C, Kim J-H, Sukhoom A (2015) Oceanobacillus arenosus sp. nov., a moderate halophilic bacterium isolated from marine sand. Int J Syst Evol Microbiol 65:2943–2948

Kimura M (1980) A simple method for estimating evolutionary rates of base substitutions through comparative studies of nucleotide sequences. J Mol Evol 16:111–120

Lee J-S, Lim J-M, Lee KC, Lee J-C, Park Y-H, Kim C-J (2006) Virgibacillus koreensis sp. nov., a novel bacterium from a salt field, and transfer of Virgibacillus picturae to the genus Oceanobacillus as Oceanobacillus picturae comb. nov. with emended descriptions. Int J Syst Evol Microbiol 56:251–257

Li W-J, Xu P, Schumann P, Zhang Y-Q, Pukall R, Xu L-H, Stackebrandt E, Jiang C-L (2007) Georgenia ruanii sp. nov., a novel actinobacterium isolated from forest soil in Yunnan (China) and emended description of the genus Georgenia. Int J Syst Evol Microbiol 57:1424–1428

Long X, Ye R, Zhang S, Liu B, Zhang Y, Zeng Z, Tian Y (2015) Oceanobacillus damuensis sp. nov. and Oceanobacillus rekensis sp. nov., isolated from saline alkali soil samples. Antonie Van Leeuwenhoek 108:731–739

Lu J, Nogi Y, Takami H (2001) Oceanobacillus iheyensis gen. nov., sp. nov., a deep-sea extremely halotolerant and alkaliphilic species isolated from a depth of 1050 m on the Iheya Ridge. FEMS Microbiol Lett 205:291–297

Marmur J (1961) A procedure for the isolation of deoxyribonucleic acid from microorganisms. J Mol Biol 3:208–218

Mayr R, Busse HJ, Worliczek HL, Ehling-Schulz M, Scherer S (2006) Ornithinibacillus gen. nov., with the species Ornithinibacillus bavariensis sp. nov., and Ornithinibacillus californiensis sp. nov. Int J Syst Evol Microbiol 56:1383–1389

Mesbah M, Premachandran U, Whitman WB (1989) Precise measurement of the G+C content of deoxyribonucleic acid by high-performance liquid chromatography. Int J Syst Bacteriol 39:159–167

Minnikin DE, O'Donnell AG, Goodfellow M, Alderson G, Athalye M, Schaal A, Parlett JH (1984) An integrated procedure for the extraction of bacterial isoprenoid quinones and polar lipids. J Microbiol Methods 2:233–241

Namwong S, Tanasupawat S, Lee KC, Lee J-S (2009) Oceanobacillus kapialis sp. nov., from fermented shrimp paste in Thailand. Int J Syst Evol Microbiol 59:2254–2259

Saitou N, Nei M (1987) The neighbor-joining method: a new method for reconstructing phylogenetic tree. Mol Biol Evol 4:406–425

Sasser M (1990) Identification of bacteria by gas chromatography of cellular fatty acids. MIDI technical note 101. MIDI Inc, Newark

Smibert RM, Krieg NR (1994) Phenotypic characterization. In: Gerhardt P, Murray RGE, Wood WA, Krieg NR (eds) Methods for general and molecular bacteriology. American Society for Microbiology, Washington, pp 607–654

Strobel G, Daisy B (2003) Bioprospecting for microbial endophytes and their natural products. Microbiol Mol Biol Rev 67:491–502

Strobel G, Daisy B, Castillo U, Harper J (2004) Natural products from endophytic microorganisms. J Nat Prod 67:257–268

Tamura K, Stecher G, Peterson D, Filipski A, Kumar S (2013) MEGA6: molecular evolutionary genetics analysis version 6.0. Mol Biol Evol 30:2725–2729

Tang S-K, Wang Y, Guan T-W, Lee J-C, Kim C-J, Li W-J (2010) Amycolatopsis halophila sp. nov., a halophilic actinomycete isolated from a salt lake. Int J Syst Evol Microbiol 60:1073–1078

Thompson JD, Gibson TJ, Plewniak F, Jeanmougin F, Higgins DG (1997) The CLUSTAL_X windows interface: flexible strategies for multiple sequence alignment aided by quality analysis tools. Nucleic Acids Res 25:4876–4882

Waller GR, Yamasaki K (1996) Saponins used in traditional and modern medicine. Plenum Press, NewYork

Wayne LG, Brenner DJ, Colwell RR, Grimont PAD, Kandler O, Krichevsky MI, Moore LH, Moore WEC, Murray RGE et al (1987) International Committee on Systematic Bacteriology. Report of the ad hoc committee on reconciliation ofapproaches to bacterial systematics. Int J Syst Bacteriol 37:463–464

Wu M, Yang G, Yu Z, Zhuang L, Jin Y, Zhou S (2014) Oceanobacillus luteolus sp. nov., isolated from soil. Int J Syst Evol Microbiol 64:1495–1500

Yongchang O, Xiang W, Wang G (2015) Oceanobacillus bengalensis sp. nov., a bacterium isolated from seawater of the Bay of Bengal. Antonie Van Leeuwenhoek 108:1189–1196

Yu H, Zhang L, Li L, Zheng C, Guo L, Li W, Sun P, Qin L (2010) Recent developments and future prospects of antimicrobial metabolites produced by endophytes. Mycrobiol Res 165:437–449

Yumoto I, Hirota K, Nodasaka Y, Nakajima K (2005) Oceanobacillus oncorhynchi sp. nov., a halotolerant obligate alkaliphile isolated from the skin of a rainbow trout (Oncorhynchus mykiss), and emended description of the genus Oceanobacillus. Int J Syst Evol Microbiol 55:1521–1524

Zhang X-J, Tang L-L, Wang Y-D (2007) Isolation and screening of steroidal saponins-producing enophytic fungi, actinomycete from paris polyphylla var. chinensis Franch. Prog Mod Biomed 7:358–360 (in Chinese)

Zhou L, Yang C, Li J, Wang S, Wu J (2003) Heptasaccharide and octasaccharide isolated from Paris polyphylla var. yunnanensis and their plant growth-regulatory activity. Plant Sci 165:571–575
Acknowledgments
This research was supported by the National Natural Science Foundation of China (Grant Numbers: 31500007 and 31560309), and the opening project of the State Key Laboratory of Microbial Resources, Institute of Microbiology, Chinese Academy of Sciences (Grant Number: SKLMR-20140601). We are grateful to Dr. Yongqiang Tian of Sichuan University for providing the type strain of O. damuensis PT-20T.
Electronic supplementary material
Below is the link to the electronic supplementary material.
About this article
Cite this article
Yang, LL., Tang, SK., Chu, X. et al. Oceanobacillus endoradicis sp. nov., an endophytic bacterial species isolated from the root of Paris polyphylla Smith var. yunnanensis . Antonie van Leeuwenhoek 109, 957–964 (2016). https://doi.org/10.1007/s10482-016-0695-4
Received:

Accepted:

Published:

Issue Date:
Keywords
Oceanobacillus endoradicis sp. nov.

Polyphasic taxonomy

Paris polyphylla Smith var. yunnanensis

Endophytes