Abstract
A marine bacterium, designated strain N39T, was isolated from a sediment sample collected at a sea cucumber culture pond in Weihai, China. Cells of strain N39T were observed to be Gram-stain negative, facultatively anaerobic, motile rods showing catalase and oxidase negative reactions. Strain N39T was found to grow optimally at pH 8.0–8.5, 35–37 °C and in the presence of approximately 3.0 % (w/v) NaCl. Phylogenetic analysis based on 16S rRNA gene sequences indicated that strain N39T belongs to the genus Kordiimonas in the family Kordiimonadaceae, appearing closely related to Kordiimonas lacus JCM 16261T (95.9 %), Kordiimonas aquimaris MEBiC06554T (95.1 %), Kordiimonas gwangyangensis JCM 12864T (94.2 %) and Kordiimonas aestuarii 101-1T (93.8 %). Ubiquinone 10 (Q-10) was found to be the major respiratory quinone. The dominant cellular fatty acids were identified as iso-C17:1 ω9c, iso-C17:0, iso-C15:0 and C17:1 ω6c. The predominant polar lipids were found to be phosphatidylglycerol, phosphatidylethanolamine and diphosphatidylglycerol. The DNA G + C content of strain N39T is 50.8 %. On the basis of genotypic, chemotaxonomic and phenotypic data, strain N39T is concluded to represent a novel species within the genus Kordiimonas, for which the name Kordiimonas sediminis sp. nov. is proposed. The type strain is N39T (=KCTC 42590T = MCCC 1H00112T).
Access options
Buy single article
Instant access to the full article PDF.
USD 39.95
Price includes VAT (USA)
Tax calculation will be finalised during checkout.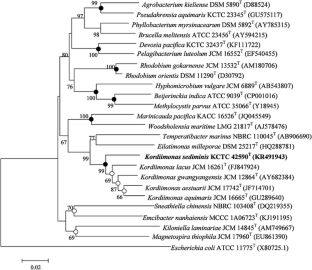 References
Altschul SF, Gish W, Miller W, Myers EW, Lipman DJ (1990) Basic local alignment search tool. J Mol Biol 215:403–410

Bligh EG, Dyer WJ (1959) A rapid method of total lipid extraction and purification. Can J Biochem Physiol 37:911–917

Dong XZ, Cai MY (2001) Determination of biochemical properties. Manual for the systematic identification of general bacteria. Science Press, Beijing, pp 370–398

Felsenstein J (1981) Evolutionary trees from DNA sequences: a maximum likelihood approach. J Mol Evol 17:368–376

Felsenstein J (1985) Confidence limits on phylogenies: an approach using the bootstrap. Evolution 39:783–791

Fitch WM (1971) Towards defining the course of evolution: minimum change for a specific tree topology. Syst Biol 20:406–416

Kim OS, Cho YJ, Lee K, Yoon SH, Kim M, NaH Park SC, Jeon YS, Lee JH, Yi H, Won S, Chun J (2012) Introducing EzTaxon-e: a prokaryotic 16S rRNA gene sequence database with phylotypes that represent uncultured species. Int J Syst Evol Microbiol 62:716–721

Kimura M (1980) A simple method for estimating evolutionary rates of base substitutions through comparative studies of nucleotide sequences. J Mol Evol 16:111–120

Kroppenstedt RM (1982) Separation of bacterial menaquinones by HPLC using reverse phase (RP18) and a silver loaded ion exchanger as stationary phases. J Liq Chromatogr 5:2359–2367

Kwon KK, Lee HS, Yang SH, Kim SJ (2005) Kordiimonas gwangyangensis gen. nov., sp. nov., a marine bacterium isolated from marine sediments that forms a distinct phyletic lineage (Kordiimonadales ord. nov.) in the 'Alphaproteobacteria'. Int J Syst Evol Microbiol 55:2033–2037

Liu QQ, Wang Y, Li J, Du ZJ, Chen GJ (2014) Saccharicrinis carchari sp. nov., isolated from a shark, and emended descriptions of the genus Saccharicrinis and Saccharicrinis fermentans. Int J Syst Evol Microbiol 64:2204–2209

Math RK, Jeong SH, Jin HM, Park MS, Kim JM, Jeon CO (2012) Kordiimonas aestuarii sp. nov., a marine bacterium isolated from a tidal flat. Int J Syst Evol Microbiol 62:3049–3054

Minnikin DE, O'Donnell AG, Goodfellow M, Alderson G, Athalye M, Schaal A, Parlett JH (1984) An integrated procedure for the extraction of bacterial isoprenoid quinines and polar lipids. J Microbiol Methods 2:233–241

Saitou N, Nei M (1987) The neighbor-joining method: a new method for reconstructing phylogenetic trees. Mol Biol Evol 4:406–425

Smibert RM, Krieg NR (1994) Phenotypic characterization. In: Gerhardt P, Murray RGE, Wood WA, Krieg NR (eds) Methods for general and molecular bacteriology. American Society for Microbiology, Washington, DC, pp 607–654

Stackebrandt E, Goebel BM (1994) Taxonomic note: a place for DNA-DNA reassociation and 16S rRNA sequence analysis in the present species definition in bacteriology. Int J Syst Bacteriol 44:846–849

Stanbridge TN, Preston NW (1969) The motility of some clostridium species. J Gen Microbiol 55(1):29–36

Tamura K, Stecher G, Peterson D, Filipski A, Kumar S (2013) MEGA6: molecular evolutionary genetics analysis version 6.0. Mol Biol Evol 30:2725–2729

Thompson JD, Gibson TJ, Plewniak F, Jeanmougin F, Higgins DG (1997) The CLUSTAL_X windows interface: flexible strategies for multiple sequence alignment aided by quality analysis tools. Nucleic Acids Res 25:4876–4882

Tindall BJ, Sikorski J, Smibert RM, Kreig NR (2007) Phenotypic characterization and the principles of comparative systematics. In: Reddy CA, Beveridge TJ, Breznak JA, Marzluf G, Schmidt TM, Snyder LR (eds) Methods for general and molecular microbiology, 3rd edn. ASM Press, Washington DC, pp 330–393

Xu XW, Huo YY, Bai XD, Wang CS, Oren A, Li SY, Wu M (2011) Kordiimonas lacus sp. nov., isolated from a ballast water tank, and emended description of the genus Kordiimonas. Int J Syst Evol Microbiol 61:422–426

Yang SH, Kim MR, Seo HS, Lee SH, Lee JH, Kim SJ, Kwon KK et al (2013) Description of Kordiimonas aquimaris sp. nov., isolated from seawater, and emended descriptions of the genus Kordiimonas Kwon et al. 2005 emend. Xu et al. 2011 and of its existing species. Int J Syst Evol Microbiol 63:298–302
Acknowledgments
This work was supported by the National Natural Science Foundation of China (31370057, 31290231), National Science and Technology Major Project of China (2016ZX10004217) and the 2013 Shandong Provincial Second Group Projects on Resource Platforms for Marine Economic and Innovative Development Regions: Marine Microorganisms Preservation Platform (2150299).
Additional information
The GenBank accession number for the 16S rRNA gene sequence of Kordiimonas sediminis N39T is KR491943. Four supplementary figures and one supplementary table are available with the online version of this paper.
Electronic supplementary material
Below is the link to the electronic supplementary material.
About this article
Cite this article
Zhang, HX., Zhao, JX., Chen, GJ. et al. Kordiimonas sediminis sp. nov., isolated from a sea cucumber culture pond. Antonie van Leeuwenhoek 109, 705–711 (2016). https://doi.org/10.1007/s10482-016-0671-z
Received:

Accepted:

Published:

Issue Date:
Keywords
Kordiimonas sediminis sp. nov.

16S rRNA gene

Polyphasic taxonomy

Sea cucumber culture pond