Abstract
A novel actinomycete strain F-240,109T from the MEDINA collection was isolated from a soil sample collected in the forest of Pama, on the plateau of Bangui, Central African Republic. The strain was identified according to its 16S rRNA gene sequence as a new member of the genus Kibdelosporangium, being closely related to Kibdelosporangium aridum subsp. aridum (98.6 % sequence similarity), Kibledosporangium phytohabitans (98.3 %), Kibdelosporangium aridum subsp. largum (97.7 %), Kibdelosporangium philippinense (97.6 %) and Kibledosporangium lantanae (96.9 %). In order to resolve its precise taxonomic status, the strain was characterised through a polyphasic approach. The strain is a Gram-stain positive, aerobic, non-motile and catalase-positive actinomycete characterised by formation of extensively branched substrate mycelia and sparse brownish grey aerial mycelia with sporangium-like globular structures. The chemotaxonomic characterisation of strain F-240,109T corroborated its affiliation into the genus Kibdelosporangium. The peptidoglycan contains meso-diaminopimelic acid; the major menaquinone is MK-9(H4); the phospholipid profile contains high amounts of phosphatidylethanolamine, hydroxyphosphatidylethanolamine, diphosphatidylglycerol and an unidentified phospholipid; and the predominant cellular fatty acid methyl esters are iso-C16:0, iso-C14:0, iso-C15:0 and 2OH iso-C16:0. However, some key phenotypic differences regarding to its close relatives and DNA–DNA hybridization values indicate that strain F-240,109T represents a novel Kibdelosporangium species, for which the name Kibdelosporangium banguiense sp. nov. is proposed. The type strain is strain F-240,109T (=DSM 46670T, =LMG 28181T).
Access options
Buy single article
Instant access to the full article PDF.
US$ 39.95
Tax calculation will be finalised during checkout.
Subscribe to journal
Immediate online access to all issues from 2019. Subscription will auto renew annually.
US$ 119
Tax calculation will be finalised during checkout.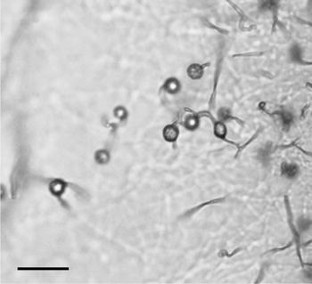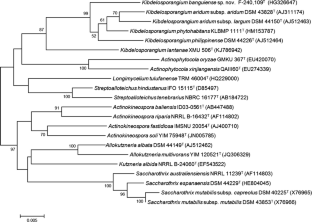 References
Bligh EG, Dyer WJ (1959) A rapid method of total lipid extraction and purification. Can J Biochem Physiol 37:911–917

Busti E, Monciardini P, Cavaletti L, Bamonte R, Lazzarini A, Sosio M, Donadio S (2006) Antibiotic-producing ability by representatives of a newly discovered lineage of actinomycetes. Microbiology 152:675–683

Darriba D, Taboada GL, Doallo R, Posada D (2012) jModelTest 2: more models, new heuristics and parallel computing. Nat Methods 9:772

Genilloud O (2014) The re-emerging role of microbial natural products in antibiotic discovery. Antonie Van Leeuwenhoek 106:173–188

Gordon RE, Barnett DA, Handerhan JE, Pang CH-N (1974) Nocardia coeliaca, Nocardia autotrophica, and the nocardin strains. Int J Syst Bacteriol 24:54–63

Hayakawa M, Iino H, Takeuchi S, Yamazaki T (1997) Application of a method incorporating treatment with chloramine-T for the selective isolation of Streptosporangiaceae from soil. J Ferment Bioeng 84:599–602

Hunter-Cervera JC, Fonda ME, Belt A (1986) Isolation of cultures. In: Demain AL, Solomon NA (eds) Manual of Industrial microbiology and biotechnology. American Society for Microbiology, Washington, DC, pp 3–23

Kämpfer P, Kroppenstedt RM (1996) Numerical analysis of fatty acid patterns of coryneform bacteria and related taxa. Can J Microbiol 42:989–1005

Kim OS, Cho YJ, Lee K, Yoon SH, Kim M, Na H, Park SC, Jeon YS, Lee JH, Yi H, Won S, Chun J (2012) Introducing EzTaxon-e: a prokaryotic 16S rRNA Gene sequence database with phylotypes that represent uncultured species. Int J Syst Evol Microbiol 62:716–721

Kim M, Oh HS, Park SC, Chun J (2014) Towards a taxonomic coherence between average nucleotide identity and 16S rRNA gene sequence similarity for species demarcation of prokaryotes. Int J Syst Evol Microbiol 64:346–351

Kornerup A, Wanscher JH (1978) Methuen handbook of colour. Eyre Methuen, London

Labeda DP, Kroppenstedt RM (2008) Proposal for the new genus Allokutzneria gen. nov. within the suborder Pseudonocardineae and transfer of Kibdelosporangium albatum Tomita et al. 1993 as Allokutzneria albata comb. nov. Int J Syst Evol Microbiol 58:1472–1475

Lazzarini A, Cavaletti L, Toppo G, Marinelli F (2001) Rare genera of actinomycetes as potential producers of new antibiotics. Antonie Van Leeuwenhoek 78:399–405

Lechevalier MP, De Bie'vre C, Lechevalier HA (1977) Chemotaxonomy of aerobic actinomycetes: phospholipid composition. Biochem Syst Ecol 5:249–260

Lechevalier MP, Lechevalier HA (1970) Chemical composition as a criterion in the classification of aerobic actinomycetes. Int J Syst Bacteriol 20:435–443

Li D, Huang Y, Song S, Xue C, Yingying W, Xianming D (2015) Kibdelosporangium lantanae sp. nov., isolated from the rhizosphere soil of an ornamental plant, Lantana camara L. Int J Syst Evol Microbiol 65:2581–2585

Marcone GL, Carrano L, Marinelli F, Beltrametti F (2010) Protoplast preparation and reversion to the normal filamentous growth in antibiotic-producing uncommon actinomycetes. J Antibiot 63:83–88

Mertz FP, Yao RC (1988) Kibdelosporangium philippinense sp. nov. isolated from soil. Int J Syst Bacteriol 38:282–286

Pascual J, Macián MC, Arahal DR, Garay E, Pujalte MJ (2010) Multilocus sequence analysis of the central clade of the genus Vibrio by using the 16S rRNA, recA, pyrH, rpoD, gyrB, rctB and toxR genes. Int J Syst Evol Microbiol 60:154–165

Phillips JW, Goetz MA, Smith SK et al (2011) Discovery of kibdelomycin, a potent new class of bacterial type II topoisomerase inhibitor by chemical-genetic profiling in Staphylococcus aureus. Chem Biol 18:955–965

Pruesse E, Peplies J, Glöckner FO (2012) SINA: accurate high-throughput multiple sequence alignment of ribosomal RNA genes. Bioinformatics 28:1823–1829

Ratnayake R, Lacey E, Tennant S, Gill JH, Capon RJ (2007) Kibdelones: novel anticancer polyketides from a rare Australian actinomycete. Chemistry 13:1610–1619

Rhuland LE, Work E, Denman RF, Hoare DS (1955) The behaviour of the isomers of 2,6-diaminopimelic acid on paper chromatograms. J Am Chem Soc 77:4844–4846

Sasser M (1990) Identification of bacteria by gas chromatography of cellular fatty acids, MIDI Technical Note 101. MIDI Inc, Newark

Schumann P (2011) Peptidoglycan structure. Methods Microbiol 38:101–129

Shearer MC, Actor P, Bowie BA, Grappel SF, Nash CH, Newman DJ, Oh YK, Pan CH, Nisbet LJ (1985) Aridicins, novel glycopeptide antibiotics. I. Taxonomy, production and biological activity. J Antibiot 38:555–560

Shearer MC, Colrnan PM, Ferrin RM, Nisbet LJ, Nash CH III (1986a) New genus of the Actinomycetales: Kibdelosporangium aridum gen. nov., sp. nov. Int J Syst Bacteriol 36:47–54

Shearer MC, Giovenella AJ, Grappel SF, Hedde RD, Mehta RJ, Oh YK, Pan CH, Pitkin DH, Nisbet LJ (1986b) Kibdelins, novel glycopeptide antibiotics. I. Discovery, production and biological evaluation. J Antibiot 39:1386–1394

Shirling EB, Gottlieb D (1966) Methods for characterization of Streptomyces species. Int J Syst Bacteriol 16:313–340

Staneck JL, Roberts GD (1974) Simplified approach to identification of aerobic actinomycetes by thin-layer chromatography. Appl Microbiol 28:226–231

Swofford DL (2002) PAUP*. Phylogenetic Analysis Using Parsimony (*and other methods). Version 4.0b10. Sinauer Associates, Sunderland

Tindall BJ (1990a) A comparative study of the lipid composition of Halobacterium saccharovorum from various sources. Syst Appl Microbiol 13:128–130

Tindall BJ (1990b) Lipid composition of Halobacterium lacusprofundi. FEMS Microbiol Letts 66:199–202

Tindall BJ, Sikorski J, Smibert RM, Kreig NR (2007) Phenotypic characterization and the principles of comparative systematics. In: Reddy CA, Beveridge TJ, Breznak JA, Marzluf G, Schmidt TM, Snyder LR (eds) Methods for general and molecular microbiology, 3rd edn. ASM Press, Washington DC, pp 330–393

Tiwari K, Gupta RK (2012) Rare actinomycetes: a potential storehouse for novel antibiotics. Crit Rev Biotechnol 32:108–132

Tomita K, Hoshino Y, Miyaki T (1993) Kibdelosporangium albatum sp. nov., producer of the antiviral antibiotics cycloviracins. Int J Syst Bacteriol 43:297–301

Tsunakawa M, Komiyama N, Tenmyo O, Tomita K, Kawano K, Kotake C, Konishi M, Oki T (1992) New antiviral antibiotics, cycloviracins B1 and B2. I. Production, isolation, physico-chemical properties and biological activity. J Antibiot 45:1467–1471

Urdiain M, López-López A, Gonzalo C, Büsse HJ, Langer S, Kämpfer P, Rosselló-Mora R (2008) Reclassification of Rhodobium marinum and Rhodobium pfennigii as Afifella marina gen. nov. comb. nov. and Afifella pfennigii comb. nov., a new genus of photoheterotrophic Alphaproteobacteria and emended descriptions of Rhodobium, Rhodobium orientis and Rhodobium gokarnense. Syst Appl Microbiol 31:339–351

Waksman SA (1967) The actinomycetes. A summary of current knowledge. Ronald Press, New York

Wayne LG, Brenner DJ, Colwell RR, Grimont PAD, Kandler O, Krichevsky MI, Moore LH, Moore WC, Murray RGE et al (1987) Report of the ad hoc committee on reconciliation of approaches to bacterial systematics. Int J Syst Bacteriol 37:463–464

Whiton RS, Lau P, Morgan SL, Gilbart J, Fox A (1985) Modifications in the alditol acetate method for analysis of muramic acid and other neutral and amino sugars by capillary gas chromatography-mass spectrometry with selected ion monitoring. J Chromatogr 347:109–120

Xing K, Bian GK, Qin S, Klenk HP, Yuan B, Zhang YJ, Li WJ, Jiang JH (2012) Kibdelosporangium phytohabitans sp. nov., a novel endophytic actinomycete isolated from oil-seed plant Jatropha curcas L. containing 1-aminocyclopropane-1-carboxylic acid deaminase. Antonie Van Leeuwenhoek 101:433–441

Xu P, Li WJ, Tang SK, Zhang YQ, Chen GZ, Chen HH, Xu LH, Jiang CL (2005) Naxibacter alkalitolerans gen. nov., sp. nov., a novel member of the family Oxalobacteraceae isolated from China. Int J Syst Evol Microbiol 55:1149–1153
Acknowledgments
This research was supported by the Non-Oriented Basic Research Program of the Spanish Ministry of Economy (Project SAF2010-15010). The authors thank Professor Dr. Bernhard Schink for his advice on the nomenclature of Kibdelosporangium banguiense sp. nov.
Electronic supplementary material
Below is the link to the electronic supplementary material.
About this article
Cite this article
Pascual, J., González, I., Estévez, M. et al. Description of Kibdelosporangium banguiense sp. nov., a novel actinomycete isolated from soil of the forest of Pama, on the plateau of Bangui, Central African Republic. Antonie van Leeuwenhoek 109, 685–695 (2016). https://doi.org/10.1007/s10482-016-0669-6
Received:

Accepted:

Published:

Issue Date:
Keywords
Kibdelosporangium banguiense sp. nov.

Polyphasic taxonomy

16S rRNA

Actinomycetes

Pseudonocardiaceae