Abstract
Four Gram-stain positive bacterial strains, designated as 4R1T, 4R9, 4L13 and 4L18, isolated from seeds of hybrid maize (Zea mays L., Jingke 968), were investigated using a polyphasic taxonomic approach. The cells were found to be facultatively aerobic, motile, spore-forming and rod-shaped. Phylogenetic analysis based on 16S rRNA gene sequences showed that the isolates should be recognised as a species of the genus Paenibacillus, with two close neighbours being Paenibacillus nicotianae YIM h-19T (98.41 % similarity) and Paenibacillus hordei RH-N24T (98.37 %). The DNA G+C content of strain 4R1T was determined to be 51.6 mol %. Its polar lipid profile was found to consist of diphosphatidylglycerol, phosphatidylglycerol, phosphatidylethanolamine and an unidentified lipid. The predominant respiratory quinone was identified as MK-7 and the major fatty acids were found to be anteiso-C15:0, anteiso-C12:0, anteiso-C13:0 and anteiso-C11:0. Strains 4R1T, 4R9, 4L13 and 4L18 were clearly distinguished from the reference type strains using phylogenetic analysis, DNA–DNA hybridization and a range of physiological and biochemical characteristics. It is evident from the genotypic and phenotypic data that strains 4R1T, 4R9, 4L13 and 4L18 represent a novel species of the genus Paenibacillus, for which the name Paenibacillus chinensis sp. nov. is proposed. The type strain is 4R1T (=KCTC 33672T = CICC 23864T).
Access options
Buy single article
Instant access to the full article PDF.
US$ 39.95
Tax calculation will be finalised during checkout.
Subscribe to journal
Immediate online access to all issues from 2019. Subscription will auto renew annually.
US$ 119
Tax calculation will be finalised during checkout.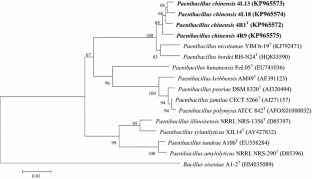 References
Ash C, Priest FG, Collins MD (1993) Molecular identification of rRNA group 3 bacilli (Ash, Farrow, Wallbanks and Collins) using a PCR probe test. Proposal for the creation of a new genus Paenibacillus. Antonie Van Leeuwenhoek 64:253–260

Chung YR, Kim CH, Hwang I, Chun J (2000) Paenibacillus koreensis sp.nov., a new species that produces an iturin-like antifungal compound. Int J Syst Evol Microbiol 50:1495–1500

Doetsch RN (1981) Determinative methods of light microscopy. In: Gerdhardt P, Murray RGE, Costilow RN, Nester EW, Wood WA, Krieg NR, Phillips GB (eds) Manual of methods for general bacteriology. American Society for Microbiology, Washington, DC, pp 21–33

Eck RV, Dayhoff MO (1966) Atlas of protein sequence and structure. National Biomedical Research Foundation, Silver Springs, Maryland

Ezaki T, Hashimoto Y, Yabuuchi E (1989) Fluorometric deoxyribonucleic acid-deoxyribonucleic acid hybridization in microdilution wells as an alternative to membrane filter hybridizationin which radioisotopes are used to determine genetic relatedness among bacterial strains. Int J Syst Bacteriol 39:224–229

Felsenstein J (1981) Evolutionary trees from DNA sequences: a maximum likelihood approach. J Mol Evol 17:368–376

Felsenstein J (1985) Confidence limits on phylogenies: an approach using the bootstrap. Evolution 39:783–791

Fitch WM (1972) Toward defining the course of evolution: minimum change for a specific tree topology. Syst Zool 20:406–416

Gerhardt P, Murray RGE, Wood WA, Krieg NR (eds) (1994) Methods for general and molecular bacteriology. American Society for Microbiology, Washington, DC

Kim JM, Lee SH, Lee SH, Choi EJ, Jeon CO (2013) Paenibacillus hordei sp. nov., isolated from naked harley in Korea. Antonie Van Leeuwenhoek 103:3–9

Kimura M (1983) The neutral theory of molecular evolution. Cambridge University Press, Cambridge

Komagata K, Suzuki K (1987) Lipid and cell-wall analysis in bacterial systematics. Methods Microbiol 19:161–207

Lane DJ (1991) 16S/23S rRNA sequencing. In: Stackerandt E, Goodfellow M (eds) Nucleic acid techniques in bacterial systematic. John Willey and Sons Ltd, Chichester, England, pp 115–175

Liu Y, Liu L, Qiu FB, Schumann P, Shi Y, Zou YY, Zhang XX, Song W (2010) Paenibacillus hunanensis sp. nov., isolated from rice seeds. Int J Syst Evol Microbiol 60:1266–1270

Marmur J (1961) A procedure for the isolation of DNA from micro-organism. J Mol Biol 3:208–218

Mesbah M, Premachandran U, Whitman WB (1989) Precise measurement of the G+C content of deoxyribonucleic acid by high-performance liquid chromatography. Int J Syst Bacteriol 39:159–167

Priest FG (1977) Extracellular enzyme synthesis in the genus Bacillus. Bacteriol Rev 41:711–753

Qiu FB, Huang Y, Sun L, Zhang XX, Liu ZH, Song W (2007) Leifsonia ginsengi sp. nov., isolated from ginseng root. Int J Syst Evol Microbiol 57:405–408

Saitou N, Nei M (1987) The neighbor-joining method: a new method for reconstruction phylogenetic trees. Mol Biol Evol 4:406–425

Schleifer KH (1985) Analysis of the chemical composition and primary structure of murein. Methods Microbiol 18:123–156

Schleifer KH, Kandler O (1972) Peptidoglycan types of bacterial cell walls and their taxonomic implications. Bacteriol Rev 36:407–477

Slepecky R, Hemphill E (1992) The genus Bacillus-nonmedical. In: Balows A, Truper HG, Dworkin M, Harder W, Schleifer KH (eds) The prokaryotes. Springer-Verlag, New York, pp 1663–1696

Smibert RM, Kreg NR (1994) Phenotypic characterization. In: Gerhardt P, Murray RGE, Wood WA, Krieg NR (eds) Methods for general and molecular bacteriology. American Society for Microbiology, Washington, DC, pp 607–654

Tamura K, Peterson D, Peterson N, Stecher G, Nei M, Kumar S (2011) MEGA5: molecular evolutionary genetics analysis using maximum likelihood, evolutionary distance, and maximum parsimony methods. Mol Biol Evol 28:2731–2739

Tang QY, Yang N, Wang J, Xie YQ, Ren B, Zhou YG, Gu MY, Mao J, Li WJ, Shi YH, Zhang LX (2011) Paenibacillus algorifonticola sp.nov., isolated from a cold spring. Int J Syst Evol Microbiol 61:2167–2172

Thompson JD, Gison TJ, Plewniak F, Jeanmougin F, Higgins DG (1997) The CLUSTAL X windows interface: flexible strategies for multiple sequence alignment aided by quality analysis tools. Nucleic Acids Res 25:4876–4882

Wayne LG, Brenner DJ, Colwell RR, Grimont PAD, Kandler O, Krichevsky MI, Moore LH, Moore WEC, Murray RGE (1987) International committee on systematic bacteriology. Report of the ad hoc committee on reconciliation of approaches to bacterial systematics. Int J Syst Bacteriol 37:463–464

Weon-Taek S, Kahng GG, Nam SH, Choi SD, Suh HH, Kim SW, Park YH (1999) Isolation and characterization of a novel exopolysaccharide-producing Paenibacillus sp. WN9 KCTC 8951P. J Microbiol Biotechnol 9:820–825

Xiang WW, Wang GJ, Wang YT, Yao R, Zhang FJ, Wang R, Wang D, Zheng SX (2014) Paenibacillus selenii sp. nov., isolated from selenium mineral soil. Int J Syst Evol Microbiol 64:2662–2667

Yao R, Wang R, Wang D, Su J, Zheng SX, Wang GJ (2014) Paenibacillus selenitireducens sp.nov., a selenite-reducing bacterium isolated from a selenium mineral soil. Int J Syst Evol Microbiol 64:805–811
Acknowledgments
This work was supported by the Beijing nova program (No. Z141105001814095), the Beijing nova interdisciplinary cooperational program (No. Z1511000003150150), the National Natural Science Foundation of China (No. 31300008), the Chinese Postdoctoral Science Foundation (No. 2015M570969), the fund of National Infrastructure of Microbial Resources (No. NIMR2015-4), and the Scientific and Technological Development Project of China, National Research Institute of Food and Fermentation Industries (No. 2012KJFZ-BS-01).
Additional information
Yang Liu and Ran Zhao have contributed equally to this work.
Electronic supplementary material
Below is the link to the electronic supplementary material.
About this article
Cite this article
Liu, Y., Zhao, R., Wang, R. et al. Paenibacillus chinensis sp. nov., isolated from maize (Zea mays L.) seeds. Antonie van Leeuwenhoek 109, 207–213 (2016). https://doi.org/10.1007/s10482-015-0622-0
Received:

Accepted:

Published:

Issue Date:
Keywords
Paenibacillus chinensis sp. nov.

Maize

16S rRNA gene

Polyphasic taxonomy