Abstract
A Gram-stain negative, non-motile, non-spore forming, aerobic and rod or narrow lemon-shaped bacterial strain, VSW210T, was isolated from surface seawater in a shallow water hydrothermal vent region in Espalamaca (Azores). Strain VSW210T was found to grow optimally at 30 °C, at pH 7 and in the presence of 2–6 % (w/v) NaCl. A neighbour-joining phylogenetic tree based on 16S rRNA gene sequences revealed that strain VSW210T clusters with the type strain Citreicella marina CK-I3-6T (sequence similarity value of 99.6 %), but DNA–DNA hybridization showed DNA–DNA relatedness between the strain VSW210T and C. marina CK-I3-6T to be 55.8 ± 3.2 %. The DNA G+C content of strain VSW210T was determined to be 67.4 mol%. The cellular fatty acid profiles of strain VSW210T was found to contain C18:1 ω7c (80.1 %) and C16:0 (9.2 %). The major polar lipids in strain VSW210T were identified as phosphatidylcholine, phosphatidylethanolamine, phosphatidylglycerol, diphosphatidylglycerol and an unidentified phospholipid. Strain VSW210T was found to be able to oxidize soluble Mn(II) to insoluble MnO2, which was confirmed with LBB staining. Differential phenotypic properties and genetic uniqueness revealed that this strain VSW210T is distinguishable from other species of the genus Citreicella. On the basis of the data presented, strain VSW210T is considered to represent a novel species of the genus Citreicella, for which the name Citreicella manganoxidans sp. nov. is proposed. The type strain is VSW210T (=KCTC 32497T = MCC 2286T).
Access options
Buy single article
Instant access to the full article PDF.
US$ 39.95
Tax calculation will be finalised during checkout.
Subscribe to journal
Immediate online access to all issues from 2019. Subscription will auto renew annually.
US$ 119
Tax calculation will be finalised during checkout.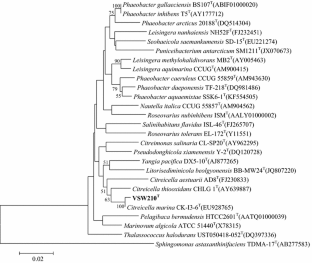 References
Adams LF, Ghiorse WC (1987) Characterization of an extracellular Mn2+-oxidizing activity and isolation of Mn2+-oxidizing protein from Leptothrix discophora SS-1. J Bacteriol 169:1279–1285

Brouwers GJ, Vijgenboom E, Corstjens PLAM, de Vrind JPM, de Vrind-de Jong EW (2000) Bacterial Mn2+ oxidizing systems and multicopper oxidases: an overview of mechanisms and functions. Geomicrobiol J 17:1–24

Collee JG, Fraser AG, Marmion BP, Simmons A (2008) Mackie and McCartney practical medical microbiology, 14th edn. Elsevier Private Limited, India

Collins MD, Goodfellow M, Minnikin DE (1980) Fatty acid, isoprenoid quinone and polar lipid composition in the classification of Curtobacterium and related taxa. J Gen Microbiol 118:29–37

De Ley J, Cattoir H, Reynaerts A (1970) The quantitative measurement of DNA hybridization from renaturation rates. Eur J Biochem 12:133–142

Farmer JJ, Hickman-Brenner FW (2006) The genera Vibrio and Photobacterium. In: Dworkin M, Falkow S, Rosenberg E, Schleifer KH, Stackebrandt E (eds) The prokaryotes, a handbook on the biology of bacteria, 3rd edn. Springer, New York, pp 508–563

Felsenstein J (1981) Evolutionary trees from DNA sequences: a maximum likelihood approach. J Mol Evol 17:368–376

Felsenstein J (1985) Confidence limits on phylogenies: an approach using the bootstrap. Evolution 39:783–789

Fitch WM (1971) Toward defining the course of evolution: minimum change for a specific tree topology. Syst Zool 20:406–416

Francis CA, Co EM, Tebo BM (2001) Enzymatic manganese(II) oxidation by a marine α-proteobacterium. Appl Environ Microbiol 67:4024–4029

Gillis M, De Ley J, De Cleene M (1970) The determination of molecular weight of bacterial genome DNA from renaturation rates. Eur J Biochem 12:143–153

Kim OS, Cho YJ, Lee K, Yoon SH, Kim M, Na H, Park SC, Jeon YS, Lee JH, Yi H, Won S, Chun J (2012) Introducing EzTaxon-e: a prokaryotic 16S rRNA Gene sequence database with phylotypes that represent uncultured species. Int J Syst Evol Microbiol 62:716–721

Krumbein WE, Altman HJ (1973) A new method for the detection and enumeration of manganese-oxidizing and -reducing microorganisms. Helgol Wiss Meeresunters 25:347–356

Lai Q, Fu Y, Wang J, Chen S, Zhong H, Sun F, Shao Z (2011) Citreicella marina sp. nov., isolated from deep-sea sediment. Int J Syst Evol Microbiol 61:728–731

Lane DJ (1991) 16S/23S rRNA sequencing. In: Stackebrandt E, Goodfellow M (eds) Nucleic acid techniques in bacterial systematic. John Wiley and Sons Inc, New York, pp 115–175

Loveland-Curtze J, Miteva VI, Brenchley JE (2011) Evaluation of a new fluorimetric DNA–DNA hybridization method. Can J Microbiol 57:250–255

Marmur J (1961) A procedure for isolation of deoxyribonucleic acid from micro-organisms. J Mol Biol 3:208–218

Mesbah M, Premachandran U, Whitman WB (1989) Precise measurement of the G+C content of deoxyribonucleic acid by high-performance liquid chromatography. Int J Syst Bacteriol 39:159–167

Okazaki M, Sugita T, Shimizu M, Ohode Y, Iwamoto K, de Vrind-de Jong EW, De Vrind JPM, Corstjens PLAM (1997) Partial purification and characterization of manganese-oxidizing factors of Pseudomonas fluorescens GB-1. Appl Environ Microbiol 63:4793–4799

Park MS, Chung B-K, Lee HY, Jin HM, Lee S-S, Oh YK, Jeon CO (2011) Citreicella aestuarii sp. nov., isolated from a tidal flat. Int J Syst Evol Microbiol 61:2595–2599

Rajasabapathy R, Mohandass C, Colaco A, Dastager SG, Santos RS, Meena RM (2014a) Culturable bacterial phylogeny from a shallow water hydrothermal vent of Espalamaca (Faial, Azores) reveals a variety of novel taxa. Curr Sci 106(1):58–69

Rajasabapathy R, Mohandass C, Dastager SG, Liu Q, Khieu T-N, Son CK, Li W-J, Colaco A (2014b) Roseovarius azorensis sp. nov., isolated from seawater at Espalamaca, Azores. Antonie van Leeuwenhoek 105:571–578

Saitou N, Nei M (1987) The neighbor-joining method: a new method for reconstructing phylogenetic trees. Mol Biol Evol 4:406–425

Sasser M (1990) Identification of bacteria by gas chromatography of cellular fatty acids, MIDI Technical Note 101. MIDI Inc., Newark

Smibert RM, Krieg NR (1994) Phenotypic characterization. In: Gerhardt P, Murray RGE, Wood WA, Krieg NR (eds) Methods for general and molecular bacteriology. American Society for Microbiology, Washington, pp 607–654

Sorokin DY, Tourova TP, Muyzer G (2005) Citreicella thiooxidans gen. nov., sp. nov., a novel lithoheterotrophic sulphur oxidizing bacterium from the Black Sea. Syst Appl Microbiol 28:679–687

Stackebrandt E, Goebel BM (1994) Taxonomic note: a place for DNA–DNA reassociation and 16S rRNA sequence analysis in the present species definition in bacteriology. Int J Syst Bacteriol 44:846–849

Tamura K, Peterson D, Peterson N, Stecher G, Nei M, Kumar S (2011) MEGA5: molecular evolutionary genetics analysis using maximum likelihood, evolutionary distance, and maximum parsimony methods. Mol Biol Evol 28:2731–2739

Thompson JD, Higgins DG, Gibson TJ (1994) CLUSTAL W: improving the sensitivity of progressive multiple sequence alignment through sequence weighting, position-specific gap penalties and weight matrix choice. Nucleic Acids Res 22:4673–4680

Wayne LG, Brenner DJ, Colwell RR, Grimont PAD, Kandler O, Krichevsky MI, Moore LH, Moore WEC, Murray RGE, Stackebrandt E, Starr MP, Truper HG (1987) International committee on systematic bacteriology. Report of the ad hoc committee on reconciliation of approaches to bacterial systematics. Int J Syst Bacteriol 37:463–464
Acknowledgments
The authors thank Dr. N. Ramaiah and Mr. RM. Meena for providing the DNA sequencing facility; Mr. Areef Sardar for SEM analysis. Author Rajasabapathy acknowledges CSIR, New Delhi for a SRF grant. We thank the Department of Science & Technology, Govt. of India for the support through the Indo-Portugal bilateral program. This work was also supported by a CSIR-NIO project 'PSC0206′. We acknowledge MMRF-COMAPS under ICMAM, MoES through Dr. Shanta Nair, Dr. Anas and Mrs. Vijitha for FAME analysis. IMAR-DOP/UAz is Research and Development Unit #531 and LARSyS—Associated Laboratory # 9 funded by the Portuguese Foundation for Science and Technology (FCT) through PEst project (Pest/OE/EEI/LA0009/2011–2014), and by DRCTC—Regional Government of the Azores through a Pluriannual Funding scheme. This is CSIR-NIO contribution number 5810.
Electronic supplementary material
Below is the link to the electronic supplementary material.
About this article
Cite this article
Rajasabapathy, R., Mohandass, C., Dastager, S.G. et al. Citreicella manganoxidans sp. nov., a novel manganese oxidizing bacterium isolated from a shallow water hydrothermal vent in Espalamaca (Azores). Antonie van Leeuwenhoek 108, 1433–1439 (2015). https://doi.org/10.1007/s10482-015-0597-x
Received:

Accepted:

Published:

Issue Date:
Keywords
Citreicella manganoxidans sp. nov

Polyphasic taxonomy

Seawater

Hydrothermal vent

Azores