Abstract
A novel filamentous actinobacterium, designated strain DHS C013T, was isolated from limestone collected in Guizhou Province, South-west China. Morphological and chemotaxonomic characteristics of the strain support its assignment to the genus Lentzea. Phylogenetic analyses showed that strain DHS C013T is closely related to Lentzea jiangxiensis FXJ1.034T (98.7 % 16S rRNA gene similarity) and Lentzea flaviverrucosa 4.0578T (98.0 % 16S rRNA gene similarity), but it can be distinguished from these strains based on low levels of DNA:DNA relatedness (~44 and ~37 %, respectively). Physiological and biochemical tests also allowed phenotypic differentiation of the novel strain from these closely related species. On the basis of the evidence presented here, strain DHS C013T is concluded to represent a novel species of the genus Lentzea, for which the name Lentzea guizhouensis sp. nov. is proposed. The type strain is DHS C013T (=KCTC 29677T = CGMCC 4.7203T).
Access options
Buy single article
Instant access to the full article PDF.
US$ 39.95
Tax calculation will be finalised during checkout.
Subscribe to journal
Immediate online access to all issues from 2019. Subscription will auto renew annually.
US$ 119
Tax calculation will be finalised during checkout.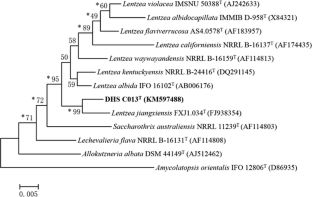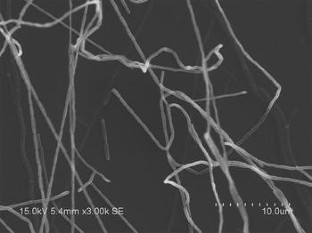 References
Collins MD, Pirouz T, Goodfellow M, Minnikin DE (1977) Distribution of menaquinones in actinomycetes and corynebacteria. J Gen Microbiol 100:221–230

Ezaki T, Hashimoto Y, Yabuuchi E (1989) Fluorometric deoxyribonucleic acid-deoxyribonucleic acid hybridization in microdilution wells as an alternative to membrane filter hybridization in which radioisotopes are used to determine genetic relatedness among bacterial strains. Int J Syst Bacteriol 39:224–229

Felsenstein J (1981) Evolutionary trees from DNA sequences: a maximum likelihood approach. J Mol Evol 17:368–376

Felsenstein J (1985) Confidence limits on phylogenies: an approach using the bootstrap. Evolution 39:783–789

Gordon RE, Barnett DA, Handerhan JE, Pang CH-N (1974) Nocardia coeliaca, Nocardia autotrophica, and the nocardin strain. Int J Syst Bacteriol 24:54–63

Groth I, Schumann P, Rainey FA, Martin K, Schuetze B, Augsten K (1997) Demetria terragena gen. nov., sp. nov., a new genus of actinomycetes isolated from compost soil. Int J Syst Bacteriol 47:1129–1133

Hasegawa T, Takizawa M, Tanida S (1983) A rapid analysis for chemical grouping of aerobic actinomycetes. J Gen Appl Microbiol 29:319–322

He L, Li W, Huang Y, Wang L, Liu Z, Lanoot B, Vancanneyt M, Swings J (2005) Streptomyces jietaisiensis sp nov., isolated from soil in northern China. Int J Syst Evol Microbiol 55:1939–1944

Kelly KL (1964) Color-name charts illustrated with centroid colors. Inter-Society Color Council-National Bureau of Standards, Chicago

Kim OS, Cho YJ, Lee K, Yoon SH, Kim M, Na H, Park SC, Jeon YS, Lee JH, Yi H, Won S, Chun J (2012) Introducing EzTaxon-e: a prokaryotic 16S rRNA gene sequence database with phylotypes that represent uncultured species. Int J Syst Evol Microbiol 62:716–721

Kluge AG, Farris JS (1969) Quantitative phyletics and the evolution of anurans. Syst Biol 18:1–32

Kurup PV, Schmitt JA (1973) Numerical taxonomy of Nocardia. Can J Microbiol 19:1035–1048

Labeda DP (2012) Genus XI. Lentzea Yassin, Rainey, Brzezinka, Jahnke, Weissbrodt, Budzikiewicz, Stackebrandt and Schaal 1995, 1125VP emend. Labeda, Hatano, Kroppenstedt and Tamura 2001, 1049. In: Goodfellow M, Kämpfer P, Busse H-J, Trujillo ME, Suzuki K-I, Ludwig W, Whitman WB (eds) Bergey's manual of systematic bacteriology, part A, vol 5, 2nd edn. Springer, New York, pp 1379–1383

Labeda DP, Hatano K, Kroppenstedt RM, Tamura T (2001) Revival of the genus Lentzea and proposal for Lechevalieria gen. nov. Int J Syst Evol Microbiol 51:1045–1050

Labeda DP, Donahue JM, Sells SF, Kroppenstedt RM (2007) Lentzea kentuckyensis sp. nov., of equine origin. Int J Syst Evol Microbiol 57:1780–1783

Labeda DP, Goodfellow M, Chun J, Zhi XY, Li WJ et al (2011) Reassessment of the systematics of the suborder Pseudonocardineae: transfer of the genera within the family Actinosynnemataceae Labeda and Kroppenstedt 2000 emend. Zhi et al. 2009 into an emended family Pseudonocardiaceae Embley et al. 1989 emend. Zhi et al. 2009. Int J Syst Evol Microbiol 61:1259–1264

Lechevalier MP, Lechevalier HA (1970) Chemical composition as a criterion in the classification of aerobic actinomycetes. Int J Syst Bacteriol 20:435–443

Lee SD, Kim ES, Roe JH, Kim J, Kang SO, Hah YC (2000) Saccharothrix violacea sp. nov., isolated from a gold mine cave, and Saccharothrix albidocapillata comb. nov. Int J Syst Evol Microbiol 50:1315–1323

Li X, Zhang L, Ding Y, Gao Y, Ruan J, Huang Y (2012) Lentzea jiangxiensis sp. nov., isolated from acidic soil. Int J Syst Evol Microbiol 62:2342–2346

Mesbah M, Premachandran U, Whitman WB (1989) Precise measurement of the G+C content of deoxyribonucleic acid by high-performance liquid chromatography. Int J Syst Bacteriol 39:159–167

Minnikin DE, O'donnell AG, Goodfellow M, Alderson G, Athalye M, Schaal A, Parlett JH (1984) An integrated procedure for the extraction of bacterial isoprenoid quinones and polar lipids. J Microbiol Methods 2:233–241

Qin S, Li J, Chen HH, Zhao GZ, Zhu WY, Jiang CL, Xu LH, Li WJ (2009) Isolation, diversity, and antimicrobial activity of rare actinobacteria from medicinal plants of tropical rain forests in Xishuangbanna, China. Appl Environ Microbiol 75:6176–6186

Saitou N, Nei M (1987) The neighbor-joining method: a new method for reconstructing phylogenetic trees. Mol Biol Evol 4:406–425

Sasser M (1990) Identification of bacteria by gas chromatography of cellular fatty acids, MIDI technical note 101. MIDI Inc., Newark

Shirling E, Gottlieb D (1966) Methods for characterization of Streptomyces species. Int J Syst Bacteriol 16:313–340

Wayne LG, Brenner DJ, Colwell RR, Grimont PAD, Kandler O, Krichevsky MI, Moore LH, Moore EC, Murray RGE, Stackebrandt E, Starr MP (1987) Report of the ad hoc committee on reconciliation of approaches to bacterial systematics. Int J Syst Bacteriol 37:463–464

Williams ST, Goodfellow M, Alderson G (1989) Genus Streptomyces Waksman and Henrici 1943, 339AL. In: Williams ST, Sharpe ME, Holt JG (eds) Bergey's manual of systematic bacteriology, vol 4. Williams & Wilkins, Baltimore, pp 2452–2492

Xie Q, Wang Y, Huang Y, Wu Y, Ba F, Liu Z (2002) Description of Lentzea flaviverrucosa sp. nov. and transfer of the type strain of Saccharothrix aerocolonigenes subsp. staurosporea to Lentzea albida. Int J Syst Evol Microbiol 52:1815–1820

Xu P, Li WJ, Tang SK, Zhang YQ, Chen GZ, Chen HH, Xu LH, Jiang CL (2005) Naxibacter alkalitolerans gen. nov., sp. nov., a novel member of the family 'Oxalobacteraceae' isolated from China. Int J Syst Evol Microbiol 55:1149–1153

Yassin AF, Rainey F, Brzezinka H, Jahnke KD, Weissbrodt H, Budzikiewicz H, Stackebrandt E, Schaal KP (1995) Lentzea gen. nov., a new genus of the order Actinomycetales. Int J Syst Bacteriol 45:357–363
Acknowledgments
The authors are grateful to Prof. Ying Huang (State Key Laboratory of Microbial Resources, Institute of Microbiology, Chinese Academy of Sciences, Beijing, China.) for her kindly providing type strains. This study was jointly supported by the National Key Basic Research Program of China (No. 2013CB956702), the National Natural Science Foundation of China (No. 41373078), and the Natural Science Foundation of Jiangsu Normal University (No. 13XLA02).
Additional information
Cheng-Liang Cao and Xiao-Qi Zhou have contributed equally to this work.
Electronic supplementary material
Below is the link to the electronic supplementary material.
About this article
Cite this article
Cao, CL., Zhou, XQ., Qin, S. et al. Lentzea guizhouensis sp. nov., a novel lithophilous actinobacterium isolated from limestone from the Karst area, Guizhou, China. Antonie van Leeuwenhoek 108, 1365–1372 (2015). https://doi.org/10.1007/s10482-015-0589-x
Received:

Accepted:

Published:

Issue Date:
Keywords
Lentzea guizhouensis sp. nov.

Lithophilous

Karst area

Polyphasic taxonomy