Abstract
A Gram-negative, non-motile, non-spore-forming, psychrotolerant and halotolerant bacterium designated BSw21516BT, was obtained from seawater in Kongsfjorden, a glacial fjord in the Arctic Svalbard and subjected to taxonomic analysis using a polyphasic approach. This bacterium was observed to optimally grow at 25–29 °C; between at 4 and 34 °C, but not at >35 °C; and in the presence of 0–8 % (w/v) NaCl at an optimum concentration of 2–5 % (w/v) NaCl. Strain BSw21516BT was found to contain Ubiquinone-8 (Q-8) as a predominant respiratory lipoquinone and C18:1 ω9c and summed feature 3 (C16:1 ω7c and/or iso-C15:0 2-OH) as predominant cellular fatty acids. Phylogenetic analysis of 16S rRNA and gyrB gene sequences showed that this isolate belongs to the genus Psychrobacter and is closely related to Psychrobacter fozii LMG 21280T, which was isolated from a sediment sample in Antarctica. DNA hybridization experiments revealed a low level of DNA–DNA relatedness (less than 58.6 %) between strain BSw21516BT and its closest relatives. Based on these results a new species Psychrobacter fjordensis sp. nov. is proposed (type strain BSw21516BT = KCTC 42279T = CCTCC AB 2014020T).
Access options
Buy single article
Instant access to the full article PDF.
US$ 39.95
Tax calculation will be finalised during checkout.
Subscribe to journal
Immediate online access to all issues from 2019. Subscription will auto renew annually.
US$ 119
Tax calculation will be finalised during checkout.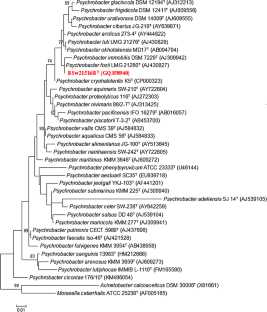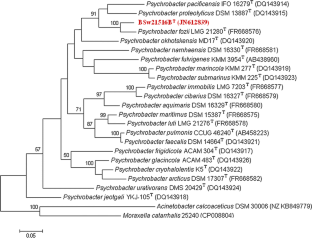 References
Baik KS, Park SC, Lim CH, Lee KH, Jeon DY, Kim CM, Seong CN (2010) Psychrobacter aestuarii sp. nov., isolated from a tidal flat sediment. Int J Syst Evol Microbiol 60:1631–1636

Bakermans C, Ayala-del-Río HL, Ponder MA, Vishnivetskaya T, Gilichinsky D, Thomashow MF, Tiedje JM (2006) Psychrobacter cryohalolentis sp. nov. and Psychrobacter arcticus sp. nov., isolated from Siberian permafrost. Int J Syst Evol Microbiol 56:1285–1291

Bowman JP, Cavanagh J, Austin JJ, Sanderson K (1996) Novel Psychrobacter species from Antarctic ornithogenic soils. Int J Syst Bacteriol 46:841–848

Bowman JP, Nichols DS, McMeekin TA (1997) Psychrobacter glacincola sp. nov., a halotolerant, psychrophilic bacterium isolated from Antarctic sea ice. Syst Appl Microbiol 20:209–215

Bozal N, Montes MJ, Tudela E, Guinea J (2003) Characterization of several Psychrobacter strains isolated from Antarctic environments and description of Psychrobacter luti sp. nov. and Psychrobacter fozii sp. nov. Int J Syst Evol Microbiol 53:1093–1100

De Ley J, Cattoir H, Reynaerts A (1970) The quantitative measurement of DNA hybridization from renaturation rates. Eur J Biochem 12:133–142

Fahlgren C, Hagström A, Nilsson D, Zweifel UL (2010) Annual variations in the diversity, viability, and origin of airborne bacteria. Appl Environ Microbiol 76:3015–3025

Felsenstein J (1985) Confidence limits on phylogenies: an approach using the bootstrap. Evolution 39:783–791

Fitch WM (1971) Toward defining the course of evolution: minimum change for a specific tree topology. Syst Zool 20:406–416

Huss VAR, Festl H, Schleifer KH (1983) Studies on the spectrometric determination of DNA hybridization from renaturation rates. Sys Appl Microbiol 4:184–192

Juni E (1991) The genus Psychrobacter. In: Balows A, Trüper HG, Dworkin M, Harder W, Schleifer KH (eds) The prokaryotes. Springer, New York, pp 3241–3246

Juni E, Heym GA (1986) Psychrobacter immobilis gen. nov., sp. nov.: genospecies composed of Gram-negative, aerobic, oxidase-positive coccobacilli. Int J Syst Bacteriol 36:388–391

Kämpfer P, Jerzak L, Wilharm G, Golke J, Busse HJ, Glaeser SP (2015) Psychrobacter ciconiae sp. nov., isolated from white storks (Ciconia ciconia). Int J Syst Evol Microbiol 65:772–777

Kimura M (1980) A simple method for estimating evolutionary rate of base substitutions through comparative studies of nucleotide sequences. J Mol Evol 16:111–120

Lee YK, Sung KC, Yim JH, Park KJ, Chung H, Lee HK (2005) Isolation of protease-producing Arctic marine bacteria. Ocean Polar Res 27:215–219

Maruyama A, Honda D, Yamamoto H, Kitamura K, Higashihara T (2000) Phylogenetic analysis of psychrophilic bacteria isolated from the Japan Trench, including a description of the deep-sea species Psychrobacter pacificensis sp. nov. Int J Syst Evol Microbiol 50:835–846

MIDI (1999) Sherlock microbial identification system operation manual, version 3.0. MIDI Inc, Newark

Saitou N, Nei M (1987) The neighbor-joining method: a new method for reconstructing phylogenetic trees. Mol Biol Evol 4:406–425

Sly LI, Blackall LL, Kraat PC, Tao TS, Sangkhobol V (1986) The use of second derivative plots for the determination of mol% guanine plus cytosine of DNA by the thermal denaturation method. J Microbiol Methods 5:139–156

Srinivas TN, Singh SM, Pradhan S, Pratibha MS, Kishore KH, Singh AK, Begum Z, Prabagaran SR, Reddy GS, Shivaji S (2011) Comparison of bacterial diversity in proglacial soil from Kafno Glacier, Himalayan Mountain ranges, India, with the bacterial diversity of other glaciers in the world. Extremophiles 15:673–690

Stackebrandt E, Goebel BM (1994) Taxonomic note: a place for DNA-DNA reassociation and 16S rRNA sequence analysis in the present species definition in bacteriology. Int J Syst Bacteriol 44:846–849

Svanevik CS, Lunestad BT (2011) Characterisation of the microbiota of Atlantic mackerel (Scomber scombrus). Int J Food Microbiol 151:164–170

Tamura K, Peterson D, Peterson N, Stecher G, Nei M, Kumar S (2011) MEGA5: molecular evolutionary genetics analysis using maximum likelihood, evolutionary distance, and maximum parsimony methods. Mol Biol Evol 28:2731–2739

Thompson JD, Gibson TJ, Plewniak F, Jeanmougin F, Higgins DG (1997) The Clustal_X window interface: flexible strategies for multiple sequence alignment aided by quality analysis tools. Nucleic Acids Res 25:4876–4882

Vela AI, Collins MD, Latre MV, Mateos A, Moreno MA, Hutson R, Domínguez L, Fernández-Garayzábal JF (2003) Psychrobacter pulmonis sp. nov., isolated from the lungs of lambs. Int J Syst Evol Microbiol 53:415–419

Wayne LG, Brenner DJ, Colwell RR, Grimont PD, Kandler O, Krichevsky MI, Moore LH, Moore WEC, Murray RGE, Stackebrandt E, Starr MP, Trüper HG (1987) Report of the ad hoc committee in reconciliation of approaches to bacterial systematics. Int J Syst Bacteriol 37:463–464

Wirth SE, Ayala-del-Río HL, Cole JA, Kohlerschmidt DJ, Musser KA, Sepúlveda-Torres LC, Thompson LM, Wolfgang WJ (2012) Psychrobacter sanguinis sp. nov., recovered from four clinical specimens over a 4-year period. Int J Syst Evol Microbiol 62:49–54

Xie CH, Yokota A (2003) Phylogenetic analyses of Lampropedia hyalina based on the 16S rRNA gene sequence. J Gen Appl Microbiol 49:345–349

Yoon JH, Lee CH, Yeo SH, Oh TK (2005) Psychrobacter aquimaris sp. nov. and Psychrobacter namhaensis sp. nov., isolated from sea water of the South Sea in Korea. Int J Syst Evol Microbiol 55:1007–1013

Yumoto I, Hirota K, Sogabe Y, Nodasaka Y, Yokota Y, Hoshino T (2003) Psychrobacter okhotskensis sp. nov., a lipase-producing facultative psychrophile isolated from the coast of the Okhotsk Sea. Int J Syst Evol Microbiol 53:1985–1989

Yumoto I, Hirota K, Kimoto H, Nodasaka Y, Matsuyama H, Yoshimune K (2009) Psychrobacter piscatorii sp. nov., psychrotolerant bacterium exhibiting high catalase activity isolated from oxidative environment. Int J Syst Evol Microbiol 60:205–208

Zeng Y, Liu W, Li H, Yu Y, Chen B (2007) Effect of restriction endonucleases on assessment of biodiversity of cultivable polar marine planktonic bacteria by amplified ribosomal DNA restriction analysis. Extremophiles 11:685–692

Zeng Y, Zheng T, Yu Y, Chen B, He J (2010) Relationships between Arctic and Antarctic Shewanella strains evaluated by a polyphasic taxonomic approach. Polar Biol 33:531–541
Acknowledgments
We appreciate the assistance of the Chinese Arctic and Antarctic Administration (CAA) who organized the Chinese Arctic Yellow River Station Expedition in 2008. This work was supported by the National Natural Science Foundation of China (Grant Nos. 41076131 and 41476171) and the Chinese Polar Environment Comprehensive Investigation and Assessment Program (Grant No. CHINARE2015-02-01).
Electronic supplementary material
Below is the link to the electronic supplementary material.
About this article
Cite this article
Zeng, YX., Yu, Y., Li, HR. et al. Psychrobacter fjordensis sp. nov., a psychrotolerant bacterium isolated from an Arctic fjord in Svalbard. Antonie van Leeuwenhoek 108, 1283–1292 (2015). https://doi.org/10.1007/s10482-015-0580-6
Received:

Accepted:

Published:

Issue Date:
Keywords
Psychrobacter fjordensis sp. nov.
Psychrobacter

Kongsfjorden

Arctic