Abstract
A rod shaped, Gram-stain positive, non-motile, facultative anaerobic and gelatin hydrolysing bacterium, strain PG1T, was isolated from reclaimed land soil in Kyehwa-do, Republic of Korea. Strain PG1T showed highest 16S rRNA gene sequence similarity (97.4 and 96.5 %, respectively) to Paenibacillus shenyangensis A9T and Paenibacillus hunanensis FeL05T, and clustered closely with the members of the family Paenibacillaceae. DNA–DNA hybridization studies revealed a genomic relatedness of 47 ± 9 % with P. shenyangensis A9T. The predominant fatty acids of strain PG1T were identified to be anteiso-C15:0 (46.7 %) and C16:0 (22.7 %). Diphosphatidylglycerol, phosphatidylglycerol, phosphatidylethanolamine and an unidentified phospholipid were found to be the major polar lipids. The genomic DNA G+C content was found to be 47.7 mol%. This polyphasic characterisation of the newly isolated strain PG1T justifies its description as representative of a novel species in the genus Paenibacillus, for which the name Paenibacillus gelatinilyticus sp. nov., (type strain = PG1T = KCTC 33642T = JCM 30624T) is proposed.
Access options
Buy single article
Instant access to the full article PDF.
USD 39.95
Price excludes VAT (USA)
Tax calculation will be finalised during checkout.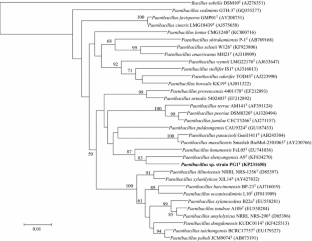 References
Altschul SF, Gish W, Miller W, Myers EW, Lipman DJ (1990) Basic local alignment search tool. J Mol Biol 215:403–410

Ash C, Priest FG, Collins MD (1993) Molecular identification of rRNA group 3 bacilli (Ash, Farrow, Wallbanks and Collins) using a PCR probe test. Proposal for the creation of a new genus Paenibacillus. Antonie Van Leeuwenhoek 64:253–260

Buck JD (1982) Nonstaining (KOH) method for determination of Gram reactions of marine bacteria. Appl Environ Microbiol 44:992–993

De Ley J, Cattoir H, Reynaerts A (1970) The quantitative measurement of DNA hybridization from renaturation rates. Eur J Biochem 12:133–142

Fitch WM (1972) Toward defining the course of evolution: minimum change for a specific tree topology. Syst Zool 20:406–416

Gonzalez JM, Saiz-Jimenez C (2002) A fluorimetric method for the estimation of G + C mol% content in microorganisms by thermal denaturation temperature. Environ Microbiol 4:770–773

Gonzalez JM, Saiz-Jimenez C (2005) A simple fluorimetric method for the estimation of DNA–DNA relatedness between closely related microorganisms by thermal denaturation temperatures. Extremophiles 9:75–79

Imhoff JF, Süling J, Petri R (1998) Phylogenetic relationships among the Chromatiaceae, their taxonomic reclassification and description of the new genera Allochromatium, Halochromatium, Isochromatium, Marichromatium, Thiococcus, Thiohalocapsa and Thermochromatium. Int J Syst Bacteriol 48:1129–1143

Jiang B, Zhao X, Liu J, Fu L, Yang C, Hu X (2015) Paenibacillus shenyangensis sp. nov., a bioflocculant-producing species isolated from soil under a peach tree. Int J Syst Evol Microbiol 65:220–224

Jin HJ, Lv J, Chen SF (2011) Paenibacillus sophorae sp. nov., a novel nitrogen-fixing species isolated from the rhizosphere of Sophora japonica. Int J Syst Evol Microbiol 61:767–771

Kates M (1972) Techniques of lipidology. Elsevier, New York

Kates M (1986) Techniques of lipidology: isolation, analysis, and identification of lipids. Elsevier, Amsterdam

Kim DS, Bae CY, Jeon JJ, Chun SJ, Oh HW, Hong SG, Baek KS, Moon EY, Bae KS (2004) Paenibacillus elgii sp. nov., with broad antimicrobial activity. Int J Syst Evol Microbiol 54:2031–2035

Kim OS, Cho YJ, Lee K, Yoon SH, Kim M, Na H, Park SC, Jeon YS, Lee JH, Yi H, Won S, Chun J (2012) Introducing EzTaxon-e: a prokaryotic 16S rRNA gene sequence database with phylotypes that represent uncultured species. Int J Syst Evol Microbiol 62:716–721

Kimura M (1983) The neutral theory of molecular evolution. Cambridge University Press, Cambridge

Komagata K, Suzuki K (1987) Lipids and cell-wall analysis in bacterial systematics. Methods Microbiol 19:161–207

Liu Y, Liu L, Qiu F, Schumann P, Shi Y, Zou Y, Zhang X, Song W (2010) Paenibacillus hunanensis sp. nov., isolated from rice seeds. Int J Syst Evol Microbiol 60:1266–1270

Logan NA, Berge O, Bishop AH, Busse H-J, De Vos P, Fritze D, Heyndrickx M, Kämpfer P, Rabinovitch L, Salkinoja-Salonen MS, Seldin L, Ventosa A (2009) Proposed minimal standards for describing new taxa of aerobic, endospore-forming bacteria. Int J Syst Evol Microbiol 59:2114–2121

Marmur J (1961) A procedure for the isolation of deoxyribonucleic acid from microorganisms. J Mol Biol 3:208–218

Oren A, Duker S, Ritter S (1996) The polar lipid composition of Walsby's square bacterium. FEMS Microbiol Lett 138:135–140

Priest FG (2009) Genus I. Paenibacillus. In: De Vos P, Garrity G, Jones D, Krieg NR, Ludwig W, Rainey FA, Schleifer KH, Whitman WB (eds) The firmicutes, Bergey's manual of systematic bacteriology, vol 3, 2nd edn. Springer, New York, pp 269–295

Rhuland LE, Work E, Denman RF, Hoare DS (1955) The behavior of the isomers of α, ε-diaminopimelic acid on paper chromatograms. J Am Chem Soc 77:4844–4846

Saitou N, Nei M (1987) The neighbor-joining method: a new method for reconstructing phylogenetic trees. Mol Biol Evol 4:406–425

Sanger F, Nicklen S, Coulson AR (1977) DNA sequencing with chain terminating inhibitors. Proc Natl Acad Sci USA 74:5463–5467

Sasser M (2001) Identification of bacteria by gas chromatography of cellular fatty acids. Technical Note 101. MIDI Inc, Newark

Tamaoka J, Fujimura Y-K, Kuraishi H (1983) Analysis of bacterial menaquinone mixtures by high performance liquid chromatography. J Appl Microbiol 54:31–36

Tamura K, Stecher G, Peterson D, Filipski A, Kumar S (2013) MEGA6: molecular evolutionary genetics analysis version 6.0. Mol Biol Evol 30:2725–2729

Tindall BJ, Sikorski J, Smibert RM, Kreig NR (2007) Phenotypic characterization and the principles of comparative systematics. In: Reddy CA, Beveridge TJ, Breznak JA, Marzluf G, Schmidt TM, Snyder LR (eds) Methods for general and molecular microbiology, 3rd edn. Snyder ASM Press, Washington DC, pp 330–393

Tindall BJ, Rosselló-Móra R, Busse H-J, Ludwig W, Kämpfer P (2010) Notes on the characterization of prokaryote strains for taxonomic purposes. Int J Syst Evol Microbiol 60:249–266

Wang L, Baek SH, Cui Y, Lee HG, Lee ST (2012) Paenibacillus sediminis sp. nov., a xylanolytic bacterium isolated from a tidal flat. Int J Syst Evol Microbiol 62:1284–1288

Wayne LG, Brenner DJ, Colwell RR, Grimont PAD, Kandler O, Krichevsky MI, Moore LH, Moore WEC, Murray RGE, Stackebrandt E, Starr MP, Trüper HG (1987) Report of the ad hoc committee on reconciliation of approaches to bacterial systematics. Int J Syst Bacteriol 37:463–464
Acknowledgments
We thank Prof. Aharon Oren for his expert suggestion for correct species epithet and Latin etymology. This work was carried out with the support of "Cooperative Research Program for Agriculture Science & Technology Development (Project No. PJ009801)" Rural Development Administration, Republic of Korea.
Additional information
The GenBank/EMBL/DDBJ accession number for the 16S rRNA gene sequence of strain PG1T is KP231650.
Electronic supplementary material
Below is the link to the electronic supplementary material.
About this article
Cite this article
Padakandla, S.R., Lee, GW. & Chae, JC. Paenibacillus gelatinilyticus sp. nov. a psychrotolerant bacterium isolated from a reclaimed soil and amended description of Paenibacillus shenyangensis . Antonie van Leeuwenhoek 108, 1197–1203 (2015). https://doi.org/10.1007/s10482-015-0574-4
Received:

Accepted:

Published:

Issue Date:

DOI: https://doi.org/10.1007/s10482-015-0574-4
Keywords