Abstract
A Gram-stain negative, motile, rod-shaped bacterium, designated strain YIM Hb-3T, was isolated from the stem of a tobacco plant. The strain was observed to form convex, circular and yellow-colored colonies. The predominant respiratory quinone was identified as Q-8. The major fatty acids (>5 %) detected were C16:1ω7c and/or C16:1ω6c (summed feature 3), C16:0, C17:0cyclo, C18:1ω7c and/or C18:1ω6c (summed feature 8), C14:03-OH and/or iso-C16:1I (summed feature 2), C14:0 and C12:0. The genomic DNA G+C content was determined to be 54.8 mol%. Phylogenetic trees based on 16S rRNA gene sequences and multilocus sequence analysis showed that strain YIM Hb-3T had the closest phylogenetic relationship with Enterobacter mori LMG 25706T. DNA–DNA relatedness value between strain YIM Hb-3T and E. mori LMG 25706T was 46.9 ± 3.8 %. On the basis of phenotypic and chemotaxonomic data, phylogenetic analysis, and DNA–DNA relatedness value, strain YIM Hb-3T is considered to represent a novel species of the genus Enterobacter, for which the name Enterobacter tabaci sp. nov. is proposed. The type strain is YIM Hb-3T (=KACC 17832T =KCTC 42694T).
Access options
Buy single article
Instant access to the full article PDF.
US$ 39.95
Tax calculation will be finalised during checkout.
Subscribe to journal
Immediate online access to all issues from 2019. Subscription will auto renew annually.
US$ 119
Tax calculation will be finalised during checkout.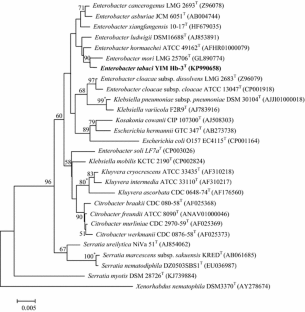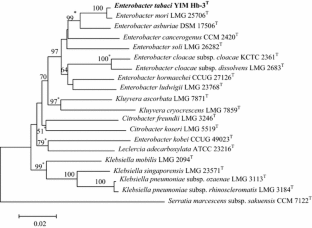 References
Almarlo J, Muller D, Défago G, Loccoz YM (2014) Rhizosphere ecology and phytoprotection in soils naturally suppressive to Thielaviopsis black root rot of tobacco. Environ Microbiol 16:1949–1960

Brady CL, Cleenwerck I, Venter SN, Vancanneyt M, Swings J, Coutinbo T (2008) Phylogeny and identification of Pantoea species associated with plants, humans and the natural environment based on multilocus sequence analysis (MLSA). Syst Appl Microbiol 31:447–460

Brady CL, Cleenwerck I, Venter SN, Engelbeen K, De Vos P, Coutinho TA et al (2010) Emended description of the genus Pantoea, description of four species from human clinical samples, Pantoea septica sp. nov., Pantoea eucrina sp. nov., Pantoea brenneri sp. nov. and Pantoea conspicua sp. nov., and transfer of Pectobacterium cypripedii (Hori 1911) Brenner et al. 1973 emend. Hauben et al. 1998 to the genus as Pantoea cypripedii comb. nov. Int J Syst Evol Microbiol 60:2430–2440

Brady CL, Cleenwerck I, Venter SN, Teresa C, Vos PD (2013) Taxonomic evaluation of the genus Enterobacter based on multilocus sequence analysis (MLSA): proposal to reclassify E. nimipressuralis and E. amnigenus into Lelliottia gen. nov. as Lelliottia nimipressuralis comb. nov. and Lelliottia amnigena comb. nov., respectively, E. gergoviae and E. pyrinus into Pluralibacter gen. nov. as Pluralibacter gergoviae comb. nov. and Pluralibacter pyrinus comb. nov., respectively, E. cowanii, E. radicincitans, E. oryzae and E. arachidis into Kosakonia gen. nov. as Kosakonia cowanii comb. nov., Kosakonia radicincitans comb. nov., Kosakonia oryzae comb. nov. and Kosakonia arachidis comb. nov., respectively, and E. turicensis, E. helveticus and E. pulveris into Cronobacter as Cronobacter zurichensis nom. nov., Cronobacter helveticus comb. nov. and Cronobacter pulveris comb. nov., respectively, and emended description of the genera Enterobacter and Cronobacter. Syst Appl Microbiol 36:309–319

Brenner DJ, Mcwhorter AC, Kai A, Steigerwalt AG, Farmer JJ III (1986) Enterobacter asburiae sp. nov., a new species found in clinical specimens, and reassignment of Erwinia dissolvens and Erwinia nimipressuralis to the genus Enterobacter as Enterobacter dissolvens comb. nov. and Enterobacter nimipressuralis comb. nov. J Clin Microbiol 23:1114–1120

Cerny G (1978) Studies on aminopeptidase for the distinction of Gram-negative from Gram-positive bacteria. Appl Microbiol Biotechnol 5:113–122

Christensen H, Angen O, Mutters R, Olsen JE, Bisgaard M (2000) DNA–DNA hybridization determined in micro-wells using covalent attachment of DNA. Int J Syst Evol Microbiol 50:1095–1102

Collins MD, Jones D (1980) Lipids in the classification and identification of coryneform bacteria containing peptidoglycan based on 2,4-diaminobutyric acid. Appl Bacteriol 48:459–470

Collins MD, Pirouz T, Goodfellow M, Minnikin DE (1977) Distribution of menaquinones in actinomycetes and corynebacteria. J Gen Microbiol 100:221–230

Dickey RS, Zumoff CH (1988) Emended description of Enterobacter cancerogenus comb. nov. (formerly Erwinia cancerogenus). Int J Syst Bacteriol 38:371–374

Ezaki T, Hashimoto Y, Yabuuchi E (1989) Fluorometric deoxyribonucleic acid-deoxyriboribonucleic acid hybridization in microdilution wells as an alternative to membrane filter hybridization in which radioisotopes are used to determine genetic relatedness among bacterial strains. Int J Syst Bacteriol 39:224–229

Felsenstein J (1981) Evolutionary trees from DNA sequences: a maximum likelihood approach. J Mol Evol 17:368–376

Felsenstein J (1985) Confidence limits on phylogenies: an approach using the bootstrap. Evolution 39:783–791

Fitch WM (1971) Toward defining the course of evolution: minimum change for a specific tree topology. Syst Zool 20:406–416

Gavini F, Mergaert J, Beji A, Mielcarek C, Izard D, Kersters K, de Ley J (1989) Transfer of Enterobacter agglomerans (Beijerinck 1888) Ewing and Fife 1972 to Pantoea gen. nov. as Pantoea agglomerans comb. nov. and description of Pantoea dispersa sp. nov. Int J Syst Bacteriol 39:337–345

Gonzalez C, Gutierrez C, Ramirez C (1978) Halobacterium vallismortis sp. nov., an amylolytic and carbohydrate-metabolizing, extremely halophilic bacterium. Can J Microbiol 24:710–715

Gordon RE, Barnett DA, Handerhan JE, Pang CHN (1974) Nocardia coeliaca, Nocardia autotrophica, and the nocardin strain. Int J Syst Bacteriol 24:54–63

Groth I, Rodríguez C, Schütze B, Schmitz P, Leistner E, Goodfellow M (2004) Five nove Kitasatospora species from soil: Kitasatospora arboriphila sp. nov., K. gansuensis sp. nov., K. nipponensis sp. nov., K. paranensis sp. nov. and K. terrestris sp. nov. Int J Syst Evol Microbiol 54:2121–2129

Gu CT, Li CY, Yang LJ, Huo GC (2014) Enterobacter xiangfangensis sp. nov., isolated from Chinese traditional sourdough, and reclassification of Enterobacter sacchari Zhu et al. 2013 as Kosakonia sacchari comb. nov. Int J Syst Evol Microbiol 64:2650–2656

Haggag WM (2010) Role of endophytic microorganisms in biocontrol of plant diseases. Life Sci J 7:57–62

Hoffmann H, Stindl S, Ludwig W, Stumpf A, Mehlen A, Heesemann J, Monget D, Schleifer KH, Roggenkamp A (2005a) Reassignment of Enterobacter dissolvens to Enterobacter cloacae as E. cloacae subspecies dissolvens comb. nov. and emended description of Enterobacter asburiae and Enterobacter kobei. Syst Appl Microbiol 28:196–205

Hoffmann H, Stindl S, Stumpf A, Mehlen A, Daniel Monget, Heesemann J, Schleifer KH, Rogggenkamp A (2005b) Description of Enterobacter ludwigii sp. nov., a novel Enterobacter species of clinical relecance. Syst Appl Microbiol 28:206–212

Hormaeche PR, Edwards A (1960) A proposed genus Enterobacter. Int Bull Bacteriol Nomencl Taxon 10:71–74

Ibarz Pavó AB, Maiden MC (2009) Multilocus sequence typing. Methods Mol Biol 551:129–140

Kim OS, Cho YJ, Lee K, Yoon SH, Kim M, Na H, Park S-C, Jeon YS, Lee JH, Yi H, Won S, Chun J (2012) Introducing EzTaxon-e: a prokaryotic 16S rRNA gene sequence database with phylotypes that represent uncultured species. Int J Syst Evol Microbiol 62:716–721

Kimura M (1980) A simple method for estimating evolutionary rates of base substitutions through comparative studies of nucleotide sequences. J Mol Evol 16:111–120

Kovacs N (1956) Identification of Pseudomonas pyocyanea by the oxidase reaction. Nature 178:703–704

Kroppenstedt RM (1982) Separation of bacterial menaquinones by HPLC using reverse phase (RP18) and a silver loaded ion exchanger as stationary phases. J Liq Chromatogr 5:2359–2387

Labeda DP, Doroqhazi JR, Ju KS, Metcalf WW (2014) Taxonomic evaluation of Streptomyces albus and related species using multilocus sequence analysis and proposals to emend the description of Streptomyces albus and describe Streptomyces pathocidini sp. nov. Int J Syst Evol Microbiol 64:894–900

Lacher DW, Steinsland H, Blank TE, Donnenberg MS, Whittam TS (2007) Molecular evolution of typical enteropathogenic Escherichia coli: clonal analysis by multilocus sequence typing and virulence gene allelic profiling. J Bacteriol 189:342–350

Larkin MA, Blackshields G, Brown NP, Chenna R, McGettigan PA, McWilliam H, Valentin F, Wallace IM, Wilm A, Lopez R, Thompson JD, Gibson TJ, Higgins DG (2007) Clustal W and Clustal X version 2.0. Bioinformatics 23:2947–2948

Li WJ, Xu P, Schumann P, Zhang YQ, Pukall R, Xu LH, Stackebrandt E, Jiang CL (2007) Georgenia ruanii sp. nov., a novel actinobacterium isolated from forest soil in Yunnan (China), and emended description of the genus Georgenia. Int J Syst Evol Microbiol 57:1424–1428

Li J, Zhao GZ, Chen HH, Wang HB, Qin S, Zhu WY, Xu LH, Jiang CL, Li WJ (2008) Antitumour and antimicrobial activities of endophytic streptomycetes from pharmaceutical plants in rainforest. Lett Appl Microbiol 47:574–580

Madhaiyan M, Poonguzhali S, Lee JS, Saravanan VS, Lee KC, Santhanakrishnan P (2010) Enterobacter arachidis sp. nov., a plant-growth-promoting diazotrophic bacterium isolated from rhizosphere soil of groundnut. Int J Syst Evol Microbiol 60:1559–1564

Manter DK, Hunter WJ, Vivanco JM (2011) Enterobacter soli sp. nov.: a lignin-degrading γ-proteobacteria isolated from soil. Curr Microbiol 62:1044–1049

Marmur J (1961) A procedure for the isolation of deoxyribonucleic acid from microorganisms. J Mol Biol 3:208–218

Meier-Kolthoff JP, Göker M, Spröer G, Klenk HP (2013) When should a DDH experiment be mandatory in microbial taxonomy? Arch Microbiol 195:413–418

Mesbah M, Premachandran U, Whitman WB (1989) Precise measurement of the G+C content of deoxyribonucleic acid by high-performance liquid chromatography. Int J Syst Bacteriol 39:159–167

Minnikin DE, Collins MD, Goodfellow M (1979) Fatty acid and polar lipid composition in the classification of Cellulomonas, Oerskovia and related taxa. J Appl Bacteriol 47:87–95

Mollet C, Drancourt M, Raoult D (1997) rpoB sequence analysis as a new basis for bacterial identification. Mol Microbiol 26:1005–1011

Saitou N, Nei M (1987) The neighbor-joining method: a new method for reconstructing phylogenetic trees. Mol Biol Evol 4:406–425

Sasser M (1990) Identification of bacteria by gas chromatography of cellular fatty acids. MIDI Technical Note 101. MIDI Inc., Newark

Stackebrandt E, Ebers J (2006) Taxonomic parameters revisited: tarnished gold standards. Microbiol Today 33:152–155

Tamura K, Peterson D, Peterson N, Stecher G, Nei M, Kumar S (2011) MEGA5: molecular evolutionary genetics analysis using maximum likelihood, evolutionary distance, and maximum parsimony methods. Mol Biol Evol 28:2731–2739

Wayne LG, Brenner DJ, Colwell RR, Grimont PAD, Kandler OK, Krichevsky MI, Moore LH, Moore WEC, Murray TGE et al (1987) International Committee on Systematic Bacteriology. Report of the ad hoc committee on reconciliation of approaches to bacterial systematics. Int J Syst Bacteriol 37:463–464

Williams S (1989) Genus Streptomyces Waksman and Henrici 1943. BERGEY's Manual Syst Bacteriol 4:2452–2492

Xu P, Li WJ, Tang SK, Zhang YQ, Chen GZ, Chen HH, Xu LH, Jiang CL (2005) Naxibacter alkalitolerans gen. nov., sp nov., a novel member of the family 'Oxalobacteraceae' isolated from China. Int J Syst Evol Microbiol 55:1149–1153

Zhu B, Lou MM, Xie GL, Wang GF, Zhou Q, Wang F, Fang Y, Su T, Li B, Duan YP (2011) Enterobacter mori sp. nov., associated with bacterial wilt on Morus alba L. Int J Syst Evol Microbiol 61:2769–2774
Acknowledgments
The authors are grateful to Miss Sang Mi Lee (KCTC) and ClaudineVereecke (LMG) for their kind providing the reference type strains. This research was supported by National Natural Science Foundation of China (No. 31160432), China National Tobacco Corporation (110201402040) and HKZB201508012-51, and by Foundation of Yunnan Province (Nos. 2012BA015 and 2014-01). W.-J. Li was also supported by Guangdong Province Higher Vocational Colleges and Schools Pearl River Scholar Funded Scheme (2014).
Additional information
Yan-Qing Duan, Xing-Kui Zhou and Li Di-Yan contributed equally to this work.
Electronic supplementary material
Below is the link to the electronic supplementary material.
About this article
Cite this article
Duan, YQ., Zhou, XK., Di-Yan, L. et al. Enterobacter tabaci sp. nov., a novel member of the genus Enterobacter isolated from a tobacco stem. Antonie van Leeuwenhoek 108, 1161–1169 (2015). https://doi.org/10.1007/s10482-015-0569-1
Received:

Accepted:

Published:

Issue Date:
Keywords
Enterobacter tabaci sp. nov.
Nicotiana tabacum L.

MLSA

Polyphasic taxonomy

16S rRNA gene