Abstract
A novel actinobacterial strain, designated CFH S0499T, was isolated from a soil sample collected from Catba island in Halong Bay, Vietnam. The cells were observed to be Gram-stain positive, aerobic, non-motile, curved rods. The strain was found to grow optimally at 28 °C and pH 7.0. Growth was found to occur at 0–7 % NaCl. Chemotaxonomically, the peptidoglycan type was determined to be of the A3α type, with glutamic acid, glycine, alanine and lysine as the major cell wall amino acids. The whole cell sugars were found to contain mannose, galactose, glucose, ribose and rhamnose. The polar lipids were identified as diphosphatidylglycerol, phosphatidylglycerol, phosphatidylinositol, glycolipids and two unidentified phospholipids. The major fatty acids were identified as anteiso-C15:0, iso-C15:0, anteiso-C17:0 and iso-C16:0 and the predominant respiratory quinone as MK-9 (H2), with a minor amount of MK-10 (H4) and MK-8 (H2). The G+C content of the genomic DNA was determined to be 71.8 mol%. The 16S rRNA gene sequence analysis showed that strain CFH S0499T should be assigned to the genus Sinomonas and is closely related to members of the species Sinomonas atrocyanea DSM 20127T (98.3 %), Sinomonas soli CW 59T (98.28 %), Sinomonas flava CW 108T (98.26 %), Sinomonas mesophila MPLK 26T (97.5 %) and Sinomonas notoginsengisoli SYP-B 575T (95.8 %). DNA–DNA hybridizations showed low values (49.1–54.5 %) between strain CFH S0499T and its four closest neighbours. Based on phenotypic, chemotaxonomic and phylogenetic analysis, strain CFH S0499T is concluded to represent a novel species of the genus Sinomonas, for which the name Sinomonas halotolerans sp. nov. is proposed, with CFH S0499T as the type strain (=CCTCC AB2014300T = KCTC 39116T).
Access options
Buy single article
Instant access to the full article PDF.
US$ 39.95
Tax calculation will be finalised during checkout.
Subscribe to journal
Immediate online access to all issues from 2019. Subscription will auto renew annually.
US$ 119
Tax calculation will be finalised during checkout.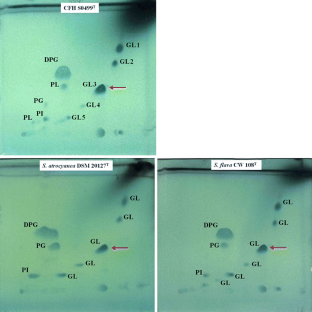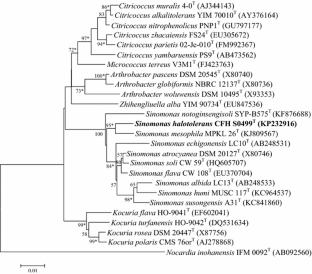 References
Bao YY, Huang Z, Mao DM, Sheng XF, He LY (2015) Sinomonas susongensis sp. nov., isolated from the surface of weathered biotite. Int J Syst Evol Microbiol 65:1133–1137

Cerny G (1978) Studies on the aminopeptidase test for the distinction of Gram-negative from Gram-positive bacteria. Eur J Appl Microbiol Biotechnol 5:113–122

Christensen H, Angen Y, Mutters R, Olsen JE, Bisgaard M (2000) DNA-DNA hybridization determined in micro-wells using covalent attachment of DNA. Int J Syst Evol Microbiol 50:1095–1102

Collins MD, Jones D (1980) Lipids in the classification and identification of coryneform bacteria containing peptidoglycans based on 2, 4-diaminobutyric acid. J Appl Bacteriol 48:459–470

Ding L, Hirose T, Yokota A (2009) Four novel Arthrobacter species isolated from filtration substrate. Int J Syst Evol Microbiol 59:856–862

Ezaki T, Hashimoto Y, Yabuuchi E (1989) Fluorometric deoxyribonucleic acid-deoxyribonucleic acid hybridization in microdilution wells as an alternative to membrane filter hybridization in which radioisotopes are used to determine genetic relatedness among bacterial strains. Int J Syst Bacteriol 39:224–229

Felsenstein J (1981) Evolutionary trees from DNA sequences: a maximum likelihood approach. J Mol Evol 17:368–376

Felsenstein J (1985) Confidence limits on phylogenies: an approach using the bootstrap. Evolution 39:783–791

Fitch WM (1971) Toward defining the course of evolution: minimum change for a specific tree topology. Syst Biol 20:406–416

Gonzalez C, Gutierrez C, Ramirez C (1978) Halobacterium vallismortis sp. nov. an amylolytic and carbohydrate-metabolizing, extremely halophilic bacterium. Can J Microbiol 24:710–715

Groth I, Rodríguez C, Schütze B, Schmitz P, Leistner E, Goodfellow M (2004) Five novel Kitasatospora species from soil: kitasatospora arboriphila sp. nov., K. gansuensis sp. nov., K. nipponensis sp. nov., K. paranensis sp. nov. and K. terrestris sp. nov. Int J Syst Evol Microbiol 54:2121–2129

Hu HY, Lim BR, Goto N, Fujie K (2001) Analytical precision and repeatability of respiratory quinones for quantitative study of microbial community structure in environmental samples. J Microbiol Methods 47:17–24

Kelly KL (1964) Color-name charts illustrated with centroid colors. Inter-Society Color Council-National Bureau of Standards, Chicago

Kim OS, Cho YJ, Lee K, Yoon SH, Kim M, Na H, Park SC, Jeon YS, Lee JH, Yi H, Won S, Chun J (2012) Introducing EzTaxon-e: a prokaryotic 16S rRNA gene sequence database with phylotypes that represent uncultured species. Int J Syst Evol Microbiol 62:716–721

Kimura M (1980) A simple method for estimating evolutionary rates of base substitutions through comparative studies of nucleotide sequences. J Mol Evol 16:111–120

Kovacs N (1956) Identification of Pseudomonas pyocyanea by the oxidase reaction. Nature 178:703–704

Kuhn DA, Starr MP (1960) Arthrobacter atrocyaneus sp. nov., and its blue pigment. Arch Microbiol 36:175–181

Lee LH, Azman AS, Zainal N, Yin WF, Ab Mutalib NS, Chan KG (2015) Sinomonas humi sp. nov., an amylolytic actinobacterium isolated from mangrove forest soil. Int J Syst Evol Microbiol 65:996–1002

Leifson E (1960) Atlas of bacterial flagellation. Academic Press, London

Li WJ, Xu P, Schumann P, Zhang YQ, Pukall R, Xu LH, Stackebrandt E, Jiang CL (2007) Georgenia ruanii sp. nov., a novel actinobacterium isolated from forest soil in Yunnan (China), and emended description of the genus Georgenia. Int J Syst Evol Microbiol 57:1424–1428

Mesbah M, Premachandran U, Whitman WB (1989) Precise measurement of the G+C content of deoxyribonucleic acid by high-performance liquid chromatography. Int J Syst Bacteriol 39:159–167

Ming H, Yin YR, Li S, Nie GX, Yu TT, Zhou EM, Liu L, Dong L, Li WJ (2014) Thermus caliditerrae sp. nov., a novel thermophilic species isolated from a geothermal area. Int J Syst Evol Microbiol 64:650–656

Minnikin DE, Collins MD, Goodfellow M (1979) Fatty acid and polar lipid composition in the classification of Cellulomonas, Oerskovia and related taxa. J Appl Bacteriol 47:87–95

Prabhu DM, Quadri SR, Cheng J, Liu L, Chen W, Yang Y, Hozzein WN, Lingappa K, Li WJ (2014) Sinomonas mesophila sp. nov., isolated from ancient fort soil. J Antibiot 68:318–321

Saitou N, Nei M (1987) The neighbor-joining method: a new method for reconstructing phylogenetic trees. Mol Biol Evol 4:406–425

Sasser M (1990) Identification of bacteria by gas chromatography of cellular fatty acids. USFCC Newsl 20:16

Schleifer KH, Kandler O (1972) Peptidoglycan types of bacterial cell walls and their taxonomic implications. Bacteriol Rev 36:407–477

Tamura K, Stecher G, Peterson D, Filipski A, Kumar S (2013) MEGA6: molecular evolutionary genetics analysis version 6.0. Mol Biol Evol 30:2725–2729

Tang SK, Wang Y, Chen Y, Lou K, Cao LL, Xu LH, Li WJ (2009) Zhihengliuella alba sp. nov., and emended description of the genus Zhihengliuella. Int J Syst Evol Microbiol 59:2025–2032

Thompson JD, Gibson TJ, Plewniak F, Jeanmougin F, Higgins DG (1997) The CLUSTAL X windows interface: flexible strategies for multiple sequence alignment aided by quality analysis tools. Nucleic Acids Res 25:4876–4882

Wayne LG, Brenner DJ, Colwell RR, Grimont PAD, Kandler O, Krichevsky MI, Moore LH, Moore WEC, Murray RGE, Stackebrandt E, Starr MP, Trüper HG (1987) International committee on systematic bacteriology. Report of the ad hoc committee on reconciliation of approaches to bacterial systematics. Int J Syst Bacteriol 37:463–464

Wieser M, Denner EB, Kämpfer P, Schumann P, Tindall B, Steiner U, Vybiral D, Lubitz W, Maszenan A, Patel B (2002) Emended descriptions of the genus Micrococcus, Micrococcus luteus (Cohn 1872) and Micrococcus lylae (Kloos et al. 1974). Int J Syst Evol Microbiol 52:629–637

Williams S (1989) Genus Streptomyces Waksman and Henrici 1943. Bergey's Man Syntematic Bacteriol 4:2452–2492

Xu P, Li WJ, Tang SK, Zhang YQ, Chen GZ, Chen HH, Xu LH, Jiang CL (2005) Naxibacter alkalitolerans gen. nov., sp. nov., a novel member of the family 'Oxalobacteraceae' isolated from China. Int J Syst Evol Microbiol 55:1149–1153

Yu TT, Yao JC, Ming H, Yin YR, Zhou EM, Liu MJ, Tang SK, Li WJ (2013) Thermus tengchongensis sp. nov., isolated from a geothermally heated soil sample in Tengchong, Yunnan, South-West China. Antonie Van Leeuwenhoek 103:513–518

Zhang MY, Xie J, Zhang TY, Xu H, Cheng J, Li SH, Li WJ, Zhang YX (2014) Sinomonas notoginsengisoli sp. nov., isolated from the rhizosphere of Panax notoginseng. Antonie Van Leeuwenhoek 106:827–835

Zhou Y, Wei W, Wang X, Lai R (2009) Proposal of Sinomonas flava gen. nov., sp. nov., and description of Sinomonas atrocyanea comb. nov. to accommodate Arthrobacter atrocyaneus. Int J Syst Evol Microbiol 59:259–263

Zhou Y, Chen X, Zhang Y, Wang W, Xu J (2012) Description of Sinomonas soli sp. nov., reclassification of Arthrobacter echigonensis and Arthrobacter albidus (Ding et al. 2009) as Sinomonas echigonensis comb. nov. and Sinomonas albida comb. nov., respectively, and emended description of the genus Sinomonas. Int J Syst Evol Microbiol 62:764–769
Acknowledgments
The authors are grateful to Prof. Hans-Peter Klenk (DSMZ, Germany) and Prof. Yu Zhou (Institute of Quality and Standard for Agro-products, Zhejiang Academy of Agricultural Sciences, China) for their kind providing the reference type strains. This research was supported by Natural Science Foundation of China (No. 31372545), Program for Innovative Research Team (in Science and Technology) in University of Henan Province (14IRTSTHN013), Plan for Scientific Innovation Talent of Henan Province (154100510010), Scientific Research Fund of Xinxiang Medical University (2013QN126), Research Project of Education Department of Henan Province of China (2011A180025). WJ Li was also supported by Guangdong Province Higher Vocational Colleges & Schools Pearl River Scholar Funded Scheme (2014).
Additional information
Qian-Qian Guo and Hong Ming have contributed equally to this work.
Electronic supplementary material
Below is the link to the electronic supplementary material.
About this article
Cite this article
Guo, QQ., Ming, H., Meng, XL. et al. Sinomonas halotolerans sp. nov., an actinobacterium isolated from a soil sample. Antonie van Leeuwenhoek 108, 887–895 (2015). https://doi.org/10.1007/s10482-015-0543-y
Received:

Accepted:

Published:

Issue Date:
Keywords
Sinomonas halotolerans sp. nov.
Family Micrococcaceae

Halong Bay