Abstract
Two strains, NCCP-650T and NCCP-667, were isolated from industrial effluent and their taxonomic positions were investigated using a polyphasic taxonomic approach. The strains were found to be Gram-stain negative, strictly aerobic, motile short rods, which are tolerant to heavy-metals (Cr+2, As+2, Pb+2 and Cu+2). Cells were observed to grow at a temperature range of 10–37 °C (optimal 25–33 °C), pH range of 5.5–10.0 (optimal 6.5–7.5) and can tolerate 0–7 % NaCl (w/v) (optimum 0–1 %) in tryptic soya agar medium. Sequencing of the 16S rRNA gene and two housekeeping genes, gyrB and nirK, of the isolated strains revealed that both strains belong to the Betaproteobacteria showing highest sequence similarities with members of the genus Alcaligenes. The chemotaxonomic data [major quinones as Q-8; predominant cellular fatty acids as summed features 3 (C16 :1 ω7c/iso-C15 :0 2OH) and C16:0 followed by Summed features 2 (iso-C16 :1 I/C14 :0 3OH), C17:0 Cyclo and C18:1 ω7c; major polar lipids as diphosphatidylglycerol, phosphatidylglycerol, phosphatidylethanolamine and one unidentified aminolipid] also supported the affiliation of the isolated strains with the genus Alcaligenes. DNA–DNA hybridizations between the two strains and with closely related type strains of species of the genus Alcaligenes confirmed that both isolates belong to a single novel species within the genus Alcaligenes. On the basis of phylogenetic analyses, physiological, biochemical characteristics and DNA–DNA hybridization, the isolated strains can be differentiated from established Alcaligenes species and thus represent a novel species, for which the name Alcaligenes pakistanensis sp. nov. is proposed with the type strain NCCP-650T (=LMG 28368T = KCTC42083T = JCM 30216T).
This is a preview of subscription content,
to check access.
Access this article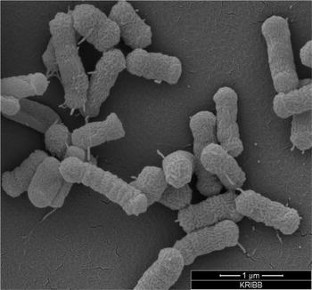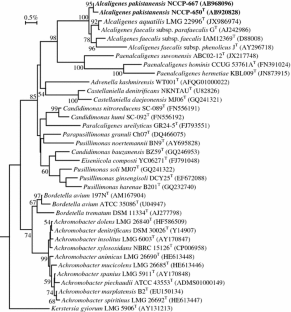 Similar content being viewed by others
References
Abbas S, Ahmed I, Kudo T, Iida T, Ali GM, Fujiwara T, Ohkuma M (2014) Heavy metal-tolerant and psychrotolerant bacterium Acinetobacter pakistanensis sp. nov., isolated from a textile dyeing wastewater treatment pond. Pak J Agri Sci 51:595–608

Affan Q-u-A, Shoeb E, Badar U, Akhtar J (2009) Isolation and characterization of bacterial isolates having heavy metal tolerance. J Basic Appl Sci 5:55–60

Ahmed I, Sin Y, Paek J, Ehsan M, Hayat R, Iqbal M, Chang YH (2014) Description of Lysinibacillus pakistanensis. Int J Agric Biol 16:447–450

Altenburger P, Kämpferb P, Makristathisc A, Lubitza W, Bussea H-J (1996) Classification of bacteria isolated from a medieval wall painting. J Biotechnol 47:39–52. doi:10.1016/0168-1656(96)01376-4

Brady C, Cleenwerck I, Venter S, Vancanneyt M, Swings J, Coutinho T (2008) Phylogeny and identification of Pantoea species associated with plants, humans and the natural environment based on multilocus sequence analysis (MLSA). Syst Appl Microbiol 31:447–460. doi:10.1016/j.syapm.2008.09.004

Busse J, Auling G (1988) Polyamine pattern as a chemotaxonomic marker within the Proteobacteria. Syst Appl Microbiol 11:1–8. doi:10.1016/S0723-2020(88)80040-7

Busse H-J, Auling G (2005) Genus I. Alcaligenes. Castellani and Chalmers 1919, 936AL. In: Brenner DJ, Krieg NR, Staley JT (eds) Bergey's manual of systematic bacteriology, vol 2, 2nd edn. Springer, USA, pp 653–658

Busse H-J, Bunka S, Hensel A, Lubitz W (1997) Discrimination of members of the family Pasteurellaceae based on polyamine patterns. Int J Syst Bacteriol 47:698–708. doi:10.1099/00207713-47-3-698

Castellani A, Chalmers AJ (eds) (1919) Manual of tropical medicine, 3rd edn. Williams Wood and Co., New York

Coenye T, Vancanneyt M, Cnockaert MC, Falsen E, Swings J, Vandamme P (2003) Kerstersia gyiorum gen. nov., sp. nov., a novel Alcaligenes faecalis-like organism isolated from human clinical samples, and reclassification of Alcaligenes denitrificans Ruger and Tan 1983 as Achromobacter denitrificans comb. nov. Int J Syst Evol Microbiol 53:1825–1831. doi:10.1099/ijs.0.02609-0

De Ley J, Segers P, Kersters K, Mannheim W, Lievens A (1986) Intra-and intergeneric similarities of the Bordetella ribosomal ribonucleic acid cistrons: proposal for a new family, Alcaligenaceae. Int J Syst Bacteriol 36:405–414. doi:10.1099/00207713-36-3-405

Euzéby JP (1997) List of bacterial names with standing in nomenclature: a folder available on the Internet (http://www.bacterio.net). Int J Syst Bacteriol 47:590–592 doi:10.1099/00207713-47-2-590

Ezaki T, Hashimoto Y, Yabuuchi E (1989) Fluorometric deoxyribonucleic acid-deoxyribonucleic acid hybridization in microdilution wells as an alternative to membrane filter hybridization in which radioisotopes are used to determine genetic relatedness among bacterial strains. Int J Syst Bacteriol 39:224–229. doi:10.1099/00207713-39-3-224

Mikami H, Ishida Y (1983) Post-column fluorometric detection of reducing sugars in high performance liquid chromatography using arginine. Bunseki Kagaku 32:E207–E210

Rehfuss M, Urban J (2005) Alcaligenes faecalis subsp. phenolicus subsp. nov. a phenol-degrading, denitrifying bacterium isolated from a graywater bioprocessor. Syst Appl Microbiol 28:421–429. doi:10.1016/j.syapm.2005.03.003

Roohi A, Ahmed I, Khalid N, Iqbal M, Jamil M (2014) Isolation and phylogenetic identification of halotolerant/halophilic bacteria from the salt mines of Karak, Pakistan. Int J Agric Biol 16:564–570

Sasser M (1990) Identification of bacteria by gas chromatography of cellular fatty acids. MIDI Technical Note 101

Schroll G, Busse HJ, Parrer G, Rolleke S, Lubitz W, Denner EB (2001) Alcaligenes faecalis subsp. parafaecalis subsp. nov., a bacterium accumulating poly-beta-hydroxybutyrate from acetone-butanol bioprocess residues. Syst Appl Microbiol 24:37–43. doi:10.1078/0723-2020-00001

Sorokin DY (2005) Is there a limit for high-pH life? Int J Syst Evol Microbiol 55:1405–1406. doi:10.1099/ijs.0.63737-0

Staneck JL, Roberts GD (1974) Simplified approach to identification of aerobic Actinomycetes by thin-layer chromatography. Appl Environ Microbiol 28:226–231

Stolz A, Busse HJ, Kampfer P (2007) Pseudomonas knackmussii sp. nov. Int J Syst Evol Microbiol 57:572–576. doi:10.1099/ijs.0.64761-0

Tamura K, Stecher G, Peterson D, Filipski A, Kumar S (2013) MEGA6: molecular evolutionary genetics analysis version 6.0. Mol Biol Evol 30:2725–2729. doi:10.1093/molbev/mst197

Tindall B (1990a) A comparative study of the lipid composition of Halobacterium saccharovorum from various sources. Syst Appl Microbiol 13:128–130. doi:10.1016/S0723-2020(11)80158-X

Tindall B (1990b) Lipid composition of Halobacterium lacusprofundi. FEMS Microbiol Lett 66:199–202. doi:10.1111/j.1574-6968.1990.tb03996.x

Tripathi M, Garg S (2010) Studies on selection of efficient bacterial strains simultaneously tolerant to hexavalent chromium and penta chlorophenol isolated from treated tannery effluent. Res J Microbiol 5:707–716

Tripathi M, Vikram S, Jain RK, Garg S (2011) Isolation and growth characteristics of chromium(VI) and pentachlorophenol tolerant bacterial Isolate from treated tannery effluent for its possible use in simultaneous bioremediation. Ind J Microbiol 51:61–69. doi:10.1007/s12088-011-0089-2

Van Trappen S, Tan TL, Samyn E, Vandamme P (2005) Alcaligenes aquatilis sp. nov., a novel bacterium from sediments of the Weser Estuary, Germany, and a salt marsh on Shem Creek in Charleston Harbor, USA. Int J Syst Evol Microbiol 55:2571–2575. doi:10.1099/ijs.0.63849-0

Vandamme P et al (1995) Bordetella hinzii sp. nov., isolated from poultry and humans. Int J Syst Bacteriol 45:37–45. doi:10.1099/00207713-45-1-37

Vandamme P et al (1996) Bordetella trematum sp. nov., isolated from wounds and ear infections in humans, and reassessment of Alcaligenes denitrificans Rüger and Tan 1983. Int J Syst Bacteriol 46:849–858. doi:10.1099/00207713-46-4-849

Wayne LG et al (1987) Report of the ad hoc committee on reconciliation of approaches to bacterial systematics. Int J Syst Bacteriol 37:463–464. doi:10.1099/00207713-37-4-463

Yokota A, Akagawa-Matsushita M, Hiraishi A, Kataya-Ma Y, Urakami T, Yamasato K (1992) Distribution of quinone systems in microorganisms: gram-negative eubacteria. Bull JFCC 8:136–171

Zahoor A, Rehman A (2009) Isolation of Cr(VI) reducing bacteria from industrial effluents and their potential use in bioremediation of chromium containing wastewater. J Environ Sci 21:814–820. doi:10.1016/s1001-0742(08)62346-3
Acknowledgments
The financial support from Higher Education Commission of Pakistan to S.A. under International Research Support Initiative Program (IRSIP) is gratefully acknowledged. This work was also supported partly by financial assistance from PSDP funded Project Research for Agricultural Development Project (RADP) under a sub-project (Grant No. CS-55/RADP/PARC) entitled "Establishment of Microbial Bio-Resource Laboratories: National Culture Collection of Pakistan (NCCP)" from Pakistan Agricultural Research Council (PARC), Islamabad, Pakistan and partially from Japan Society for Promotion of Science (JSPS) under fellowship program to I.A.
Additional information
The DDBJ/EMBL/GenBank accession numbers for strains NCCP-650T (=LMG 28368T = KCTC 42083T = JCM 30216T), NCCP-667, LMG 22996T, DSM 13975T, JCM 20522T and DSM 16503T are LC001699–LC001704 (gyrB gene) and AB983284–AB983289 (nirK gene), respectively; whereas the 16S rRNA gene accession numbers for strains NCCP-650T and NCCP-667 are AB920828 and AB968096, respectively.
Electronic supplementary material
Below is the link to the electronic supplementary material.
About this article
Cite this article
Abbas, S., Ahmed, I., Iida, T. et al. A heavy-metal tolerant novel bacterium, Alcaligenes pakistanensis sp. nov., isolated from industrial effluent in Pakistan. Antonie van Leeuwenhoek 108, 859–870 (2015). https://doi.org/10.1007/s10482-015-0540-1
Received:

Accepted:

Published:

Issue Date:

DOI: https://doi.org/10.1007/s10482-015-0540-1
Keywords