Abstract
Two aerobic, Gram-positive actinomycetes, designated YIM 77502T and YIM 77510T, were isolated from geothermally heated soil of Tengchong county, Yunnan province, south-west China. The taxonomic position of strains YIM 77502T and YIM 77510T were investigated by a polyphasic approach. Phylogenetic analyses based on 16S rRNA gene sequences showed that strains YIM 77502T and YIM 77510T belong to the genus Actinomadura. Both strains form extensively-branched substrate and aerial mycelia which differentiated into short spore chains. The cell wall of the two strains contained meso-diaminopimelic acid, while the whole-cell sugars detected were glucose, madurose, mannose and rhamnose. The polar lipid profile of strain YIM 77502T was found to consist of diphosphatidylglycerol, phosphatidylinositol mannoside, phosphatidylinositol, two unidentified phospholipids and an unidentified polar lipid, while strain YIM 77510T consisted of diphosphatidylglycerol, phosphatidylinositol mannoside and phosphatidylinositol. The respiratory quinones of strains YIM 77502T and YIM 77510T were MK-9(H6) and MK-9(H8). The major fatty acids (>10 %) of strain YIM 77502T were C17:0, iso-C16:0, C17:010-methyl and iso-C18:0, and those of strain YIM 77510T were iso-C16:0, C17:010-methyl and iso-C18:0. The G+C contents of strains YIM 77502T and YIM 77510T were determined to be 71.3 and 70.2 mol%, respectively. The DNA–DNA hybridization values of strains YIM 77502T, YIM 77510T and their closest phylogenetic neighbours Actinomadura echinospora BCRC 12547T and Actinomadura umbrina KCTC 9343T were less than 70 %. Based on the morphological and physiological properties, and phylogenetic analyses, strains YIM 77502T and YIM 77510T are considered to represent two novel species of the genus Actinomadura, for which the names Actinomadura amylolytica sp. nov. (type strain YIM 77502T = DSM 45822T = CCTCC AA 2012024T) and Actinomadura cellulosilytica sp. nov. (type strain YIM 77510T = DSM 45823T = CCTCC AA 2012023T) are proposed.
Access options
Buy single article
Instant access to the full article PDF.
US$ 39.95
Tax calculation will be finalised during checkout.
Subscribe to journal
Immediate online access to all issues from 2019. Subscription will auto renew annually.
US$ 119
Tax calculation will be finalised during checkout.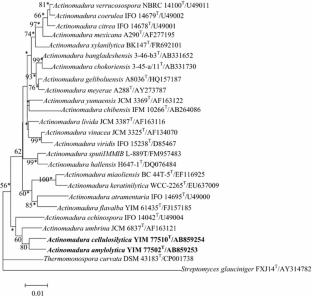 References
Cerny G (1978) Studies on aminopeptidase for the distinction of gram-negative from gram-positive bacteria. Appl Microbiol Biotechnol 5:113–122

Christensen H, Angen O, Mutters R, Olsen JE, Bisgaard M (2000) DNA-DNA hybridization determined in microwells using covalent attachment of DNA. Int J Syst Evol Microbiol 50:1095–1102

Collins MD, Jones D (1980) Lipids in the classification and identification of coryneform bacteria containing peptidoglycan based on 2, 4-diaminobutyric acid. J Appl Bacteriol 48:459–470

Collins MD, Pirouz T, Goodfellow M, Minnikin DE (1977) Distribution of menaquinones in actinomycetes and corynebacteria. J Gen Microbiol 100:221–230

Cook AE, Marilize LR, Meyers PR (2005) Actinomadura napierensis sp. Nov., isolated from soil in South Africa. Int J Syst Evol Microbiol 55:703–706

Ezaki T, Hashimoto Y, Yabuuchi E (1989) Fluorometric deoxyribonucleic acid-deoxyribonucleic acid hybridization in microdilution wells as an alternative to membrane filter hybridization in which radioisotopes are used to determine genetic relatedness among bacterial strains. Int J Syst Bacteriol 39:224–229

Felsenstein J (1981) Evolutionary trees from DNA sequences: a maximum likelihood approach. J Mol Evol 17:368–376

Felsenstein J (1985) Confidence limits on phylogenies: an approach using the bootstrap. Evolution 39:783–790

Fitch WM (1971) To ward defining the course of evolution: minimum change for a specific tree topology. Syst Zool 20:406–416

Gonzalez C, Gutierrez C, Ramirez C (1978) Halobacterium vallismortis sp. nov., an amylolytic and carbohydrate-metabolizing, extremely halophilic bacterium. Can J Microbiol 24:710–715

Hasegawa T, Takizawa M, Tanida S (1983) A rapid analysis for chemical grouping of aerobic actinomycetes. J Gen Microbiol 29:319–322

Kelly KL (1964) Inter-Society Color Council-National Bureau of Standards Color Name charts illustrated with centroid colors. US Government Printing Office, Washington

Kim OS, Cho YJ, Lee K, Yoon SH, Kim M, Na H, Park SC, Jeon YS, Lee JH, Yi H, Won S, Chun J (2012) Introducing EzTaxon-e: a prokaryotic 16S rRNA gene sequence database with phylotypes that represent uncultured species. Int J Syst Evol Microbiol 62:716–721

Kimura M (1980) A simple method for estimating evolutionary rates of base substitutions through comparative studies of nucleotide sequences. J Mol Evol 16:111–120

Kovacs N (1956) Identification of Pseudomonas pyocyanea by the oxidase reaction. Nature 178:703–704

Kroppenstedt RM (1982) Separation of bacterial menaquinones by HPLC using reverse phase (RP18) and a silver loadedion exchanger as stationary phases. J Liq Chromatogr 5:2359–2367

Lechevalier MP, Lechevalier HA (1970) Chemical composition as a criterion in the classification of aerobic actinomycetes. Int J Syst Bacteriol 20:435–443

Li WJ, Xu P, Schumann P, Zhang YQ, Pukall R, Xu LH, Stackebrandt E, Jiang CL (2007) Georgenia ruanii sp. nov., a novel actinobacterium isolated from forest soil in Yunnan (China) and emended description of the genus Georgenia. Int J Syst Evol Microbiol 57:1424–1428

Locci R (1989) Streptomyces and related genera. In: Williams ST, Sharpe ME, Holt JG (eds) Bergey's manual of systematic bacteriology, vol 4. Williams & Wilkins, Baltimore, pp 2451–2508

Mesbah M, Premachandran U, Whitman WB (1989) Precise measurement of the G+C content of deoxyribonucleic acidby high-performance liquid chromatography. Int J Syst Bacteriol 39:159–167

Minnikin DE, Collins MD, Goodfellow M (1979) Fatty acid and polar lipid composition in the classification of Cellulomonas, Oerskovia and related taxa. J Appl Bacteriol 47:87–95

Miyadoh S, Miyara T (2001) Family Thermomonosporaceae. In: The Society for Actinomycetes (ed) Identification manual of actinomycetes. Business Center for Academic Societies, Tokyo, pp 281–291

Parte AC (2014) LPSN—list of prokaryotic names with standing in nomenclature. Nucleic Acids Res 42:D613–D616

Quintana ET, Trujillo ME, Goodfellow M (2003) Actinomadura mexicana sp. nov. and Actinomadura meyerii sp. nov., two novel soil sporoactinomycetes. Syst Appl Microbiol 26:511–517

Saitou N, Nei M (1987) The neighbor-joining method: a new method for reconstructing phylogenetic trees. Mol Biol Evol 4:406–425

Sasser M (1990) Identification of bacteria by gas chromatography of cellular fatty acids. USFCC Newsl 20:16

Shirling EB, Gottlieb D (1966) Methods for characterization of Streptomyces species. Int J Syst Bacteriol 16:313–340

Stackebrandt E, Goebel BM (1994) Taxonomic note: a place for DNA-DNA reassociation and 16S rRNA sequence analysis in the present species definition in bacteriology. Int J Syst Bacteriol 44:846–849

Staneck JL, Roberts GD (1974) Simplified approached to identification of aerobic actinomycetes by thin-layer chromatography. Appl Mirobiol 28:2731–2739

Tamura K, Peterson D, Peterson N, Stecher G, Nei M, Kumar S (2011) MEGA5: molecular evolutionary genetics analysis using maximum likelihood, evolutionary distance, and maximum parsimony methods. Mol Biol Evol 28:2731–2739

Tang SK, Wang Y, Chen Y, Lou K, Cao LL, Xu LH, Li WJ (2009) Zhihengliuella alba sp. nov., and emended description of the genus Zhihengliuella. Int J Syst Evol Microbiol 59:2025–2032

Thompson JD, Gibson TJ, Plewniak F, Jeanmougin F, Higgins DG (1997) The CLUSTALX windows interface: flexible strategies for multiple sequence alignment aided by quality analysis tools. Nucleic Acids Res 25:4876–4882

Trujillo ME, Goodfellow M (2012) Genus III. Actinomadura Lechevalier and lechevalier 1970, 400AL emend. Kroppenstedt, Stackebrandt and Goodfellow 1990, 156. In: Goodfellow M, Kämpfer P, Busse MJ, Trujillo ME, Suzuki KL, Ludwig W, Whitman WB (eds) Bergey's Manual of Systematic Bacteriology, vol 5, 2nd edn. Springer, New York, pp 1940–1959

Waksman SA (1967) The actinomycetes: a summary of current knowledge. Ronald Press, New York

Williams ST, Goodfellow M, Alderson G (1989) Genus StreptomycesWaksman and Henrici 1943, 339AL. In: Williams ST, Sharpe ME, Holt JG (eds) Bergey's manual of systematic bacteriology, vol 4. Williams and Willkins, Baltimore, pp 2453–2492

Xu P, Li WJ, Tang SK, Zhang YQ, Chen GZ, Chen HH, Xu H, Jiang CL (2005) Naxibacter alkalitolerans gen. nov., sp. nov., a novel member of the family Oxalobacteraceae isolated from China. Int J Syst Evol Microbiol 55:1149–1153

Zhang Z, Kudo T, Nakajima Y, Wang Y (2001) Clarification of the relationship between the members of the family Thermomonosporaceae on the basis of 16S rDNA, 16S-23S rRNA internal transcribed spacer and 23S rDNA sequences and chemotaxonomic analyses. Int J Syst Evol Microbiol 51:373–383
Acknowledgments
We are grateful to Dr. Jung-Sook Lee (KCTC) and Dr. Min Tseng (BCRC) for their kind providing reference type strains, and Prof. Aharon Oren (The Hebrew University of Jerusalem, Israel) for his kind help with the Latin etymology for the new species and Dr. Nimaichand Salam (Manipur University, India) for his help to further polishing this manuscript. This research was supported by Key Project of International Cooperation of Ministry of Science & Technology (MOST) (No. 2013DFA31980), Natural Science Foundation of China (No. 31470139) and Yunnan Provincial Natural Science Foundation (2013FA004). W-J Li was also supported by Guangdong Province Higher Vocational Colleges & Schools Pearl River Scholar Funded Scheme (2014).
Additional information
Jian-Yu Jiao and Lan Liu have contributed equally to this work.
Electronic supplementary material
Below is the link to the electronic supplementary material.
About this article
Cite this article
Jiao, JY., Liu, L., Zhou, EM. et al. Actinomadura amylolytica sp. nov. and Actinomadura cellulosilytica sp. nov., isolated from geothermally heated soil. Antonie van Leeuwenhoek 108, 75–83 (2015). https://doi.org/10.1007/s10482-015-0465-8
Received:

Accepted:

Published:

Issue Date:
Keywords
Actinomadura amylolytica sp. nov.
Actinomadura cellulosilytica sp. nov.

Tengchong

Polyphasic taxonomy