Abstract
A Gram-negative, strictly aerobic, beige-pigmented, non-motile, rod-shaped strain designated H-MN17T was isolated from seawater in Japan. Phylogenetic analyses based on the 16S rRNA gene sequence revealed that the novel isolate was affiliated with the family Flavobacteriaceae within the phylum Bacteroidetes and that it showed highest sequence similarity (97.5 %) to Wenyingzhuangia marina D1T. The hybridization values for DNA–DNA relatedness between the strains of H-MN17T and W. marina D1T were lower than 70 %, which is accepted as the phylogenetic definition of a novel species. The DNA G+C content of strain H-MN17T was 31.8 mol%; MK-6 was the major menaquinone; and anteiso-C15:0, anteiso-C17:0 and anteiso-C19:0 were identified as the major (>10 %) cellular fatty acids. A complex polar lipid profile was present consisting of phosphatidylethanolamine, three unidentified lipids, three unidentified glycolipids and three unidentified aminolipids. From the distinct phylogenetic position and combination of genotypic and phenotypic characteristics, the strain is considered to represent a novel species of the genus Wenyingzhuangia for which the name Wenyingzhuangia heitensis sp. nov. is proposed. The type strain of W. heitensis sp. nov. is H-MN17T (=KCTC 42245T = NBRC 110601T).
Access options
Buy single article
Instant access to the full article PDF.
US$ 39.95
Tax calculation will be finalised during checkout.
Subscribe to journal
Immediate online access to all issues from 2019. Subscription will auto renew annually.
US$ 119
Tax calculation will be finalised during checkout.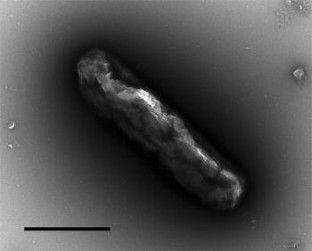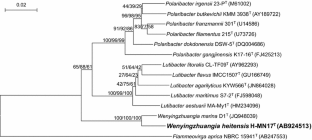 References
Akagawa-Matsushita M, Matsuo M, Koga Y, Yamasato K (1992) Alteromonas atlantica sp. nov. and Alteromonas carrageenovora sp. nov., bacteria that decompose algal polysaccharides. Int J Syst Bacteriol 42:621–627

Atlas RM,Parks LC (eds), (1993), Handbook of microbiological media., CRC, Boca Raton

Bernardet JF, Nakagawa Y, Holmes B (2002) Proposed minimal standards for describing new taxa of the family Flavobacteriaceae and emended description of the family. Int J Syst Evol Microbiol 52:1049–1070

Bianchi A, Bianchi M (1995) Bacterial diversity and ecosystem maintenance: an overview. In: Hawksworth DL, Colwell RR (eds) Microbial diversity and ecosystem maintenance. CAB International (UNEP), Wallingford, pp 185–198

Bowman JP, McCammon SA, Brown MV, Nichols DS, McMeekin TA (1997) Diversity and association of psychrophilic bacteria in Antarctic sea ice. Appl Environ Microbiol 63:3068–3078

Brettar I, Christen R, Höfle MG (2004) Aquiflexum balticum gen. nov., sp. nov., a novel marine bacterium of the Cytophaga-Flavobacterium-Bacteroides group isolated from surface water of the central Baltic Sea. Int J Syst Evol Microbiol 54:2335–2341

Collins MD, Jones D (1981) A note on the separation of natural mixtures of bacterial ubiquinones using reverse-phase partition thin-layer chromatography and high performance liquid chromatography. J Appl Bacteriol 51:129–134

Collins CH, Lyne PM (1984) Microbiological methods, 5th edn. Butterworth, London

Cottrell MT, Kirchman DL (2000) Community composition of marine bacterioplankton determined by 16S rRNA gene clone libraries and fluorescence in situ hybridization. Appl Environ Microbiol 66:5116–5122

DeLong EF, Franks DG, Alldredge AL (1993) Phylogenetic diversity of aggregate-attached vs. free-living marine bacterial assemblages. Limnol Oceanogr 38:924–934

Dittmer JC, Lester RL (1964) A simple, specific spray for the detection of phospholipids on thin-layer chromoatograms. J Lipid Res 15:126–127

Felsenstein J (1985) Confidence limits on phylogenies: An approach using the bootstrap. Evolution 39:783–791

Fitch WM (1971) Towards defining the course of evolution: minimum change for a specific tree topology. Syst Zool 20:406–416

Giovannoni SJ, Rappé M (2000) Evolution, diversity, and molecular ecology of marine prokaryotes. In: Kirchman D (ed) Microbial ecology of the oceans. Wiley, New York, pp 47–84

Glöckner FO, Fuchs BM, Amann R (1999) Bacterioplankton composition of lakes and oceans: a first comparison based on fluorescence in situ hybridization. Appl Environ Microbiol 65:3721–3726

Hansen GH, Sørheim R (1991) Improved method for phenotypical characterization of marine bacteria. J Microbiol Methods 13:231–241

Hayakawa M, Nonomura H (1987) Humic acid-vitamin agar, a new medium for selective isolation of soil actinomycetes. J Ferment Technol 65:501–509

Kim OS, Cho YJ, Lee K, Yoon SH, Kim M, Na H, Park SC, Jeon YS, Lee JH, Yi H, Won S, Chun J (2012) Introducing EzTaxon-e: a prokaryotic 16S rRNA gene sequence database with phylotypes that represent uncultured species. Int J Syst Evol Microbiol 62:716–721

Kimura M (1983) The neutral theory of molecular evolution. Cambridge University Press, Cambridge

Komagata K, Suzuki K (1987) Lipid and cell-wall analysis in bacterial systematics. Methods Microbiol 19:161–207

Liu Y, Liu LZ, Liu HC, Zhou YG, Qi FJ, Liu ZP (2014) Wenyingzhuangia marina gen. nov., sp. nov., a member of the family Flavobacteriaceae isolated from a recirculating mariculture system. Int J Syst Evol Microbiol 64:469–474

Marmur J (1961) A procedure for the isolation of deoxyribonucleic acid from micro-organisms. J Mol Biol 3:208–218

Mesbah M, Premachandran U, Whitman WB (1989) Precise measurement of the G+C content of deoxyribonucleic acid by high-performance liquid chromatography. Int J Syst Bacteriol 39:159–167

Minnikin DE, O'Donnell AG, Goodfellow M, Alderson G, Athalye M, Schaal A, Parlett JH (1984) An integrated procedure for the extraction of bacterial isoprenoid quinines and polar lipids. J Microbiol Methods 2:233–241

O'Sullivan LA, Weightman AJ, Fry JC (2002) New degenerate Cytophaga-Flexibacter-Bacteroides-specific 16S ribosomal DNA-targeted oligonucleotide probes reveal high bacterial diversity in River Taff epilithon. Appl Environ Microbiol 68:201–210

Perry LB (1973) Gliding motility in some non-spreading flexibacteria. J Appl Microbiol 36:227–232

Pinhassi J, Berman T (2003) Differential growth response of colony-forming alpha- and gamma-proteobacteria in dilution culture and nutrient addition experiments from Lake Kinneret (Israel), the eastern Mediterranean Sea, and the Gulf of Eilat. Appl Environ Microbiol 69:199–211

Reichenbach H (1989) Genus I. Cytophaga Winogradsky 1929, 577, AL emend. In: Staley JT, Bryant MP, Pfennig N, Holt JC (eds) Bergey's manual of systematic bacteriology, vol 3. Williams and Wilkins co., Baltimore, pp 2015–2050

Saitou N, Nei M (1987) The neighbor-joining method: a new method for reconstructing phylogenetic trees. Mol Biol Evol 4:406–425

Sasser M (1990) Identification of bacteria by gas chromatography of cellular fatty acids, MIDI technical note 101. MIDI Inc, Newark

Tamura K, Peterson D, Petersen N, Stecher G, Nei M, Kumar S (2011) MEGA5: molecular evolutionary genetics analysis using maximum likelihood, evolutionary distance, and maximum parsimony methods. Mol Biol Evol 28:2731–2739

Thompson JD, Gibson TJ, Plewniak F, Jeanmougin F, Higgins DG (1997) The CLUSTAL_X windows interface: flexible strategies for multiple sequence alignment aided by quality analysis tools. Nucleic Acids Res 25:4876–4882

Wayne LG, Brenner DJ, Colwell RR et al (1987) International Committee on Systematic Bacteriology Report of the ad hoc committee on reconciliation of approaches to bacterial systematics. Int J Syst Bacteriol 37:463–464

Weisburg WG, Barns SM, Pelletier DA, Lane DJ (1991) 16S ribosomal DNA amplification for phylogenetic study. J Bacteriol 173:697–703

Worliczek HL, Kampfer P, Rosengarten R, Tindall RBJ, Busse HJ (2007) Polar lipid and fatty acid profiles—re-vitalizing old approaches as a modern tool for the classification of mycoplasmas? Syst Appl Microbiol 30:355–370
Acknowledgments
The authors would like to thank Midori Nozawa for her technical assistance. The present research has been conducted by the Educational−Industrial Collaboration Research Grant of SAMICK THK in 2014.
Electronic supplementary material
Below is the link to the electronic supplementary material.
About this article
Cite this article
Yoon, J., Kasai, H. Wenyingzhuangia heitensis sp. nov., a new species of the family Flavobacteriaceae within the phylum Bacteroidetes isolated from seawater. Antonie van Leeuwenhoek 107, 655–661 (2015). https://doi.org/10.1007/s10482-014-0360-8
Received:

Accepted:

Published:

Issue Date:
Keywords
Bacteroidetes
Flavobacteriaceae
Wenyingzhuangia heitensis sp. nov.

16S rRNA gene

Polyphasic taxonomy