Abstract
A novel streptomycete, designated as strain DUT 180T, was isolated from a marine sediment sample collected from a sea cucumber farm in Dalian, northeast China. Phylogenetic analyses based on 16S rRNA gene sequences showed that strain DUT 180T is phylogenetically affiliated to the genus Streptomyces where it formed a distinct phyletic line with recognized Streptomyces species. Morphological and chemotaxonomic data also supported the affiliation of this isolate to the genus Streptomyces. Strain DUT 180T was found to exhibit highest sequence similarities of 99.52 and 99.36 % to Streptomyces halophytocola KLBMP 1284T and Streptomyces sulphureus NRRL B-1627T, respectively. However, strain DUT 180T could be distinguished from these two closest neighbours by a range of phenotypic properties. The DNA–DNA hybridization analyses between strain DUT 180T and the type strains of the phylogenetic neighbours revealed 54.8 ± 1.4 and 52.4 ± 2.8 % relatedness. Based on the phenotypic, chemotaxonomic and phylogenetic evidence, we suggest that the isolate DUT 180T represents a novel species of the genus Streptomyces, for which the name Streptomyces xiaopingdaonensis sp. nov. is proposed, with the type strain DUT 180T (= KCTC 29679T = CGMCC 4.7208T).
Access options
Buy single article
Instant access to the full article PDF.
USD 39.95
Price excludes VAT (USA)
Tax calculation will be finalised during checkout.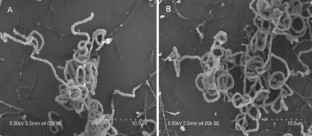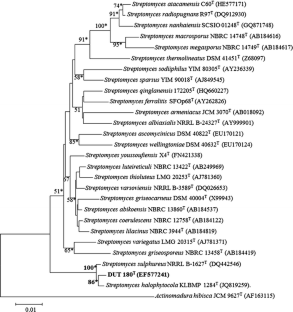 References
Bull AT, Stach JE (2007) Marine actinobacteria: new opportunities for natural product search and discovery. Trends Microbiol 15:491–499

Collins MD, Pirouz T, Goodfellow M, Minnikin DE (1977) Distribution of menaquinones in actinomycetes and corynebacteria. J Gen Microbiol 100:221–230

Embley T, Stackebrandt E (1994) The molecular phylogency and systematics of the actinomycetes. Annu Rev Microbiol 48:257–289

Ezaki T, Hashimoto Y, Yabuuchi E (1989) Fluorometric deoxyribonucleic acid-deoxyribonucleic acid hybridization in microdilution wells as an alternative to membrane filter hybridization in which radioisotopes are used to determine genetic relatedness among bacterial strains. Int J Syst Bacteriol 39:224–229

Felsenstein J (1981) Evolutionary trees from DNA sequences: a maximum likelihood approach. J Mol Evol 17:368–376

Felsenstein J (1985) Confidence limits on phylogenies: an approach using the bootstrap. Evolution 39:783–791

Fitch WM (1971) Toward defining the course of evolution: minimum change for a specific tree topology. Syst Zool 20:406–416

Goodfellow M, Fiedler HP (2010) A guide to successful bioprospecting: informed by actinobacterial systematic. Antonie Van Leeuwenhoek 98:119–142

Gordon RE, Barnett DA, Handerhan JE, Pang CHN (1974) Nocardia coeliaca, Nocardia autotrophica, and the nocardin strain. Int J Syst Bacteriol 24:54–63

Groth I, Schumann P, Rainey FA, Martin K, Schuetze B, Augsten K (1997) Demetria terragena gen. nov., sp. nov., a new genus of actinomycetes isolated from compost soil. Int J Syst Bacteriol 47:1129–1133

He L, Li W, Huang Y, Wang L, Liu Z, Lanoot B, Vancanneyt M, Swings J (2005) Streptomyces jietaisiensis sp. nov., isolated from soil in northern China. Int J Syst Evol Microbiol 55:1939–1944

Jones KL (1949) Fresh isolates of actinomycetes in which the presence of sporogenous aerial mycelia is a fluctuating characteristic. J Bacteriol 57:141–145

Kelly KL (1964) Color-name charts illustrated with centroid colors. Inter-Society Color Council-National Bureau of Standards, Chicago

Kim OS, Cho YJ, Lee K, Yoon SH, Kim M, Na H, Park SC, Jeon YS, Lee JH, Yi H, Won S, Chun J (2012) Introducing EzTaxon-e: a prokaryotic 16S rRNA gene sequence database with phylotypes that represent uncultured species. Int J Syst Evol Microbiol 62:716–721

Kimura M (1980) A simple method for estimating evolutionary rates of base substitutions through comparative studies of nucleotide sequences. J Mol Evol 16:111–120

Labeda DP, Goodfellow M, Brown R, Ward AC, Lanoot B, Vanncanneyt M, Swings J, Kim SB, Liu Z, Chun J, Tamura T, Oguchi A, Kikuchi T, Kikuchi H, Nishii T, Tsuji K, Yamaguchi Y, Tase A, Takahashi M, Sakane T, Suzuki KI, Hatano K (2012) Phylogenetic study of the species within the family Streptomycetaceae. Antonie Van Leeuwenhoek 101:73–104

Lechevalier MP, Lechevalier HA (1980) The chemotaxonomy of actinomycetes. In: Dietz A, Thayer DW (eds) Actinomycete taxonomy. Society for Industrial Microbiology, Arlington, pp 22–291

Li WJ, Xu P, Schumann P, Zhang YQ, Pukall R, Xu LH, Stackebrandt E, Jiang CL (2007) Georgenia ruanii sp. nov., a novel actinobacterium isolated from forest soil in Yunnan (China) and emended description of the genus Georgenia. Int J Syst Evol Microbiol 57:1424–1428

Marmur J (1961) A procedure for the isolation of deoxyribonucleic acid from microorganisms. J Mol Biol 3:208–218

Mesbah M, Premachandran U, Whitman WB (1989) Precise measurement of the G + C content of deoxyribonucleic acid by high performance liquid chromatography. Int J Syst Bacteriol 39:159–167

Minnikin DE, O'Donnell AG, Goodfellow M, Alderson G, Athalye M, Schaal A, Parlett JK (1984) An integrated procedure for the extraction of bacterial isoprenoid quinones and polar lipids. J Microbiol Methods 2:233–241

Newman DJ, Cragg GM (2012) Natural products as sources of new drugs over the 30 years from 1981 to 2010. J Nat Prod 75:311–335

Parte AC (2014) LPSN—list of prokaryotic names with standing in nomenclature. Nucleic Acids Res 42(Database issue):D613–6

Phongsopitanun W, Thawai C, Suwanborirux K, Kudo T, Ohkuma M, Tanasupawat S (2014) Streptomyces chumphonensis sp. nov., isolated from marine sediments. Int J Syst Evol Microbiol 64:2605–2610

Qin S, Bian GK, Tamura T, Zhang YJ, Zhang WD, Cao CL, Jiang JH (2013) Streptomyces halophytocola sp. nov., an endophytic actinomycete isolated from the surface-sterilized stems of a coastal halophyte Tamarix chinensis Lour. Int J Syst Evol Microbiol 63:2770–2775

Saitou N, Nei M (1987) The neighbor-joining method: a new method for reconstructing phylogenetic trees. Mol Biol Evol 4:406–425

Sasser M (1990) Identification of bacteria by gas chromatography of cellular fatty acids, MIDI technical note 101. MIDI Inc, Newark

Shirling EB, Gottlieb D (1966) Methods for characterization of Streptomyces species. Int J Syst Bacteriol 16:313–340

Tamura K, Peterson D, Peterson N, Stecher G, Kumar S (2011) MEGA5: molecular evolutionary genetics analysis using maximum likelihood, evolutionary distance, and maximum parsimony methods. Mol Biol Evol 28:2731–2739

Tian XP, Xu Y, Zhang J, Li J, Chen Z, Kim CJ, Li WJ, Zhang CS, Zhang S (2012) Streptomyces oceani sp. nov., a new obligate marine actinomycete isolated from a deep-sea sample of seep authigenic carbonate nodule in South China Sea. Antonie Van Leeuwenhoek 102:335–343

Waksman SA (1967) The actinomycetes. A summary of current knowledge. Ronald Press, New York

Waksman SA, Henrici AT (1943) The nomenclature and classification of the actinomycetes. J Bacteriol 46:337–341

Wayne LG, Brenner DJ, Colwell RR, Grimont PAD, Kandler O, Krichevsky MI, Moore LH, Moore WEC, Murray RGE, Stackebrandt E, Starr MP, Trüper HG (1987) Report of the Ad Hoc committee on reconciliation of approaches to bacterial systematics. Int J Syst Bacteriol 37:463–464

Williams ST, Goodfellow M, Alderson G, Wellington EMH, Sneath PHA, Sackin MJ (1983) Numerical classification of Streptomyces and related genera. J Gen Microbiol 129:1743–1813

Xu P, Li WJ, Tang SK, Zhang YQ, Chen GZ, Chen HH, Xu LH, Jiang CL (2005) Naxibacter alkalitolerans gen. nov., sp. nov., a novel member of the family 'Oxalobacteraceae' isolated from China. Int J Syst Evol Microbiol 55:1149–1153

Xu Y, He J, Tian XP, Li J, Yang LL, Xie Q, Tang SK, Chen YG, Zhang S, Li WJ (2012) Streptomyces glycovorans sp. nov., Streptomyces xishensis sp. nov. and Streptomyces abyssalis sp. nov., isolated from marine sediments. Int J Syst Evol Microbiol 62:2371–7237

Zhao XQ, Yang TH (2011) Draft genome sequence of the marine derived actinomycete Streptomyces xinghaiensis NRRL B24674T. J Bacteriol 193:5543

Zhao XQ, Li WJ, Jiao WC, Li Y, Yuan WJ, Zhang YQ, Klenk HP, Suh JW, Bai FW (2009) Streptomyces xinghaiensis sp. nov., a new marine actinomycete derived from a marine sediment sample. Int J Syst Evol Microbiol 59:2870–2874

Zhao XQ, Geng X, Chen C, Chen LY, Jiao WC, Yang C (2012a) Draft genome sequence of the marine actinomycete Streptomyces sulphureus L180, isolated from marine sediment. J Bacteriol 194:4482

Zhao XQ, Jiao WC, Xu XN (2012b) Harnessing the chemical and genetic diversities of marine microorganisms for medical applications In: Marine Microbiology: bioactive compounds and their application, Edited by Se-kwon Kim, Wiley
Acknowledgments
The authors are grateful to the financial support by Open Funding Project of State Key Laboratory of Bioreactor Engineering, East China University of Science and Technology, China, and Qing Lan Project of Jiangsu Province (2014), China.
Additional information
Chao Chen and Wei-Wei Feng have contributed equally to this work.
Electronic supplementary material
Below is the link to the electronic supplementary material.
About this article
Cite this article
Chen, C., Feng, WW., Qin, S. et al. Streptomyces xiaopingdaonensis sp. nov., a novel marine actinomycete isolated from the sediment of Xiaopingdao in Dalian, China. Antonie van Leeuwenhoek 107, 511–518 (2015). https://doi.org/10.1007/s10482-014-0347-5
Received:

Accepted:

Published:

Issue Date:

DOI: https://doi.org/10.1007/s10482-014-0347-5
Keywords