Abstract
A novel Gram-stain positive, endospore-forming bacterium, designated SGD-14T, was isolated from a marine sediment sample in Goa Province, India. Cells of the isolate were found to be strictly aerobic. Phylogenetic analysis based on 16S rRNA gene sequences indicated that strain SGD-14T showed a similarity of 99.5 % with Bacillus endophyticus and similarities to other Bacillus type strains were below 96 %. The whole-cell sugar pattern was found to consist of ribose, xylose and glucose. The predominant menaquinone was identified as MK-7 and the major fatty acids as anteiso-C15:0, iso-C15:0, iso-C16:0, anteiso-C17:0, C16:0 and iso-C14:0. The strain was found to grow optimally at 30 °C and pH 7.0–7.5. DNA G + C content was determined to be 39.6 mol%. The phospholipid pattern was found to consist of diphosphatidylglycerol, phosphatidylglycerol and phosphatidylethanolamine. DNA–DNA hybridization studies between strain SGD-14T and B. endophyticus CIP106778T showed that strain SGD-14T exhibited <70 % similarity with B. endophyticus CIP106778T. Differences in phenotypic and chemotaxonomic characteristics between the novel strain and B. endophyticus CIP106778T further confirmed that this isolate represents novel species. Phylogenetic analysis showed that strain SGD-14T fits in the same clade with B. endophyticus with 100 % bootstrap values. Strain SGD-14T is therefore considered to represent a novel species of the genus Bacillus, for which the name Bacillus filamentosus sp. nov. is proposed. The type strain of Bacillus filamentosus is SGD-14T = (=NCIM 5491T = DSM 27955T).
Access options
Buy single article
Instant access to the full article PDF.
USD 39.95
Price excludes VAT (USA)
Tax calculation will be finalised during checkout.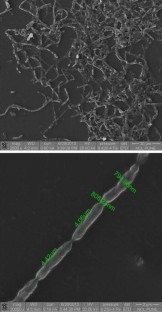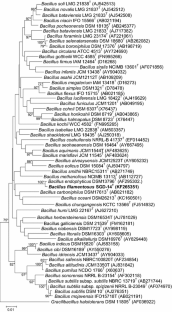 References
Ash C, Priest FG, Collins MD (1993) Molecular identification of rRNA group 3 bacilli (Ash, Farrow, Wallbanks, and Collins) using a PCR probe test. Proposal for the creation of a new genus Paenibacillus. Antonie Van Leeuwenhoek 64:253–260

Bischoff KM, Rooney AP, Li XL, Liu S, Hughes SR (2006) Purification and characterization of a family 5 endoglucanase from a moderately thermophilic strain of Bacillus licheniformis. Biotechnol Lett 28:1761–1765

Claus D, Berkeley RCW (1986) Genus Bacillus. In: Sneath PH, Mair N, Sharpe ME, Holt JG (eds) Bergey's manual of systematic bacteriology. Williams & Wilkins, Baltimore, pp 1105–1139

De Ley J, Cattoir H, Reynaerts A (1970) The quantitative measurement of DNA hybridization from renaturation rates. Eur J Biochem 12:133–142

Felsenstein J (1981) Evolutionary trees from DNA sequences: a maximum likelihood approach. J Mol Evol 17:368–376

Felsenstein J (1985) Confidence limits on phylogenies: an approach using the bootstrap. Evolution 39:783–789

Fitch WM (1971) Towards defining the course of evolution: minimum change for a specific tree topology. Syst Zool 20:406–416

Gillis M, De Ley J, De Cleene M (1970) The determination of molecular weight of bacterial genome DNA from renaturation rates. Eur J Biochem 12:143–153

Gonzalez JM, Saiz-Jimenez C (2002) A fluorimetric method for the estimation of G + C mol% content in microorganisms by thermal denaturation temperature. Environ Microbiol 4(11):770–773

Gonzalez JM, Saiz-Jimenez C (2005) A simple fluorimetric method for the estimation of DNA–DNA relatedness between closely related microorganisms by thermal denaturation temperatures. Extremophiles 9(1):75–79

Heyndrickx M, Lebbe L, Vancanneyt M, Kersters K, De Vos P, Logan NA, Forsyth G, Nazli S, Ali N, Berkeley RCW (1997) A polyphasic reassessment of the genus Aneurinibacillus, reclassification of Bacillus thermoaerophilus (Meier-Stauffer,1996) as Aneurinibacillus thermoaerophilus comb. nov., and emended descriptions of A. aneurinilyticus corrig., A. migulanus, and A. thermoaerophilus. Int J Syst Bacteriol 47:808–817

Hou CT, Labeda DP, Rooney AP (2005) Evaluation of microbial strains for linoleic acid hydroxylation and reclassification of strain ALA2. Antonie Van Leeuwenhoek 88:167–171

Huss VAR, Festl H, Schleifer KH (1983) Studies on the spectrophotometric determination of DNA hybridization from renaturation rates. Syst Appl Microbiol 4:184–192

Kimura M (1980) A simple method for estimating evolutionary rates of base substitutions through comparative studies of nucleotide sequences. J Mol Evol 16(2):111–120

Kroppenstedt RM (1982) Separation of bacterial menaquinones by HPLC using reverse phase (RP-18) and a silver-loaded ion exchanger. J Liq Chromatogr 5:2359–2367

Li WJ, Xu P, Schumann P, Zhang YQ, Pukall R, Xu LH, Stackebrandt E, Jiang CL (2007) Georgenia ruanii sp. nov., a novel actinobacterium isolated from forest soil in Yunnan (China) and emended description of the genus Georgenia. Int J Syst Evol Microbiol 57:1424–1428

Lim J-M, Jeon CK, Lee JR, Park D-J, Kim C-J (2007) Bacillus kribbensis sp. nov., isolated from a soil sample in Jeju, Korea. Int J Syst Evol Microbiol 57:2912–2916

Logan NA, Lebbe L, Verhelst A, Goris J, Forsyth G, Rodríguez-Díaz M, Heyndrickx M, Vos PD (2004) Bacillus shackletonii sp. nov., from volcanic soil on Candlemas Island, South Sandwich archipelago. Int J Syst Evol Microbiol 54:373–376

Logan NA, Berge O, Bishop AH, Busse H-J, De Vos P, Fritze D, Heyndrickx M, Kämpfer P, Rabinovitch L, Salkinoja-Salonen MS, Seldin L, Ventosa A (2009) Proposed minimal standards for describing new taxa of aerobic, endospore-forming bacteria. Int J Syst Evol Microbiol 59:2114–2121

Loveland-Curtze J, Miteva VI, Brenchley JE (2011) Evaluation of a new fluorimetric DNA–DNA hybridization method. Can J Microbiol 57:250–255

Marmur J (1961) A procedure for the isolation of deoxyribonucleic acid from microorganisms. J Mol Biol 3:208–218

Marmur J, Doty P (1962) Determination of the base composition of deoxyribonucleic acid from its thermal denaturation temperature. J Mol Biol 5:109–118

Minnikin DE, O'Donnell AG, Goodfellow M, Alderson G, Athalye M, Schaal K, Parlett JH (1984) An integrated procedure for the extraction of bacterial isoprenoid quinones and polar lipids. J Microbiol Methods 2:233–241

Nazina TN, Tourova TP, Poltaraus AB, Novikova EV, Grigoryan AA, Ivanova AE, Lysenko AM, Petrunyaka VV, Osipov GA, Belyaev SS, Ivanov MV (2001) Taxonomic study of aerobic thermophilic bacilli: descriptions of Geobacillus subterraneus gen. nov., sp. nov. and Geobacillus uzenensis sp. nov. from petroleum reservoirs and transfer of Bacillus stearothermophilus, Bacillus thermocatenulatus, Bacillus thermoleovorans, Bacillus kaustophilus, Bacillus thermoglucosidasius and Bacillus thermodenitrificans to Geobacillus as the new combinations G. stearothermophilus, G. thermocatenulatus, G. thermoleovorans, G. kaustophilus, G. thermoglucosidasius and G. thermodenitrificans. Int J Syst Evol Microbiol 51:433–446

Price NPJ, Rooney AP, Swezey JL, Perry E, Cohan FM (2007) Mass spectroscopic analysis of lipopeptide for Bacillus strains isolated from diverse geographical locations. FEMS Microbiol Lett 271:83–89

Ruiz-García C, Béjar V, Martínez-Checa F, Llamas I, Quesada E (2005a) Bacillus velezensis sp. nov., a surfactant-producing bacterium isolated from the river Velez in Malaga, southern Spain. Int J Syst Evol Microbiol 55:191–195

Ruiz-García C, Quesada E, Martínez-Checa F, Llamas I, Urdaci MC, Béjar V (2005b) Bacillus axarquiensis sp. nov. and Bacillus malacitensis sp. nov., isolated from river-mouth sediments in southern Spain. Int J Syst Evol Microbiol 55:1279–1285

Saitou N, Nei M (1987) The neighbor-joining method: a new method for reconstructing phylogenetic trees. Mol Biol Evol 4:406–425

Sasser M (1990) Identification of bacteria by gas chromatography of cellular fatty acids. USFCC News Lett 20:1–6

Shida O, Takagi H, Kadowaki K, Komagata K (1996) Proposal of two new genera, Brevibacillus gen. nov. and Aneurinibacillus gen. nov. Int J Syst Bacteriol 46:939–946

Staneck JL, Roberts GD (1974) Simplified approach to identification of aerobic actinomycetes by thin-layer chromatography. Appl Microbiol 28:226–231

Tamura K, Stecher G, Peterson D, Filipski A, Kumar S (2013) MEGA 6: molecular evolutionary genetics analysis 6.0. Mol Biol Evolution 30:2725–2729

Thompson JD, Gibson TJ, Plewniak F, Jeanmougin F, Higgins DG (1997) The CLUSTAL_X windows interface: flexible strategies for multiple sequence alignment aided by quality analysis tools. Nucleic Acids Res 25:4876–4882

Venkateswaran K, Kempf M, Chen F, Satomi M, Nicholson W, Kern R (2003) Bacillus nealsonii sp. nov., isolated from a space craft assembly facility, whose spores are c-radiation resistant. Int J Syst Evol Microbiol 53:165–172

Wainø M, Tindall BJ, Schumann P, Ingvorsen K (1999) Gracilibacillus gen. nov., with description of Gracilibacillus halotolerans gen. nov., sp. nov.; transfer of Bacillus dipsosauri to Gracilibacillus dipsosauri comb. nov., and Bacillus salexigens to the genus Salibacillus gen. nov., as Salibacillus salexigens comb. nov. Int J Syst Bacteriol 49:821–831

Wayne LG, Brenner DJ, Colwell RR et al (1987) International Committee on Systematic Bacteriology. Report of the ad hoc committee on reconciliation of approaches to bacterial systematics. Int J Syst Bacteriol 37:463–464

Wisotzkey JD, Jurtshuk P Jr, Fox GE, Deinhard G, Poralla K (1992) Comparative sequence analysis on the 16S rRNA (rDNA) of Bacillus acidocaldarius, Bacillus acidoterrestris, and Bacillus cycloheptanicus and proposal for creation of a new genus, Alicyclobacillus gen. nov. Int J Syst Bacteriol 42:263–269

Yoon JH, Weiss N, Lee KC, Lee IS, Kang KH, Park YH (2001) Jeotgalibacillus alimentarius gen. nov., sp. nov., a novel bacterium isolated from jeotgal with l-lysine in the cell wall, and reclassification of Bacillus marinus Ruger 1983 as Marinibacillus marinus gen nov., comb. nov. Int J Syst Evol Microbiol 51:2087–2093
Acknowledgments
Author SGD thanks to the Council for Scientific and Industrial Research (CSIR), New Delhi for financial supported from the grants under 12th five year plan. Author SGD acknowledged the kind support from The Collection of Institute Pasteur (CIP) for providing the type strain B. endophyticus CIP106778T.
Electronic supplementary material
Below is the link to the electronic supplementary material.
About this article
Cite this article
Sonalkar, V.V., Mawlankar, R., Venkata Ramana, V. et al. Bacillus filamentosus sp. nov., isolated from sediment sample. Antonie van Leeuwenhoek 107, 433–441 (2015). https://doi.org/10.1007/s10482-014-0341-y
Received:

Accepted:

Published:

Issue Date:

DOI: https://doi.org/10.1007/s10482-014-0341-y
Keywords