Abstract
A Gram-negative, strictly aerobic, non-motile, and rod-shaped bacterial strain designated UB-M7T was isolated from the intestine of a sea cucumber (Apostichopus japonicus) collected from Pohang in South Korea. Strain UB-M7T displayed optimal growth at 25 °C, pH 7.0–7.5, and with 2.0–3.0 % (w/v) NaCl. Phylogenetic analyses based on the 16S rRNA gene sequences showed that strain UB-M7T clustered with Phaeobacter arcticus DSM 23566T, Phaeobacter inhibens DSM 16374T, Phaeobacter gallaeciensis BS107T, and Phaeobacter leonis 306T, exhibiting 16S rRNA gene sequence similarity values of 96.8, 96.6, 96.4, and 96.2 %, respectively. Strain UB-M7T was found to exhibit the highest gyrB sequence similarity value of 80.6 % to the type strain of P. arcticus. The major respiratory quinone of strain UB-M7T was found to be ubiquinone 10 (Q-10). The major cellular fatty acids (>5 % of the total fatty acids) are summed features 8 (comprising C18:1 ω7c and/or C18:1 ω6c), 11-methyl C18:1 ω7c, and cyclo C19:0 ω8c. The DNA G+C content was found to be 58.5 mol% and DNA–DNA relatedness value with P. arcticus JCM 14644T was 17.2 ± 2.4 %. The major polar lipids of strain UB-M7T were identified as phosphatidylethanolamine, phosphatidylglycerol, diphosphatidylglycerol, phosphatidylcholine; one phospholipid, and three other lipids remain unidentified. Based on its phenotypic, phylogenetic, and chemotaxonomic properties it is concluded that strain UB-M7T represents a novel species in the genus Phaeobacter, for which the name Phaeobacter marinintestinus sp. nov. is proposed. The type strain is UB-M7T (=KCCM 43045T = JCM 19926T).
Access options
Buy single article
Instant access to the full article PDF.
US$ 39.95
Tax calculation will be finalised during checkout.
Subscribe to journal
Immediate online access to all issues from 2019. Subscription will auto renew annually.
US$ 119
Tax calculation will be finalised during checkout.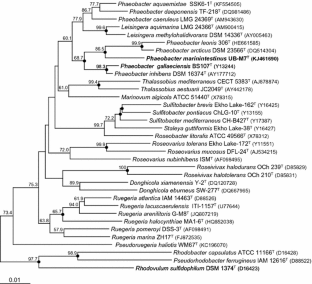 References
Bruns A, Rohde M, Berthe-Corti L (2001) Muricauda ruestringensis gen. nov., sp. nov., a facultatively anaerobic, appendaged bacterium from German North Sea intertidal sediment. Int J Syst Evol Microbiol 51:1997–2006

Cowan ST, Steel KJ (1965) Manual for the identification of medical bacteria. Cambridge University Press, London

Ezaki T, Hashimoto Y, Yabuuchi E (1989) Fluorometric deoxyribonucleic acid-deoxyribonucleic acid hybridization in microdilution wells as an alternative to membrane filter hybridization in which radioisotopes are used to determine genetic relatedness among bacterial strains. Int J Syst Bacteriol 39:224–229

Felsenstein J (1981) Evolutionary trees from DNA sequences: a maximum likelihood approach. J Mol Evol 17:368–376

Felsenstein J (1985) Confidence limits on phylogenies: an approach using the bootstrap. Evolution 39:783–791

Felsenstein J (2005) PHYLIP (Phylogeny Inference Package), version 3.6. Distributed by the author. Department of Genome Sciences, University of Washington, Seattle

Fitch WM (1971) Toward defining the course of evolution: minimum change for a specific tree topology. Syst Zool 20:406–416

Gaboyer F, Tindall BJ, Ciobanu MC, Duthoit F, Le Romancer M, Alain K (2013) Phaeobacter leonis sp. nov., an alphaproteobacterium from Mediterranean Sea sediments. Int J Syst Evol Microbiol 63:3301–3306

Komagata K, Suzuki K (1987) Lipid and cell-wall analysis in bacterial systematics. Methods Microbiol 19:161–207

Lányí B (1987) Classical and rapid identification methods for medically important bacteria. Methods Microbiol 19:1–67

Lee MH, Yoon JH (2012) Shewanella litorisediminis sp. nov., a gammaproteobacterium isolated from a tidal flat sediment. Antonie Van Leeuwenhoek 102:591–599

Martens T, Heidorn T, Pukall R, Simon M, Tindall BJ (2006) Brinkhoff TReclassification of Roseobacter gallaeciensis Ruiz-Ponte,1998 as Phaeobacter gallaeciensis gen. nov., comb. nov., description of Phaeobacter inhibens sp. nov., reclassification of Ruegeria algicola (Lafay et al. 1995) Uchino et al. 1999 as Marinovum algicola gen. nov., comb. nov., and emended descriptions of the genera Roseobacter, Ruegeria and Leisingera. Int J Syst Evol Microbiol 56:1293–1304

Minnikin DE, Patel PV, Alshamaony L, Goodfellow M (1977) Polar lipid composition in the classification of Nocardia and related bacteria. Int J Syst Bacteriol 27:104–117

Minnikin DE, O'Donnell AG, Goodfellow M, Alderson G, Athalye M, Schaal A, Parlett JH (1984) An integrated procedure for the extraction of bacterial isoprenoid quinones and polar lipids. J Microbiol Methods 2:233–241

Park S, Park DS, Bae KS, Yoon JH (2014) Phaeobacter aquaemixtae sp. nov., isolated from the junction between the ocean and a freshwater spring. Int J Syst Evol Microbiol 64:1378–1383

Porsby CH, Nielsen KF, Gram L (2008) Phaeobacter and Ruegeria species of the Roseobacter clade colonize separate niches in a Danish Turbot (Scophthalmus maximus)-rearing farm and antagonize Vibrio anguillarum under different growth conditions. Appl Environ Microbiol 74:7356–7364

Saitou N, Nei M (1987) The neighbor-joining method: a new method for reconstructing phylogenetic trees. Mol Biol Evol 4:406–425

Sasser M (1990) Identification of bacteria by gas chromatography of cellular fatty acids, MIDI Technical Note 101. MIDI Inc, Newark

Stackebrandt E, Goebel BM (1994) Taxonomic note: a place for DNA–DNA reassociation and 16S rRNA sequence analysis in the present species definition in bacteriology. Int J Syst Bacteriol 44:846–849

Tamaoka J, Komagata K (1984) Determination of DNA base composition by reversed-phase high-performance liquid chromatography. FEMS Microbiol Lett 25:125–128

Thompson JD, Higgins DG, Gibson TJ (1994) CLUSTAL W: improving the sensitivity of progressive multiple sequence alignment through sequence weighting, position-specific gap penalties and weight matrix choice. Nucleic Acids Res 22:4673–4680

Vandecandelaere I, Segaert E, Mollica A, Faimali M, Vandamme P (2009) Phaeobacter caeruleus sp. nov., a blue-coloured, colony-forming bacterium isolated from a marine electroactive biofilm. Int J Syst Evol Microbiol 59:1209–1214

Wayne LG, Brenner DJ, Colwell RR, Grimont PAD, Kandler O, Krichevsky MI, Moore LH, Moore WEC, Murray RGEea (1987) International committee on systematic bacteriology. Report of the ad hoc committee on reconciliation of approaches to bacterial systematics. Int J Syst Bacteriol 37:463–464

Yamamoto S, Harayama S (1995) PCR amplification and direct sequencing of gyrB genes with universal primers and their application to the detection and taxonomic analysis of Pseudomonas putida strains. Appl Environ Microbiol 61:1104–1109

Yoon JH, Lee ST, Park YH (1998) Inter- and intraspecific phylogenetic analysis of the genus Nocardioides and related taxa based on 16S rDNA sequences. Int J Syst Bacteriol 48(Pt 1):187–194

Yoon JH, Kang SJ, Lee SY, Oh TK (2007) Phaeobacter daeponensis sp. nov., isolated from a tidal flat of the Yellow Sea in Korea. Int J Syst Evol Microbiol 57:856–861

Zhang DC, Li HR, Xin YH, Liu HC, Chi ZM, Zhou PJ, Yu Y (2008) Phaeobacter arcticus sp. nov., a psychrophilic bacterium isolated from the Arctic. Int J Syst Evol Microbiol 58:1384–1387
Electronic supplementary material
Below is the link to the electronic supplementary material.
About this article
Cite this article
Lee, MH., Song, EJ., Seo, MJ. et al. Phaeobacter marinintestinus sp. nov., isolated from the intestine of a sea cucumber (Apostichopus japonicus). Antonie van Leeuwenhoek 107, 209–216 (2015). https://doi.org/10.1007/s10482-014-0318-x
Received:

Accepted:

Published:

Issue Date:
Keywords
Novel species

Phaeobacter marinintestinus

Polyphasic taxonomy

Sea cucumber