Abstract
A novel pale-pink coloured strain, designated NIO-1023T, was isolated from a marine sediment sample from Chorao Island, Goa, India. The taxonomic position of strain NIO-1023T was investigated by using a polyphasic approach. The cells were observed to be Gram-stain positive, coccal shaped and non-spore forming. Phylogenetic analyses using the 16S rRNA gene sequence of the isolate indicated that the organism belongs to the genus Deinococcus. The strain NIO-1023T showed highest 16S rRNA gene sequence similarities with Deinococcus ficus (97.8 %), whereas other Deinococcus species showed less than 95 % sequence similarity. The DNA–DNA relatedness with respect to D. ficus CC-FR2-10T was 23.9 %. Chemotaxonomic data revealed that strain NIO-1023T contains only menaquinone MK-8 as the respiratory quinone and a complex polar lipid profile consisting of different unidentified glycolipids and polar lipids, two unknown phospholipids and three unknown phosphoglycolipids. As in other deinococci, one of these phosphoglycolipids was predominant in the profile. The predominant fatty acids were identified as C17:1 w8c, C16:1 w6c/w7c, C15:1 w6c and C17:1 w9c. The genomic DNA G + C content of strain NIO-1023T was determined to be 67.2 mol%. The biochemical and chemotaxonomic properties demonstrate that strain NIO-1023T represents a novel species, for which the name Deinococcus enclensis sp. nov. is proposed. The type strain is NIO-1023T (=DSM 25127T = NCIM 5456T).
Access options
Buy single article
Instant access to the full article PDF.
USD 39.95
Price excludes VAT (USA)
Tax calculation will be finalised during checkout.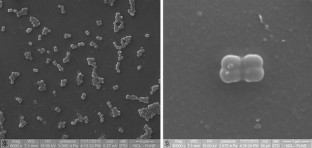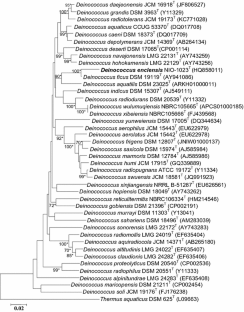 References
Brooks BW, Murray RGE (1981) Nomenclature for ''Micrococcus radiodurans'' and other radiation-resistant cocci: Deinococcaceae fam. nov. and Deinococcus gen. nov., including five species. Int J Syst Bacteriol 31:353–360

Chen W, Wang B, Hong H, Yang H, Liu SJ (2012) Deinococcus reticulitermitis sp. nov., isolated from a termite gut. Int J Syst Evol Microbiol 62:78–83

Cui XL, Mao PH, Zeng M, Li WJ, Zhang LP, Xu LH, Jiang CL (2001) Streptomonospora salina gen. nov., sp. nov., a new member of the family Nocardiopsaceae. Int J Syst Evol Microbiol 51:357–363

de Groot A, Chapon V, Servant P, Christen R, Saux MF, Sommer S, Heulin T (2005) Deinococcus deserti sp. nov., a gamma radiation tolerant bacterium isolated from the Sahara desert. Int J Syst Evol Microbiol 55:2441–2446

De Ley J, Cattoir H, Reynaerts A (1970) The quantitative measurement of DNA hybridization from renaturation rates. Eur J Biochem 12:133–142

Felsenstein J (1981) Evolutionary trees from DNA sequences: a maximum likelihood approach. J Mol Evol 17:368–376

Felsenstein J (1985) Confidence limits on phylogenies: an approach using the bootstrap. Evolution 39:783–791

Ferreira AC, Nobre FM, Rainey FA, Silva MT, Wait R, Burghardt J, Chung AP, Da Costa MS (1997) Deinococcus geothermalis sp. nov. and Deinococcus murrayi sp. nov., two extremely radiation-resistant and slightly thermophilic species from hot springs. Int J Syst Bacteriol 47:939–947

Fitch WM (1971) Toward defining the course of evolution: minimum change for a specified tree topology. Syst Zool 20(4):406–416

Gerhardt P, Murray RGE, Wood WA, Krieg NR (1994) Methods for general and molecular bacteriology. American Society for Microbiology, Washington, DC

Gillis M, De Ley J, De Cleene M (1970) The determination of molecular weight of bacterial genome DNA from renaturation rates. Eur J Biochem 12:143–153

Gonzalez JM, Saiz-Jimenez C (2002) A fluorimetric method for the estimation of G+C mol% content in microorganisms by thermal denaturation temperature. Environ Microbiol 4(11):770–773

Gonzalez JM, Saiz-Jimenez C (2005) A simple fluorimetric method for the estimation of DNA–DNA relatedness between closely related microorganisms by thermal denaturation temperatures. Extremophiles 9(1):75–79

Groth I, Schumann P, Weiss N, Martin K, Rainey FA (1996) Agrococcus jenensis gen. nov., sp. nov., a new genus of actinomycetes with diaminobutyric acid in the cell wall. Int J Syst Bacteriol 46:234–239

Hayakawa M, Nonomura H (1987) Humic acid-vitamin agar, a new medium for the selective isolation of soil actinomycetes. J Ferment Technol 65:501–509

Hirsch P, Gallikowski CA, Siebert J, Peissl K, Kroppenstedt RM, Schumann P, Stackebrandt E, Anderson R (2004) Deinococcus frigens sp. nov., Deinococcus saxicola sp. nov., and Deinococcus marmoris sp. nov., low temperature and draught tolerating, UV-resistant bacteria from continental Antarctica. Syst Appl Microbiol 27:636–645

Huss VAR, Festl H, Schleifer KH (1983) Studies on the spectrophotometric determination of DNA hybridization from renaturation rates. Syst Appl Microbiol 4:184–192

Im W-T, Jung H-M, Ten LN, Kim MK, Bora N, Goodfellow M, Lim S, Jung J, Lee S-T (2008) Deinococcus aquaticus sp. nov., isolated from fresh water, and Deinococcus caeni sp. nov., isolated from activated sludge. Int J Syst Evol Microbiol 58:2348–2353

Kämpfer P, Kroppenstedt RM (1996) Numerical analysis of fatty acid patterns of coryneform bacteria and related taxa. Can J Microbiol 42:989–1005

Kämpfer P, Lodders N, Huber B, Falsen E, Busse H-J (2008) Deinococcus aquatilis sp. nov., isolated from water. Int J Syst Evol Microbiol 58:2803–2806

Kim OS, Cho YJ, Lee K, Yoon SH, Kim M, Na H, Park SC, Jeon YS, Lee JH, Yi H, Won S, Chun J (2012) Introducing EzTaxon: a prokaryotic 16S rRNA Gene sequence database with phylotypes that represent uncultured species. Int J Syst Evol Microbiol 62:716–721

Kimura M (1980) A simple method for estimating evolutionary rates of base substitutions through comparative studies of nucleotide sequences. J Mol Evol 16(2):111–120

Kroppenstedt RM (1982) Separation of bacterial menaquinones by HPLC using reverse phase (RP-18) and a silver-loaded ion exchanger. J Liq Chromatogr 5:2359–2367

Lai W-A, Kämpfer P, Arun AB, Shen F-T, Huber B, Rekha PD, Young C-C (2006) Deinococcus ficus sp. nov., isolated from the rhizosphere of Ficus religiosa L. Int J Syst Evol Microbiol 56:787–791

Leifson E (1960) Atlas of bacterial flagellation. Academic Press, London

Loveland-Curtze J, Miteva VI, Brenchley JE (2011) Evaluation of a new fluorimetric DNA–DNA hybridization method. Can J Microbiol 57:250–255

Marmur J (1961) A procedure for the isolation of deoxyribonucleic acid from microorganisms. J Mol Biol 3:208–218

Marmur J, Doty P (1962) Determination of the base composition of deoxyribonucleic acid from its thermal denaturation temperature. J Mol Biol 5:109–118

Minnikin DE, O'Donnell AG, Goodfellow M, Alderson G, Athalye M, Schaal K, Parlett JH (1984) An integrated procedure for the extraction of bacterial isoprenoid quinones and polar lipids. J Microbiol Methods 2:233–241

Rainey FA, Nobre MF, Schumann P, Stackebrandt E, Da Costa MS (1997) Phylogenetic diversity of Deinococci as determined by 16S ribosomal DNA sequence comparison. Int J Syst Bacteriol 47:510–514

Rainey FA, Ray K, Ferreira M, Gatz BZ, Nobre MF, Bagaley D, Rash BA, Park M-J, Earl AM et al (2005) Extensive diversity of ionizing-radiation-resistant bacteria recovered from Sonoran Desert soil and description of nine new species of the genus Deinococcus from a single soil sample. Appl Environ Microbiol 71:5225–5235

Saitou N, Nei M (1987) The neighbor-joining method: a new method for reconstructing phylogenetic trees. Mol Biol Evol 4:406–425

Sasser M (1990) Identification of bacteria by gas chromatography of cellular fatty acids. USFCC News Lett 20:1–6

Shashidhar R, Bandekar JR (2006) Deinococcus mumbaiensis sp. nov., a radiation-resistant pleomorphic bacterium isolated from Mumbai, India. FEMS Microbiol Lett 254:275–280

Srinivasan S, Kim MK, Lim S, Joe M, Lee M (2012a) Deinococcus daejeonensis sp. nov., isolated from sludge in a sewage disposal plant. Int J Syst Evol Microbiol 62:1265–1270

Srinivasan S, Lee JJ, Lim S, Joe M, Kim MK (2012b) Deinococcus humi sp. nov., isolated from soil. Int J Syst Evol Microbiol 62:2844–2850

Staneck JL, Roberts GD (1974) Simplified approach to identification of aerobic actinomycetes by thin-layer chromatography. Appl Microbiol 28:226–231

Suresh K, Reddy GSN, Sengupta S, Shivaji S (2004) Deinococcus indicus sp. nov., an arsenic-resistant bacterium from an aquifer in West Bengal, India. Int J Syst Evol Microbiol 54:457–461

Tamura K, Peterson D, Peterson N, Stecher G, Nei M, Kumar S (2011) MEGA5: molecular evolutionary genetics analysis using maximum likelihood, evolutionary distance, and maximum parsimony methods. Mol Biol Evol 28(10):2731–2739

Thompson JD, Gibson TJ, Plewniak F, Jeanmougin F, Higgins DG (1997) The clustal_X windows interface: flexible strategies for multiple sequence alignment aided by quality analysis tools. Nucleic Acids Res 25:4876–4882

Wayne LG, Brenner DJ, Colwell RR, Grimont PAD, Kandler O, Krichevsky MI, Moore LH, Moore WEC, Murray RGE et al (1987) Report of the ad hoc committee on reconciliation of approaches to bacterial systematics. Int J Syst Bacteriol 37:463–464

Weon HY, Kim BY, Schumann P, Son JA, Jang J, Go SJ, Kwon SW (2007) Deinococcus cellulosilyticus sp. nov., isolated from air. Int J Syst Evol Microbiol 57:1685–1688
Acknowledgments
SGD acknowledges the financial supports received under the Start up Grant Nos. MLP-027426 from the CSIR-National Chemical Laboratory, Pune, India. SGD acknowledges Prof. Young of National Chung Hsing University, Taiwan for providing strain D. ficus CC-FR2-10T.
Electronic supplementary material
Below is the link to the electronic supplementary material.
About this article
Cite this article
Thorat, M.N., Mawlankar, R., Sonalkar, V.V. et al. Deinococcus enclensis sp. nov., isolated from a marine sediment sample. Antonie van Leeuwenhoek 107, 141–148 (2015). https://doi.org/10.1007/s10482-014-0311-4
Received:

Accepted:

Published:

Issue Date:

DOI: https://doi.org/10.1007/s10482-014-0311-4
Keywords