Abstract
An alkalitolerant, thermotolerant, strictly aerobic and Gram-staining negative bacterial strain, designated YIM 78140T, was isolated from a water sample in Hehua hot spring, Tengchong, Yunnan province, south-west China. The colonies were light brown, convex and circular. Phylogenetic analysis of the 16S rRNA gene sequence of strain YIM 78140T indicated that it was clustered with members of β-Proteobacteria (with the similarity from 96.9 to 93.6 %). Good growth occurred at 40–50 °C, pH 8.0–9.0 and in the presence of 0–3 % (w/v) NaCl. The predominant ubiquinones were Q-8 and Q-9. The major fatty acids were C16:0, C17:0 cyclo, C18:1 ω7c and summed feature 3. The G+C content of genomic DNA was 70.8 mol%. The results of physiological and biochemical characteristics, phylogenetic analysis allowed the phenotypic and genotypic differentiation of strain YIM 78140T from its closest phylogenetic neighbours. Therefore, the strain YIM 78140T represents a novel genus of the family Comamonadaceae, for which the name Zhizhongheella caldifontis gen. nov., sp. nov. is proposed. The type strain is YIM 78140T (= BCRC 80649T = KCTC 32557T).
Access options
Buy single article
Instant access to the full article PDF.
US$ 39.95
Tax calculation will be finalised during checkout.
Subscribe to journal
Immediate online access to all issues from 2019. Subscription will auto renew annually.
US$ 119
Tax calculation will be finalised during checkout.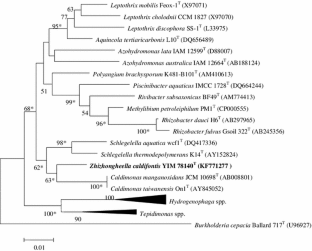 References
Blackall LL, Crocetti GR, Saunders AM, Bond PL (2002) A review and update of the microbiology of enhanced biological phosphorus removal in wastewater treatment plants. Antonie Van Leeuwenhoek 81:681–691

Cerny G (1978) Studies on aminopeptidase for the distinction of Gram-negative from Gram-positive bacteria. Appl Microbiol Biotechnol 5:113–122

Chou YJ, Sheu SY, Sheu DS, Wang JT, Chen WM (2006) Schlegelella aquatica sp. nov., a novel thermophilic bacterium isolated from a hot spring. Int J Syst Evol Microbiol 56:2793–2797

Collins MD, Pirouz T, Goodfellow M, Minnikin DE (1977) Distribution of menaquinones in actinomycetes and corynebacteria. J Gen Microbiol 100:221–230

Dubinina GA, Grabovich MY (1984) Isolation, cultivation, and characteristics of Macromonas bipunctata. Microbiology (English translation of Microbiologia) 53:610–617

Elbanna K, Lütke-Eversloh T, van Trappen S, Mergaert J, Swings J, Steinbüchel A (2003) Schlegelella thermodepolymerans gen. nov., sp. nov., a novel thermophilic bacterium that degrades poly(3-hydroxybutyrate-co-3-mercaptopropionate). Int J Syst Evol Microbiol 53:1165–1168

Felsenstein J (1981) Evolutionary trees from DNA sequences: a maximum likelihood approach. J Mol Evol 17:368–376

Felsenstein J (1985) Confidence limits on phylogenies: an approach using the bootstrap. Evolution 39:783–791

Fitch WM (1971) Toward defining the course of evolution: minimum change for a specific tree topology. Syst Zool 20:406–416

Ginige MP, Hugenholtz P, Daims H, Wagner M, Keller J, Blackall LL (2004) Use of stable-isotope probing, full-cycle rRNA analysis, and fluorescence in situ hybridization-microautoradiography to study a methanol-fed denitrifying microbial community. Appl Environ Microbiol 70:588–596

Gonzalez C, Gutierrez C, Ramirez C (1978) Halobacterium vallismortis sp. nov., an amylolytic and carbohydrate-metabolizing, extremely halophilic bacterium. Can J Microbiol 24:710–715

Grabovich M, Gavrish E, Kuever J, Lysenko AM, Podkopaeva D, Dubinina G (2006) Proposal of Giesbergeria voronezhensis gen. nov., sp. nov. and G. kuznetsovii sp. nov. and reclassification of [Aquaspirillum] anulus, [A.] sinuosum and [A.] giesbergeri as Giesbergeria anulus comb. nov., G. sinuosa comb. nov. and G. giesbergeri comb. nov., and [Aquaspirillum] metamorphum and [A.] psychrophilum as Simplicispira metamorpha gen. nov., comb. nov. and S. psychrophila comb. nov. Int J Syst Evol Microbiol 56:569–576

Heylen K, Lebbe L, De Vos P (2008) Acidovorax caeni sp. nov., a denitrifying species with genetically diverse isolates from activated sludge. Int J Syst Evol Microbiol 58:73–77

Hiraishi A, Shin YK, Sugiyama J (1995) Brachymonas denitrificans gen, nov, sp, nov, an aerobic chemoorganotrophic bacterium which contains rhodoquinones, and evolutionary relationships of rhodoquinone producers to bacterial species with various quinone classes. J Gen Appl Microbiol 41:99–117

Juretschko S, Loy A, Lehner A, Wagner M (2002) The microbial community composition of a nitrifying–denitrifying activated sludge from an industrial sewage treatment plant analyzed by the full-cycle rRNA approach. Syst Appl Microbiol 25:84–99

Kim OS, Cho YJ, Lee K, Yoon SH, Kim M, Na H, Park SC, Jeon YS, Lee JH, Yi H, Won S, Chun J (2012) Introducing EzTaxon-e: a prokaryotic 16S rRNA Gene sequence database with phylotypes that represent uncultured species. Int J Syst Evol Microbiol. doi:10.1099/ijs.0.038075-0

Kimura M (1980) A simple method for estimating evolutionary rates of base substitutions through comparative studies of nucleotide sequences. J Mol Evol 16:111–120

Kroppenstedt RM (1982) Separation of bacterial menaquinones by HPLC using reverse phase (RP18) and a silver loaded ion exchanger as stationary phases. J Liq Chromatogr 5:2359–2387

Lee N, Nielsen PH, Aspegren H, Henze M, Schleifer KH, la Cour Jansen J (2003) Long-term population dynamics and in situ physiology in activated sludge systems with enhanced biological phosphorus removal operated with and without nitrogen removal. Syst Appl Microbiol 26:211–227

Li WJ, Xu P, Schumann P, Zhang YQ, Pukall R, Xu LH, Stackebrandt E, Jiang CL (2007) Georgenia ruanii sp. nov., a novel actinobacterium isolated from forest soil in Yunnan (China), and emended description of the genus Georgenia. Int J Syst Evol Microbiol 57:1424–1428

Locci R (1989) Streptomyces and related genera. In: Williams ST, Sharpe ME, Holt JG (eds) Bergey's manual of systematic bacteriology, vol 4. Williams & Wilkins, Baltimore, pp 2451–2508

Mesbah M, Premachandran U, Whitman WB (1989) Precise measurement of the G+C content of deoxyribonucleic acid by high-performance liquid chromatography. Int J Syst Bacteriol 39:159–167

Ming H, Nie GX, Jiang HC, Yu TT, Zhou EM, Feng HG, Tang SK, Li WJ (2012) Paenibacillus frigoriresistens sp. nov., a novel psychrotroph isolated from a peat bog in Heilongjiang. Northern China. Antonie van Leeuwenhoek 102:297–305

Purkhold U, Pommerening-Röser A, Juretschko S, Schmid MC, Koops HP, Wagner M (2000) Phylogeny of all recognized species of ammonia oxidizers based on comparative 16S rRNA and amoA sequence analysis: implications for molecular diversity surveys. Appl Environ Microbiol 66:5368–5382

Rouvière PE, Chen MW (2003) Isolation of Brachymonas petroleovorans CHX, a novel cyclohexane-degrading β-proteobacterium. FEMS Microbiol Lett 227:101–106

Saitou N, Nei M (1987) The neighbor-joining method: a new method for reconstructing phylogenetic trees. Mol Biol Evol 4:406–425

Shirling EB, Gottlieb D (1966) Methods for characterization of Streptomyces species. Int J Syst Bacteriol 16:313–340

Spring S, Wagner M, Schumann P, Kämpfer P (2005) Malikia granosa gen. nov., sp. nov., a novel polyhydroxyalkanoate- and polyphosphate-accumulating bacterium isolated from activated sludge, and reclassification of Pseudomonas spinosa as Malikia spinosa comb. nov. Int J Syst Evol Microbiol 55:621–629

Takeda M, Kamagata Y, Ghiorse WC, Hanada S, Koizumi J (2002) Caldimonas manganoxidans gen. nov., sp. nov., a poly(3-hydroxybutyrate)-degrading, manganese-oxidizing thermophile. Int J Syst Evol Microbiol 52:895–900

Tamura K, Peterson D, Peterson N, Stecher G, Nei M, Kumar S (2011) MEGA5: molecular evolutionary genetics analysis using maximum likelihood, evolutionary distance, and maximum parsimony methods. Mol Biol Evol 28:2731–2739

Thompson JD, Gibson TJ, Plewniak F, Jeanmougin F, Higgins DG (1997) The CLUSTAL X windows interface: flexible strategies for multiple sequence alignment aided by quality analysis tools. Nucleic Acids Res 25:4876–4882

Williams ST, Goodfellow M, Alderson G (1989) Genus Streptomyces Waksman and Henrici 1943, 339AL. In: Williams ST, Sharpe ME, Holt JG (eds) Bergey's manual of systematic bacteriology, vol. 4. Williams & Wilkins, Baltimore, pp 2463–2468

Willems A, Pot B, Falsen E, Vandamme P, Gillis M, Kersters K, De Ley J (1991) Polyphasic taxonomic study of the emended genus Comamonas: relationship to Aquaspirillum aquaticum, E. Falsen group 10, and other clinical isolates. Int J Syst Bacteriol 41:427–444

Yu XY, Li YF, Zheng JW, Li Y, Li L, He J, Li SP (2011) Comamonas zonglianii sp. nov., isolated from phenol-contaminated soil. Int J Syst Evol Microbiol 61:255–258

Yu TT, Zhou EM, Yin YR, Yao JC, Ming H, Dong L, Li S, Nie GX & Li WJ (2013) Vulcaniibacterium tengchongense gen. nov., sp. nov. isolated from a geothermally heated soil sample, and reclassification of Lysobacter thermophilus Wei et al. 2012 as Vulcaniibacterium thermophilum comb. nov. Antonie van Leeuwenhoek: 1–8

Zhang WY, Fang MX, Zhang WW, Xiao C, Zhang XQ, Yu ZP, Zhu XF, Wu M (2012) Extensimonas vulgaris gen. nov., sp. nov., a member of the family Comamonadaceae. Int J Syst Evol Microbiol 63:2062–2068
Acknowledgments
The authors are grateful to Prof. Dr. Takuji Kudo (JCM) and Mrs. Min Tseng (BCRC) for their kind providing reference type strains. This research was supported by the Key Project of International Cooperation of Ministry of Science & Technology (MOST) (No. 2013DFA31980), National Science Foundation grant (OISE-0968421) and Key Project of Yunnan Provincial Natural Science Foundation (2013FA004).
Additional information
Lei Dong and Hong Ming contributed equally to this work.
Electronic supplementary material
Below is the link to the electronic supplementary material.
About this article
Cite this article
Dong, L., Ming, H., Liu, L. et al. Zhizhongheella caldifontis gen. nov., sp. nov., a novel member of the family Comamonadaceae . Antonie van Leeuwenhoek 105, 755–761 (2014). https://doi.org/10.1007/s10482-014-0131-6
Received:

Accepted:

Published:

Issue Date:
Keywords
Family Comamonadaceae
Zhizhongheella gen. nov.
Zhizhongheella caldifontis sp. nov.

Hehua hot spring

Polyphasic taxonomy