Abstract
A thermotolerant Gram-staining negative and aerobic bacterium, designated strain YIM 77520T, was isolated from a geothermally heated soil sample collected at Rehai National Park, Tengchong, Yunnan Province, South-West China. Cells of the strain were found to be rod-shaped and colonies were light beige and circular. The strain was found to grow in the presence of 0–2 % (w/v) total salts (optimum, 0 %), at pH 6.0–8.0 (optimum, pH 7.0) and 25–55 °C (optimum, 45 °C). The only quinone detected was Q-8 and the genomic DNA G+C content was determined to be 66.9 mol%. The major fatty acids (>10 %) were identified as iso-C16:0 and iso-C15:0. The phospholipids were found to consist of phosphatidylethanolamine, phosphatidylglycerol, diphosphatidylglycerol, five unknown phospholipids and three aminophospholipids. Based on the 16S rRNA gene sequence analysis, strain YIM 77520T was found to form a cluster with Lysobacter thermophilus YIM 77875T and showed the highest 16S rRNA gene sequence similarity to L. thermophilus YIM 77875T (96.0 %). These two strains formed a distinct lineage of the family 'Xanthomonadaceae'. On the basis of the morphological and chemotaxonomic characteristics, as well as genotypic data, a new genus, Vulcaniibacterium gen. nov. is proposed with Vulcaniibacterium tengchongense sp. nov. as the type species. The type strain of V. tengchongense sp. nov. is strain YIM 77520T (=DSM 25623T = CCTCC AB 2011152T). Furthermore we propose that L. thermophilus Wei et al. 2012 is reclassified in the new genus as Vulcaniibacterium thermophilum comb. nov. (type strain YIM 77875T = CCTCC AB 2012064T = KCTC 32020T) based on polyphasic data.
Access options
Buy single article
Instant access to the full article PDF.
US$ 39.95
Tax calculation will be finalised during checkout.
Subscribe to journal
Immediate online access to all issues from 2019. Subscription will auto renew annually.
US$ 119
Tax calculation will be finalised during checkout.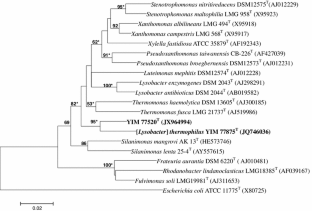 References
Bae HS, Im WT, Lee ST (2005) Lysobacter concretionis sp. nov., isolated from anaerobic granules in an upflow anaerobic sludge blanket reactor. Int J Syst Evol Microbiol 55:1155–1161

Busse H-J, Kämpfer P, Moore ERB (2002) Thermomonas haemolytica gen. nov., sp. nov., a γ-proteobacterium from kaolin slurry. Int J Syst Evol Microbiol 52:473–483

Cerny G (1978) Studies on aminopeptidase for the distinction of Gram-negative from Gram-positive bacteria. Appl Microbiol Biotechnol 5:113–122

Chen MY, Tsay SS, Chen KY, Shi YC, Lin YT, Lin GH (2002) Pseudoxanthomonas taiwanensis sp. nov., a novel thermophilic, N2O-producing species isolated from hot springs. Int J Syst Evol Microbiol 52:2155–2161

Christensen P, Cook FD (1978) Lysobacter, a new genus of nonfruiting, gliding bacteria with a high base ratio. Int J Syst Bacteriol 28:367–393

Collins MD, Jones D (1980) Lipids in the classification and identification of coryneform bacteria containing peptidoglycan based on 2, 4-diaminobutyric acid. Appl Bacteriol 48:459–470

Collins MD, Pirouz T, Goodfellow M, Minnikin DE (1977) Distribution of menaquinones in actinomycetes and corynebacteria. J Gen Microbiol 100:221–230

Felsenstein J (1981) Evolutionary trees from DNA sequences: a maximum likelihood approach. J Mol Evol 17:368–376

Felsenstein J (1985) Confidence limits on phylogenies: an approach using the bootstrap. Evolution 39:783–791

Finkmann W, Altendorf K, Stackebrandt E, Lipski A (2000) Characterization of N2O-producing Xanthomonas-like isolates from biofilters as Stenotrophomonas nitritireducens sp. nov., Luteimonas mephitis gen. nov., sp. nov. and Pseudoxanthomonas broegbernensis gen. nov., sp. nov. Int J Syst Evol Microbiol 50:273–282

Fitch WM (1971) Toward defining the course of evolution: minimum change for a specific tree topology. Syst Zool 20:406–416

Kim OS, Cho YJ, Lee K, Yoon SH, Kim M, Na H, Park SC, Jeon YS, Lee JH, Yi H, Won S, Chun J (2012) Introducing EzTaxon-e: a prokaryotic 16S rRNA Gene sequence database with phylotypes that represent uncultured species. Int J Syst Evol Microbiol 62:716–721

Kimura M (1980) A simple method for estimating evolutionary rates of base substitutions through comparative studies of nucleotide sequences. J Mol Evol 16:111–120

Kroppenstedt RM (1982) Separation of bacterial menaquinones by HPLC using reverse phase (RP18) and a silver loaded ion exchanger as stationary phases. J Liq Chromatogr 5:2359–2387

Li WJ, Xu P, Schumann P, Zhang YQ, Pukall R, Xu LH, Stackebrandt E, Jiang CL (2007) Georgenia ruanii sp. nov., a novel actinobacterium isolated from forest soil in Yunnan (China) and emended description of the genus Georgenia. Int J Syst Evol Microbiol 57:1424–1428

Liu M, Liu Y, Wang Y, Luo X, Dai J, Fang C (2011) Lysobacter xinjiangensis sp. nov., a moderately thermotolerant and alkalitolerant bacterium isolated from gamma-irradiated sand soil sample. Int J Syst Evol Microbiol 61:433–437

Mesbah M, Premachandran U, Whitman WB (1989) Precise measurement of the G+C content of deoxyribonucleic acid by high-performance liquid chromatography. Int J Syst Bacteriol 39:159–167

Minnikin DE, Collins MD, Goodfellow M (1979) Fatty acid and polar lipid composition in the classification of Cellulomonas, Oerskovia and related taxa. J Appl Bacteriol 47:87–95

Palleroni NJ (1984) Genus I. Pseudomonas Migula 1894, 237AL. In: Krieg NR, Holt JG (eds) Bergey's Manual of Systematic Bacteriology, vol 1. Williams and Wilkins, Baltimore, pp 141–199

Palleroni NJ, Bradbury JF (1993) Stenotrophomonas, a new bacterial genus for Xanthomonas maltophilia (Hugh 1980) Swings et al. 1983. Int J Syst Bacteriol 43:606–609

Saitou N, Nei M (1987) The neighbor-joining method: a new method for reconstructing phylogenetic trees. Mol Biol Evol 4:406–425

Sullivan RF, Holtman MA, Zylstra GJ, White JF Jr, Kobayashi DY (2003) Taxonomic positioning of two biological control agents for plant diseases as Lysobacter enzymogenes based on phylogenetic analysis of 16S rDNA, fatty acid composition and phenotypic characteristics. J Appl Microbiol 94:1079–1086

Tamura K, Peterson D, Peterson N, Stecher G, Nei M, ang Kumar S (2011) MEGA5: molecular evolutionary genetics analysis using maximum likelihood, evolutionary distance, and maximum parsimony methods. Mol Biol Evol 28:2731–2739

Tóth E, Kovács G, Schumann P, Kovács AL, Steiner U, Halbritterá A, Márialigeti K (2001) Schineria larvae gen. nov., sp. nov., isolated from the 1st and 2nd larval stages of Wohlfahrtia magnifica (Diptera: sarcophagidae). Int J Syst Evol Microbiol 51:401–407

Vauterin L, Hoste B, Kersters K, Swings J (1995) Reclassification of Xanthomonas. Int J Syst Bacteriol 45:472–489

Vauterin L, Yang P, Swings J (1996) Utilization of fatty acid methyl esters for the differentiation of new Xanthomonas species. Int J Syst Bacteriol 46:298–304

Wei DQ, Yu TT, Yao JC, Zhou EM, Song ZQ, Yin YR, Ming H, Tang SK, Li WJ (2012) Lysobacter thermophilus sp. nov., isolated from a geothermal soil sample in Tengchong, south-west China. Antonie Van Leeuwenhoek. doi:10.1007/s10482-012-9761-8

Wells JM, Raju BC, Hung HY, Weisburg WG, MandelcoPaul L, Brenner J (1987) Xylella fastidiosa gen. nov., sp. nov. Gram-negative, xylem-limited, fastidious plant bacteria related to Xanthomonas spp. Int J Syst Bacteriol 37:136–143

Xu P, Li WJ, Tang SK, Zhang YQ, Chen GZ, Chen HH, Xu LH, Jiang CL (2005) Naxibacter alkalitolerans gen. nov., sp. nov., a novel member of the family Oxalobacteraceae isolated from China. Int J Syst Evol Microbiol 55:1149–1153

Ziegler S, Waidner B, Itoh T, Schumann P, Spring S, Gescher J (2013) Metallibacterium scheffleri gen. nov., sp. nov., an alkalinizing gammaproteobacterium isolated from an acidic biofilm. Int J Syst Evol Microbiol 63:1499–1504
Acknowledgments
The authors are grateful to Prof. Jean Euzéby (SBSV and ENVT, France) for the Latin construction of the species name. This research was supported by the Key Project of International Cooperation of Ministry of Science & Technology (MOST) (No. 2013DFA31980), Natural Science Foundation of China (No. 31070007), Research Project of Education Department of Henan Province of China (2011A180025), Henan Provincial Undergraduate Training Programs for Innovation and Entrepreneurship (2011060), and National Science Foundation grant (OISE-0968421). W-J Li was also supported by 'Hundred Talents Program' of the Chinese Academy of Sciences.
Additional information
Tian-Tian Yu and En-Min Zhou have contributed equally to this work.
Electronic supplementary material
Below is the link to the electronic supplementary material.
About this article
Cite this article
Yu, TT., Zhou, EM., Yin, YR. et al. Vulcaniibacterium tengchongense gen. nov., sp. nov. isolated from a geothermally heated soil sample, and reclassification of Lysobacter thermophilus Wei et al. 2012 as Vulcaniibacterium thermophilum comb. nov.. Antonie van Leeuwenhoek 104, 369–376 (2013). https://doi.org/10.1007/s10482-013-9959-4
Received:

Accepted:

Published:

Issue Date:
Keywords
Vulcaniibacterium gen. nov.
Vulcaniibacterium tengchongense sp. nov.
Vulcaniibacterium thermophilum comb. nov.

Rehai National Park