Abstract
A novel non-sporulating, non-motile, catalase-positive, oxidase-negative, facultatively anaerobic, Gram-positive coccus, designated strain JSM 078151T, was isolated from an intertidal sediment sample collected from Naozhou Island in the South China Sea, China. Growth was found to occur in the presence of 0–15 % (w/v) NaCl (optimum 0.5–3 % (w/v) NaCl), at pH 6.5–10.5 (optimum pH 7.0–8.0) and at 5–35 °C (optimum 25–30 °C). The peptidoglycan type was determined to be A3a, containing lysine, glutamic acid and alanine. The major cellular fatty acid identified was anteiso-C15:0 and the predominant menaquinones are MK-7 and MK-8. The polar lipids were found to consist of diphosphatidylglycerol, phosphatidylglycerol, glycolipid and one unidentified phospholipid. The genomic DNA G+C content of strain JSM 078151T was determined to be 55.2 mol%. A phylogenetic analysis based on 16S rRNA gene sequence comparisons revealed that strain JSM 078151T should be assigned to the genus Rothia, and was most closely related to Rothia nasimurium CCUG 35957T (98.3 % sequence similarity), followed by Rothia amarae J18T (97.5 %) and Rothia terrae L-143T (97.3 %). A combination of phylogenetic analysis, DNA–DNA relatedness values, phenotypic characteristics and chemotaxonomic data supports the suggestion that strain JSM 078151T represents a novel species of the genus Rothia, for which the name Rothia marina sp. nov. is proposed. The type strain is JSM 078151T (= DSM 21080T = KCTC 19432T).
Access options
Buy single article
Instant access to the full article PDF.
US$ 39.95
Tax calculation will be finalised during checkout.
Subscribe to journal
Immediate online access to all issues from 2019. Subscription will auto renew annually.
US$ 119
Tax calculation will be finalised during checkout.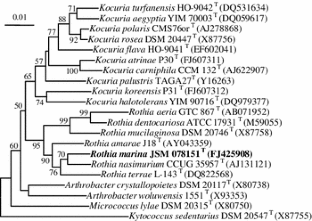 References
Atlas RM (1993) In: Parks LC (ed) Handbook of microbiological media. CRC Press, Boca Raton, pp 666–672

Bergan T, Kocur M (1982) Stomatococcus mucilaginosus gen. nov., sp. nov., ep. rev, a member of the family Micrococcaceae. Int J Syst Bacteriol 32:374–377

Chen YG, Cui XL, Pukall R, Li HM, Yang YL, Xu LH, Wen ML, Peng Q, Jiang CL (2007) Salinicoccus kunmingensis sp. nov., a moderately halophilic bacterium isolated from a salt mine in Yunnan, south-west China. Int J Syst Evol Microbiol 57:2327–2332

Chen YG, Zhang YQ, Huang K, Tang SK, Cao Y, Shi JX, Xiao HD, Cui XL, Li WJ (2009) Pigmentiphaga litoralis sp. nov., a facultatively anaerobic bacterium isolated from a tidal flat sediment. Int J Syst Evol Microbiol 59:521–525

Chou YJ, Chou JH, Lin KY, Lin MC, Wei YH, Arun AB, Young CC, Chen WM (2008) Rothia terrae sp. nov. isolated from soil in Taiwan. Int J Syst Evol Microbiol 58:84–88

Collins MD (1994) Isoprenoid quinones. In: Goodfellow M, O'Donnell AG (eds) Chemical methods in prokaryotic systematics. John Wiley & Sons, Chichester, pp 265–309

Collins MD, Hutson RA, Baverud V, Falsen E (2000) Characterization of a Rothia-like organism from a mouse: description of Rothia nasimurium sp. nov. and reclassification of Stomatococcus mucilaginosus as Rothia mucilaginosa comb. nov. Int J Syst Evol Microbiol 50:1247–1251

Cowan ST, Steel KJ (1965) Manual for the identification of medical bacteria. Cambridge University Press, London

Cui XL, Mao PH, Zeng M, Li WJ, Zhang LP, Xu LH, Jiang CL (2001) Streptomonospora salina gen. nov., sp. nov., a new member of the family Nocardiopsaceae. Int J Syst Evol Microbiol 51:357–363

De Ley J, Cattoir H, Reynaerts A (1970) The quantitative measurement of DNA hybridization from renaturation rates. Eur J Biochem 12:133–142

Embley TM, Wait R (1994) Structural lipids of eubacteria. In: Goodfellow M, O'Donnell AG (eds) Chemical methods in prokaryotic systematics. John Wiley & Sons, Chichester, pp 121–161

Fan Y, Jin Z, Tong J, Li W, Pasciak M, Gamian A, Liu Z, Huang Y (2002) Rothia amarae sp. nov., from sludge of a foul water sewer. Int J Syst Evol Microbiol 52:2257–2260

Felsenstein J (1981) Evolutionary trees from DNA sequences: a maximum likelihood approach. J Mol Evol 17:368–376

Felsenstein J (1985) Confidence limits on phylogenies: an approach using the bootstrap. Evolution 39:783–791

Felsenstein J (2002) PHYLIP (phylogeny inference package) version 3.6a. Distributed by the author. Department of Genome Sciences, University of Washington, Seattle, USA

Fitch WM (1972) Toward defining the course of evolution: minimum change for a species tree topology. Syst Zool 20:406–416

Georg LK, Brown JM (1967) Rothia gen. nov., an aerobic genus of the family Actinomycetaceae. Int J Syst Bacteriol 17:79–88

Gregersen T (1978) Rapid method for distinction of Gram-negative from Gram-positive bacteria. Eur J Appl Microbiol Biotechnol 5:123–127

Hopwood DA, Bibb MJ, Chater KF, Kieser T, Bruton CJ, Kieser HM, Lydiate DJ, Smith CP, Ward JM (1985) Preparation of chromosomal, plasmid and phage DNA. In: Hopwood DA, Bibb MJ, Chater KF, Kieser T, Bruton CJ, Kieser HM, Lydiate DJ, Smith CP, Ward JM, Schrempf H (eds) Genetic manipulation of Streptomyces: a laboratory manual. F. Crowe and Sons, Norwich, pp 79–80

Huß VAR, Festl H, Schleifer KH (1983) Studies on the spectrophotometric determination of DNA hybridization from renaturation rates. Syst Appl Microbiol 4:184–192

Kim OS, Cho YJ, Lee K, Yoon SH, Kim M, Na H, Park SC, Jeon YS, Lee JH, Yi H, Won S, Chun J (2012) Introducing EzTaxon-e: a prokaryotic 16S rRNA Gene sequence database with phylotypes that represent uncultured species. Int J Syst Evol Microbiol 62:716–721

Kimura M (1980) A simple method for estimating evolutionary rates of base substitutions through comparative studies of nucleotide sequences. J Mol Evol 16:111–120

Kumar S, Tamura K, Nei M (2004) MEGA3: integrated software for molecular evolutionary genetics analysis and sequence alignment. Brief Bioinform 5:150–163

Lesher RJ, Gerencser MA, Gerencser VF (1974) Morphological, biochemical, and serological characterization of Rothia dentocariosa. Int J Syst Bacteriol 24:154–159

Li Y, Kawamura Y, Fujiwara N, Naka T, Liu H, Huang X, Kobayashi K, Ezaki T (2004) Rothia aeria sp. nov., Rhodococcus baikonurensis sp. nov., Arthrobacter russicus sp. nov., isolated from air in the Russian space laboratory Mir. Int J Syst Evol Microbiol 54:827–835

Liu ZX, Chen J, Tang SK, Zhang YQ, He JW, Chen QH, Li WJ, Chen YG (2011) Jeotgalicoccus nanhaiensis sp. nov., isolated from intertidal sediment of the South China Sea, and emended description of the genus Jeotgalicoccus. Int J Syst Evol Microbiol 61:2029–2034

Mesbah M, Premachandran U, Whitman WB (1989) Precise measurement of the G+C content of deoxyribonucleic acid by high-performance liquid chromatography. Int J Syst Bacteriol 39:159–167

Møller V (1955) Simplified tests for some amino acid decarboxylases and for the arginine dihydrolase system. Acta Pathol Microbiol Scand 36:158–172

Saitou N, Nei M (1987) The neighbor-joining method: a new method for reconstructing phylogenetic trees. Mol Biol Evol 4:406–425

Sasser M (1990) Identification of bacteria by gas chromatography of cellular fatty acids. MIDI Technical Note 101. MIDI Inc, Newark

Schaal KP (1992) The genera Actinomyces, Arcanobacterium, and Rothia. In: Balows A, Trüper HG, Dworkin M, Harder W, Schleifer KH (eds) The prokaryotes, 2nd edn. Springer, New York, pp 850–905

Schleifer KH (1985) Analysis of the chemical composition and primary structure of murein. Methods Microbiol 18:123–156

Schleifer KH, Kandler O (1972) Peptidoglycan types of bacterial cell walls and their taxonomic implications. Bacteriol Rev 36:407–477

Schumann P, Kämpfer P, Busse HJ, Evtushenko LI, Subcommittee on the Taxonomy of the Suborder Micrococcineae of the International Committee on Systematics of Prokaryotes (2009) Proposed minimal standards for describing new genera and species of the suborder Micrococcineae. Int J Syst Evol Microbiol 59:1823–1849

Smibert RM, Krieg NR (1994) Phenotypic characterization. In: Gerhardt P, Murray RGE, Wood WA, Krieg NR (eds) Methods for general and molecular bacteriology. American Society for Microbiology, Washington, pp 607–654

Stackebrandt E, Goebel BM (1994) Taxonomic note: a place for DNA–DNA reassociation and 16S rRNA sequence analysis in the present species definition in bacteriology. Int J Syst Bacteriol 44:846–849

Stackebrandt E, Rainey FA, Ward-Rainey NL (1997) Proposal for a new hierarchic classification system, Actinobacteria classis nov. Int J Syst Bacteriol 47:479–491

Tang ST, Wang Y, Chen Y, Lou K, Cao LL, Xu LH, Li WJ (2009) Zhihengliuella alba sp. nov., and emended description of the genus Zhihengliuella. Int J Syst Evol Microbiol 59:2025–2032

Thompson JD, Gibson TJ, Plewniak F, Jeanmougin F, Higgins DG (1997) The clustal_X windows interface: flexible strategies for multiple sequence alignment aided by quality analysis tools. Nucleic Acids Res 25:4876–4882

Wayne LG, Brenner DJ, Colwell RR, Grimont PAD, Kandler O, Krichevsky MI, Moore LH, Moore WEC, Murray RGE (1987) International committee on systematic bacteriology. Report of the ad hoc committee on reconciliation of approaches to bacterial systematics. Int J Syst Bacteriol 37:463–464
Acknowledgments
This work was supported by Grants from the National Basic Research Program of China (2010CB833800), National Natural Science Foundation of China (NSFC) (30970007), Construct Program of the Key Discipline in Hunan Province (JSU071312Z01), Aid Program for Science and Technology Innovative Research Team in Higher Educational Institutions of Hunan Province (201208Z01), the Education Department of Hunan Province (12K108) and Jiugui Liquor Co. Ltd. (JGKJ 2012-JD03).
Electronic supplementary material
Below is the link to the electronic supplementary material.
About this article
Cite this article
Liu, ZX., Yang, LL., Huang, Y. et al. Rothia marina sp. nov., isolated from an intertidal sediment of the South China Sea. Antonie van Leeuwenhoek 104, 331–337 (2013). https://doi.org/10.1007/s10482-013-9955-8
Received:

Accepted:

Published:

Issue Date:
Keywords
Rothia marina sp. nov.

South China Sea

Sediment