Abstract
A Gram-negative, strictly aerobic, reddish-pink pigmented, motile, spherical, agar-degrading bacterium designated 06SJR6-2T was isolated from a green coloured marine alga (Cladophora sp.). Phylogenetic analyses based on the 16S rRNA gene sequence indicated that the new strain was affiliated with the class Phycisphaerae and shared 89.2 % sequence similarity with Phycisphaera mikurensis FYK2301M01T, which is the only validly named member of the class Phycisphaerae. The strain could be differentiated phenotypically from the recognised member of the class Phycisphaerae. The major fatty acids of strain 06SJR6-2T were identified as C16:0, C18:1ω9c and anteiso-C15:0. Amino acid analysis of cell wall hydrolysates indicated that the novel isolate did not contain diaminopimelic acid in the cell wall. The DNA G+C content of the strain was determined to be 63.0 mol% and the major respiratory quinone was identified as menaquinone 6 (MK-6). From the distinct phylogenetic position and combination of genotypic and phenotypic characteristics, the strain is considered to represent a novel genus in the family Phycisphaeraceae, for which the name Algisphaera agarilytica gen. nov., sp. nov. is proposed. The type strain of A. agarilytica is 06SJR6-2T (=KCTC 32482T = NBRC 109894T).
Access options
Buy single article
Instant access to the full article PDF.
US$ 39.95
Tax calculation will be finalised during checkout.
Subscribe to journal
Immediate online access to all issues from 2019. Subscription will auto renew annually.
US$ 119
Tax calculation will be finalised during checkout.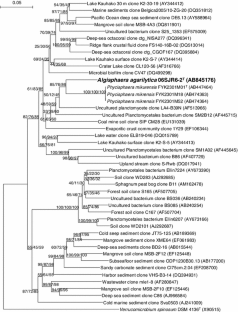 References
Armstrong E, Rogerson A, Leftley JW (2000) The abundance of heterotrophic protists associated with intertidal seaweeds. Estuar Coast Shelf Sci 50:415–424

Atlas RM (1993) In: Parks LC (ed) Handbook of microbiological media. CRC, Boca Raton

Bartsch I, Wiencke C, Bischof K et al (2008) The genus Laminaria sensu lato: recent insights and developments. Eur J Phycol 43:1–86

Bernardet JF, Nakagawa Y, Holmes B (2002) Proposed minimal standards for describing new taxa of the family Flavobacteriaceae and emended description of the family. Int J Syst Evol Microbiol 52:1049–1070

Blenden DC, Goldberg HS (1965) Silver impregnation stain for Leptospira and flagella. J Bacteriol 89:899–900

Brosius J, Palmer ML, Kennedy PJ, Noller HF (1978) Complete nucleotide sequence of a 16S ribosomal RNA gene from Escherichia coli. Proc Natl Acad Sci USA 75:4801–4805

Choi JH, Im WT, Liu QM, Yoo JS, Shin JH, Rhee SK, Roh DH (2007) Planococcus donghaensis sp. nov., a starch-degrading bacterium isolated from the East Sea, South Korea. Int J Syst Evol Microbiol 57:2645–2650

Chouari R, Le Paslier D, Daegelen P, Ginestet P, Weissenbach J, Sghir A (2003) Molecular evidence for novel planctomycete diversity in a municipal wastewater treatment plant. Appl Environ Microbiol 69:7354–7363

Collins MD, Jones D (1981) A note on the separation of natural mixtures of bacterial ubiquinones using reverse-phase partition thin-layer chromatography and high performance liquid chromatography. J Appl Bacteriol 51:129–134

Derakshani M, Lukow T, Liesack W (2001) Novel bacterial lineages at the (sub)division level as detected by signature nucleotide-targeted recovery of 16S rRNA genes from bulk soil and rice roots of flooded rice microcosms. Appl Environ Microbiol 67:623–631

Elshahed MS, Youssef NH, Luo Q, Najar FZ, Roe BA, Sisk TM, Bühring SI, Hinrichs KU, Krumholz LR (2007) Phylogenetic and metabolic diversity of Planctomycetes from anaerobic, sulfide- and sulfur-rich Zodletone Spring, Oklahoma. Appl Environ Microbiol 73:4707–4716

Felsenstein J (1985) Confidence limits on phylogenies: an approach using the bootstrap. Evolution 39:783–791

Fitch WM (1971) Towards defining the course of evolution: minimum change for a specific tree topology. Syst Zool 20:406–416

Fuerst JA (1995) The Planctomycetes: emerging models for microbial ecology, evolution and cell biology. Microbiology 141:1493–1506

Fuerst JA (2004) Planctomycetes: a phylum of emerging interest for microbial evolution and ecology. WFCC Newsl 38:1–11

Fuerst JA (2005) Intracellular compartmentation in planctomycetes. Annu Rev Microbiol 59:299–328

Fuerst JA (2013) The PVC superphylum: exceptions to the bacterial definition? Antonie Van Leeuwenhoek 104:451–466

Fukunaga Y, Kurahashi M, Sakiyama Y, Ohuchi M, Yokota A, Harayama S (2009) Phycisphaera mikurensis gen. nov., sp. nov., isolated from a marine alga, and proposal of Phycisphaeraceae fam. nov., Phycisphaerales ord. nov. and Phycisphaerae classis nov. in the phylum Planctomycetes. J Gen Appl Microbiol 55:267–275

Hansen GH, Sørheim R (1991) Improved method for phenotypical characterization of marine bacteria. J Microbiol Methods 13:231–241

Harper JJ, Davis GHG (1979) Two-dimensional thin-layer chromatography for amino acid analysis of bacterial cell walls. Int J Syst Bacteriol 29:56–58

Janssen PH (2006) Identifying the dominant soil bacterial taxa in libraries of 16S rRNA and 16S rRNA genes. Appl Environ Microbiol 72:1719–1728

Jetten MS, Niftrik Lv, Strous M, Kartal B, Keltjens JT, Op den Camp HJ (2009) Biochemistry and molecular biology of anammox bacteria. Crit Rev Biochem Mol Biol 44:65–84

Kimura M (1983) The neutral theory of molecular evolution. Cambridge University Press, Cambridge

Köhler T, Stingl U, Meuser K, Brune A (2008) Novel lineages of Planctomycetes densely colonize the alkaline gut of soil-feeding termites (Cubitermes spp.). Environ Microbiol 10:1260–1270

König E, Schlesner H, Hirsch P (1984) Cell wall studies on budding bacteria of the Planctomyces/Pasteuria group and on a Prosthecomicrobium sp. Arch Microbiol 138:200–205

Lage OM, Bondoso J (2011) Planctomycetes diversity associated with macroalgae. FEMS Microbiol Ecol 78:366–375

Marmur J (1961) A procedure for the isolation of deoxyribonucleic acid from micro-organisms. J Mol Biol 3:208–218

Mesbah M, Premachandran U, Whitman WB (1989) Precise measurement of the G+C content of deoxyribonucleic acid by high-performance liquid chromatography. Int J Syst Bacteriol 39:159–167

Perry LB (1973) Gliding motility in some non-spreading flexibacteria. J Appl Microbiol 36:227–232

Saitou N, Nei M (1987) The neighbor-joining method: a new method for reconstructing phylogenetic trees. Mol Biol Evol 4:406–425

Sasser M (1990) Identification of bacteria by gas chromatography of cellular fatty acids, MIDI Technical Note 101. MIDI Inc, Newark

Schleifer KH, Kandler O (1972) Peptidoglycan types of bacterial cell walls and their taxonomic implications. Bacteriol Rev 36:407–477

Schlesner H, Stackebrandt E (1986) Assignment of the genera Planctomyces and Pirella to a new family Planctomycetaceae fam. nov. and description of the order Planctomycetales ord. nov. Syst Appl Microbiol 8:174–176

Staley JT, Fuerst JA, Giovannoni S, Schlesner H (1992) The order Planctomycetales and the genera Planctomyces, Pirellula, Gemmata and Isosphaera. In: Balows A, Trü per H, Dworkin M, Harder W, Schleifer KH (eds) The Prokaryotes: a handbook on the biology of bacteria: ecophysiology, isolation, identification, applications, 2nd edn. Springer, New York, pp 3710–3731

Storesund JE, Øvreås L (2013) Diversity of Planctomycetes in iron-hydroxide deposits from the Arctic Mid Ocean Ridge (AMOR) and description of Bythopirellula goksoyri gen. nov., sp. nov., a novel Planctomycete from deep sea iron-hydroxide deposits. Antonie Van Leeuwenhoek 104:569–584

Tamura K, Peterson D, Petersen N, Stecher G, Nei M, Kumar S (2011) MEGA5: molecular evolutionary genetics analysis using Maximum Likelihood, evolutionary distance, and Maximum Parsimony methods. Mol Biol Evol 28:2731–2739

Thompson JD, Gibson TJ, Plewniak F, Jeanmougin F, Higgins DG (1997) The CLUSTAL_X windows interface: flexible strategies for multiple sequence alignment aided by quality analysis tools. Nucleic Acids Res 25:4876–4882

Wang J, Jenkins C, Webb RI, Fuerst JA (2002) Isolation of Gemmata-like and Isosphaera-like planctomycete bacteria from soil and freshwater. Appl Environ Microbiol 68:417–422

Ward NL (2010) Family I. Planctomycetaceae Schlesner and Stackebrandt 1987, 179VP (Effective publication: Schlesner and Stackebrandt 1986, 175) emend. Ward (this volume). In: Krieg NR, Ludwig W, Whitman WB, Hedlund BP, Paster BJ, Staley JT, Ward N, Brown D (eds) The Bacteroidetes, Spirochaetes, Tenericutes (Mollicutes), Acidobacteria, Fibrobacteres, Fusobacteria, Dictyoglomi, Gemmatimonadetes, Lentisphaerae, Verrucomicrobia, Chlamydiae, and Planctomycetes, 2nd edn. Springer, New York, pp 879–925

Ward N, Staley JT, Fuerst JA, Giovannoni S, Schlesner H, Stackebrandt E (2006) The order Planctomycetales, including the genera Planctomyces, Pirellula, Gemmata and Isosphaera and the Candidatus genera Brocadia, Kuenenia and Scalindua. In: Dworkin M, Falkow S, Rosenberg E, Schleifer KH, Stackebrandt E (eds) The Prokaryotes: a handbook on the biology of bacteria, vol 7, 3rd edn. Springer, New York, pp 757–793
Acknowledgments
The present research has been conducted by the Settlement Research Grant of Keimyung University in 2011.
About this article
Cite this article
Yoon, J., Jang, JH. & Kasai, H. Algisphaera agarilytica gen. nov., sp. nov., a novel representative of the class Phycisphaerae within the phylum Planctomycetes isolated from a marine alga. Antonie van Leeuwenhoek 105, 317–324 (2014). https://doi.org/10.1007/s10482-013-0076-1
Received:

Accepted:

Published:

Issue Date:
Keywords
Planctomycetes
Algisphaera agarilytica gen. nov., sp. nov.

Marine alga

16S rRNA gene

Polyphasic taxonomy