Abstract
A novel plant-associated obligate methylotrophic bacterium, designated strain Ca-68T, was isolated from the rhizosphere soil of field-grown red pepper from India. The isolates are strictly aerobic, Gram negative, motile rods multiplying by binary fission and formaldehyde is assimilated via the ribulose monophosphate pathway. A comparative 16S rRNA gene sequence-based phylogenetic analysis placed the strain in a clade with the species Methylobacillus flagellatus, Methylobacillus glycogens and Methylobacillus pratensis, with which it showed pairwise similarity of 97.8, 97.4 and 96.2 %, respectively. The major fatty acids are C16:0, C10:0 3OH and C16:1 ω7c. The G+C content of the genomic DNA is 59.7 mol%. The major ubiquinone is Q-8. Dominant phospholipids are phosphatidylethanolamine, phosphatidylglycerol and diphosphatidylglycerol. Based on 16S rRNA gene sequence analysis and DNA–DNA relatedness (14–19 %) with type strains of the genus Methylobacillus, the novel isolate was classified as a new species of this genus and named Methylobacillus rhizosphaerae Ca-68T (=KCTC 22383T = NCIMB 14472T).
Access options
Buy single article
Instant access to the full article PDF.
US$ 39.95
Tax calculation will be finalised during checkout.
Subscribe to journal
Immediate online access to all issues from 2019. Subscription will auto renew annually.
US$ 119
Tax calculation will be finalised during checkout.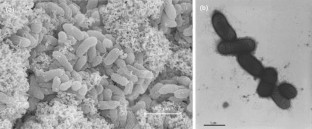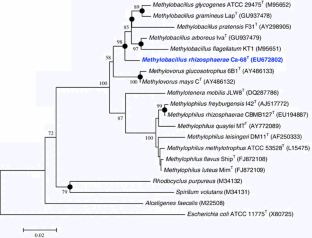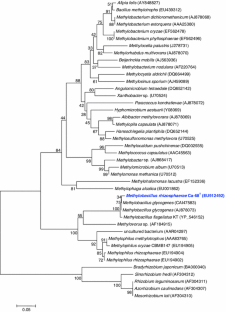 References
Anthony C (1982) The biochemistry of methylotrophs. Academic Press, London

Anthony C, Williams P (2003) The structure and mechanism of methanol dehydrogenase. Biochim Biophys Acta 1647:18–23

Blaha D, Prigent-Combaret C, Sajjad Mirza M, Moënne-Loccoz Y (2006) Phylogeny of the 1-aminocyclopropane-1-carboxylic acid deaminase-encoding gene acdS in phytobeneficial and pathogenic Proteobacteria and relation with strain biogeography. FEMS Microbiol Ecol 56:455–470

Bozzola JJ, Russell LD (1998) Electron microscopy, 2nd edn. Jones & Bartlett, Sudbury

Chanprame S, Todd JJ, Widholm JM (1996) Prevention of pink-pigmented methylotrophic bacteria (Methylobacterium mesophilicum) contamination of plant tissue cultures. Plant Cell Rep 16:222–225

Colby J, Zatman LJ (1973) Trimethylamine metabolism in obligate and facultative methylotrophs. Biochem J 132:101–112

Doronina NV, Trotsenko YA, Kolganova TV, Tourova TP, Salkinoja-Salonen MS (2004) Methylobacillus pratensis sp. nov., a novel non-pigmented, aerobic, obligately methylotrophic bacterium isolated from meadow grass. Int J Syst Evol Microbiol 54:1453–1457

Doronina N, Ivanova E, Trotsenko Y, Pshenichnikova A, Kalinina E, Shvets V (2005) Methylophilus quaylei sp. nov., a new aerobic obligately methylotrophic bacterium. Syst Appl Microbiol 28:303–309

Dunfield PF, Khmelenina VN, Suzina NE, Trotsenko YA, Dedysh SN (2003) Methylocella silvestris sp. nov., a novel methanotroph isolated from an acidic forest cambisol. Int J Syst Evol Microbiol 53:1231–1239

Felsenstein J (1981) Evolutionary trees from DNA sequences: a maximum likelihood approach. J Mol Evol 17:368–376

Felsenstein J (1985) Confidence limits on phylogenies: an approach using the bootstrap. Evolution 39:783–791

Fitch WM (1971) Toward defining the course of evolution: minimum change for a specific tree topology. Syst Zool 20:406–416

Ghosh S, Penterman JN, Little RD, Chavez R, Glick BR (2003) Three newly isolated plant growth-promoting bacilli facilitate the seedling growth of canola, Brassica campestris. Plant Physiol Biochem 41:277–281

Glick BR, Jacobson CB, Schwarze MMK, Pasternak JJ (1994) 1-Aminocyclopropane-1-carboxylic acid deaminase mutants of the plant growth promoting rhizobacterium Pseudomonas putida GR12–2 do not stimulate root elongation. Can J Microbiol 40:911–915

Gogleva AA, Kaparullina EN, Doronina NV, Trotsenko YA (2011) Methylobacillus arboreus sp. nov., and Methylobacillus gramineus sp. nov., novel non-pigmented obligately methylotrophic bacteria associated with plants. Syst Appl Microbiol 34:477–481

Govorukhina MI, Kletsova LV, Tsygankov YD, Trotsenko YA, Netrusov AI (1987) Characteristics of a new obligate methylotroph. Mikrobiologiya 56:849–854 (in Russian)

Green PN, Bousfield IJ (1982) A taxonomic study of some Gram-negative facultatively methylotrophic bacteria. J Gen Microbiol 128:623–638

Kim OS, Cho YJ, Lee K, Yoon SH, Kim M, Na H, Park SC, Jeon YS, Lee JH, Yi H, Won S, Chun J (2012) Introducing EzTaxon-e: a prokaryotic 16S rRNA Gene sequence database with phylotypes that represent uncultured species. Int J Syst Evol Microbiol 62:716–721

Kutschera U (2007) Plant-associated methylobacteria as co-evolved phytosymbionts. A hypothesis. Plant Signal Behav 2:74–78

Li J, Ovakim DH, Charles TC, Glick BR (2000) An ACC deaminase minus mutant of Enterobacter cloacae UW4 no longer promotes root elongation. Curr Microbiol 41:101–105

Lidstrom ME (2006) Aerobic methylotrophic prokaryotes. In: Dworkin M, Falkow S, Rosenberg E, Schleifer K-H, Stackebrandt E (eds) The prokaryotes, vol 2. Springer, New York, pp 618–634

Madhaiyan M, Poonguzhali S, Ryu JH, Sa TM (2006) Regulation of ethylene levels in canola (Brassica campestris) by 1-aminocyclopropane-1-carboxylate deaminase-containing Methylobacterium fujisawaense. Planta 224:268–278

Madhaiyan M, Kim BY, Poonguzhali S, Kwon SW, Song MH, Ryu JH, Go SJ, Koo BS, Sa TM (2007a) Methylobacterium oryzae sp. nov., an aerobic, pink-pigmented, facultatively methylotrophic, 1-aminocyclopropane-1-carboxylate deaminase-producing bacterium isolated from rice. Int J Syst Evol Microbiol 57:326–331

Madhaiyan M, Poonguzhali S, Sa TM (2007b) Characterization of 1-aminocyclopropane-1-carboxylate (ACC) deaminase containing Methylobacterium spp. and interactions with auxins and ACC regulation of ethylene in canola. Planta 226:867–876

Madhaiyan M, Poonguzhali S, Kwon SW, Sa TM (2009) Methylobacterium phyllosphaerae sp. nov., a pink-pigmented facultatively methylotrophic bacterium from rice. Int J Syst Evol Microbiol 59:22–27

McDonald IR, Murrell JC (1997) The methanol dehydrogenase structural gene mxaF and its use as a functional gene probe for methanotrophs and methylotrophs. Appl Environ Microbiol 63:3218–3224

Mesbah M, Premachandran U, Whitman WB (1989) Precise measurement of the G+C content of deoxyribonucleic acid by high-performance liquid chromatography. Int J Syst Bacteriol 39:159–167

Minnikin DE, O'Donnell AG, Goodfellow M, Alderson G, Athalye M, Schaal K, Parlett JH (1984) An integrated procedure for the extraction of bacterial isoprenoid quinones and polar lipids. J Microbiol Methods 2:233–241

Penrose DM, Glick BR (2003) Methods for isolating and characterizing ACC deaminase-containing plant growth-promoting rhizobacteria. Physiol Plant 118:10–15

Poonguzhali S, Madhaiyan M, Sa TM (2006) Cultivation-dependent characterization of rhizobacterial communities from field grown Chinese cabbage Brassica campestris ssp. pekinensis and screening of potential plant growth promoting bacteria. Plant Soil 286:167–180

Saitou N, Nei M (1987) The neighbor-joining method: a new method for reconstructing phylogenetic trees. Mol Biol Evol 4:406–425

Sasser M (1990) Identification of bacteria through fatty acid analysis. In: Klement S, Rudolf K, Sands D (eds) Methods in phytobacteriology. Akademiai Kiado, Budapest, pp 199–204

Seldin L, Dubnau D (1985) Deoxyribonucleic acid homology among Bacillus polymyxa, Bacillus macerans, Bacillus azotofixans, and other nitrogen-fixing Bacillus strains. Int J Syst Bacteriol 35:151–154

Tamura K, Peterson D, Peterson N, Stecher G, Nei M, Kumar S (2011) MEGA5: molecular evolutionary genetics analysis using maximum likelihood, evolutionary distance, and maximum parsimony methods. Mol Biol Evol 28:2731–2739

Thompson JD, Higgins DG, Gibson TJ (1994) CLUSTAL W: improving the sensitivity of progressive multiple sequence alignment through sequence weighting, position-specific gap penalties and weight matrix choice. Nucleic Acids Res 22:4673–4680

Trotsenko YA, Doronina NV, Govorukhina NI (1986) Metabolism of nonmotile obligately methylotrophic bacteria. FEMS Microbiol Lett 3:293–297

Urakami T, Komagata K (1986) Emendation of Methylobacillus Yordy and Weaver 1977, a genus for methanol-utilizing bacteria. Int J Syst Bacteriol 36:502–511

Wayne LG, Brenner DJ, Colwell RR, Grimont PAD, Kandler O, Krichevsky MI, Moore LH, Moore WEC, Murray RGE, Stackebrandt E, Starr MP, Trüper HG (1987) International Committee on Systematic Bacteriology. Report of the Ad Hoc committee on reconciliation of approaches to bacterial systematics. Int J Syst Bacteriol 37:463–464

Whittenbury R, Davies SL, Wilkinson JF (1970) Enrichment, isolation and some properties of methane-utilizing bacteria. J Gen Microbiol 61:205–218

Yordy JR, Weaver TY (1977) Methylobacillus: a new genus of obligate methylotrophic bacteria. Int J Syst Bacteriol 27:247–255
Acknowledgments
We wish to thank Dr. Peter N. Green, NCIMB, Aberdeen, Scotland, UK for his valuable advice. We also thank Professor Jean P. Euzéby for his valuable advice on the nomenclature. The authors also acknowledge the financial support by grant from the Korea Research Institute of Bioscience and Biotechnology (KRIBB) Research Initiative Program, Daejeon, and Republic of Korea.
Additional information
The GenBank/EMBL/DDBJ accession numbers for the 16S rRNA and mxaF gene sequence of strain Ca-68T is EU672802 and EU912492, respectively.
Electronic supplementary material
Below is the link to the electronic supplementary material.
About this article
Cite this article
Madhaiyan, M., Poonguzhali, S., Senthilkumar, M. et al. Methylobacillus rhizosphaerae sp. nov., a novel plant-associated methylotrophic bacterium isolated from rhizosphere of red pepper. Antonie van Leeuwenhoek 103, 475–484 (2013). https://doi.org/10.1007/s10482-012-9828-6
Received:

Accepted:

Published:

Issue Date:
Keywords
Methylobacillus

Red pepper

Rhizosphere

Methylotrophs