Abstract
'Candidatus Phytoplasma mali', the causal agent of apple proliferation (AP) disease, is a quarantine pathogen controlled by chemical treatments against insect vectors and eradication of diseased plants. In accordance with the European Community guidelines, novel strategies should be developed for sustainable management of plant diseases by using resistance inducers (e.g. endophytes). A basic point for the success of this approach is the study of endophytic bacteria associated with plants. In the present work, endophytic bacteria living in healthy and 'Ca. Phytoplasma mali'-infected apple trees were described by cultivation-dependent and independent methods. 16S rDNA sequence analysis showed the presence of the groups Proteobacteria, Acidobacteria, Bacteroidetes, Actinobacteria, Chlamydiae, and Firmicutes. In detail, library analyses underscored 24 and 17 operational taxonomic units (OTUs) in healthy and infected roots, respectively, with a dominance of Betaproteobacteria. Moreover, differences in OTUs number and in CFU/g suggested that phytoplasmas could modify the composition of endophytic bacterial communities associated with infected plants. Intriguingly, the combination of culturing methods and cloning analysis allowed the identification of endophytic bacteria (e.g. Bacillus, Pseudomonas, and Burkholderia) that have been reported as biocontrol agents. Future research will investigate the capability of these bacteria to control 'Ca. Phytoplasma mali' in order to develop sustainable approaches for managing AP.
This is a preview of subscription content,
to check access.
Access this article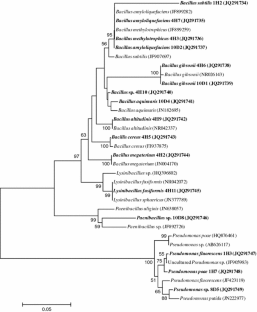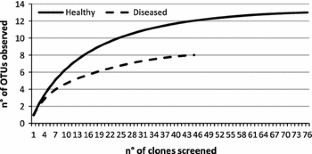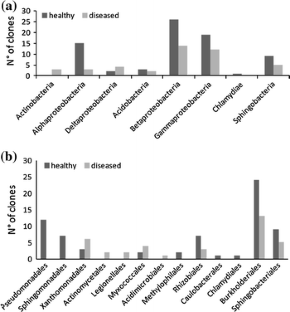 Similar content being viewed by others
References
Ait Barka E, Belarbi A, Hachet C, Nowak J, Audran JC (2000) Enhancement of in vitro growth and resistance to gray mould of Vitis vinifera co-cultured with plant growth-promoting rhizobacteria. FEMS Microbiol Lett 186:91–95

Araujo WL, Marcon J, Maccheroni W, Van Elsas JD Jr, Van Vuurde JWL, Azevedo JL (2002) Diversity of endophytic bacterial populations and their interaction with Xylella fastidiosa citrus plants. Appl Environ Microbiol 68:4906–4914

Bais HP, Weir TL, Perry LG, Gilroy S, Vivanco JM (2006) The role of root exudates in rhizosphere interactions with plants and other organisms. Annu Rev Plant Biol 57:233–266

Bensalim S, Nowak J, Asiedu SK (1998) Temperature and pseudomonad bacterium effects on in vitro and ex vitro performance of 18 clones of potato. Am J Potato Res 75:145–152

Brooks DS, Gonzalez CF, Appel DN, Filer TH (1994) Evaluation of endophytic bacteria as potential biological control agents for oak wilt. Biol Control 4:373–381

Bulgari D, Casati P, Brusetti L, Quaglino F, Brasca M, Daffonchio D, Bianco PA (2009) Endophytic bacterial diversity in grapevine (Vitis vinifera L.) leaves described by 16S rRNA gene sequence analysis and length heterogeneity-PCR. J Microbiol 47:393–401

Bulgari D, Casati P, Crepaldi P, Daffonchio D, Quaglino F, Brusetti L, Bianco PA (2011) Restructuring of endophytic bacterial communities in grapevine yellows-diseased and recovered Vitis vinifera L. plants. Appl Environ Microbiol 77:5018–5022

Casati P, Quaglino F, Stern AR, Tedeschi R, Alma A, Bianco PA (2011) Multiple gene analyses reveal extensive genetic diversity among 'Candidatus Phytoplasma mali' populations. Ann Appl Biol 158:257–266

Chelius MK, Triplett EW (2001) The diversity of archaea and bacteria in association with the roots of Zea mays L. Microb Ecol 41:252–263

Choudhary DK, Johri BN (2009) Interactions of Bacillus spp. and plants—with special reference to induced systemic resistance (ISR). Microbiol Res 164:493–513

Compant S, Kaplan H, Sessitsch A, Nowak J, Ait Barka E, Clément C (2008a) Endophytic colonization of Vitis vinifera L. by Burkholderia phytofirmans strain PsJN: from the rhizosphere to inflorescence tissues. FEMS Microbiol Ecol 63:84–93

Compant S, Nowak J, Coenye T, Clément C, Ait Barka E (2008b) Diversity and occurrence of Burkholderia spp. in the natural environment. FEMS Microbiol Rev 32:607–626

Doyle JJ, Doyle JL (1990) Isolation of plant DNA from fresh tissue. Focus 12:13–15

Duffy BK, Défago G (1999) Environmental factors modulating antibiotic and siderophore biosynthesis by Pseudomonas fluorescens biocontrol strains. Appl Environ Microbiol 65:2429–2438

Dunbar J, Takal S, Barns SM, Davis AJ, Kuske CR (1999) Levels of bacterial community diversity in four arid soil compared by cultivation and 16S rRNA gene cloning. Appl Environ Microbiol 65:1662–1669

Ferreira A, Quecine MC, Lacava PT, Oda S, Azevedo JL, Araujo WL (2008) Diversity of endophytic bacteria from Eucalyptus species seeds and colonization of seedlings by Pantoea agglomerans. FEMS Microbiol Lett 287:8–14

Hallmann J, Quadt-Hallmann A, Rodriguez-Kabana R, Kloepper JW (1998) Interactions between Meloidogyne incognita and endophytic bacteria in cotton and cucumber. Soil Biol Biochem 30:925–937

Hardoim PR, Andreote FD, Reinhold-Hurek B, Sessitsch A, van Overbeek LS, van Elsas JD (2011) Rice root-associated bacteria: insights into community structures across 10 cultivars. FEMS Microbiol Ecol 77:154–164

Hengstmann U, Chin KJ, Janssen PH, Liesack W (1999) Comparative phylogenetic assignment of environmental sequences of genes encoding 16S rRNA and numerically abundant culturable bacteria from an anoxic rice paddy soil. Appl Environ Microbiol 65:5050–5058

Idris R, Trifonova R, Puschenreitr M, Wenzel WW, Sessitch A (2004) Bacterial communities associated with flowering plants of the Ni hyperaccumulator Thlaspi goesingense. Appl Environ Microbiol 70:2667–2677

IRPCM Phytoplasma/Spiroplasma Working Team—Phytoplasma Taxonomy Group (2004) 'Candidatus Phytoplasma', a taxon for the wall-less, non-helical prokaryotes that colonize plant phloem and insects. Int J Syst Evol Microbiol 54:1243–1255

Jarausch B, Fuchs A, Schwind N, Krczal G, Jarausch W (2007) Cacopsylla picta as most important vector for 'Candidatus Phytoplasma mali' in Germany and neighbouring regions. Bull Insectol 60:189–190

Kavino M, Harish S, Kumara N, Saravanakumar D, Damodaran T, Soorianathasundaram K, Samiyappan R (2007) Rhizosphere and endophytic bacteria for induction of systemic resistance of banana plantlets against bunchy top virus. Soil Biol Biochem 39:1087–1098

Kube M, Schneider B, Kuhl H, Dandekar T, Heitmann K, Migdoll AM, Reinhardt R, Seemüller E (2008) The linear chromosome of the plant-pathogenic mycoplasma 'Candidatus Phytoplasma mali'. BMC Genomics 9:306

Lane DJ (1991) 16S/23S rRNA sequencing. In: Stackebrandt E, Goodfellow M (eds) Nucleic acid techniques in bacterial systematic. Wiley, New York

Li YH, Liu QF, Liu Y, Zhu JN, Zhang Q (2011) Endophytic bacterial diversity in roots of Typha angustifolia L. in the constructed Beijing Cuihu Wetland (China). Res Microbiol 162:124–131

Lodewyckx C, Vangronsveld J, Porteous F, Moore ERB, Taghavi S, Mezgeay M, van der Lelie D (2002) Endophytic bacteria and their potential applications. Crit Rev Plant Sci 21:583–606

Lugtenberg B, Kamilova F (2009) Plant-growth-promoting rhizobacteria. Annu Rev Microbiol 63:541–556

Martini M, Musetti R, Grisan S, Polizzotto R, Boselli S, Favan F, Osler R (2009) DNA-dependent detection of the grapevine fungal endophytes Aureobasidium pullulans and Epicoccum nigrum. Plant Dis 93:993–998

Musetti R, Sanità di Toppi L, Emacora P, Favali MA (2004) Recovery in apple trees infected with apple proliferation phytoplasma: an ultrastructure and biochemical study. Phytopathology 94:203–208

Nowak J, Asiedu SK, Bensalim S, Richards J, Stewart A, Smith C, Stevens D, Sturz AV (1997) From laboratory to applications: challenges and progress with in vitro dual cultures of potato and beneficial bacteria. In: Cassels A (ed) Pathogen and microbial contamination in management in micropropagation. Kluwer, Dordrecht, pp 321–329

Onofre-Lemus J, Hernàndez-Lucas I, Girard L, Caballero-Mellado J (2009) ACC (1-Aminocyclopropane-1-carboxylate) deaminase activity, a widespread trait in Burkholderia species, and its growth-promoting effect on tomato plants. Appl Environ Microbiol 75:6581–6590

Osler R, Loi N, Carraro L, Ermacora P, Refatti E (2000) Recovery in plants affected by phytoplasmas. In: Congress of the European Foundation for Plant Pathology, 5th edn

Rosenblueth M, Martinez-Romero E (2006) Bacterial endophytes and their interactions with hosts. Mol Plant–Microbe Interact 19:827–837

Sagaram U, De Angelis KM, Trivedi P, Andersen GL, Lu SE, Wang N (2009) Bacterial diversity analysis of Huanglongbing pathogen-infected citrus, using PhyloChip arrays and 16S rRNA gene clone library sequencing. Appl Environ Microbiol 75:1566–1574

Schouten A, van der Berg G, Edel-Hermann V, Steinberg C, Gautheron N, Alabouvette C, de Vos CH, Lemanceau P, Raaijmakers JM (2004) Defense responses of Fusarium oxysporum to 2,4-diacetylphloroglucinol, a broad-spectrum antibiotic produced by Pseudomonas fluorescens. Mol Plant–Microbe Interact 17:1201–1211

Seemüller E, Schneider B (2004) 'Candidatus Phytoplasma mali', 'Candidatus Phytoplasma pyri' and 'Candidatus Phytoplasma prunorum', the causal agents of apple proliferation, pear decline and European stone fruit yellows, respectively. Int J Syst Evol Microbiol 54:1217–1226

Seemüller E, Kampmann M, Kiss E, Schneider B (2011) HfIB gene-based phytopathogenic classification of 'Candidatus Phytoplasma mali' strains and evidence that strain composition determines virulence in multiply infected apple trees. Mol Plant–Microbe Interact 24:1258–1266

Shuman S (1994) Novel approach to molecular cloning and polynucleotide synthesis using vaccinia DNA Topoisomerase. J Biol Chem 269:32678–32684

Smart CD, Schneider B, Blomquist CL, Guerra LJ, Harrison NA, Ahrens U, Lorenz KH, Seemüller E, Kirkpatrick BC (1996) Phytoplasma-specific PCR primers based on sequences of the 16S–23S rRNA spacer region. Appl Environ Microbiol 62:2988–2993

Sun L, Qiu F, Zhang X, Dai X, Dong X, Song W (2008) Endophytic bacterial diversity in rice (Oryza sativa L.) roots estimated by 16S rDNA sequences analysis. Microb Ecol 55:415–424

Tamura K, Dudley J, Nei M, Kumar S (2007) MEGA4: molecular evolutionary genetics analysis (MEGA) software version 4.0. Mol Biol Evol 24:1596–1599

Tedeschi R, Alma A (2006) Fieberiella florii (Homoptera: Auchenorrhyncha) as a vector of 'Candidatus Phytoplasma mali'. Plant Dis 90:284–290

Trivedi P, Duan Y, Wang N (2010) Huanglongbing, a systemic disease, restructures the bacterial community associated with citrus roots. Appl Environ Microbiol 76:3427–3436

Trivedi P, Spann T, Wang N (2011) Isolation and characterization of beneficial bacteria associated with citrus roots in Florida. Microb Ecol 62:324–336

Ulrich K, Ulrich A, Ewald D (2008) Diversity of endophytic bacterial communities in poplar grown under field condition. FEMS Microbiol Ecol 63:169–180

van Overbeek L, van Elsas J (2008) Effects of plant genotype and growth stage on the structure of bacterial communities associated with potato (Solanum tuberosum L.). FEMS Microbiol Ecol 64:283–296

Verhagen BWM, Trotel-Aziz P, Couderchet M, Höfte M, Aziz A (2010) Pseudomonas spp.-induced systemic resistance to Botrytis cinerea is associated with induction and priming of defence responses in grapevine. J Exp Bot 61:249–260

Wang QG, Garrity M, Tiedje JM, Cole JR (2007) Naïve Bayesian classifier for rapid assignment of rRNA sequences into the new bacterial taxonomy. Appl Environ Microbiol 73:5261–5267

Weintraub PG, Wilson MR (2009) Control of phytoplasma diseases and vectors. In: Weintraub PG, Jones P (eds) Phytoplasmas: genomes, plant hosts and vectors. CABI, Wallingfort, pp 233–249
Electronic supplementary material
Below is the link to the electronic supplementary material.
About this article
Cite this article
Bulgari, D., Bozkurt, A.I., Casati, P. et al. Endophytic bacterial community living in roots of healthy and 'Candidatus Phytoplasma mali'-infected apple (Malus domestica, Borkh.) trees. Antonie van Leeuwenhoek 102, 677–687 (2012). https://doi.org/10.1007/s10482-012-9766-3
Received:

Accepted:

Published:

Issue Date:

DOI: https://doi.org/10.1007/s10482-012-9766-3
Keywords