Abstract
A Gram-negative and aerobic bacterium, designated YIM 77875T, was isolated from a geothermal soil sample collected at Rehai National Park, Tengchong, Yunnan Province, south-west China. Bacterial growth occurred from 37 to 65 °C (optimum 50 °C), pH 6.0–8.0 (optimum pH 7.0) and 0–1 % NaCl (w/v). Cells were rod-shaped and colonies were convex, circular, smooth, yellow and non-transparent. Phylogenetic analysis based on the 16S rRNA gene sequence indicated that strain YIM 77875T belongs to the genus Lysobacter. The 16S rRNA gene sequence similarity values between strain YIM 77875T and other species of the genus Lysobacter were all below 94.7 %. The polar lipids of strain YIM 77875T were diphosphatidylglycerol, phosphatidylglycerol, phosphatidylethanolamine and five unknown phospholipids. The predominant respiratory quinone was Q-8 and the G+C content was 68.8 mol%. Major fatty acids were iso-C16:0, iso-C15:0 and iso-C11:0. On the basis of the morphological and chemotaxonomic characteristics, as well as genotypic data, strain YIM 77875T represents a novel species, Lysobacter thermophilus sp. nov., in the genus Lysobacter. The type strain is YIM 77875T (CCTCC AB 2012064T = KCTC 32020T).
Access options
Buy single article
Instant access to the full article PDF.
US$ 39.95
Tax calculation will be finalised during checkout.
Subscribe to journal
Immediate online access to all issues from 2019. Subscription will auto renew annually.
US$ 119
Tax calculation will be finalised during checkout.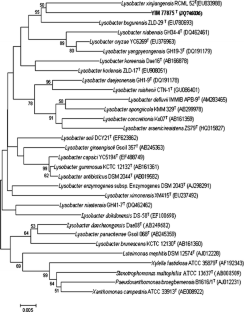 References
Bae HS, Wan-Taek Im WT, Lee ST (2005) Lysobacter concretionis sp. nov., isolated from anaerobic granules in an upflow anaerobic sludge blanket reactor. Int J Syst Evol Microbiol 55:1155–1161

Bowman JP (2000) Description of Cellulophaga algicola sp. nov., isolated from the surfaces of Antarctic algae, and reclassification of Cytophaga uliginosa (ZoBell and Upham 1944) Reichenbach 1989 as Cellulophaga uliginosa comb. nov. Int J Syst Evol Microbiol 50:1861–1868

Cerny G (1978) Studies on aminopeptidase for the distinction of Gram-negative from Gram-positive bacteria. Appl Microbiol Biotechnol 5:113–122

Christensen P, Cook FD (1978) Lysobacter, a new genus of nonfruiting, gliding bacteria with a high base ratio. Int J Syst Bacteriol 28:367–393

Chun J, Lee JH, Jung Y, Kim M, Kim S, Kim BK, Lim YW (2007) EzTaxon: a web-based tool for the identification of prokaryotes based on 16S ribosomal RNA gene sequences. Int J Syst Evol Microbiol 57:2259–2261

Collins MD, Jones D (1980) Lipids in the classification and identification of coryneform bacteria containing peptidoglycan based on 2,4-diaminobutyric acid. Appl Bacteriol 48:459–470

Collins MD, Pirouz T, Goodfellow M, Minnikin DE (1977) Distribution of menaquinones in actinomycetes and corynebacteria. J Gen Microbiol 100:221–230

Felsenstein J (1981) Evolutionary trees from DNA sequences: a maximum likelihood approach. J Mol Evol 17:368–376

Felsenstein J (1985) Confidence limits on phylogenies: an approach using the bootstrap. Evolution 39:783–791

Felsenstein J (2002) PHYLIP (phylogeny inference package), version 3.6a. Distributed by the author. Department of Genome Science, University of Washington, Seattle, USA

Fitch WM (1971) Toward defining the course of evolution: minimum change for a specific tree topology. Syst Zool 20:406–416

Hashizume H, Hattori S, Igarash M, Akamatsu Y (2004) Tripropeptin E, a new tripropeptin group antibiotic produced by Lysobacter sp. BMK333-48F3. J Antibiot (Tokyo) 57:394–399

Kimura M (1980) A simple method for estimating evolutionary rates of base substitutions through comparative studies of nucleotide sequences. J Mol Evol 16:111–120

Kroppenstedt RM (1982) Separation of bacterial menaquinones by HPLC using reverse phase (RP18) and a silver loaded ion exchanger as stationary phases. J Liq Chromatogr 5:2359–2387

Li WJ, Xu P, Schumann P, Zhang YQ, Pukall R, Xu LH, Stackebrandt E, Jiang CL (2007) Georgenia ruanii sp. nov., a novel actinobacterium isolated from forest soil in Yunnan (China) and emended description of the genus Georgenia. Int J Syst Evol Microbiol 57:1424–1428

Liu M, Liu Y, Wang Y, Luo X, Dai J, Fang C (2011) Lysobacter xinjiangensis sp. nov., a moderately thermotolerant and alkalitolerant bacterium isolated from gamma-irradiated sand soil sample. Int J Syst Evol Microbiol 61:433–437

Luo GS, Shi ZJ, Wang GJ (2011) Lysobacter arseniciresistens sp. nov., an arsenite-resistant bacterium isolated from iron-mined soil. Int J Syst Evol Microbiol. doi:10.1099/ijs.0.034405-0

Mesbah M, Premachandran U, Whitman WB (1989) Precise measurement of the G+C content of deoxyribonucleic acid by high-performance liquid chromatography. Int J Syst Bacteriol 39:159–167

Minnikin DE, Collins MD, Goodfellow M (1979) Fatty acid and polar lipid composition in the classification of Cellulomonas, Oerskovia and related taxa. J Appl Bacteriol 47:87–95

Oh KH, Kang SJ, Jung YT, Oh TK, Yoon JH (2011) Lysobacter dokdonensis sp nov., isolated from soil. Int J Syst Evol Microbiol 61:1089–1093

Park JH, Kim R, Aslam Z, Jeon CO, Chung YR (2008) Lysobacter capsici sp. nov., with antimicrobial activity, isolated from the rhizosphere of pepper, and emended description of the genus Lysobacter. Int J Syst Evol Microbiol 58:387–392

Romanenko LA, Uchino M, Tanaka N, Frolova GM, Mikhailov VV (2008) Lysobacter spongiicola sp. nov., isolated from a deep-sea sponge. Int J Syst Evol Microbiol 58:370–374

Saddler GS, Bradbury JF (2005) Family I. Xanthomonadaceae fam. nov. In: Brenner DJ, Krieg NR, Staley JT, Garrity GM (eds) Bergey's manual of systematic bacteriology, 2nd edn, vol 2 (the proteobacteria), part B (the gammaproteobacteria). Springer, New York, p 63

Saitou N, Nei M (1987) The neighbor-joining method: a new method for reconstructing phylogenetic trees. Mol Biol Evol 4:406–425

Sasser M (1990) Identification of bacteria by gas chromatography of cellular fatty acids, MIDI Technical Note 101. Newark, DE: MIDI Inc

Stackebrandt E, Goebel BM (1994) Taxonomic note: a place for DNA–DNA reassociation and 16S rRNA sequence analysis in the present species definition in bacteriology. Int J Syst Bacteriol 44:846–849

Tamura K, Dudley J, Nei M, Kumar S (2007) MEGA4: molecular evolutionary genetics analysis (MEGA) software version 4.0. Mol Biol Evol 24:1596–1599

Thompson JD, Gibson TJ, Plewniak F, Jeanmougin F, Higgins DG (1997) The CLUSTAL X windows interface: flexible strategies for multiple sequence alignment aided by quality analysis tools. Nucleic Acids Res 25:4876–4882

Wang GL, Wang L, Chen HH, Shen B, Li SP, Jiang JD (2011) Lysobacter ruishenii sp. nov., a chlorothalonil-degrading bacterium isolated from a long-term chlorothalonil-contaminated soil in China. Int J Syst Evol Microbiol 61:674–679

Weon HY, Kim BY, Baek YK, Yoo SH, Kwon SW, Stackebrandt E, Go SJ (2006) Two novel species, Lysobacter daejeonensis sp. nov. and Lysobacter yangpyeongensis sp. nov., isolated from Korean greenhouse soils Int J Syst Evol Microbiol 56:947–951

Xu P, Li WJ, Tang SK, Zhang YQ, Chen GZ, Chen HH, Xu LH, Jiang CL (2005) Naxibacter alkalitolerans gen. nov., sp. nov., a novel member of the family Oxalobacteraceae isolated from China. Int J Syst Evol Microbiol 55:1149–1153

Yassin AF, Chen WM, Hupfer H, Siering C, Kroppenstedt RM, Arun AB, Lai WA, Shen FT, Rekha PD, Young CC (2007) Lysobacter defluvii sp. nov., isolated from municipal solid waste. Int J Syst Evol Microbiol 57:1131–1136

Zhang L, Bai J, Wang Y, Wu GL, Dai J, Fang C (2011) Lysobacter korlensis sp. nov. and Lysobacter bugurensis sp. nov., isolated from soil in north-west China. Int J Syst Evol Microbiol 61:2259–2265
Acknowledgments
We are grateful to Prof. Cheng-Xiang Fang (CCTCC, China) for his kind providing reference type strain L. xinjiangensis CCTCC AB 208194T. This research was supported by Yunnan Provincial Sciences and Technology Department (No. 2011FB034). W-J Li was also supported by 'Hundred Talents Program' of the Chinese Academy of Sciences.
Additional information
Da-Qiao Wei and Tian-Tian Yu contributed equally to this study.
Electronic supplementary material
Below is the link to the electronic supplementary material.
About this article
Cite this article
Wei, DQ., Yu, TT., Yao, JC. et al. Lysobacter thermophilus sp. nov., isolated from a geothermal soil sample in Tengchong, south-west China. Antonie van Leeuwenhoek 102, 643–651 (2012). https://doi.org/10.1007/s10482-012-9761-8
Received:

Accepted:

Published:

Issue Date:
Keywords
Tengchong

Lysobacter thermophilus sp. nov.

16S rRNA gene

Polyphasic taxonomy