Abstract
A Gram-negative, motile and rod-shaped bacterial strain, G-M8T, which was isolated from seashore sand around a seaweed farm at Geoje island in South Korea, was characterized taxonomically. It grew optimally at 30–37 °C, at pH 7.0–8.0 and in presence of 2 % (w/v) NaCl. A neighbour-joining phylogenetic tree based on 16S rRNA gene sequences revealed that strain G-M8T joined the cluster comprising the type strains of Ruegeria atlantica and Ruegeria lacuscaerulensis, showing 97.5 % sequence similarity, by a bootstrap resampling value of 85.8 %. It exhibited 16S rRNA gene sequence similarity values of 95.4–96.7 % to the type strains of the other Ruegeria species. Strain G-M8T exhibited the highest gyrB sequence similarity value (88.5 %) to the type strain of R. lacuscaerulensis. Strain G-M8T contained Q-10 as the predominant ubiquinone and C18:1 ω7c as the predominant fatty acid. The polar lipid profile of strain G-M8T was similar to that of R. atlantica KCTC 12424T. The DNA G+C content of strain G-M8T was 64.6 mol% and its mean DNA–DNA relatedness values with R. atlantica KCTC 12424T and R. lacuscaerulensis KCTC 2953T were 18 ± 5.3 and 10 ± 3.6 %, respectively. Differential phenotypic properties, together with the phylogenetic and genetic distinctiveness, demonstrated that strain G-M8T is distinguished from other Ruegeria species. On the basis of the data presented, strain G-M8T (=KCTC 23960T = CCUG 62412T) represents a novel species of the genus Ruegeria, for which the name Ruegeria arenilitoris sp. nov. is proposed.
Access options
Buy single article
Instant access to the full article PDF.
US$ 39.95
Tax calculation will be finalised during checkout.
Subscribe to journal
Immediate online access to all issues from 2019. Subscription will auto renew annually.
US$ 119
Tax calculation will be finalised during checkout.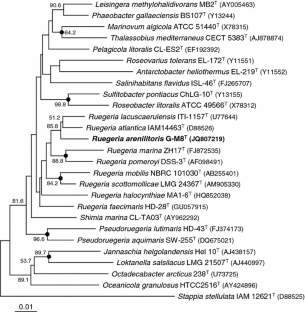 References
Arahal DR, Macián MC, Garay E, Pujalte MJ (2005) Thalassobius mediterraneus gen. nov., sp. nov., and reclassification of Ruegeria gelatinovorans as Thalassobius gelatinovorus comb. nov. Int J Syst Evol Microbiol 55:2371–2376

Baumann P, Baumann L (1981) The marine Gram-negative eubacteria: genera Photobacterium, Beneckea, Alteromonas, Pseudomonas, and Alcaligenes. In: Starr MP, Stolp H, Trüper HG, Balows A, Schlegel HG (eds) The Prokaryotes. Springer, Berlin, pp 1302–1331

Bruns A, Rohde M, Berthe-Corti L (2001) Muricauda ruestringensis gen. nov., sp. nov., a facultatively anaerobic, appendaged bacterium from German North Sea intertidal sediment. Int J Syst Evol Microbiol 51:1997–2006

Cohen-Bazire G, Sistrom WR, Stanier RY (1957) Kinetic studies of pigment synthesis by nonsulfur purple bacteria. J Cell Comp Physiol 49:25–68

Cowan ST, Steel KJ (1965) Manual for the identification of medical bacteria. Cambridge University Press, London

Ezaki T, Hashimoto Y, Yabuuchi E (1989) Fluorometric deoxyribonucleic acid–deoxyribonucleic acid hybridization in microdilution wells as an alternative to membrane filter hybridization in which radioisotopes are used to determine genetic relatedness among bacterial strains. Int J Syst Bacteriol 39:224–229

González JM, Covert JS, Whitman WB, Henriksen JR, Mayer F, Scharf B, Schmitt R, Buchan A, Fuhrman JA, Kiene RP, Moran MA (2003) Silicibacter pomeroyi sp. nov. and Roseovarius nubinhibens sp. nov., dimethylsulfoniopropionate-demethylating bacteria from marine environments. Int J Syst Evol Microbiol 53:1261–1269

Huo YY, Xu XW, Li X, Liu C, Cui HL, Wang CS, Wu M (2011) Ruegeria marina sp. nov., isolated from Marine Sediment. Int J Syst Evol Microbiol 61:347–350

Kim YO, Park S, Nam BH, Kang SJ, Hur YB, Lee SJ, Oh TK, Yoon JH (2012) Ruegeria halocynthiae sp. nov., isolated from the sea squirt Halocynthia roretzi. Int J Syst Evol Microbiol 62:915–930

Komagata K, Suzuki KI (1987) Lipid and cell wall analysis in bacterial systematics. Methods Microbiol 19:161–207

Lai Q, Yuan J, Li F, Zheng T, Shao Z (2010) Ruegeria pelagia is a later heterotypic synonym of Ruegeria mobilis. Int J Syst Evol Microbiol 60:1918–1920

Lányí B (1987) Classical and rapid identification methods for medically important bacteria. Methods Microbiol 19:1–67

Lee K, Choo YJ, Giovannoni SJ, Cho JC (2007) Ruegeria pelagia sp. nov., isolated from the Sargasso Sea, Atlantic Ocean. Int J Syst Evol Microbiol 57:1815–1818

Leifson E (1963) Determination of carbohydrate metabolism of marine bacteria. J Bacteriol 85:1183–1184

Martens T, Heidorn T, Pukall R, Simon M, Tindall BJ, Brinkhoff T (2006) Reclassification of Roseobacter gallaeciensis Ruiz- Ponte et al. 1998 as Phaeobacter gallaeciensis gen. nov., comb. nov., description of Phaeobacter inhibens sp. nov., reclassification of Ruegeria algicola (Lafay et al. 1995) Uchino et al. 1999 as Marinovum algicola gen. nov., comb. nov., and emended descriptions of the genera Roseobacter, Ruegeria and Leisingera. Int J Syst Evol Microbiol 56:1293–1304

Minnikin DE, Patel PV, Alshamaony L, Goodfellow M (1977) Polar lipid composition in the classification of Nocardia and related bacteria. Int J Syst Bacteriol 27:104–117

Minnikin DE, O'Donnell AG, Goodfellow M, Alderson G, Athalye M, Schaal A, Parlett JH (1984) An integrated procedure for the extraction of bacterial isoprenoid quinones and polar lipids. J Microbiol Methods 2:233–241

Muramatsu Y, Uchino Y, Kasai H, Suzuki K, Nakagawa Y (2007) Ruegeria mobilis sp. nov., a member of the Alphaproteobacteria isolated in Japan and Palau. Int J Syst Evol Microbiol 57:1304–1309

Oh KH, Jung YT, Oh TK, Yoon JH (2011) Ruegeria faecimaris sp. nov., isolated from a tidal flat sediment. Int J Syst Evol Microbiol 61:1182–1188

Petursdottir SK, Kristjansson JK (1997) Silicibacter lacuscaerulensis gen. nov., sp. nov., a mesophilic moderately halophilic bacterium characteristic of the Blue Lagoon geothermal lake in Iceland. Extremophiles 1:94–99

Rüger HJ, Höfle MG (1992) Marine star-shaped-aggregate-forming bacteria: Agrobacterium atlanticum sp. nov.; Agrobacterium meteori sp. nov.; Agrobacterium ferrugineum sp. nov., nom. rev.; Agrobacterium gelatinovorum sp. nov., nom. rev.; and Agrobacterium stellulatum sp. nov., nom. rev. Int J Syst Bacteriol 42:133–143

Sasser M (1990) Identification of bacteria by gas chromatography of cellular fatty acids. MIDI technical note 101. Microbial ID, Inc., Newark

Stackebrandt E, Goebel BM (1994) Taxonomic note: a place for DNA–DNA reassociation and 16S rRNA sequence analysis in the present species definition in bacteriology. Int J Syst Bacteriol 44:846–849

Staley JT (1968) Prosthecomicrobium and Ancalomicrobium: new prosthecate freshwater bacteria. J Bacteriol 95:1921–1942

Tamaoka J, Komagata K (1984) Determination of DNA base composition by reverse-phase high-performance liquid chromatography. FEMS Microbiol Lett 25:125–128

Thompson JD, Higgins DG, Gibson TJ (1994) Clustal W: improving the sensitivity of progressive multiple sequence alignment through sequence weighting, position-specific gap penalties and weight matrix choice. Nucleic Acids Res 22:4673–4680

Uchino Y, Hirata A, Yokota A, Sugiyama J (1998) Reclassification of marine Agrobacterium species: Proposals of Stappia stellulata gen. nov., comb. nov., Stappia aggregata sp. nov., nom. rev., Ruegeria atlantica gen. nov., comb. nov., Ruegeria gelatinovora comb. nov., Ruegeria algicola comb. nov., and Ahrensia kieliense gen. nov., sp. nov., nom. rev. J Gen Appl Microbiol 44:201–210

Vandecandelaere I, Nercessian O, Segaert E, Achouak W, Faimali M, Vandamme P (2008) Ruegeria scottomollicae sp. nov., isolated from a marine electroactive biofilm. Int J Syst Evol Microbiol 58:2726–2733

Wayne LG, Brenner DJ, Colwell RR, Grimont PAD, Kandler O, Krichevsky MI, Moore LH, Moore WEC, Murray RGE (1987) International Committee on Systematic Bacteriology. Report of the ad hoc committee on reconciliation of approaches to bacterial systematics. Int J Syst Bacteriol 37:463–464

Yi H, Lim YW, Chun J (2007) Taxonomic evaluation of the genera Ruegeria and Silicibacter: a proposal to transfer the genus Silicibacter Petursdottir and Kristjansson 1999 to the genus Ruegeria Uchino et al. 1999. Int J Syst Evol Microbiol 57:815–819

Yoon JH, Kim H, Kim SB, Kim HJ, Kim WY, Lee ST, Goodfellow M, Park YH (1996) Identification of Saccharomonospora strains by the use of genomic DNA fragments and rRNA gene probes. Int J Syst Bacteriol 46:502–505

Yoon JH, Lee ST, Park YH (1998) Inter- and intraspecific phylogenetic analysis of the genus Nocardioides and related taxa based on 16S rDNA sequences. Int J Syst Bacteriol 48:187–194

Yoon JH, Kang KH, Park YH (2003) Psychrobacter jeotgali sp. nov., isolated from jeotgal, a traditional Korean fermented seafood. Int J Syst Evol Microbiol 53:449–454

Yoon JH, Lee SY, Kang SJ, Lee CH, Oh TK (2007) Pseudoruegeria aquimaris gen. nov., sp. nov., isolated from seawater of the East Sea in Korea. Int J Syst Evol Microbial 57:542–547

Yoon JH, Kang SJ, Lee SY (2012) Salinimonas lutimais sp. nov., a polysaccharide-degrading bacterium isolated from a tidal flat. Antonie van Leeuwenhoek 101:803–810
Acknowledgments
This work was supported by the Program for Collection, Management and Utilization of Biological Resources (grant M10867010003) and BK 21 program from the Ministry of Education, Science and Technology (MEST) of the Republic of Korea.
Additional information
The GenBank/EMBL/DDBJ accession numbers of the 16S rRNA gene sequence and gyrB sequence of Ruegeria arenilitoris G-M8T are JQ807219 and JQ807221, respectively.
Electronic supplementary material
Below is the link to the electronic supplementary material.
About this article
Cite this article
Park, S., Yoon, JH. Ruegeria arenilitoris sp. nov., isolated from the seashore sand around a seaweed farm. Antonie van Leeuwenhoek 102, 581–589 (2012). https://doi.org/10.1007/s10482-012-9753-8
Received:

Accepted:

Published:

Issue Date:
Keywords
Ruegeria arenilitoris

Novel species

Polyphasic taxonomy

Seashore sand