Abstract
Clone library-based studies have shown that almost all lumbricid earthworm species harbour host-specific symbiotic bacteria belonging to the novel genus Verminephrobacter in their nephridia (excretory organs). To date the only described representative from this genus is Verminephrobacter eiseniae, the specific symbiont of the earthworm Eisenia fetida. In this study two novel rod-shaped, non-endosporeforming, betaproteobacterial symbionts were isolated from the nephridia of two closely related earthworm species. Both isolates were affiliated with the genus Verminephrobacter by 16S rRNA gene sequence analysis. Similarly to V. eiseniae, the two isolates grew aerobically with a preference for low oxygen concentrations on a range of sugars, fatty acids and amino acids and fermentatively on glucose and pyruvate. These phenotypes match well with the conditions reported or inferred for the nephridial environment. Based on 16S rRNA gene similarity, DNA–DNA hybridization value and phenotypic characteristics the two isolates are clearly distinct from V. eiseniae. Phenotypic characteristics could not clearly differentiate the two strains as separate species but a low DNA–DNA hybridization value of 57.3%, their earthworm host specificity, differing temperature ranges and pH optima suggest that they represent two subspecies of a novel species of Verminephrobacter. For this species, the name V. aporrectodeae sp. nov. is proposed, with the two subspecies V. aporrectodeae subsp. tuberculatae (type strain, At4T = DSM 21361T = LMG 25313T) and V. aporrectodeae subsp. caliginosae (type strain, Ac9T = DSM 21895T = LMG 25312T) isolated from the nephridia of the earthworms Aporrectodea tuberculata and A. caliginosa, respectively.
Access options
Buy single article
Instant access to the full article PDF.
US$ 39.95
Tax calculation will be finalised during checkout.
Subscribe to journal
Immediate online access to all issues from 2019. Subscription will auto renew annually.
US$ 119
Tax calculation will be finalised during checkout.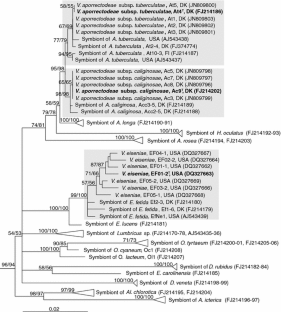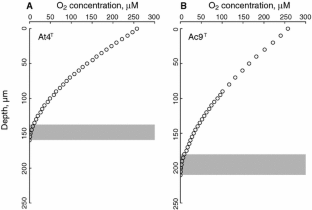 References
Berg P, Risgaard-Petersen N, Rysgaard S (1998) Interpretation of measured concentration profiles in sediment pore water. Limnol Oceanogr 43:1500–1510

Cashion P, Holder Franklin MA, McCully J, Franklin M (1977) A rapid method for the base ratio determination of bacterial DNA. Anal Biochem 81:461–466

Davidson SK, Stahl D (2006) Transmission of nephridial bacteria of the earthworm Eisenia fetida. Appl Environ Microbiol 72:769–775

Davidson S, Stahl D (2008) Selective recruitment of bacteria during embryogenesis of an earthworm. ISME J 2:510–518

De Ley J, Cattoir H, Reynaerts A (1970) The quantitative measurement of DNA hybridization from renaturation rates. Eur J Biochem 12:133–142

Drummond AJ, Ashton B, Buxton S, Cheung M, Cooper A, Duran C, Field M, Heled J, Kearse M, Markowitz S, Moir R, Stones-Havas S, Sturrock S, Thierer T, Wilson A (2011) Geneious v5.4, http://www.geneious.com/

Guindon S, Gascuel O (2003) A simple, fast, and accurate algorithm to estimate large phylogenies by maximum likelihood. Syst Biol 52:696–704

Huss VAR, Festl H, Schleifer K-H (1983) Studies on the spectrophotometric determination of DNA hybridization from renaturation rates. Syst Appl Microbiol 4:184–192

Ingvorsen K, Jørgensen BB (1984) Kinetics of sulfate uptake by freshwater and marine species of Desulfovibrio. Arch Microbiol 139:61–66

Knop J (1926) Bakterien und Bakteroiden bei Oligochäten. Z Morphol Oekol Tiere 6:588–624

Lane DJ (1991) 16S/23S rRNA sequencing. In: Stackebrandt E, Goodfellow M (eds) Nucleic acid techniques in bacterial systematics. Wiley, New York, pp 115–175

Lovley D (2006) Dissimilatory Fe(III)- and Mn(IV)-reducing prokaryotes. In: Dworkin M, Falkow S, Rosenberg E, Schleifer K-H, Stackebrandt E (eds) The Prokaryotes. Springer, New York, pp 635–658

Ludwig W, Strunk O, Westram R, Richter L, Meier H, Yadhukumar BuchnerA, Lai T, Steppi S, Jobb G, Förster W, Brettske I, Gerber S, Ginhart AW, Gross O, Grumann S, Hermann S, Jost R, König A, Liss T, Lüßmann R, May M, Nonhoff B, Reichel B, Strehlow R, Stamatakis A, Stuckmann N, Vilbig A, Lenke M, Ludwig T, Bode A, Schleifer K-H (2004) ARB: a software environment for sequence data. Nucleic Acids Res 32:1363–1371

Lund MB, Davidson SK, Holmstrup M, James S, Kjeldsen KU, Stahl DA, Schramm A (2010a) Diversity and host specificity of the Verminephrobacter-earthworm symbiosis. Environ Microbiol 12:2142–2151

Lund MB, Holmstrup M, Lomstein B, Damgard C, Schramm A (2010b) Beneficial effect of Verminephrobacter nephridial symbionts on the fitness of the earthworm Aporrectodea tuberculata. Appl Environ Microbiol 76:4738–4743

Nussbaumer AD, Bright M, Baranyi C, Beisser CJ, Ott JA (2004) Attachment mechanism in a highly specific association between ectosymbiotic bacteria and marine nematodes. Aquat Microb Ecol 34:239–246

Pandazis G (1931) Zur frage der bakteriensymbiose bei oligochäten. Zentbl Bakteriol: Parasitenkd Infekt 120:440–453

Pernthaler J, Glöckner F-O, Schönhuber W, Amann R (2001) Fluorescence in situ hybridization (FISH) with rRNA-targeted oligonucleotide probes. Methods in Microbiol 30:207–226

Pinel N, Davidson SK, Stahl DA (2008) Verminephrobacter eiseniae gen. nov. sp. nov. a nephridial symbiont of the earthworm Eisenia foetida (Savigny). Int J Syst Evol Microbiol 58:2147–2157

Pruesse E, Quast C, Knittel K, Fuchs B, Ludwig W, Peplies J, Glöckner FO (2007) SILVA: a comprehensive online resource for quality checked and aligned ribosomal RNA sequence data compatible with ARB. Nucleic Acids Res 35:7188–7196

Ramsay JA (1949) The site of formation of hypotonic urine in the nephridium of Lumbricus. J Exp Biol 26:65–75

Revsbech NP (1989) An oxygen microsensor with a guard cathode. Limnol Oceanogr 34:474–478

Rouabah-Sadaoui L, Marcel R (1995) Glucids and lipids of clitellum and cocoon's albumen in Eisenia fetida Sav (Annelida oligochaeta). Reprod Nutr Dev 35:537–548

Schramm A, Davidson S, Dodsworth J, Drake H, Stahl D, Dubilier N (2003) Acidovorax-like symbionts in the nephridia of earthworms. Environ Microbiol 5:804–809

Schweitzer B, Huber I, Amann R, Ludwig W, Simon M (2001) α- and β-proteobacteria control the consumption and release of amino acids on lake snow aggregates. Appl Environ Microbiol 67:632–645

Smibert RM, Krieg NR (1994) Phenotypic characterization. In: Gerhardt P, Murray RGE, Wood WA, Krieg NR (eds) Methods for general and molecular bacteriology. ASM press, Washington DC, pp 607–654

Sonnenburg JL, Xu J, Leip DD, Chen C-H, Westover BP, Weatherford J, Buhler JD, Gordon JI (2005) Glycan foraging in vivo by an intestine-adapted bacterial symbiont. Science 307:1955–1959

Widdel F, Bak F (1992) Gram-negative mesophilic sulfate-reducing bacteria. In: Balows A, Trüper HG, Dworkin HG, Harder M, Schleifer K-H (eds) The prokaryotes. Springer, New York, pp 3352–3378
Acknowledgments
We thank Tove Wiegers and Britta Poulsen for excellent technical assistance and Rikke Louise Meyer for help with processing oxygen micro profiles. This study was financially supported by the Danish Research Council for Natural Sciences (grant 21-04-0410 to AS, and post-doctoral fellowship grant 272-05-313 to KUK).
Electronic supplementary material
Below is the link to the electronic supplementary material.
About this article
Cite this article
Lund, M.B., Schätzle, S., Schramm, A. et al. Verminephrobacter aporrectodeae sp. nov. subsp. tuberculatae and subsp. caliginosae, the specific nephridial symbionts of the earthworms Aporrectodea tuberculata and A. caliginosa . Antonie van Leeuwenhoek 101, 507–514 (2012). https://doi.org/10.1007/s10482-011-9659-x
Received:

Accepted:

Published:

Issue Date:
Keywords
Acidovorax

Annelida

Earthworm

Extracellular symbiont

Nephridia

Symbiosis