Abstract
A novel actinomycete, designated strain KLBMP 1111T, was isolated from the root of the oil-seed plant Jatropha curcas L. collected from Sichuan Province, south-west China. Strain KLBMP 1111T formed a distinct branch in the 16S rRNA gene phylogenetic tree together with the type strains in the genus Kibdelosporangium, with the highest similarity to Kibdelosporangium aridum subsp. aridum DSM 43828T (98.8%), K. aridum subsp. largum DSM 44150T (98.1%) and Kibdelosporangium philippinense DSM 44226T (98.1%). The organism produced sporangium-like structures, the typical morphological characteristic of the genus Kibdelosporangium. The chemotaxonomic properties of this strain were also consistent with those of the genus Kibdelosporangium: the peptidoglycan contained meso-diaminopimelic acid; the predominant menaquinone was MK-9(H4); phospholipids were phosphatidylglycerol, phosphatidylethanolamine, phosphatidylmethylethanolamine, phosphatidylinositol and an unknown phospholipid; iso-C16:0, C16:0, anteiso-C15:0 and iso-C15:0 as the predominant cellular fatty acids and the G+C content was 67.2 mol%. DNA–DNA hybridization values between strain KLBMP 1111T and the three Kibdelosporangium species were less than 50%. This strain had the ability to produce a siderophore, utilized 1-aminocyclopropane-1-carboxylic acid (ACC) as sole source of nitrogen and possessed ACC deaminase enzyme. Based on genotypic and phenotypic data, strain KLBMP 1111T represents a novel species in the genus Kibdelosporangium. We propose the name Kibdelosporangium phytohabitans sp. nov. for this species. The type strain is the strain KLBMP 1111T (=KCTC 19775T = CCTCC AA 2010001T).
Access options
Buy single article
Instant access to the full article PDF.
US$ 39.95
Tax calculation will be finalised during checkout.
Subscribe to journal
Immediate online access to all issues from 2019. Subscription will auto renew annually.
US$ 119
Tax calculation will be finalised during checkout.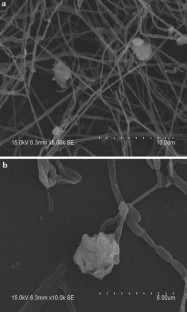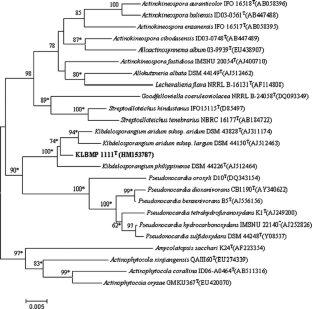 References
Chun J, Lee JH, Jung Y, Kim M, Kim S, Kim BK, Lim YW (2007) EzTaxon: a web-based tool for the identification of prokaryotes based on 16S ribosomal RNA gene sequences. Int J Syst Evol Microbiol 57:2259–2261

Collins MD, Jones D (1980) Lipids in the classification and identification of coryneform bacteria containing peptidoglycan based on 2,4-diaminobutyric acid. J Appl Bacteriol 48:459–470

Collins MD, Pirouz T, Goodfellow M, Minnikin DE (1977) Distribution of menaquinones in actinomycetes and corynebacteria. J Gen Microbiol 100:221–230

Doebereiner J (1995) Isolation and identification of aerobic nitrogen-fixing bacteria from soil and plants. In: Alef K, Nannipieri P (eds) Methods in applied soil microbiology and biochemistry. Academic, London, pp 134–141

El-Tarabily KA (2008) Promotion of tomato (Lycopersicon esculentum Mill.) plant growth by rhizosphere competent 1-aminocyclopropane-1-carboxylic acid deaminase-producing streptomycete actinomycetes. Plant Soil 308:161–174

Ezaki T, Hashimoto Y, Yabuuchi E (1989) Fluorometric deoxyribonucleic acid-deoxyribonucleic acid hybridization in microdilution wells as an alternative to membrane filter hybridization in which radioisotopes are used to determine genetic relatedness among bacterial strains. Int J Syst Bacteriol 39:224–229

Felsenstein J (1985) Confidence limits on phylogenies: an approach using the bootstrap. Evolution 39:783–789

Gordon SA, Weber RP (1951) Colorimetric estimation of indoleacetic acid. Plant Physiol 26:192–195

Gordon RE, Barnett DA, Handerhan JE, Pang CH-N (1974) Nocardia coeliaca, Nocardia autotrophica, and the nocardin strains. Int J Syst Bacteriol 24:54–63

Groth I, Schumann P, Rainey FA, Martin K, Schuetze B, Augsten K (1997) Demetria terragena gen. nov., sp. nov., a new genus of actinomycetes isolated from compost soil. Int J Syst Bacteriol 47:1129–1133

Hasegawa T, Takizawa M, Tanida S (1983) A rapid analysis for chemical grouping of aerobic actinomycetes. J Gen Microbiol 29:319–322

He L, Li W, Huang Y, Wang L, Liu ZH (2005) Streptomyces jietaisiensis sp. nov., isolated from soil in northern China. Int J Syst Evol Microbiol 55:939–1944

Jacobson BC, Pasternak JJ, Glick BR (1994) Partial purification and characterization of 1-aminocyclopropane-1-carboxylate deaminase from the plant growth-promoting rhizobacterium Pseudomonas putida GR 12–2. Can J Microbiol 40:1019–1025

Kämpfer P, Kroppenstedt RM (1996) Numerical analysis of fatty acid patterns of coryneform bacteria and related taxa. Can J Microbiol 42:989–1005

Kelly KL (1964) Color-name charts illustrated with centroid colors. Inter-Society Color Council-National Bureau of Standards, Chicago

Kimura M (1980) A simple method for estimating evolutionary rates of base substitutions through comparative studies of nucleotide sequence. J Mol Evol 16:111–120

Kluge AG, Farris FS (1969) Quantitative phyletics and the evolution of anurans. Syst Zool 18:1–32

Kurup PV, Schmitt JA (1973) Numerical taxonomy of Nocardia. Can J Microbiol 19:1035–1048

Lechevalier MP, Lechevalier HA (1970) Chemical composition as a criterion in the classification of aerobic actinomycetes. Int J Syst Bacteriol 20:435–443

Lechevalier MP, De Bie`vre C, Lechevalier HA (1977) Chemotaxonomy of aerobic actinomycetes: phospholipid composition. Biochem Syst Ecol. 5:249–260

Li WJ, Xu P, Schumann P, Zhang YQ, Pukall R, Xu LH, Stackebrandt E, Jiang CL (2007) Georgenia ruanii sp. nov., a novel actinobacterium isolated from forest soil in Yunnan (China) and emended description of the genus Georgenia. Int J Syst Evol Microbiol 57:1424–1428

Mertz FP, Yao RC (1988) Kibdelosporangium philippinense sp. nov. isolated from soil. Int J Syst Bacteriol 38:282–286

Mesbah M, Premachandran U, Whitman WB (1989) Precise measurement of the G+C content of deoxyribonucleic acid by high-performance liquid chromatography. Int J Syst Bacteriol 39:159–167

Minnikin DE, Collins MD, Goodfellow M (1979) Fatty acid and polar lipid composition in the classification of Cellulomonas, Oerskovia and related taxa. J Appl Bacteriol 47:87–95

Minnikin DE, Hutchinson IG, Caldicott AB, Goodfellow M (1980) Thin layer chromatography of methanolysates of mycolic acid-containing bacteria. J Chromatogr A 188:221–233

Penrose DM, Glick BR (2003) Methods for isolating and characterizing ACC deaminase-containing plant growth-promoting rhizobacteria. Physiol Plantarum 118:10–15

Qin S, Wang HB, Chen HH, Zhang YQ, Jiang CL, Xu LH, Li WJ (2008) Glycomyces endophyticus sp. nov., an endophytic actinomycete isolated from the root of Carex baccans Nees. Int J Syst Evol Microbiol 58:2525–2528

Qin S, Xing K, Jiang JH, Xu LH, Li WJ (2011) Biodiversity, bioactive natural products and biotechnological potential of plant-associated endophytic actinobacteria. Appl Microbial Biotechnol 89:457–473

Saitou N, Nei M (1987) The neighbor-joining method: a new method for reconstructing phylogenetic tree. Mol Biol Evol 4:406–425

Sasser M (1990) Identification of bacteria by gas chromatography of cellular fatty acids, MIDI technical note 101. MIDI Inc, Newark

Schwyn B, Neilands JB (1987) Universal chemical assays for the detection and determination of siderophores. Anal Biochem 160:47–56

Shearer MC, Colrnan PM, Ferrin RM, Nisbet LJ, Nash CH III (1986a) New genus of the Actinomycetales: Kibdelosporangium aridum gen. nov., sp. nov. Int J Syst Bacteriol 36:47–54

Shearer MC, Giovenella AJ, Grappel SF, Hedde RD, Mehta RJ, Oh YK, Pan CH, Pitkin DH, Nisbet LJ (1986b) Kibdelins, novel glycopeptide antibiotics. I. Discovery, production and biological evaluation. J Antibiot 39:1386–1394

Shirling EB, Gottlieb D (1966) Methods for characterization of Streptomyces species. Int J Syst Bacteriol 16:313–340

Stackebrandt E, Goebel BM (1994) Taxonomic note: a place for DNA–DNA reassociation and 16S rRNA sequence analysis in the present species definition in bacteriology. Int J Syst Bacteriol 44:846–849

Strobel GA, Daisy B (2003) Bioprospecting for microbial endophytes and their natural products. Microbiol Mol Biol Rev 67:491–502

Tamura K, Dudley J, Nei M, Kumar S (2007) MEGA4: molecular evolutionary genetics analysis (MEGA) software version 4.0. Mol Biol Evol 24:1596–1599

Thompson JD, Gibson TJ, Plewniak F, Jeanmougin F, Higgins DG (1997) The Clustal X windows interface: flexible strategies for multiple sequence alignment aided by quality analysis tools. Nucleic Acids Res 25:4876–4882

Tiwari K, Gupta RK (2011) Rare actinomycetes: a potential storehouse for novel antibiotics. Crit Rev Biotechnol 1–25

Waksman SA (1967) The actinomycetes. A summary of current knowledge. Ronald Press, New York

Xu P, Li WJ, Tang SK, Zhang YQ, Chen GZ, Chen HH, Xu LH, Jiang CL (2005) Naxibacter alkalitolerans gen. nov., sp. nov., a novel member of the family Oxalobacteraceae isolated from China. Int J Syst Evol Microbiol 55:1149–1153
Acknowledgments
This research was partially supported by National Natural Science Foundation of China (Nos. 31000005, 31101502), the Program of Natural Science Foundation of the Jiangsu Higher Education Institutions of China (Nos. 11KJD210002, 10KJB180008), the Project Funded by the Priority Academic Program Development of Jiangsu Higher Education Institutions (PAPD), the Project of Outstanding Scientific and Technological Innovation Team for Higher Education Institutions in Jiangsu Province (Pre-development of medical microbiology) and Grants from Natural Science Foundation by Xuzhou City (No. XZZD1004) and Xuzhou Normal University (09XLR12, 09XLR19).
Electronic supplementary material
Below is the link to the electronic supplementary material.
About this article
Cite this article
Xing, K., Bian, GK., Qin, S. et al. Kibdelosporangium phytohabitans sp. nov., a novel endophytic actinomycete isolated from oil-seed plant Jatropha curcas L. containing 1-aminocyclopropane-1-carboxylic acid deaminase. Antonie van Leeuwenhoek 101, 433–441 (2012). https://doi.org/10.1007/s10482-011-9652-4
Received:

Accepted:

Published:

Issue Date:
Keywords
Kibdelosporangium phytohabitans sp. nov.

Polyphasic taxonomy

16S rRNA

1-aminocyclopropane-1-carboxylic acid