Abstract
An endophytic actinomycete strain, designated Hhs.015T, was isolated from roots of cucumber seedlings. The endophytic isolate was identified by means of a polyphasic taxonomic approach. On the basis of 16S rRNA gene sequence similarities, strain Hhs.015T was closely related to members of the genus Saccharothrix. DNA–DNA hybridization with the four closest relatives, Saccharothrix longispora NRRL B-16116T, Saccharothrix xinjiangensis NRRL B-24321T, Saccharothrix autraliensis CGMCC 4.1355T and Saccharothrix espanaensis CGMCC 4.1714T, gave similarity values of 33.8, 28.2, 44.1 and 29.5%, respectively, which indicated that strain Hhs.015T represents a novel species of the genus Saccharothrix. This is consistent with the morphological, physiological and chemotaxonomic data. As a whole, these results suggest that strain Hhs.015T represents a novel Saccharothrix species. The name Saccharothrix yanglingensis sp. nov. is proposed, with the type strain Hhs.015T (=CGMCC 4.5627T = KCTC 19722T).
Access options
Buy single article
Instant access to the full article PDF.
US$ 39.95
Tax calculation will be finalised during checkout.
Subscribe to journal
Immediate online access to all issues from 2019. Subscription will auto renew annually.
US$ 119
Tax calculation will be finalised during checkout.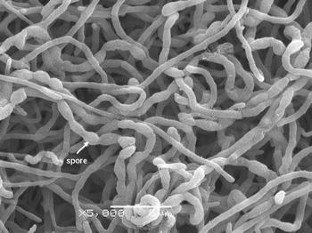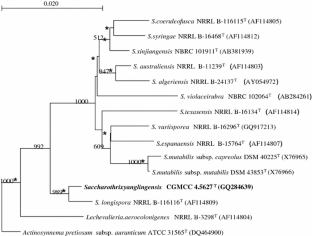 References
Becker B, Lechevalier MP, Gordon RE, Lechevalier HA (1964) Rapid differentiation between Nocardia and Streptomyces by paper chromatography of whole-cell hydrolysates. Appl Microbiol 12:421–423

Collins MD (1985) Isoprenoid quinone analysis in classification and identification. In: Goodfellow M, Minnikin DE (eds) Chemical methods in bacterial systematics. Academic Press, London, pp 267–287

Collins MD, Pirouz T, Goodfellow M, Minnikin DE (1977) Distribution of menaquinones in actinomycetes and corynebacteria. J Gen Microbiol 100:221–230

Coombs JT, Franco CMM (2003) Isolation and identification of actinobacteria from surface-sterilized wheat roots. Appl Environ Microbiol 69:5603–5608

De Ley J, Cattoir H, Reynaerts A (1970) The quantitative measurements of DNA hybridization from renaturation rates. Eur J Biochem 12:133–142

Felsenstein J (1981) Evolutionary trees from DNA sequences: a maximum likelihood approach. J Mol Evol 17:368–376

Felsenstein J (1985) Confidence limits on phylogenies: an approach using the bootstrap. Evolution 39:783–789

Fitch WM (1971) Toward defining the course of evolution: minimum change for a specific tree topology. Syst Zool 20:406–416

Goodfellow M (1971) Numerical taxonomy of some nocardioform bacteria. J Gen Microbiol 69:33–80

Gordon RE, Barnett DA, Handerhan JE, Pang CHN (1974) Nocardia coeliaca, Nocardia autotrophica, and the nocardin strain. Int J Syst Bacteriol 24:54–63

Hu YT, Zhou PJ, Zhou YG, Liu ZH, Liu SJ (2004) Saccharothrix xinjiangensis sp. nov., a pyrene-degrading actinomycete isolated from Tianchi Lake, Xinjiang, China. Int J Syst Evol Microbiol 54:2091–2094

Igarashi M, Nakamura H, Naganawa H, Takeuchi T (1997) Formamicin, a novel antifungal antibiotic produced by a strain of Saccharothrix sp. 2. Structure elucidation of formamicin. J Antibiot 50:932–936

Kelly KL (1964) Inter-Society Colour Council-National Bureau of Standards Colour Name Charts Illustrated with Centroid Colours. US Government Printing Office, Washington, DC

Kim BY, Brown R, Labeda DP, Goodfellow M (2011) Reclassification of Dactylosporangium variesporum as Saccharothrix variisporea corrig. (ex Tomita et al. 1977) sp. nov., nom. rev. Int J Syst Evol Microbiol 61:310

Kimura M (1980) A simple method for estimating evolutionary rates of base substitutions through comparative studies of nucleotide sequences. J Mol Evol 16:111–120

Kimura T, Nakammura K, Takahashi E (1995) Phosphonothrixin, a novel herbicidal antibiotic produced by Saccharothirx sp. ST-888A.2. Structure determination. J Antibiot 48:1130–1133

Kumar S, Tamura K, Nei M (2004) MEGA3: integrated software for molecular evolutionary genetics analysis and sequence alignment. Brief Bioinform 5:150–163

Labeda DP, Kroppenstedt RM (2000) Phylogenetic analysis of Saccharothrix and related taxa: proposal for Actinosynnemataceae fam. nov. Int J Syst Evol Microbiol 50:331–336

Labeda DP, Lyons AJ (1989) Saccharothrix texasensis sp. nov. and Saccharothrix waywayandensis sp. nov. Int J Syst Bacteriol 39:355–358

Labeda DP, Testa RT, Lechevalier M, Pand HA (1984) Saccharothrix: a New Genus of the Actinomycetales Related to Nocardiopsis. Int J Syst Bacteriol 34:426–431

Lechevalier MP, Lechevalier HA (1970) Chemical composition as a criterion in the classification of aerobic actinomycetes. Int J Syst Bacteriol 34:435–444

Lechevalier MP, Stern AE, Lechevalier HA (1981) Phospholipids in the taxonomy of actinomycetes. In Actinomycetes. Gustav Fischer, New York, pp 111–116

Li WJ, Xu P, Schumann P, Zhang YQ R, Pukall XuLH, Stackebrandt E, Jiang CL (2007) Georgenia ruanii sp. nov., a novel actinobacterium isolated from forest soil in Yunnan(China) and emended description of the genus Georgenia. Int J Syst Evol Microbiol 57:1424–1428

Marchal N, Bourdon JL (1973) Milieux de Culture et Identification Biochimique des Bacteries. Doin, Paris (in French)

Minnikin DE, Patel PV, Alshamaony L, Goodfellow M (1977) Polar lipid composition in the classification of Nocardia and related bacteria. Int J Syst Bacteriol 27:104–107

Minnikin DE, Hutchinson IG, Caldicott AB, Goodfellow M (1980) Thin-layer chromatography of methanolysates of mycolic acid-containing bacteria. J Chromatogr 188:221–233

Otoguro M, Tamura T, Suzuki K, Hayakawa M (2009) Saccharothrix violaceirubra sp. nov., isolated from soil and plant litter. Int J Syst Evol 59:1504–1507

Qin QM, Vallad GE, Wu BM, Subbarao KV (2006) Phylogenetic analyses of phytopathogenic isolates of Verticillium spp. Phytopathology 96:582–592

Saitou N, Nei M (1987) The neighbor-joining method: a new method for reconstructing phylogenetic trees. Mol Biol Evol 4:406–425

Shirling EB, Gottlieb D (1966) Methods for characterization of Streptomyces species. Int J Syst Bacteriol 16:313–340

Stackebrandt E, Rainey FA, Ward-Rainey NL (1997) Proposal for a new hierarchic classification system, Actinobacteria classis nov. Int J Syst Bacteriol 47:479–491

Thompson JD, Gibson TJ, Plewniak F, Jeanmou-gin F, Higgins DG (1997) The CLUSTAL X windows interface: flexible strategies for multiple sequence alignment aided by quality analysis tools. Nucleic Acids Res 25:4876–4882

Van de Peer Y, De WachterR (1994) TREECON for Windows: a software package for the construction and drawing of evolutionary trees for the Microsoft Windows environment. Comput Appl Biosci 10:569–570

Vertesy L, Barbone FP, Cashmen E, Decker H, Ehrlich K, Jordan B, Knauf M, Schummer D, Segeth MP, Wink J, Seibert G (2001) Pluraflavins, potent antitumor antibiotics from Saccharothrix sp DSM 12931. J Antibiot 54:718–729

Waksman SA (1967) The Actinomycetes. A Summary of Current Knowledge. Ronald Press, New York

Yao M, Tu X, Huang LL, Wang MY, Kang ZS (2007) Screening of antagonistic endophytic actinomycetes against tomato pathogens and biocontrol effect on tomato leaf mould. J Northw A & F Univ 35:146–150

Zhang J, Liu Z, Goodfellow M (2003) Nocardia caishijiensis sp. nov., a novel soil actinomycete. Int J Syst Evol Microbiol 53:999–1004

Zitouni A, Boudjella H, Mathieu F, Sabaou N, Lebrihi A (2004a) Mutactimycin PR, a new anthracycline antibiotic from Saccharothrix sp SA 103-I. Taxonomy, fermentation, isolation and biological activities. J Antibiot 57:373–378

Zitouni A, Lamari L, Boudjella H, Badji B, Sabaou N, Gaouar A, Mathieu F, Lebrihi A, Labeda DP (2004b) Saccharothrix algeriensis sp. nov., isolated from Saharan soil. Int J Syst Evol Microbiol 54:1377–1381
Acknowledgments
This work was supported by Agriculture Project (nyhyzx07–055), National Natural Science Foundation of China (30771396) and the '111' Project from Ministry of Education of China (B07049). The authors are grateful to Dr. Swezey (NRRL) for the type strains of the Saccharothrix species, and to Dr. Yafang Tan for carrying out the quantitative fatty acid analysis on isolate Hhs.015T.
Additional information
The GenBank accession number for the 16S rRNA gene sequence of strain Hhs.015T is GQ284639.
Electronic supplementary material
Below is the link to the electronic supplementary material.
About this article
Cite this article
Yan, X., Huang, LL., Tu, X. et al. Saccharothrix yanglingensis sp. nov., an antagonistic endophytic actinomycete isolated from cucumber plant. Antonie van Leeuwenhoek 101, 141–146 (2012). https://doi.org/10.1007/s10482-011-9631-9
Received:

Accepted:

Published:

Issue Date:
Keywords
Saccharothrix yanglingensis sp. nov.

Endophytic actinomycete

Phylogeny