Abstract
Two moderately halophilic, Gram-negative, rod-shaped bacteria, designated YIM 93003T and YIM 94343T, were isolated from a salt lake in Xinjiang province, north-west China. The two strains YIM 93003T and YIM 94343T grew at 20–40°C, pH 6–9, 0.5–24% (w/v) NaCl and at 20–40°C, pH 6–9, 0.5–23% (w/v) NaCl, respectively. No growth occurred in absence of NaCl. Phylogenetic analyses based on 16S rRNA gene sequences showed that strains YIM 93003T and YIM 94343T were phylogenetically affiliated to the genus Halomonas and exhibited sequence similarity of 97.5% and 97.4% to the type strain Halomonas anticariensis DSM 16096T, respectively. The strains possessed chemotaxonomic markers that were consistent with their classification in the genus Halomonas (Q-9 as predominant respiratory quinine; C18:1ω7c, C16:0 and C16:1 ω7c/iso-C15:02-OH as the major fatty acids). The DNA–DNA hybridization values for strains YIM 93003T and YIM 94343T, YIM 93003T and DSM 16096T, YIM 94343T and DSM 16096T were 38.1 ± 3.0, 18.3 ± 4.7, and 20.8 ± 4.6%, respectively. The G+C contents of the strains YIM 93003T and YIM 94343T were 63.4 and 64.0 mol%, respectively. Based on comparative analysis of physiological, biochemical and chemotaxonomic data, including low DNA–DNA hybridization results, two novel species, Halomonas qijiaojingensis sp. nov., and Halomonas flava sp. nov., are proposed. The type strains are YIM 93003T (=CCTCC AB 208133T =KCTC 22228T) and YIM 94343T (=CCTCC AB 2010382T =KCTC 23356T), respectively.
Access options
Buy single article
Instant access to the full article PDF.
US$ 39.95
Tax calculation will be finalised during checkout.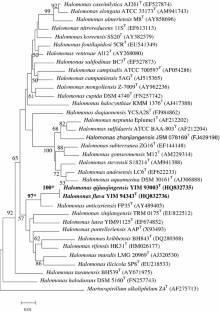 References
Carrasco IJ, Márquez MC, Yanfen X, MA Y, Cowan DA, Jones BE, Grant WD, Ventosa A (2006) Gracilibacillus orientalis sp. nov., a novel moderately halophilic bacterium isolated from a salt lake in Inner Mongolia, China. Int J Syst Evol Microbiol 56:599–604

Cerny G (1978) Studies on the aminopeptidase test for the distinction of gram-negative from gram-positive bacteria. Eur J Appl Microbiol Biotechnol 5:113–122

Chun J, Lee J-H, Jung Y, Kim M, Kim S, Kim BK, Lim YW (2007) EzTaxon: a web-based tool for the identification of prokaryotes based on 16S ribosomal RNA gene sequences. Int J Syst Evol Microbiol 57:2259–2261

Cowan ST, Steel KJ (1965) Manual for the identification of medical bacteria. Cambridge University Press, London

De Ley J, Cattoir H, Reynaerts A (1970) The quantitative measurement of DNA hybridization from renaturation rates. Eur J Biochem 12:133–142

Felsenstein J (1981) Evolutionary trees from DNA sequences: a maximum likelihood approach. J Mol Evol 17:368–376

Felsenstein J (1985) Confidence limits on phylogenies: an approach using the bootstrap. Evolution 39:783–791

Fitch WM (1971) Toward defining the course of evolution: minimum change for a specific tree topology. Syst Zool 20:406–416

Guindon S, Gascuel O (2003) A simple, fast, and accurate algorithm to estimate large phylogenies by maximum likelihood. Syst Biol 52(5):696–704

Huß VAR, Festl H, Schleifer K-H (1983) Studies on the spectrophotometric determination of DNA hybridization from renaturation rates. Syst Appl Microbiol 4:184–192

Jahnke KD (1992) BASIC computer program for evaluation of spectroscopic DNA renaturation data from Gilford System 2600 spectrophotometer on a PC/XT/AT type personal computer. J Microbiol Methods 15:61–73

Kimura M (1980) A simple method for estimating evolutionary rates of base substitutions through comparative studies of nucleotide sequences. J Mol Evol 16:111–120

Komagata K, Suzuki K (1987) Lipid and cell-wall analysis in bacterial systematics. Methods Microbiol 19:161–207

Leifson E (1960) Atlas of bacterial flagellation. Academic Press, London

Li WJ, Xu P, Schumann P, Zhang YQ, Pukall R, Xu LH, Stackebrandt E, Jiang CL (2007) Georgenia ruanii sp. nov., a novel actinobacterium isolated from forest soil in Yunnan (China) and emended description of the genus Georgenia. Int J Syst Evol Microbiol 57:1424–1428

Marmur J (1961) A procedure for the isolation of deoxyribonucleic acid from microorganisms. J Mol Biol 3:208–218

Martínez-Cánovas MJ, Béjar V, Martínez-Checa F, Quesada E (2004) Halomonas anticariensis sp. nov., from Fuente de Piedra, a saline-wetland wildfowl reserve in Málaga, southern Spain. Int J Syst Evol Microbiol 54:1329–1332

Mesbah M, Premachandran U, Whitman WB (1989) Precise measurement of the G+C content of deoxyribonucleic acid by high performance liquid chromatography. Int J Syst Bacteriol 39:159–167

Oren A (2002) Diversity of halophilic microorganisms: environments, phylogeny, physiology, and applications. J Ind Microbiol Biotechnol 28:56–63

Saitou N, Nei M (1987) The neighbor-joining method: a new method for reconstructing phylogenetic trees. Mol Biol Evol 4:406–425

Smibert RM, Krieg NR (1994) Phenotypic characterization. In: Gerhardt P, Murray RGE, Wood WA, Krieg NR (eds) Methods for general, molecular bacteriology. American Society for Microbiology, Washington, DC, pp 607–654

Tamura K, Dudley J, Nei M, Kumar S (2007) MEGA4: Molecular evolutionary genetics analysis (MEGA) software version 4.0. Mol Biol Evol 24:1596–1599

Tang SK, Wang Y, Lee JC, Lou K, Park DJ, Kim CJ, Li WJ (2010) Georgenia halophila sp. nov., a novel halophilic actinobacterium isolated from a salt lake in China. Int J Syst Evol Microbiol 60:1317–1321

Thompson JD, Gibson TJ, Plewniak F, Jeanmougin F, Higgins DG (1997) The Clustal_X windows interface: flexible strategies for multiple sequence alignment aided by quality analysis tools. Nucleic Acids Res 25:4876–4882

Vreeland RH, Litchfield CD, Martin EL, Elliot E (1980) Halomonas elongata, a new genus and species of extremely salt tolerant bacteria. Int J Syst Bacteriol 30:485–495

Wayne LG, Brenner DJ, Colwell RR, Grimont PAD, Kandler O, Krichevsky MI, Moore LH, Moore WEC, Murray RGE, Stackebrandt E, Starr MP, Trüper HG (1987) Report of the Ad Hoc Committee on Reconciliation of Approaches to Bacterial Systematics. Int J Syst Evol Microbiol 37:463–464

Williams ST (1967) Sensitivity of streptomycetes to antibiotics as a taxonomic character. J Gen Microbiol 46:151–160

Xu P, Li WJ, Tang SK, Zhang YQ, Chen GZ, Chen HH, Xu LH, Jiang CL (2005) Naxibacter alkalitolerans gen. nov., sp. nov., a novel member of the family 'Oxalobacteraceae' isolated from China. Int J Syst Evol Microbiol 55:1149–1153

Zhou XH, Wang Y, Wu M (2007) Isolation and exopolysaccharide screening of halophiles from Zhoushan Islands. J Zhejiang Univ 34:335–339
Acknowledgments
The authors are grateful to Prof. Hans-Peter Klenk for his kindly providing the reference type strain. This research was supported by National Basic Research Program of China (no. 2010CB833801) and Research Fund for the Doctoral Program of Higher Education of China (no. 200806730001).
Additional information
Chao Chen, Rong Shi, and Bing-Bing Liu contributed equally to this work.
The GenBank accession numbers of 16S rRNA gene sequences of strains YIM 93003T and YIM 94343T are HQ832735 and HQ832736, respectively.
Electronic supplementary material
Below is the link to the electronic supplementary material.
About this article
Cite this article
Chen, C., Shi, R., Liu, BB. et al. Halomonas qijiaojingensis sp. nov. and Halomonas flava sp. nov., two moderately halophilic bacteria isolated from a salt lake. Antonie van Leeuwenhoek 100, 365 (2011). https://doi.org/10.1007/s10482-011-9591-0
Received:

Accepted:

Published:
Keywords
Halomonas qijiaojingensis sp. nov
Halomonas flava sp. nov

Polyphasic taxonomy

16S rRNA gene