Abstract
A novel isolate, designated strain KLBMP 1115T was isolated from the surface-sterilized root of oil-seed plant Jatropha curcas L. collected from Sichuan Province, south-west China. Characterization of the isolate was based on a polyphasic approach. 16S rRNA gene sequence analysis indicated that strain KLBMP 1115T belongs to the phylogenetic cluster of the genus Pseudonocardia and was most closely related to Pseudonocardia adelaidensis EUM 221T (98.9%) and Pseudonocardia zijingensis DSM 44774T (98.6%), whereas the DNA–DNA relatedness values between strain KLBMP 1115T and the two type strains were 47.3 and 39.7%, respectively. Levels of lower similarities to the type strains of other recognized Pseudonocardia species ranged from 94.4 to 98.4%. The diagnostic diamino acid in the cell-wall peptidoglycan was meso-diaminopimelic acid. The predominant respiratory quinone was MK-8(H4). The major fatty acids of strain KLBMP 1115T was iso-C16:0. The chemotaxonomic properties of strain KLBMP 1115T were consistent with those shared by members of the genus Pseudonocardia. On the basis of the phenotypic features and the DNA–DNA hybridization data, strain KLBMP 1115T represents a novel species of the genus Pseudonocardia, for which the name Pseudonocardia sichuanensis sp. nov. is proposed. The type strain is KLBMP 1115T (=KCTC 19781T = CCTCC AA 2010002T).
Access options
Buy single article
Instant access to the full article PDF.
US$ 39.95
Tax calculation will be finalised during checkout.
Subscribe to journal
Immediate online access to all issues from 2019. Subscription will auto renew annually.
US$ 119
Tax calculation will be finalised during checkout.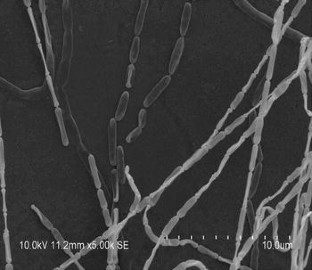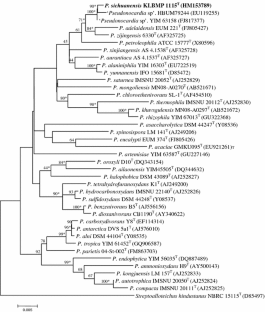 References
Araujo WL, Marcon J, Maccheroni W Jr, Van Elsas JD, Van Vuurde JW, Azevedo JL (2002) Diversity of endophytic bacterial populations and their interaction with Xylella fastidiosa in citrus plants. Appl Environ Microbiol 68:4906–4914

Chen HH, Qin S, Li J, Zhang YQ, Xu LH, Jiang CL, Kim CJ, Li WJ (2009) Pseudonocardia endophytica sp. nov., isolated from the pharmaceutical plant Lobelia clavata. Int J Syst Evol Microbiol 59:559–563

Collins MD, Pirouz T, Goodfellow M, Minnikin DE (1977) Distribution of menaquinones in actinomycetes and corynebacteria. J Gen Microbiol 100:221–230

Coombs JT, Franco CMM (2003) Isolation and identification of actinobacteria isolated from surface-sterilized wheat roots. Appl Environ Microbiol 69:5603–5608

Crawford DL, Lynch JM, Whipps JM, Ousley MA (1993) Isolation and characterization of actinomycete antagonists of a fungal root pathogen. Appl Environ Microbiol 59:3899–3905

Duangmal K, Thamchaipenet A, Matsumoto A, Takahashi Y (2009) Pseudonocardia acaciae sp. nov., isolated from roots of Acacia auriculiformis A. Cunn. ex Benth. Int J Syst Evol Microbiol 59:1487–1491

Ezaki T, Hashimoto Y, Yabuuchi E (1989) Fluorometric deoxyribonucleic acid–deoxyribonucleic acid hybridization in microdilution wells as an alternative to membrane filter hybridization in which radioisotopes are used to determine genetic relatedness among bacterial strains. Int J Syst Bacteriol 39:224–229

Felsenstein J (1985) Confidence limits on phylogenies: an approach using the bootstrap. Evolution 39:783–789

Gordon RE, Barnett DA, Handerhan JE, Pang CH-N (1974) Nocardia coeliaca, Nocardia autotrophica, and the nocardin strains. Int J Syst Bacteriol 24:54–63

Groth I, Schumann P, Rainey FA, Martin K, Schuetze B, Augsten K (1997) Demetria terragena gen nov., sp. nov., a new genus of actinomycetes isolated from compost soil. Int J Syst Bacteriol 47:1129–1133

Gu Q, Luo H, Zheng W, Liu Z, Huang Y (2006) Pseudonocardia oroxyli sp. nov., a novel actinomycete isolated from surface-sterilized Oroxylum indicum root. Int J Syst Evol Microbiol 56:2193–2197

He L, Li W, Huang Y, Wang L, Liu ZH (2005) Streptomyces jietaisiensis sp. nov., isolated from soil in northern China. Int J Syst Evol Microbiol 55:939–944

Henssen A (1957) Beiträge zur Morphologie und Systematic der thermophilen Actinomyceten. Arch Mikrobiol 26:377–414

Huang Y, Wang L, Lu Z, Hong L, Liu Z, Tan GYA, Goodfellow M (2002) Proposal to combine the genera Actinobispora and Pseudonocardia in an emended genus Pseudonocardia, and description of Pseudonocardia zijingensis sp. nov. Int J Syst Evol Microbiol 52:977–982

Kaewkla O, Franco CMM (2010) Pseudonocardia adelaidensis sp. nov., an endophytic actinobacterium isolated from the surface-sterilized stem of a Grey Box tree. Int J Syst Evol Microbiol. doi:10.1099/ijs.0.019208-0

Kämpfer P, Kohlweyer U, Thiemer B, Andreesen JR (2006) Pseudonocardia tetrahydrofuranoxydans sp. nov. Int J Syst Evol Microbiol 56:1535–1538

Kelly KL (1964) Color-name charts illustrated with centroid colors. Inter-Society Color Council-National Bureau of Standards, Chicago (Published in US)

Kimura M (1980) A simple method for estimating evolutionary rates of base substitutions through comparative studies of nucleotide sequence. J Mol Evol 16:111–120

Kluge AG, Farris FS (1969) Quantitative phyletics and the evolution of anurans. Syst Zool 18:1–32

Kurup PV, Schmitt JA (1973) Numerical taxonomy of Nocardia. Can J Microbiol 19:1035–1048

Lechevalier MP, De Bievre C, Lechevalier HA (1977) Chemotaxonomy of aerobic actinomycetes: phospholipid composition. Biochem Syst Ecol 5:249–260

Li WJ, Xu P, Schumann P, Zhang YQ, Pukall R, Xu LH, Stackebrandt E, Jiang CL (2007) Georgenia ruanii sp. nov., a novel actinobacterium isolated from forest soil in Yunnan (China) and emended description of the genus Georgenia. Int J Syst Evol Microbiol 57:1424–1428

McVeigh HP, Munro J, Embley TM (1994) The phylogenetic position of Pseudoamycolata halophobica (Akimov et al. 1989) and a proposal to reclassify it as Pseudonocardia halophobica. Int J Syst Bacteriol 44:300–302

Mesbah M, Premachandran U, Whitman WB (1989) Precise measurement of the G+C content of deoxyribonucleic acid by high-performance liquid chromatography. Int J Syst Bacteriol 39:159–167

Minnikin DE, Collins MD, Goodfellow M (1979) Fatty acid and polar lipid composition in the classification of Cellulomonas, Oerskovia and related taxa. J Appl Bacteriol 47:87–95

Park SW, Park ST, Lee JE, Kim YM (2008) Pseudonocardia carboxydivorans sp. nov., a carbon monoxide-oxidizing actinomycete, and an emended description of the genus Pseudonocardia. Int J Syst Evol Microbiol 58:2475–2478

Prabahar V, Dube S, Reddy GSN, Shivaji S (2004) Pseudonocardia antarctica sp. nov., an actinomycetes from McMurdo Dry Valleys, Antarctica. Syst Appl Microbiol 27:66–71

Qin S, Wang HB, Chen HH, Zhang YQ, Jiang CL, Xu LH, Li WJ (2008) Glycomyces endophyticus sp. nov., an endophytic actinomycete isolated from the root of Carex baccans Nees. Int J Syst Evol Microbiol 58:2525–2528

Qin S, Li J, Chen HH, Zhao GZ, Zhu WY, Jiang CL, Xu LH, Li WJ (2009a) Isolation, diversity, and antimicrobial activity of rare actinobacteria from medicinal plants of tropical rain forests in Xishuangbanna, China. Appl Environ Microbiol 75:6176–6186

Qin S, Zhu WY, Jiang JH, Klenk HP, Li J, Zhao GZ, Xu LH, Li WJ (2009b) Pseudonocardia tropica sp. nov., a novel endophytic actinomycete isolated from the stem of Maytenus austroyunnanensis. Int J Syst Evol Microbiol. doi:10.1099/ijs.0.020099-0

Reichert K, Lipski A, Pradella S, Stackebrandt E, Altendorf K (1998) Pseudonocardia asacccharolytica sp. nov. and Pseudonocardia sulfidoxydans sp. nov., two new dimethyl disulfide-degrading actinomycetes and emended description of the genus Pseudonocardia. Int J Syst Bacteriol 48:441–449

Ryan RP, Germaine K, Franks A, Ryan DJ, Dowling DN (2008) Bacterial endophytes: recent development and applications. FEMS Microbiol Lett 278:1–9

Saitou N, Nei M (1987) The neighbor-joining method: a new method for reconstructing phylogenetic tree. Mol Biol Evol 4:406–425

Sasser M (1990) Identification of bacteria by gas chromatography of cellular fatty acids, MIDI Technical Note 101. MIDI Inc., Newwark, DE

Shirling EB, Gottlieb D (1966) Methods for characterization of Streptomyces species. Int J Syst Bacteriol 16:313–340

Stackebrandt E, Ebers J (2006) Taxonomic parameters revisited: tarnished gold standards. Microbiol Today 33:152–155

Stackebrandt E, Goebel BM (1994) Taxonomic note: a place for DNA–DNA reassociation and 16S rRNA sequence analysis in the present species definition in bacteriology. Int J Syst Bacteriol 44:846–849

Staneck JL, Roberts GD (1974) Simplified approach to identification of aerobic actinomycetes by thin-layer chromatography. Appl Microbiol 28:226–231

Strobel G, Daisy B, Castillo U, Harper J (2004) Natural products from endophytic microorganisms. J Nat Prod 67:257–268

Tamura K, Dudley J, Nei M, Kumar S (2007) MEGA4: Molecular Evolutionary Genetics Analysis (MEGA) software version 4.0. Mol Biol Evol 24:1596–1599

Thompson JD, Gibson TJ, Plewniak F, Jeanmougin F, Higgins DG (1997) The Clustal X windows interface: flexible strategies for multiple sequence alignment aided by quality analysis tools. Nucleic Acids Res 25:4876–4882

Waksman SA (1967) The actinomycetes. A summary of current knowledge. Ronald Press, New York

Warwick S, Bowen T, McVeigh HP, Embley TM (1994) A phylogenetic analysis of the family Pseudonocardiaceae and the genera Actinokineospora and Saccharothrix with 16S rRNA sequences and a proposal to combine the genera Amycolata and Pseudonocardia in an emended genus Pseudonocardia. Int J Syst Bacteriol 44:293–299
Acknowledgments
The authors are grateful to Prof. Hans-Peter Klenk (DSMZ, Germany) for kindly providing the type strain of P. adelaidensis EUM 221T. This research was partially supported by National Natural Science Foundation of China (Project no. 30872028, 31000005), the Major Fundamental Research Program of Natural Science Foundation of the Jiangsu Higher Education Institutions of China (08KJA350001), the program of the Demonstration and study of Standardization Seeding Technology of Jatropha (2007BAD50B0204) and Grants from Natural Science Foundation by Xuzhou Normal University (09XLR12, 09XLR19).
About this article
Cite this article
Qin, S., Xing, K., Fei, SM. et al. Pseudonocardia sichuanensis sp. nov., a novel endophytic actinomycete isolated from the root of Jatropha curcas L.. Antonie van Leeuwenhoek 99, 395–401 (2011). https://doi.org/10.1007/s10482-010-9504-7
Received:

Accepted:

Published:

Issue Date:
Keywords
Pseudonocardiasichuanensis sp. nov.

Polyphasic taxonomy

16S rRNA