Abstract
The majority of oil from oceanic oil spills converges on coastal ecosystems such as mangrove forests. A major challenge to mangrove bioremediation is defining the mangrove's pollution levels and measuring its recuperation from pollution. Bioindicators can provide a welcome tool for defining such recovery. To determine if the microbial profiles reflected variation in the pollutants, samples from different locations within a single mangrove with a history of exposure to oil were chemically characterised, and the microbial populations were evaluated by a comprehensive range of conventional and molecular methods. Multivariate ordination of denaturing gradient gel electrophoresis (DGGE) microbial community fingerprints revealed a pronounced separation between the sediment and rhizosphere samples for all analysed bacterial communities (Bacteria, Betaproteobacteria, Alphaproteobacteria, Actinobacteria and Pseudomonas). A Mantel test revealed significant relationships between the sediment chemical fertility and oil-derived pollutants, most of the bacterial community fingerprints from sediment samples, and the counts by different cultivation strategies. The level of total petroleum hydrocarbons was significantly associated with the Bacteria and Betaproteobacteria fingerprints, whereas anthracene and the total level of polycyclic aromatic hydrocarbons were associated with the Actinobacteria. These results show that microbial communities from the studied mangrove reflect the spatial variation of the chemicals in the sediment, demonstrating the specific influences of oil-derived pollutants.
Access options
Buy single article
Instant access to the full article PDF.
USD 39.95
Price excludes VAT (USA)
Tax calculation will be finalised during checkout.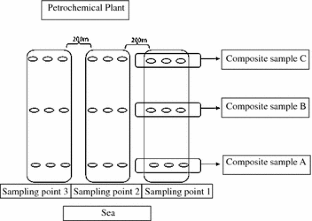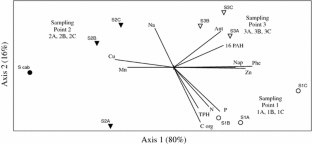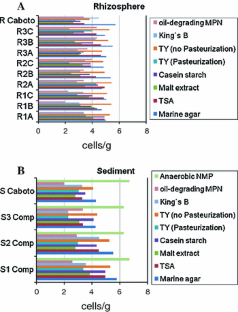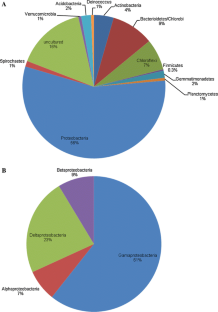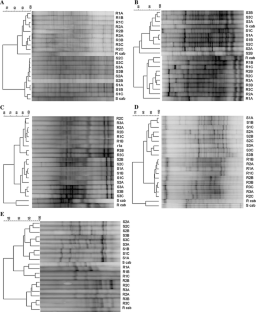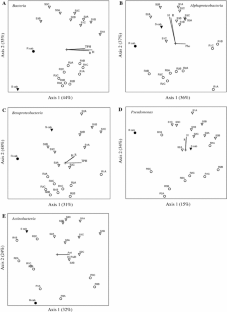 References
Aboim M, Peixoto RS, Coutinho HL, Barbosa J, Rosado AS (2008) Soil bacterial community structure and soil quality in a slash-and-burn cultivation system in Southeastern Brazil. Appl Soil Ecol 38:100–108

Alongi DM (2002) Present state and future of the world's mangrove forests. Austral Inst Mar Sci 29:331–349

Amado-Filho GM, Salgado LT, Rebelo MF, Rezende CE, Karez CS, Pfeiffer WC (2008) Heavy metals in benthic organisms from Todos os Santos Bay, Brazil. Brazil J Biol 68(1):95–100

Bakken LR, Lindahl V (1995) Recovery of bacterial cells from soil. In: Trevors JT, van Elsas JD (eds) Nucleic acids in the environment methods and applications. Springer-Verlag, Berlin, Germany, pp 9–27

Barbier EB, Koch EW, Siliman BR, Hacker SD, Wolanski E, Primavera J et al (2008) Coastal ecosystem-based management with nonlinear ecological functions and values. Science 318:321–323

Bashan Y, Holguin G (1997) Azospirillum plant relationships environmental and physiological advances (1990–1996). Can J Microbiol 43:103–121

Bashan Y, Holguin G (2002) Plant growth-promoting bacteria: a potential tool for arid mangrove reforestation. Trees 16:159–166

Bray JR, Curtis JT (1957) An ordination of the upland forest communities in southern Wisconsin. Ecol Monitor 27:325–349

Burns KA, Levings S, Garrity S (1993) How many years before mangrove ecosystem recover from catastrophic oil spills? Mar Pollut Bull 26:239–248

Burns KA, Codi S, Duke NC (2000) Gladstone, Australia field studies: weathering and degradation of hydrocarbons in oiled mangrove and salt marsh sediments with and without the application of an experimental bioremediation protocol. Mar Pollut Bull 41:392–402

Costa R, Götz M, Mrotzek N, Berg G, Lottmann J, Smalla K (2006) Effects of site and plant species on rhizosphere community structure as revealed by molecular analysis of different microbial guilds. FEMS Microbiol Ecol 56:236–249

Douglas ME, Endler JA (1982) Quantitative matrix comparisons in ecological and evolutionary investigations. J Theor Biol 99:777–795

Drake HL, Aumen NG, Kuhner C, Wagner C, Grießhammer A, Schmittroth M (1996) Anaerobic microflora of Everglades sediments: effects of nutrients on population profiles and activities. Appl Environ Microbiol 62:486–493

Duke NC, Burns KA, Swannell RPJ, Dalhaus O, Rupp R (2000) Dispersant use and a bioremediation strategy as alternate means of reducing impacts of large oil spills on mangroves: the Gladstone field trials. Mar Pollut Bull 41:403–412

Duke NC, Meynecke JO, Dittmann S, Ellison AM, Anger K, Berguer U et al (2007) A world without mangroves? Science 317:41–42

Embrapa (1997) Manual de métodos de análise de solo. Centro Nacional de Pesquisa em Solos, SNLCS, Rio de Janeiro, pp 212

Gomes NCM, Borges LR, Paranhos R, Pinto FN, Mendonça-Hagler LC, Smalla K (2008) Exploring the diversity of bacterial communities in sediments of urban mangrove forests. FEMS Microbiol Ecol 66(1):96–109

Heuer H, Smalla K (1997) Application of denaturing gradient gel electrophoresis (DGGE) and temperature gradient gel electrophoresis for studying soil microbial communities. In: van Elsas JD, Trevors J, Wellington EMH (eds) Modern soil microbiology. Marcel Dekker Inc., New York, pp 353–373

Holguin G, Vazquez P, Bashan Y (2001) The role of sediment microorganisms in the productivity, conservation, and rehabilitation of mangrove ecosystems: an overview. Biol Fert Soils 33:265–278

Holm SE, Falsen E (1967) An antigen free medium for cultivation of β-hemolytic streptococci. Acta Pathol Microbiol Immunol Scand 69:264–276

Kathiresan K, Binghan BL (2001) Biology of mangroves and mangrove ecosystems. Adv Mar Biol 40:81–251

King EO, Ward MK, Raney DE (1954) Two simple media for the demonstration of pyocyanin and fluorescin. J Lab Clin Med 44:301–307

Kruskal JB (1964) Nonmetric multidimensional scaling: a numerical method. Psychometrika 29:115–129

Kuster E, Williams ST (1964) Selection of media for isolation of streptomycetes. Nature 202:928–929

Lee SY, Dunn RJK, Young RA, Connolly RM, Dale PER, Dehayr R et al (2006) Impact of urbanization on coastal wetland structure and function. Aust Ecol 31:149–163

Li H, Zhao Q, Boudfadel MC, Venosa A (2007) A universal nutrient application strategy for the bioremediation of oil-polluted beaches. Mar Pollut Bull 54:1146–1161

Liao PC, Huang BH, Huang S (2007) Microbial community composition of the Danshui River Estuary of Northern Taiwan and the practicality of the phylogenetic method in microbial barcoding. Microbial Ecol 54:497–507

Martins LKP, Nascimento IA, Fillmann G, King R, Evangelista AJA, Readman JW, Depledge MH (2005) Lysosomal responses as a diagnostic tool for the detection of chronic petroleum pollution at Todos os Santos Bay. Brazil Environ Res 99:387–396

Mather PM (1976) Computational methods of multivariate analysis in physical geography. J. Wiley & Sons, London

Nocker A, Sossa KE, Camper AK (2007) Molecular monitoring of disinfection efficacy using propidium monoazide in combination with quantitative PCR. J Microbiol Methods 70:252–260

Peixoto RS, Coutinho HLC, Madari B, Machado PLOA, Rumjanek N, van Elsas JD, Seldin L, Rosado AS (2006) Soil aggregation and bacterial community structure as affected by tillage and cover cropping in the Brazilian Cerrados. Soil Till Res 90:16–28

Roesch LF, Fulthorpe RR, Riva A, Casella G, Hadwing A, Kent KM et al (2007) Pyrosequencing enumerates and contrasts soil microbial diversity. ISME J 1:283–290

Santos HF, Carmo FL, Paes JE, Rosado AS, Peixoto RS (2010a) Biorremediation of mangroves impacted by petroleum. Water Air Soil Poll. doi:10.1007/s11270-010-0536-4

Santos HF, Carmo FL, Cury JC, Rosado AS, Peixoto RS (2010b) 18S rDNA sequences from microeukaryotes reveal oil indicators in mangrove sediment. PLoS ONE. http://dx.plos.org/10.1371/journal.pone.0012437

Shannon CE, Weaver W (1949) The mathematical theory of communication. University of Dlinois Press, Champaign, IL

US EPA 8270D (1998) Analysis of US EPA method 8270D – semivolatile organic compounds by GC/MS. http://www.epa.gov/osw/hazard/testmethods/sw846/pdfs/8270d.pdf. Accessed 8 Jan 2010

Venturini N, Tommasi LR (2004) Polycyclic aromatic hydrocarbons and changes in the trophic structure of polychaete assemblages in sediments of Todos os Santos Bay, Northeastern, Brazil. Mar Pollut Bull 48:97–107

Xu R, Obbard JP, Tay ETC (2003) Optimization of slow-release fertilizer dosage for bioremediation of oil-contaminated beach sediment in a tropical environment. World J Microbiol Biotechnol 19:719–725

Xu R, Lau ANL, Lim YG, Obbard JP (2005) Bioremediation of oil-contaminated sediments on an inter-tidal shoreline using a slow-release fertilizer and chitosan. Mar Pollut Bull 51:1062–1070

Yun T, Yuan-Rong L, Tian-Ling Z, Li-Zhe C, Xiao-Xing C, Chong-Ling Y (2008) Contamination and potential biodegradation of polycyclic aromatic hydrocarbons in angrove sediments of Xiamen, China. Mar Pollut Bull 56:1184–1191
Acknowledgments
This study was supported by a grant from Petrobras. A.S. Rosado and R.S. Peixoto also greatly appreciate the support of CNPq and FAPERJ. The authors would like to thank RG Taketani, S Paim, EA dos Reis and B Fonseca for technical assistance.
Electronic supplementary material
Below is the link to the electronic supplementary material.
About this article
Cite this article
Peixoto, R., Chaer, G.M., Carmo, F.L. et al. Bacterial communities reflect the spatial variation in pollutant levels in Brazilian mangrove sediment. Antonie van Leeuwenhoek 99, 341–354 (2011). https://doi.org/10.1007/s10482-010-9499-0
Received:

Accepted:

Published:

Issue Date:

DOI: https://doi.org/10.1007/s10482-010-9499-0
Keywords
Mangrove

Microbial diversity

Oil

Bioindicators

NMS