Abstract
We report for the first time the isolation of Cellulosimicrobium cellulans from Antarctic snow. This strain demonstrated physiological traits that were markedly different from that of the mesophilic C. cellulans type strain DSM 43879T. The dominant cell wall sugars in C. cellulans were glucose, galactose and mannitol whereas rhamnose was the only major sugar in the type strain. Cellular fatty acid patterns were dominated by 12-methyltetradecanoic acid (ai-C15:0), hexadecanoic acid (C16:0) and 14-methylhexadecanoic acid (ai-C17:0) but lacked iso fatty acids unlike the type strain. The ability of C. cellulans to survive in Antarctic snow could be due to these modified physiological properties that distinguish it from its mesophilic counterpart. Carbon utilization studies demonstrated that C. cellulans preferred complex carbon substrates over simple ones suggesting that it could play a potential role in carbon uptake in snow. Our study shows that this genus could be more cosmopolitan than hitherto thought of and is capable of living in extreme cold environments.
Access options
Buy single article
Instant access to the full article PDF.
USD 39.95
Price excludes VAT (USA)
Tax calculation will be finalised during checkout.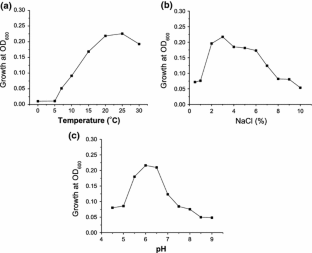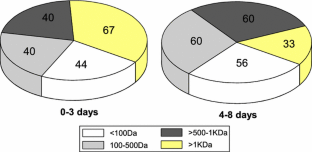 References
Annous BA, Becker LA, Bayles DO, Labeda DP, Wilkinson B (1997) Critical role of Anteiso-C15:0 fatty Acid in the growth of Listeria monocytogenes at low temperatures. Appl Environ Microbiol 63:3887–3894

Atlas RM, Snyder JW (2006) Handbook of media for clinical microbiology, 2nd edn. CRC Press, Florida

Ausubel FM, Brent R, Kingston RE, Moore DD, Seidman JG, Smith JA, Struhl K (1995) Short protocols in molecular biology, 3rd edn. Wiley, New York

Brown JM, Steigerwalt AG, Morey RE, Daneshvar MI, Romero L-J, McNeil MM (2006) Characterization of clinical isolates previously identified as Oerskovia turbata: proposal of Cellulosimicrobium funkei sp. nov. and emended description of the genus Cellulosimicrobium. Int J Syst Evol Microbiol 56:801–804

Drozd J, Novák JP (1981) Chemical derivatization in gas chromatography. In: Journal of chromatography library, vol 19, 2nd edn. Elsevier Scientific publishing company, pp 165–174

Karr DE, Bibb WF, Moss CW (1982) Isoprenoid quinones of the genus Legionella. J Clin Microbiol 15:1044–1048

Kasana RC, Salwan R, Dhar H, Dutt S, Gulati A (2008) A rapid and easy method for the detection of microbial cellulases on agar plates using Gram's Iodine. Curr Microbiol 57:503–507

Kim SJ, Yim JH (2007) Cryoprotective properties of exopolysaccharide (P-21653) produced by the Antarctic bacterium, Pseudoalteromonas arctica KOPRI 21653. J Microbiol 45:510–514

Klein W, Weber MHW, Marahiel MA (1999) Cold shock response of Bacillus subtilis: Isoleucine-dependent switch in the fatty acid branching pattern for membrane adaptation to low temperatures. J Bacteriol 181:5341–5349

Li Z (2009) Advances in marine microbial symbionts in the China sea and related pharmaceutical metabolites. Mar Drugs 7:113–129

Loka Bharathi PA (1989) The occurrence of denitrifying colourless sulfur-oxidizing bacteria in marine waters and sediments as shown by the agar shake technique. FEMS Microbial Ecol 62:335–342

Sasser M (1990) Identification of bacteria through fatty acid analysis. In: Klement Z et al (eds) Methods in phytobacteriology. Adademiai Kiado, Budapest, pp 199–204

Schumann P, Weiss N, Stackebrandt E (2001) Reclassification of Cellulomonas cellulans (Stackebrandt and Keddie 1986) as Cellulosimicrobium cellulans gen. nov., comb. nov. Int J Syst Evol Microbiol 51:1007–1010

Yoon J-H, Kang S-J, Schumann P, Oh T-K (2007) Cellulosimicrobium terreum sp. nov., isolated from soil. Int J Syst Evol Microbiol 57:2493–2497

Zhu K, Ding X, Julotok M, Wilkinson BJ (2005) Exogenous isoleucine and fatty acid shortening ensure the high content of anteiso-C15:0 fatty acid required for low-temperature growth of Listeria monocytogenes. Appl Environ Microbiol 71:8002–8007. doi:10.1128/AEM.71.12
Acknowledgments
The authors are thankful to the Director NCAOR, Goa and Director RGCB, Trivandrum, for their encouragement and support. We are grateful to Dr. P. S. Parameswaran and Divya Shridhar of National Institute of Oceanography (NIO), Goa for their help in cell wall sugar and quinone analysis. We thank Dr. Lisette D'Souza, NIO for helping us with the MS/MS analyses and Dr. B. G. Naik, NIO for GC/MS analysis. Thanks are also due to Dr. Rahul Mohan of NCAOR for SEM study. We also acknowledge the services of National Institute of Oceanography, RC Cochin for whole cell fatty acid analysis. The authors are grateful to the Editors Dr. J. T. Trevors and Dr. P. A. Hoskisson and an anonymous reviewer for the insightful suggestions and critical evaluation of the manuscript.
About this article
Cite this article
Antony, R., Krishnan, K.P., Thomas, S. et al. Phenotypic and molecular identification of Cellulosimicrobium cellulans isolated from Antarctic snow. Antonie van Leeuwenhoek 96, 627–634 (2009). https://doi.org/10.1007/s10482-009-9377-9
Received:

Accepted:

Published:

Issue Date:

DOI: https://doi.org/10.1007/s10482-009-9377-9
Keywords
Cellulosimicrobium

Antarctica

Snow

Carbon utilization

Cold adaptation