Abstract
Embellisia astragali is a strong, virulent pathogen that develops within milk vetch (Astragalus adsurgens). In order to determine nutrient requirements, the fungus was cultured on 9 carbon sources, 9 nitrogen sources, and 13 growth media in the dark at 25°C. Growth rates and sporulation capacity were measured after 4 and 12 weeks. All carbon sources supported growth, but only soluble starch, inulin, and dextrose supported sporulation. In general, better growth was obtained on disaccharides and polysaccharides than on monosaccharides. Compared with no growth on NH4 +-N and urea, the fungus grew little on all NO3 −-N, amino-N, and other organic-N such as peptone. There was no sporulation or very sparse conidia on almost all nitrogen sources with supplied dextrose or soluble starch as sole carbon source. The better growth and sporulation on most of the semidefined media than on defined media indicates that some components in plant or animal material may be vital to the fungus. Sporulation was positively correlated with growth rate in N source experiment at 12 weeks and in growth media experiment at 4 and 12 weeks. The fungus favors grow within agar with growth rate less than 1.18 mm day−1.
This is a preview of subscription content, log in to check access.
Access options
Buy single article
Instant access to the full article PDF.
US$ 39.95
Price includes VAT for USA
Subscribe to journal
Immediate online access to all issues from 2019. Subscription will auto renew annually.
US$ 199
This is the net price. Taxes to be calculated in checkout.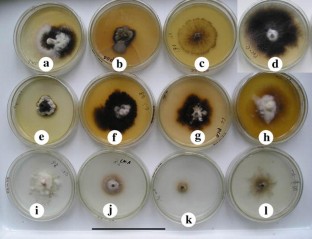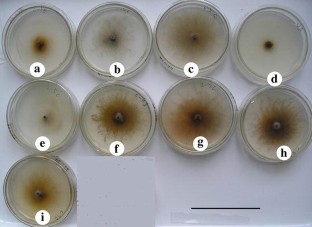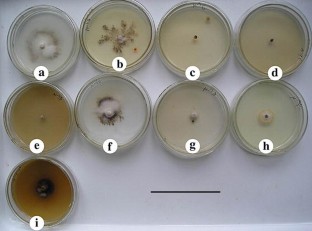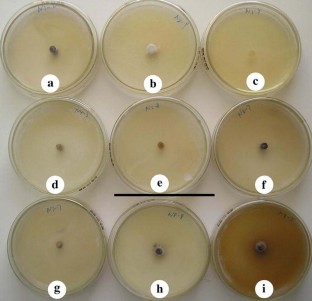 References
Ahamad S, Agarwal DK, Narain U, Chauhan SS (2002) Effect of temperature, pH, light and inculation periods on growth, sporulation, biomass and Gibberellic acid production. Ann Pl Protec Sci 10:343–348

Ahamad S, Narain U, Chauhan SS (2004) Carbon and nitrogen nutrition in relation to growth and sporulation of Fusarium moniliforme. Ann Pl Protec Sci 12:226–227

Castillo G, Demoulin V (1997) NaCl salinity and temperature effects on growth of three wood-rotting basidiomycetes from a Papua New Guinea coastal forest. Mycol Res 101:341–344. doi:10.1017/S0953756296002717

David JC, Coles K, Fisher J, Moss ST (2000) A new species of Embellisia from soil with levels of heavy metals. Mycoscience 41:533–537. doi:10.1007/BF02460917

de Hoog GS, Muller PJ (1973) A new species of Embellisia, associated with skin disease of hyacinths. Neth J Plant Pathol 79:85–93. doi:10.1007/BF01976681

de Hoog GS, Seigle-Murandi F, Steiman R, Eriksson KE (1985) A new species of Embellisia from the north sea. Antonie Van Leeuwenhoek 51:409–413. doi:10.1007/BF02275045

Engelkes CA, Nuclo RL, Fravel DR (1997) Effect of carbon, nitrogen, and C: N ratio on growth, sporulation, and biocontrol efficacy of Talaromyces flavus. Phytopathology 87:500–505. doi:10.1094/PHYTO.1997.87.5.500

Fang ZD (1998) Study methods of plant pathology. Chinese Agriculture Publishing Press, Beijing

Frame J (2005) Forage legumes for temperate grasslands. FAO and Science Publishers, Rome, Italy and Plymouth, UK

Hankin L, Anagenostakis SL (1975) The use of solid media for the detection of enzyme production by fungi. Mycologia 67:597–607. doi:10.2307/3758395

Kim YK, Xiao CL, Rogers JD (2005) Influence of culture media and environmental factors on mycelial growth and pycnidial production of Sphaeropsis pyriputrescens. Mycologia 97:25–32. doi:10.3852/mycologia.97.1.25

Li YZ, Nan ZB (2007a) A new species of Embellisia causing a disease of standing milk-vetch in China. Mycologia 99:406–411. doi:10.3852/mycologia.99.3.406

Li YZ, Nan ZB (2007b) Symptoms and etiology of new disease, yellow stunt and root rot of standing milk-vetch in northern China. Mycopathologia 163:327–334. doi:10.1007/s11046-007-9002-2

Li CJ, Nan ZB, Li F (2006) Biological and physiological characteristics of Neotyphodium gansuense symbiotic with Achnaherum inebrians. Microbiol Res 163(4):431–440. doi:10.1016/j.micres.2006.07.007

Li YZ, Nan ZB, Hou FJ (2007) The roles of an Embellisia sp. causing yellow stunt and root rot of Astragalus adsurgens and other fungi in the decline of legume pastures in northern China. Australas Plant Pathol 36:397–402. doi:10.1071/AP07040

Lu NH, Xu RF, Wu LM, Shao GF, Li GY (2005) The condition for sporulation of Helminthosporium carposaprum. Acta Microbiol Sin 32:77–81

Nan ZB, Liu R (1997) Diseases of Astragalus adsurgens growing at five provinces of China and characteristics of their occurrence. Pratacultural Sci 14:30–34

Shi DF, Zhou Y, Chen XS, Wang Q (2007) Study on solid culture of Embellsia oxytropis. Auhui Agric Sci Bull 13:42–44

Simmons EG (1971) Helmonthosporium allii as type of a new genus. Mycologia 63:380–386. doi:10.2307/3757767

Simmons EG (1983) An aggregation of Embellisia species. Mycotaxon 17:216–241

Simmons EG (1990) Embellisia and related teleomorphs. Mycotaxon 38:251–265

Simmons EG (2004) Novel dematiaceous hyphomycetes. Stud Mycol 50:109–118

Tibbett M, Sanders FE, Minto SJ, Dowell M, Cairney JWG (1998) Utilization of organic nitrogen by ectomycorrhizal fungi (Hebeloma spp.) of arctic and temperate origin. Mycol Res 102:1525–1532. doi:10.1017/S0953756298006649

Volz PA (1972) Nutritional studies on species and mutants of Lepista, Cantharellus, Pleurotues and Volvariella. Mycopathol Mycol Appl 48:175–185. doi:10.1007/BF02063057

Wang XD, Yu ZW, Wang D (2003) Effect of potassium on carbohydrate contents in stems and sheath and starch accumulation in kernal of wheat. Plant Nutr Ferti Sci 9:57–62

Wang Q, Nagao H, Li YL, Wang HS, Kakishima M (2006) Embellisia oxytropis, a new species isolated from Oxytropis kansuensis in China. Mycotaxon 95:255–260

Wang JG, Kong BH, Wang L, Chen HR, Ou Yang JX (2007) Biological characteristics of Bipolaris cynodontis and fungicide screening. J Yunnan Agric Univ 22:202–207

Yin YL, Nan ZB, Li CJ, Hou FJ (2008) Root-invading fungi of milk vetch on the Loess Plateau, China. Agric Ecosyst Environ 124:51–59. doi:10.1016/j.agee.2007.08.011
Acknowledgement
This research was financially supported by the National Basic Research Program of China (973) (2007CB108902).
About this article
Cite this article
Li, Y.Z., Nan, Z.B. Nutritional study on Embellisia astragali, a fungal pathogen of milk vetch (Astragalus adsurgens). Antonie van Leeuwenhoek 95, 275–284 (2009). https://doi.org/10.1007/s10482-009-9310-2
Received:

Accepted:

Published:

Issue Date:
Keywords
Carbon source

Growth rate

Nitrogen source

Nutrients

Solid media

Sporulation

Yellow stunt and root rot