Abstract
The activity of Eremanthus erythropappus oil (EO) and some of its compounds and their potential synergistic interaction with ampicillin against different strains of Staphylococcus aureus were investigated. Determination of chemical composition of EO by gas chromatography-mass spectrometry (GC/MS) and bioguided chemical fractionation led to the identification of β-bisabolene as the main active compound. A synergistic bactericidal activity of EO or β-bisabolene with ampicillin against Staphylococcus aureus was observed in a time-kill assay. EO and β- bisabolene have the potential to restore the effectiveness of ampicillin against resistant S. aureus.
Access options
Buy single article
Instant access to the full article PDF.
USD 39.95
Price excludes VAT (USA)
Tax calculation will be finalised during checkout.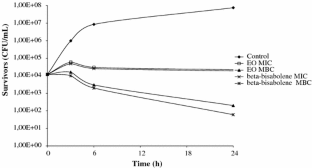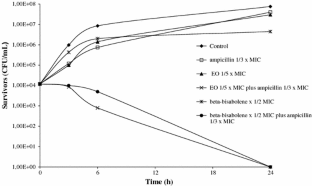 Abbreviations
EO:

Eremanthus erythropappus oil

MHB:

Mueller-Hinton broth
References
Adams RP (2001) Identification of essential oil components by gas chromatography mass spectrometry. Allured Pub. Corp., Carol Stream, Illinois

Ammon HPT, Sabieraj J, Kamille KR (1996) Mechanismus derantiphlogistischen wirkung von Kamillenextract und Inhaltsstoffen. Dtsch Apoth Ztg 36:1821–1834

Braga LC, Leite AAM, Xavier KGS, Takahashi JA, Bemquerer MP, Chartone-Souza E, Nascimento AMA (2005) Synergic interaction between pomegranate extract and antibiotics against Staphylococcus aureus. Can J Microbiol 51:541–547

Braun NA, Meier M, Kohlenberg B, Hammeschmidt FJ (2003) Two new bisabolene diols from the stem wood essential oil of Vanillosmopsis erytropappa Schultz-Bi (Asteraceae). J Essent Oil Res 15:139–142

Canalle R, Burim RV, Callegari JLL, Takahashi CS (2001) Assessment of the cytotoxic and clastogenic activities of the sesquiterpene lactone lynchnopholide in mammalian cells in vitro and in vivo. Cancer Detect Prev 25:93–101

Darwish RM, Aburjai T, Al-Khalil S, Mahafzah A (2002) Screening of antibiotic resistant inhibitors from local plant materials against two different strains of Staphylococcus aureus. J Ethnopharmacol 79:359–364

Gouvinden-Soulange J, Magan N, Gurib-Fakin A, Gauvin A, Smadja J, Kodja H (2004) Chemical composition and in vitro antimicrobial activities of the essential oils from endemic Psidia species growing in Mauritius. Biol Pharm Bull 27:1814–1818

Jakolev O, Isaac I, Thiemer K, Kunde R (1979) Pharmacological investigations with compounds of chamomile – new investigations on the antiphlogistic effects of α- bisabolol and bisabolol oxides. Planta Med 35:125–140

Kuroda M, Ohta T, Uchiyama I, Baba T, Yuzawa H, Kobayashi I, Cui L, Oguchi A, Aoki K-I, Nagai Y, Lian J, Ito T, Kanamori M, Matsumaru H, Maruyama A, Murakami H, Hosoyama A, Mizutani-Ui Y, Takahashi NK, Sawano T, Inoue R-I, Kaito C, Sekimizu K, Hirakawa H, Kuhara S, Goto S, Yabuzaki J, Kanehisa M, Yamashita A, Oshima K, Furuya K, Yoshino C, Shiba T, Hattori M (2002) Whole genome sequencing of methicillin-resistant Staphylococcus aureus. Lancet 357:1225–1240

Lima PDDB, Garcia M, Rabi JA (1985) Selective extraction of α-methylene-γ-lactones Reinvestigation of Vanillosmopsis erytropappus. J Nat Prod 48:986–988

Lopes JNC, Lopes JLC, Vichnewsky WR, Dioneia C, Gottlieb OR (1991) Chemical variability of Vanillosmopsis erytropappa. Anais da Academia Brasileira de Ciências 63:21–22

Mackay ML, Milne K, Gould IM (2000) Comparison of methods for assessing synergic antibiotic interactions. Int J Antimicrob Agents 15:125–129

Mendes MN, Queiroz RO, Grandi TSM, Anjos AMG, Oliveira AB, Zani CL (1999) Screening of Asteraceae (Compositae) plant extracts for molluscicidal activity. Mem I Oswaldo Cruz 94:411–412

Menezes AMS, Almeida FRC, Rao VSN (1990). Anti-inflammatory activity of the essential oil of Vanillosmopsis arborea. Fitoterapia 61:252–254

Nascimento GGF, Locatelli J, Freitas PC, Silva GL (2000) Antibacterial activity of plant extracts and phytochemicals on antibiotic-resistance bacteria. Braz J Microbiol 31:247–256

O'Connell NH, Humphreys H., Pidgeon C, Smyth EG (2003) Absence of risk factors for community MRSA. Clin Microbiol Infec 9:578–579

Simic N, Palic R, Randjelovc V (2005) Composition and antibacterial activity of Achillea clypeolata essential oil. Flavour Frag J 20:127–130

Smith-Palmer A, Stewart J, Fyfe L (1998) Antimicrobial properties of plant essential oils and essences against five important food-borne pathogens. Lett Food Microbiol 26:118–122

Swigar AA, Silverstein RM (1981) Monoterpenes. Aldrich Chemical Co. Inc., Milwaukee, WI

Vichnewski W, Takahashi AM, Nasi AMT, Rodrigues DC, Goncalves G, Dias DA, Lopes JNC, Goedken VL, Gutiérrez AB Herz W (1989) Sesquiterpene lactones and other constituents from Eremanthus seidelii, E. goyazensis and Vanillosmopsis erythropappa. Phytochemistry 28:1441–1451

Von Sydow E. (1963) Mass spectrometry of terpenes monoterpenes alcohol. Acta Chem Scand 17:2504–2512

Von Sydow E. (1964) Mass spectrometry of terpenes monoterpenes aldehydes and ketones. Acta Chem Scand 18:1099–1101

Yam TS, Hamilton-Müeller JMT, Shah S (1998) The effect of a component of tea (Camellia sinensis) on methicillin resistance, PBP2' Synthesis, and β-lactamase production in Staphylococcus aureus. J Antimicrob Chemoth 42:211–216
Acknowledgements
The authors are indebted to Givaudan Roure do Basil (São Paulo, Brazil) for supplying the authentic volatile compounds. This work was supported by a FAPEMIG grant CBB-1106/03.
About this article
Cite this article
Nascimento, A.M.A., Brandão, M.G.L., Oliveira, G.B. et al. Synergistic bactericidal activity of Eremanthus erythropappus oil or β-bisabolene with ampicillin against Staphylococcus aureus . Antonie van Leeuwenhoek 92, 95–100 (2007). https://doi.org/10.1007/s10482-006-9139-x
Received:

Accepted:

Published:

Issue Date:

DOI: https://doi.org/10.1007/s10482-006-9139-x
Keywords
Eremanthus erythropappus
Eremanthus erythropappus oil

β-bisabolene

Staphylococcus aureus

Ampicillin

Synergism