Abstract
We transformed a data envelopment analysis (DEA) optimization model into a robust second-order cone equivalent to immunize against output perturbation in an uncertainty set. The robust DEA framework was then used to assess the effect of a wood hardening treatment using methyl methacrylate (MMA) on selected hybrid poplar clones. Because the performance of MMA-hardened hybrid poplar clones varies across clones, ranking hardened clones is crucial for developing hardening treatments for specific industrial applications. The numerical results demonstrate that the hardening treatment can be optimized by applying the proposed DEA framework to select the best hybrid poplar clone types and the optimal amount of impregnated chemicals.
We're sorry, something doesn't seem to be working properly.
Please try refreshing the page. If that doesn't work, please contact support so we can address the problem.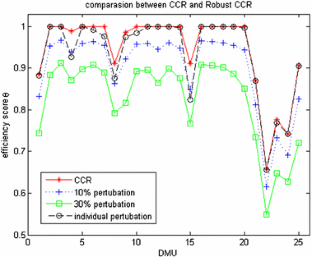 References
Balatinecz, J. J., Kretschmann, D. E., & Leclercq, A. (2001). Achievements in the utilization of poplarwood : Guideposts for the future. Forestry Chronicle, 77(2), 265–269.

Ben-Tal, A., & Nemirovski, A. (2000). Robust solutions of linear programming problems contaminated with uncertain data. Mathematical Programming, 88(3), 411–424.

Ben-Tal, A., & Nemirovski, A. (2002). Robust optimization—methodology and applications. Mathematical Programming, 92(3), 453–480.

Bertsimas, D., & Sim, M. (2004). The price of robustness. Operations Research, 52(1), 35–53.

Birge, J. R., & Louveaux, F. (2011). Introduction to Stochastic Programming. Berlin: Springer.

Boyd, S., & Vandenberghe, L. (2004). Convex optimization. New York, NY: Cambridge University Press.

Charnes, A., Cooper, W., & Rhodes, E. (1978). Measuring the efficiency of decision making units. European Journal of Operational Research, 2(6), 429–444.

Cooper, W. W., Park, K. S., & Yu, G. (2001). An illustrative application of idea (imprecise data envelopment analysis) to a korean mobile telecommunication company. Operations Research, 49(6), 807–820.

Criswell, D., & Thompson, R. (1996). Data envelopment analysis of space and terrestrially-based large scale commercial power systems for earth: A prototype analysis of their relative economic advantages. Solar Energy, 56(1), 119–131. Wireless Power Transmission.

Ding, W. D., Koubaa, A., Chaala, A., Belem, T., & Krause, C. (2008). Relationship between wood porosity, wood density and methyl methacrylate impregnation rate. Wood Material Science & Engineering, 3(1–2), 62–70. doi:10.1080/17480270802607947.

Ding, W. D., Koubaa, A., & Chaala, A. (2012). Dimensional stability of methyl methacrylate hardened hybrid poplar wood. BioResources, 7(1), 504–520.

Ding, W. D., Koubaa, A., & Chaala, A. (2013). Mechanical properties of mma-hardened hybrid poplar wood. Industrial Crops and Products, 46, 304–310.

Koubaa, A., Ding, W. D., Chaala, A., & Bouafif, H. (2012). Surface properties of methyl methacrylate hardened hybrid poplar wood. Journal of Applied Polymer Science, 123, 1428–1436.

Kretschmann, D., Isebrands J. G., Stanosz, G., Dramm, J. R., Olstad, A., Cole, P., & Samsel, J. (1999). Structural lumber properties of hybrid poplar. Research paper FPL, U.S: Department of Agriculture, Forest Service, Forest Products Laboratory.

Lu, C. C. (2015). Robust data envelopment analysis approaches for evaluating algorithmic performance. Computers & Industrial Engineering, 81, 78–89.

Report (2014) The state of canada's forests: Annual report 2014. Natural Resources Canada.

SeDuMi (2003) http://sedumi.ie.lehigh.edu/.

Shokouhi, A. H., Hatami-Marbini, A., Tavana, M., & Saati, S. (2010). A robust optimization approach for imprecise data envelopment analysis. Computers & Industrial Engineering, 59(3), 387–397.

Simar, L., Wilson, P. (2007). Estimation and inference in two-stage, semi-parametric models of production processes. Journal of Econometrics, 136(1),31–64. http://EconPapers.repec.org/RePEc:eee:econom:v:136:y:2007:i:1:p:31-64.

Witte, K. D., & Marques, R. C. (2010). Influential observations in frontier models, a robust non-oriented approach to the water sector. Annals of Operations Research, 181, 377–392.

Wu, D., Liang, L. (2009). Ecological footprint forecasting and estimating using neural networks and dea. International Journal of Global Environmental Issues, 9(3):249–258. http://www.inderscienceonline.com/doi/pdf/10.1504/IJGENVI.2009.026946.

Wu, D., & Wu, D. D. (2010). Performance evaluation and risk analysis of online banking service. Kybernetes, 39(5), 723–734. doi:10.1108/03684921011043215.
Acknowledgments
We greatly appreciate the financial support provided by the Canada Research Chair Program and the Ministere du developpement economique, de l'innovation et de l'exportation du Quebec (MDEIE), and technical support from the Service de Recherche et d'expertise en Transformation des produits forestiers (SEREX).
This project is funded by the National Science Foundation of China (Grant# 71471055 and 91546102), and Marianne and Marcus Wallenberg Foundation (Grant# MMW 2015.0007).
Additional information
Dexiang Wu and WeiDan Ding are contributed equally to this work.
About this article
Cite this article
Wu, D., Ding, W., Koubaa, A. et al. Robust DEA to assess the reliability of methyl methacrylate-hardened hybrid poplar wood. Ann Oper Res 248, 515–529 (2017). https://doi.org/10.1007/s10479-016-2201-9
Published:

Issue Date:

DOI: https://doi.org/10.1007/s10479-016-2201-9
Keywords
Hybrid poplar

Hardening

Methyl methacrylate (MMA)

Data envelopment analysis (DEA)

Uncertainty

Robust optimization