Abstract
We analyze the case of protecting an airport, in which there is concern with terrorist threats against the Air Traffic Control Tower. To deter terrorist actions, airport authorities rely on various protective measures, which entail multiple consequences. By deploying them, airport authorities expect to reduce the probabilities and potential impacts of terrorist actions. We aim at giving advice to the airport authorities by devising a security resource allocation plan. We use the framework of adversarial risk analysis to deal with the problem.
This is a preview of subscription content, log in to check access.
Access options
Buy single article
Instant access to the full article PDF.
US$ 39.95
Price includes VAT for USA
Subscribe to journal
Immediate online access to all issues from 2019. Subscription will auto renew annually.
US$ 199
This is the net price. Taxes to be calculated in checkout.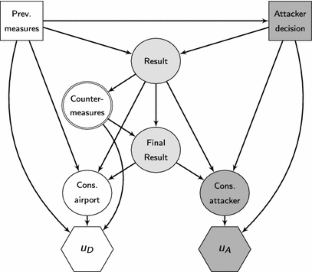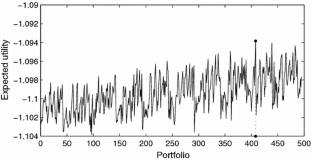 References
Becker, G. S. (1968). Crime and punishment: An economic approach. Journal of Political Economy, 76(2), 169–217.

Brown, G., Carlyle, M., Salmerón, J., & Wood, K. (2006). Defending critical infrastructure. Interfaces, 36(6), 530–544.

Cook, A., Tanner, G., & Lawes, A. (2012). The hidden cost of airline unpunctuality. Journal of Transport Economics and Policy, 46(2), 157–173.

Cooke, R. M. (1991). Experts in uncertainty: Opinion and subjective probability in science. New York: Oxford University Press.

Cornish, D. B., & Clarke, R. V. (1986). The reasoning criminal: Rational choice perspectives on offending. research in criminology. London: Springer.

Dyer, J. S., & Sarin, R. K. (1979). Measurable multiattribute value functions. Operations Research, 27(4), 810–822.

Dyer, J. S., & Sarin, R. K. (1982). Relative risk aversion. Management Science, 28(8), 875–886.

Farquhar, P. H. (1984). State of the art–utility assessment methods. Management Science, 30(11), 1283–1300.

Haberfeld, M. R., & von Hassell, A. (2009). A new understanding of terrorism: Case studies, trajectories and lessons learned. humanities, social sciences and law. New York: Springer.

Hausken, K., & Levitin, G. (2012). Review of systems defense and attack models. International Journal of Performability Engineering, 8(4), 355–366.

Keeney, G. L., & von Winterfeldt, D. (2010). Identifying and structuring the objectives of terrorists. Risk Analysis, 30(12), 1803–1816.

Keeney, R. L. (2007). Modeling values for anti-terrorism analysis. Risk Analysis, 27(3), 585–596.

Keeney, R. L., & von Winterfeldt, D. (2011). A value model for evaluating homeland security decisions. Risk Analysis, 31(9), 1470–1487.

Kleijnen, J. P. C., & Sargent, R. G. (2000). A methodology for fitting and validating metamodels in simulation. European Journal of Operational Research, 120(1), 14–29.

Koller, D., & Milch, B. (2003). Multi-agent influence diagrams for representing and solving games. Games and Economic Behavior, 45(1), 181–221.

Lomborg, B. (2008). Solutions for the world's biggest problems. Costs and benefits. New York: Cambridge University Press.

Merrick, J., & Parnell, G. S. (2011). A comparative analysis of PRA and intelligent adversary methods for counterterrorism risk management. Risk Analysis, 31(9), 1488–1510.

Parnell, G. S., Banks, D., Borio, L., Brown, G., Cox, L. A. T, Jr, Gannon, J., et al. (2008). Report on methodological improvements to the department of homeland security's biological agent risk analysis. Washington: National Academies Press.

Ríos, J., & Ríos Insua, D. (2012). Adversarial risk analysis for counterterrorism modeling. Risk Analysis, 32(5), 894–915.

Ríos Insua, D., Ríos, J., & Banks, D. (2009). Adversarial risk analysis. Journal of the American Statistical Association, 104(486), 841–854.

Shachter, R. D. (1986). Evaluating influence diagrams. Operations Research, 34(6), 871–882.

Viscusi, W. K. (2009). Valuing risks of death from terrorism and natural disasters. Journal of Risk and Uncertainty, 38(3), 191–213.

Viscusi, W. K., & Aldy, J. E. (2003). The value of a statistical life: A critical review of market estimates throughout the world. Journal of Risk and Uncertainty, 27(1), 5–76.
Acknowledgments
This project has received funding from the European Union's Seventh Framework Programme for Research, Technological Development and Demonstration under grant agreement no 285223. Work has been also supported by the Spanish Ministry of Economy and Innovation program MTM2011-28983-C03-01, the Government of Madrid RIESGOS-CM program S2009/ESP-1685 and the AXA-ICMAT Chair on Adversarial Risk Analysis. We are grateful to airport experts and stakeholders for fruitful discussions about modeling issues. This work was completed while the first author was visiting Uppsala University, supported by a grant from URJC's postdoctoral program.
About this article
Cite this article
Cano, J., Ríos Insua, D., Tedeschi, A. et al. Security economics: an adversarial risk analysis approach to airport protection. Ann Oper Res 245, 359–378 (2016). https://doi.org/10.1007/s10479-014-1690-7
Keywords
Adversarial risk analysis

Intelligent attacker

Multiattribute expected utility

Airport security