Abstract
Past research has found negative relationships between neighborhood structural disadvantage and students' academic outcomes. Comparatively little work has evaluated the associations between characteristics of neighborhoods and schools themselves. This study explored the longitudinal, reciprocal relationships between neighborhood crime and school-level academic achievement within 500 urban schools. Results revealed that higher neighborhood crime (and particularly violent crime) predicted decreases in school academic achievement across time. School climate emerged as one possible mechanism within this relationship, with higher neighborhood crime predicting decreases in socioemotional learning and safety, but not academic rigor. All three dimensions of school climate were predictive of changes in academic achievement. Although this research supports a primarily unidirectional hypothesis of neighborhoods' impacts on embedded settings, additional work is needed to understand these relationships using additional conceptualizations of neighborhood climate.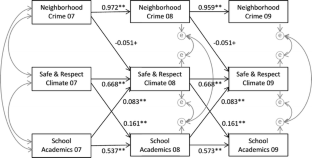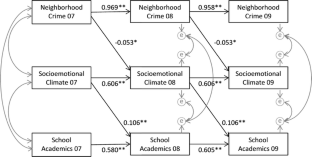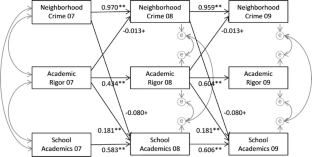 References
Aber, J. L. (1994). Poverty, violence, and child development: Untangling family and community level effects. In C. A. Nelson (Ed.), Threats to optimal development: Integrating biological, psychological, and social risk factors (pp. 229–272). Hillsdale, NJ: Lawrence Erlbaum Associates, Inc.

Aber, J., Gephart, M., Brooks-Gunn, J., Connell, J., & Spencer, M. (1997). Neighborhood, family, and individual processes as they influence child and adolescent outcomes. In J. Brooks-Gunn, G. Duncan, & J. L. Aber (Eds.), Neighbourhood poverty: (Volume 1) Contexts and consequences for development (pp. 41–61). New York: Russell Sage Foundation.

Angrist, J. D., Dynarski, S. M., Kane, T. J., Pathak, P. A., & Walters, C. R. (2010). Who benefits from KIPP? (NBER Working Paper 15740). Cambridge, MA: National Bureau of Economic Research.

Battistich, V., Solomon, D., Kim, D., Watson, M., & Schaps, E. (1995). Schools as communities, poverty levels of student populations, and students' attitudes, motives, and performance: A multilevel analysis. American Educational Research Journal, 32, 627–658.

Berrington, A., Smith, P. W. F., & Sturgis, P. (2006). An overview of methods for the analysis of panel data. Southampton: ESRC National Centre for Research Methods.

Bickel, R., Howley, C., Williams, T., & Glascock, C. (2000). High school size, achievement equity, and cost: Robust interaction effects and tentative results. Washington, DC: Rural School and Community Trust.

Birkett, M., Espelage, D. L., & Koenig, B. W. (2009). LGB and questioning students in schools: The moderating effects of homophobic bullying and school climate on negative outcomes. Journal of Youth and Adolescence, 38, 989–1000.

Bowen, N. K., & Bowen, G. L. (1999). Effects of crime and violence in neighborhoods and schools on the school behavior and performance of adolescents. Journal of Adolescent Research, 14, 319–342.

Bryk, A. S., Sebring, P. B., Allensworth, E., Luppescu, S., & Easton, J. Q. (2010). Organizing schools for improvement: Lessons from Chicago. Chicago: University of Chicago Press.

Buka, S. L., Stichick, T. L., Birdthistle, I., & Earls, F. J. (2001). Youth exposure to violence: Prevalence, risks, and consequences. American Journal of Orthopsychiatry, 71, 298–310.

Cantillon, D., Davidson, W. S., I. I., & Schweitzer, J. H. (2003). Measuring community social organization: Sense of community as a mediator in social disorganization theory. Journal of Criminal Justice, 31, 321–339.

Cappella, E., Frazier, S. L., Atkins, M. S., Schoenwald, S. K., & Glisson, C. (2008). Enhancing schools' capacity to support children in poverty: An ecological model of school-based mental health services. Administration and Policy in Mental Health and Mental Health Services Research, 35, 395–409.

Cohen, J., & Grier, V. K. (2010). School climate research summary: January 2010. New York: NY.

Coie, J. D., & Dodge, K. A. (1998). Aggression and antisocial behavior. In W. Damon & N. Eisenberg (Eds.), Handbook of child psychology: Social emotional and personality development (pp. 779–861). Hoboken, NJ: Wiley.

Duncan, G. J., & Raudenbush, S. W. (1999). Assessing the effects of context in studies of child and youth development. Educational Psychologist, 34, 29–41.

Ennett, S. T., Flewelling, R. L., Lindrooth, R. C., & Norton, E. C. (1997). School and neighborhood characteristics associated with school rates of alcohol, cigarette, and marijuana use. Journal of Health and Social Behavior, 38, 55–71.

ESRI. (2011). ArcGIS: Release 10. Redlands, CA: Environmental Systems Research Institute.

Gershoff, E. T., & Aber, J. L. (2006). Neighborhoods and schools: Contexts and consequences for the mental health and risk behaviors of children and youth. New York, NY: Psychology Press.

Gershoff, E. T., Pedersen, S., Ware, A., & Aber, J. L. (2004, March). Violence exposure and parenting impacts on behavior problems and risk behaviors in multilevel neighborhood context. Paper presented at the biennial meetings of the Society for Research in Adolescence, Baltimore, MD.

Goldstein, S. E., Young, A., & Boyd, C. (2008). Relational aggression at school: Associations with school safety and social climate. Journal of Youth and Adolescence, 37, 641–654.

Gottfredson, G. D., & Gottfredson, D. C. (1985). Victimization in schools. New York: Plenum.

Guerra, N. G., Huesmann, L. R., & Spindler, A. (2003). Community violence exposure social cognition, and aggression among urban elementary school children. Child Development, 74, 1561–1576.

Hardaway, C. R., McLloyd, V. C., & Wood, D. (2012). Exposure to violence and socioemotional adjustment in low-income youth: an examination of protective factors. American Journal of Community Psychology, 49, 112–126.

Hatcher, L. A. (1994). Step-by-step approach to using the SAS system for factor analysis and structural equation modeling. Cary, NC: SAS Institute.

Hellman, D. A., & Beaton, S. (1986). The pattern of violence in urban public schools: The influence of school and community. Journal of Research in Crime and Delinquency, 23, 102–127.

Henrich, C. C., Schwab-Stone, M., Fanti, K., Jones, S. M., & Ruchkin, V. (2004). The association of community violence exposure with middle-school achievement: A prospective study. Journal of Applied Developmental Psychology, 25, 327–348.

Hoxby, C. M., Murarka, S., & Kang, J. (2009, September). How New York City's charter schools affect achievement, Cambridge, MA: New York City Charter Schools Evaluation Project.

Hu, L., & Bentler, P. M. (1999). Cutoff criteria for fit indexes in covariance structure analysis: Conventional criteria versus new alternatives. Structural Equation Modeling, 6, 1–55.

Kline, R. B. (1998). Principles and practice of structural equation modeling. New York, NY: Guilford Press.

Koth, C. W., Bradshaw, C. P., & Leaf, P. J. (2008). A multilevel study of predictors of student perceptions of school climate: The effect of classroom-level factors. Journal of Educational Psychology, 100(1), 96–104.

Kubrin, C. E., & Weitzer, R. (2003). New directions in social disorganization theory. Journal of Research in Crime and Delinquency, 40, 374–402.

Laub, J. H., & Laurstein, J. L. (1998). The interdependence of school violence with neighborhood and family conditions. In D. S. Elliot, B. Hamburg, & K. R. Williams (Eds.), Violence in American schools: A new perspective (pp. 127–155). New York: Cambridge University Press.

Leventhal, T., & Brooks-Gunn, J. (2000). The neighborhoods they live in: The effects of neighborhood residence on child and adolescent outcomes. Psychological Bulletin, 126, 309–337.

Lord, H., & Mahoney, J. L. (2007). Neighborhood crime and self-care: Risks for aggression and lower academic performance. Developmental Psychology, 43, 1321–1333.

Lowenstein, A. E., Friedman, A., Raver, C. C., Jones, S.M., & Pess, R. (2012, February). School climate, teacher-child closeness, and low-income children's academic skills in kindergarten. Paper presented at the Society for Research in Child Development's 2012 Positive Development of Minority Children Meeting, Tampa, FL.

Lynch, M. (2003). Consequences of children's exposure to community violence. Clinical Child and Family Psychology Review, 6, 265–274.

Margolin, G., & Gordis, E. B. (2000). The effects of family and community violence on children. Annual Review of Psychology, 51, 445–479.

Mayer, M. J., & Leone, P. E. (1999). A structural analysis of school violence and disruption: Implications for creating safer schools. Education & Treatment of Children, 22, 333–356.

Mayer, D. P., Mullens, J. E., & Moore, M. T. (2000, December). Monitoring school quality: An indicators report. Washington, DC: National Center for Education Statistics.

Menacker, J., Weldon, W., & Hurwitz, E. (1990). Schools lay down the law. School Safety, Winter, 27–29.

Milam, A. J., Furr-Holden, C. D. M., & Leaf, P. J. (2010). Perceived school and neighborhood safety, neighborhood violence and academic achievement in urban school children. The Urban Review, 42, 458–467.

Muthén, L. K., & Muthén, B. (1998–2010). Mplus User's Guide. Version 6. Los Angeles, CA: Muthén & Muthén.

Nikulina, V., Widom, C. S., & Czaja, S. (2011). The role of childhood neglect and childhood poverty in predicting mental health, academic achievement and crime in adulthood. American Journal of Community Psychology, 48, 309–321.

Osher, D., Kendziora, K., & Chinen, M. (2008). Student connection research: Final narrative report to the Spencer Foundation. Washington, DC: American Institutes for Research.

Pearson, F. S., & Toby, J. (1991). Fear of school-related predatory crime. Sociology and Social Research, 75, 117–125.

Peterson, R. D., Krivo, L. J., & Harris, M. A. (2000). Disadvantage and neighborhood violent crime: Do local institutions matter? Journal of Research in Crime and Delinquency, 37, 31–63.

Raver, C. C., McCoy, D. C., Lowenstein, A., & Pess, R. A. (2013) Predicting individual differences in low-income children's executive control from early to middle childhood. Developmental Science, 16, 394–408.

Sampson, R. J., Raudenbush, S. W., & Earls, F. (1997). Neighborhoods and violent crime: A multilevel study of collective efficacy. Science, 277, 918–924.

Sampson, R. J., Morenoff, J. D., & Gannon-Rowley, T. (2002). Assessing "neighborhood effects": Social processes and new directions in research. Annual Review of Sociology, 28, 443–478.

Schwartz, D., & Gorman, A. H. (2003). Community violence exposure and children's academic functioning. Journal of Educational Psychology, 95(1), 163–173.

Shaw, C. R., & McKay, H. D. (1942). Juvenile delinquency and urban areas. Chicago, IL: University of Chicago Press.

Spielman, S. E., Golembesi, C. A., Northridge, M. E., Vaughan, R. D., Swaner, R., Jean-Louis, B., et al. (2006). Interdisciplinary planning for healthier communities: Findings from the Harlem Children's Zone Asthma Initiative. Journal of the American Planning Association, 72(1), 100–108.

Teitler, J. O., & Weiss, C. C. (2000). Effects of neighborhood and school environments on transitions to first sexual intercourse. Sociology of Education, 73(2), 112–132.

Wayne, A. J., & Young, P. (2003). Teacher characteristics and student achievement gains: A review. Review of Educational Research, 73(1), 89–122.

Weimer, D. L., & Wolkoff, M. J. (2001). School performance and housing values: using non contiguous district and incorporation boundaries to identify school effects. National Tax Journal, 54, 231–253.

Welsh, W. N., Stokes, R., & Greene, J. R. (2000). A macro-level model of school disorder. Journal of Research in Crime and Delinquency, 37(3), 243–283.

Wirt, J., Choy, S., Rooney, P., Provasnik, S., Sen, A., & Tobin, R. (2004). The condition of education. Jessup, MD: ED Pubs.
Appendix
Appendix
See Fig. 5.
About this article
Cite this article
McCoy, D.C., Roy, A.L. & Sirkman, G.M. Neighborhood Crime and School Climate as Predictors of Elementary School Academic Quality: A Cross-Lagged Panel Analysis. Am J Community Psychol 52, 128–140 (2013). https://doi.org/10.1007/s10464-013-9583-5
Keywords
Crime

Neighborhoods

School climate

Social disorganization