Abstract
This article describes the evaluation of the law banning smoking in New York City's parks and beaches that went into effect in 2011. We discuss the practical and methodological challenges that emerged in evaluating this law, and describe how we applied the principles of critical multiplism to address these issues. The evaluation uses data from three complementary studies, each with a unique set of strengths and weaknesses that can provide converging evidence for the effectiveness of the law. Results from a litter audit and an observational study suggest the ban reduced smoking in parks and beaches. The purpose, methodology and baseline results from an ongoing survey that measures how frequently adults in NYC and across New York State notice people smoking in parks and on beaches are presented and discussed. Limitations are considered and suggestions are offered for future evaluations of similar policies.
This is a preview of subscription content,
to check access.
Access this article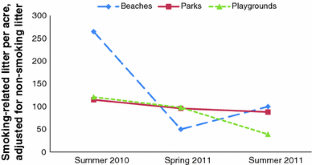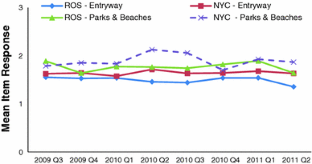 Notes
A Moran's I test of spatial clustering confirmed that the selected sites were distributed evenly across the boroughs (z = 1.06, p > .10). The average size of the parks included in the sample was 359 total acres. Pelham Bay Park in the Bronx was the largest park in the sample (2,700 acres) and the Brooklyn Heights Promenade was the smallest park in the sample (.20 acres). The total acreage of the parks included in the sample did not differ by borough.

On July 20th a sewage treatment plant in upper Manhattan released untreated waste into the Hudson River. South and Midland beaches on Staten Island were closed to swimming between July 27th and August 1st as a result. Visitors were still allowed on the sand and boardwalk during the closure.

The mean pattern of smoking litter did not vary based on whether the playground was located in a park or outside a park.

Adult Tobacco Survey data were provided by the New York State Department of Health. Analysis and interpretation of these data was determined solely by the authors of the current article.
References
Americans for Nonsmokers' Rights. (2011). Outdoor area lists: as of July 1, 2011. Retrieved from http://no-smoke.org/goingsmokefree.php?id=519#outdoor.

Blankertz, L. (1998). The value and practicality of deliberate sampling for heterogeneity: A critical multiplist perspective. American Journal of Evaluation, 19, 307–324.

Chang, C., Leighton, J., Mostashari, F., McCord, C., & Frieden, T. R. (2004). The New York City smoke-free air act: Second-hand smoke as a worker health and safety issue. American Journal of Industrial Medicine, 46, 188–195.

Chen, H., & Rossi, P. H. (1987). A theory-driven approach to validity. Evaluation and Program Planning, 10, 95–103.

Cohen, J. (1977). Statistical power analysis for the behavioral sciences. NY: Academic Press.

Cook, T. D. (1985). Post-positivistic critical multiplism. In L. Shotland & M. M. Mark (Eds.), Social science and social policy. Newbury Park, CA: Sage.

Cook, T. D. (1990). The generalization of causal connections: Multiple theories in search of clear practice. In L. Sechrest, J. Bunker, & E. Perrin (Eds.), Research methodology: Strengthening causal interpretation of non-experimental data. Rockville, MD: Agency for Health Care Policy & Research.

Frieden, T. R., Mostashari, F., Kerker, B., Miller, N., Hajat, A., & Frankel, M. (2005). Adult tobacco use levels after intensive tobacco control measures: New York City, 2002–2003. American Journal of Public Health, 95, 1016–1023.

Gardner, W., Mulvey, E. P., & Shaw, E. C. (1995). Regression analysis of counts and rates: Poisson, overdispersed, and negative binomial models. Psychological Bulletin, 118, 392–404.

Hamilton, W. L., Biener, L., & Brennan, R. T. (2008). Do local tobacco regulations influence perceived smoking norms? Evidence from adult and youth surveys in Massachusetts. Health Education Research, 23, 709–722.

Hanley, J. A., Negassa, A., Edwardes, M. D., & Forrester, J. E. (2003). Statistical analysis of correlated data using generalized estimating equations: An orientation. American Journal of Epidemiology, 157, 364–375.

Harris, K. J., Stearns, J. N., Kovach, R. G., & Harrar, S. W. (2009). Enforcing an outdoor smoking ban on a college campus: Effects of a multicomponent approach. Journal of American College Health, 58, 121–126.

Houts, A. C., Cook, T. D., & Shadish, W. R. (1986). The Person-situation debate: A critical multiplist perspective. Journal of Personality, 54, 52–101.

Kaptchuk, T. J. (2001). The double-blind, randomized, placebo-controlled trial: Gold standard or golden calf? Journal of Clinical Epidemiology, 54, 541–549.

Kennedy, R. D., Fong, G. T., Thompson, M. E., Kaufman, P., Ferrence, R., & Schwartz, R. (2010). Evaluation of a comprehensive outdoor smoking by-law: A longitudinal study of smokers and non-smokers in the Canadian city of Woodstock. Poster presented at the annual meeting of the Society for Research on Nicotine and Tobacco, Baltimore, MD.

Klepeis, N. E., Ott, W. R., & Switzer, P. (2007). Real-time measurement of outdoor tobacco smoke particles. Journal of Air and Waste Management Association, 57, 522–534.

Lewandowski, G. W., & Strohmetz, D. B. (2009). Actions can speak as loud as words: Measuring behavior in psychological science. Social and Personality Psychology Compass, 3, 992–1002.

Nagle, A. L., Schofield, M. J., & Redman, S. (1996). Smoking on hospital grounds and the impact of outdoor smoke-free zones. Tobacco Control, 5, 199–204.

Novotny, T. E., Lum, K., Smith, E., Wang, V., & Barnes, R. (2009). Cigarette butts and the case for an environmental policy on hazardous cigarette waste. International Journal of Research and Public Health, 6, 1–15.

Reynolds, K. D., & West, S. G. (1988). A multiplist strategy for strengthening nonequivalent control group designs. Evaluation Review, 11, 691–714.

Shadish, W. R. (1993). Critical multiplism: A research strategy and its attendant tactics. New Directions for Evaluation, 60, 13–57.

Shadish, W. R., & Cook, T. D. (2009). The renaissance of field experimentation in evaluating interventions. Annual Review of Psychology, 60, 607–629.

Shadish, W. R., Cook, T. D., & Campbell, D. T. (2002). Experimental and quasi-experimental designs for generalized causal inference. Boston: Houghton Mifflin.

Shadish, W. R., Cook, T. D., & Houts, A. C. (1986). Quasi-experimentation in a critical multiplist mode. In W. M. K. Trochim (Ed.), Advances in quasi-experimental design and analysis (pp. 29–46). San Francisco, CA: Jossey-Bass.

Shotland, R. L., & Mark, M. M. (1987). Improving inferences from multiple methods. New Directions for Program Evaluation, 35, 77–94.

Webb, E. J., Campbell, D. T., Schwarzt, R. D., & Sechrest, L. (1961). Unobtrusive measures. Thousand Oaks, CA: Sage.

West, S. G. (2009). Alternatives to randomized experiments. Current Directions in Psychological Science, 18, 299–304.
Acknowledgments
We would like to thank Keith Kerman, Sherry Lee and Michelle Darbouze from the New York City Department of Parks and Recreation for their help designing the sample and collecting data for the smoking litter audit. We also thank Kari Auer, Ijeoma Mbamalu and the staff from the Bureau of Chronic Disease Prevention and Tobacco Control for their help collecting data for the litter audit study and the observational study of smoking in parks.
Appendix
Appendix
See Table 1.
About this article
Cite this article
Johns, M., Coady, M.H., Chan, C.A. et al. Evaluating New York City's Smoke-Free Parks and Beaches Law: A Critical Multiplist Approach to Assessing Behavioral Impact. Am J Community Psychol 51, 254–263 (2013). https://doi.org/10.1007/s10464-012-9519-5
Published:

Issue Date:

DOI: https://doi.org/10.1007/s10464-012-9519-5
Keywords