Abstract
Systems change has emerged as a dominant frame through which local, state, and national funders and practitioners across a wide array of fields approach their work. In most of these efforts, change agents and scholars strive to shift human services and community systems to create better and more just outcomes and improve the status quo. Despite this, there is a dearth of frameworks that scholars, practitioners, and funders can draw upon to aid them in understanding, designing, and assessing this process from a systemic perspective. This paper provides one framework—grounded in systems thinking and change literatures—for understanding and identifying the fundamental system parts and interdependencies that can help to explain system functioning and leverage systems change. The proposed framework highlights the importance of attending to both the deep and apparent structures within a system as well as the interactions and interdependencies among these system parts. This includes attending to the dominant normative, resource, regulative, and operational characteristics that dictate the behavior and lived experiences of system members. The value of engaging critical stakeholders in problem definition, boundary construction, and systems analysis are also discussed. The implications of this framework for systems change researchers and practitioners are discussed.
Access options
Buy single article
Instant access to the full article PDF.
USD 39.95
Price excludes VAT (USA)
Tax calculation will be finalised during checkout.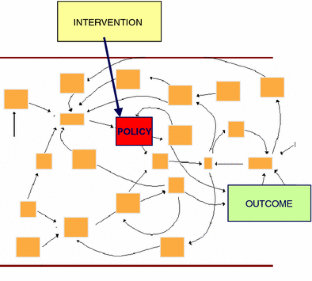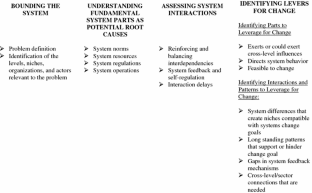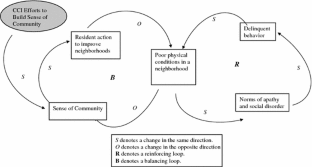 Notes
Of course, systems change can also happen as a continuous change endeavor. When systems change happens in this manner, it occurs as a result of ongoing continuous adjustments to a system's form and functioning so that ultimately these small shifts "cumulate and create substantial change" within the system (Weick & Quinn, 1999, p. 375.). In fact, episodic systems change efforts sometimes transform into continuous change efforts, particularly when systems effectively resist significant changes to their status quo. The focus in this paper is on the episodic form of systems change since that is the intended goal of most systems change effort and the type most often experienced (at least initially) by human service systems and communities through funding requests.

For a review and discussion of frequently occurring patterns within system interdependencies, their implications for system functioning, and techniques for mapping these relationships through causal loop diagrams see http://www.systems-thinking.org/arch/arch.htm or Kim & Anderson, 1998.
References
Ackoff, R. L., & Rovin, S. (2003). Redesigning Society. Stanford, CA: Stanford Business Books.

Adeyanju, M. (1991). Public knowledge, attitudes, and behavior toward Kansas mandatory seatbelt use: Implications for public health policy. Journal of Health and Social Policy, 3(2), 117–135.

Amado, A. N., & McBride, M. W. (2002). Realizing individual, organizational, and systems change: Lessons learned in 15 years of training about person-centered planning and principles. In S. Holdburn & P. Vietze (Eds.), Person-centered planning: Research, practice, and future directions (pp. 361–377). Baltimore, MD: Brookes Publishing.

Anderson, V., & Johnson, L. (1997). Systems thinking basics: From concepts to causal loops. Waltham, MA: Pegasus Communications, Inc.

Argyris, C., & Schon, D. A. (1974). Theory in practice: Increasing professional effectiveness. San Francisco: Jossey-Bass Publishers.

Armenakis, A. A., Harris, S. G., & Mossholder, K. W. (1993). Creating readiness for organizational change. Human Relations, 46(6), 681–703.

Auspos, P., Brown, P., & Hirota, J. (2000). A final assessment. Neighborhood strategies project. Chapin Hall Center for Children.

Bailey, D., & Koney, K. M. (2000). Strategic Alliances among Health and Human Service Organizations: From affiliations to consolidations. Thousand Oaks: Sage.

Bartunek, J. M., & Moch, M. K. (1987). First-order, second-order, and third-order change and organization development interventions: A cognitive approach. Journal of Applied Behavioral Science, 23(4), 483–500.

Bellinger, G. (November 2, 2005). http://www.systems-thinking.org

Berryman, A. (1981). Population systems: A general introduction. New York: Plenum.

Burt, R. S. (2000). The network structure of social capital. In B. M. Staw (Ed.), Research in organizational behavior (Vol. 22). Elsevier Science.

Chaskin, R. J. (2000). A summary of findings. Lessons learned from the implementation of the neighborhood and family initiative (pp. 1–68). Chapin Hall Center for Children.

Checkland, P. (1981). Systems thinking: Systems practice. Chichester: Wiley.

Checkland, P., & Scholes, J. (1990). Soft systems methodology in action. New York, NY: John Wiley & Sons, Inc.

Churchman, C. W. (1970). Operations research as a profession. Management Science, 17, 37–53.

Cohen, R., & Lavach, C. (1995). Strengthening partnerships between families and service providers. In P. Adams & K. E. Nelson (Eds.), Reinventing human services: Community and family centered practice (pp. 109–125). New York: Aldine DeGruyter.

Coleman, J. S. (1988). Social capital in the creation of human capital. American Journal of Sociology, 94, 95–111.

Corrigan, P. W., & Boyle, M. G. (2003). What works for mental health system change: Evolution or revolution? Administration and Policy in Mental Health, 30(5), 379–395.

Corrigan, P. W., & McCracken, S. G. (1995). Psychiatric rehabilitation and staff development: Educational and organizational models. Clinical Psychology Review, 15, 699–719.

Fiorelli, J. S., & Margolis, H. (1993). Managing and understanding large systems change: Guidelines for executives and change agents. Organizational Development Journal, 11, 1–13.

Flaspohler, P., Wandersman, A., Keener, D. Maxwell, K. N., Ace, A., Andrews, A. B., & Holmes, B. (2003). Promoting program success and fulfilling accountability requirements in a statewide community-based initiative: Challenges, progress, and lessons learned. Journal of Prevention and Intervention in the Community, 26(2), 37–52.

Forrester, J. W. (1969). Principles of system. Cambridge, MA: Wright-Allen Press.

Foster-Fishman, P. G. (2002). How to create systems change. Lansing, MI: Michigan Developmental Disabilities Council.

Foster-Fishman, P. G., & Keys, C. B. G. (1997). The person/environment dynamics of employee empowerment: An organizational culture analysis. American Journal of Community Psychology, 25(3), 345–369.

Frank, K. A., & Zhao, Y. (2004). Subgroups as meso-level entity in social organization in schools. In B. Schneider (Ed.), Social organization of schools (pp. 279–318). New York: Sage.

Freestone, J., Linzer, J., McKetney, C., Basnett, D., Prendergast, E. (2001). An innovative strategy for institutionalizing a community-based tobacco program American Journal of Health Promotion, 15(4), 225–227.

Gamache, D., & Asmus, M. (1999). Enhancing networking among service providers: Elements of successful coordination strategies. In E. L. Pence (Ed.), Coordinating community responses to domestic violence: Lessons from Duluth and beyond. Thousand Oaks: Sage.

Gersick, C. J. G. (1991). Revolutionary change theories: A multilevel exploration of the punctuated equilibrium paradigm. Academy of Management Review, 16(1), 10–36.

Hart, B. J. (1995). Coordinated community approaches to domestic violence. Paper presented at the Strategic Planning Workshop on Violence Against Women, National Institute of Justice, Washington DC

Hyman, J. B. (2002). Not quite chaos: A more disciplined approach toward community building. Baltimore, MD: Annie E. Casey Foundation.

Jackson, M. (2003). Systems thinking. Chicester: John Wiley and Sons.

Johnson, J., & Rusch, F. R. (1994). Integrated employment and vocational services for youth and adults with disabilities in the United States. In N. Bouras (Ed.), Mental health in mental retardation: Recent advances and practices (pp 300–318). New York, NY: Cambridge University Press.

Katz, D., & Kahn, R. L. (1978). The social psychology of organizations (2nd ed.). New York: Wiley.

Kim, D. H. (1999). Introduction to systems thinking. Waltham, MA: Pegasus Communications.

Kim, D. H., & Anderson, V. (1998). Systems archetype basics: From story to structure. Waltham: Pegasus Communications, Inc.

King-Sears, M. E. (2001). Institutionalizing peer-mediated instruction and intervention in schools: Beyond "train and hope". Remedial and Special Education, 22(2):89–101.

Kingsley, G. T., McNeely, J. B., & Gibson, J. (1997). Community building—coming of age. The Urban Institute. http://www.urban.org/UploadedPDF/COM_BLDG.PDF

Klein, K. J. & Sorra, J. S. (1996). The challenge of innovation implementation. Academy of Management Review, 21(4), 1055–1080.

Lane, D. C., & Oliva, R. (1998). The greater whole: Towards a synthesis of system dynamics and soft systems methodology. European Journal of Operational Research, 107(1), 214–235.

Maani, K. E. & Cavana, R. Y. (2000). Systems thinking and modeling: Understanding change and complexity. Auckland, New Zealand: Pearson Education New Zealand Limited.

McMillan, D. W., & Chavis, D. M. (1986). Sense of community: A definition and theory. Journal of Community Psychology, 14(1), 6–23.

Meadows, D. (1999). Leverage points: Places to intervention in a system. The Sustainability Institute. Available at http://www.sustainabilityinstitute.org/tools_resources/papers.html

Midgley, G. (2000). Systemic intervention: Philosophy, methodology, and practice. New York: Kluwer.

Midgley, G. (2006). In B. Williams & I. Imam (Eds.), Systemsing thinking for evaluation (pp. 11–34). American Evaluation Association

Novak, J., Rogan, P., Mank, D., & Dileo, D. (2003). Supported employment and systems change: Findings from a national survey of state vocational rehabilitation agencies. Journal of Vocational Rehabilitation, 19(3), 157–166.

Oetting, E. R., Donnermeyer, J. F., Plested, B. A., & Edwards, R. W. et al. (1995). Assessing community readiness for prevention. International Journal of the Addictions. 30(6):659–683.

Olson, E. E., & Eoyang, G. H. (2001). Facilitating organization change: Lessons from complexity science. San Francisco: Jossey-Bass Publishers.

Parsons, B. (1997). Using a systems change approach to building communities. Boulder, CO: InSites.

Paulozzi, L. J., Spengler, R. F., & Gower, M. A. (1992). An evaluation of the Vermont worksite smoking law. Public Health Report, Vol. 107, pp. 724–726.

Pence, E., & Shepard, M. (1999). Developing a coordinated community response. In E. Pence (Ed.), Coordinated community responses to domestic violence: Lessons from Duluth and beyond (pp. 3–24). Thousand Oaks: Sage.

Phelps, L. A., & Wermuth, T. R. (1992). Effective vocational education for students with special needs: A framework. Office of Vocational and Adult Education, United States Department of Education.

Putnam R. D. (2000). Bowling alone: The collapse and revival of American community. New York, NY, US: Touchstone Books/Simon and Schuster, Inc.

Raven, B. (1993). The bases of social power: Origins and recent developments. Journal of Social Issues, 49(4), 227–252.

Schein, E. H. (1990). Organizational culture. American Psychologist, 45(2), 109–119.

Scholtes, P. R. (1998). The leader's handbook: Making things happen, getting things done. New York: McGraw-Hill.

Seidman, E. (1988). Back to the future, community psychology: Unfolding a theory of social intervention. American Journal of Community Psychology. 16(1), 3–24.

Senge, P. M. (1990). The fifth discipline. New Yord: Doubleday.

Shadish, W. R. (1984). Policy research: Lessons from the implementation of deinstitutionalization. American Psychologist, 39(7): 725–738.

Skogan, W. (1990). Disorder and decline: Crime and the spiral of decay in American neighborhoods. Berkeley: University of California Press.

Smock, K. CCI: A new generation of urban revitalization strategies. Available: http://www.comm-org.utoledo.edu/papers97/smockk/cciweb2.ht. Retrieved on 5/20/05.

Sun, P. Y.T., & Scott, J. (2005). Sustaining second-order change initiation: Structured complexity and interface management. Journal of Management Development, 10, 879–895.

Supovitz, J. A., & Taylor, B. S. (2005). Systemic education evaluation: Evaluating the impact of systemwide reform in education. American Journal of Evaluation, 26(2), 204–230.

Trochim, W. M., Cabrera, D. A., Milstein, B., Gallagher, R. S., & Leischow, S. J. (2006). Practical challenges in systems thinking and modeling in public health. American Journal of Public Health, 96(5), 538–546.

Tushman, M. L., & Romanelli, E. (1985). Organizational evolution: A metamorphosis model of convergence and reorientation. In L. L. Cummings & B. M. Staw (Eds.), Research in organizational behavior (Vol. 7, pp. 171–222). Greenwich, CT: JAI Press.

van de Ven, A. H., & Poole, M. S. (1995). Explaining development and change in organizations. Academy of Management Review, 20(3), 510–540.

Walsh, J. (1998). Eye of the storm: Ten years on the front lines of new futures. Baltimore, MD: Annie E. Casey Foundation.

Watzlawick, P., Weakland, J. H., & Fisch, R. (1974). Change principles of problem formation and problem resolution. New York: Norton.

Weick, K. E., & Quinn, R. E. (1999). Organizational change and development. Annual Review of Psychology, 50, 361–386.

Wickizer, T. M., Wagner, E., Cheadle, A., Pearson, D., Beery, W., Maeser, J., Bsaty, B Vonkorff, M., Koepsell, T., Diehr, P., & Perrin, E. B. (1998). Implementation of the Henry J. Kaiser Family Foundation's Community Health Promotion Grant Program: A process evaluation. The Milbank Quarterly, 76(1), 121.

Yin, R. K. (1978). Changing Urban Bureaucracies: How new practices become routinized. Santa Monica, CA: Rand Corporation.
Acknowledgements
We would like to thank Theresa Behrens, Miles McNall, and the three anonymous reviewers for their excellent feedback on previous versions of this paper.
About this article
Cite this article
Foster-Fishman, P.G., Nowell, B. & Yang, H. Putting the system back into systems change: a framework for understanding and changing organizational and community systems. Am J Community Psychol 39, 197–215 (2007). https://doi.org/10.1007/s10464-007-9109-0
Published:

Issue Date:

DOI: https://doi.org/10.1007/s10464-007-9109-0
Keywords