Abstract
Search Engine Optimization (SEO) is the process of managing web content in a manner that elevates page rankings in search engines. Among other sectors, academic world is one of the number-one categories for search based on the percentage of web traffic generated through search engine referrals. However, SEO includes a number of factors grouped into two as 'on page' and 'off page.' To obtain maximum benefit from SEO, relevant factors/criteria should be considered using multi-criteria decision making (MCDM) methods. The focus of this paper is to consider SEO criteria evaluation as a MCDM problem in which the criteria are in different priority levels and the criteria values take the form of hesitant fuzzy linguistic term sets to facilitate the elicitation of information in hesitate situations. A three-step solution approach is developed: (i) determination of 21 SEO criteria, such as page loading time, page size and meta-keyword (ii) prioritizing the criteria using hesitant fuzzy analytic hierarchy process, and (iii) ranking 70 Turkish websites of the industrial engineering departments using Technique for Order Preference by Similarity to Ideal Solution. The results show that trust flow and XML sitemap are the determinant criteria among others. Using the proposed method, web designers can approach SEO from weighted criteria perspective.
This is a preview of subscription content, log in to check access.
Access options
Buy single article
Instant access to the full article PDF.
US$ 39.95
Price includes VAT for USA
Subscribe to journal
Immediate online access to all issues from 2019. Subscription will auto renew annually.
US$ 99
This is the net price. Taxes to be calculated in checkout.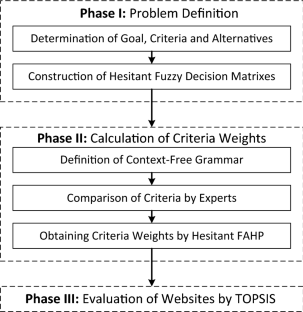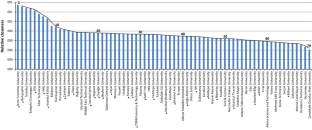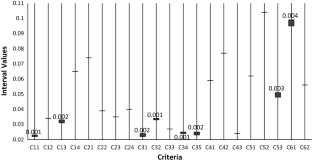 References
Akincilar A, Dagdeviren M (2014) A hybrid multi-criteria decision making model to evaluate hotel websites. Int J Hosp Manag 36:263–271

Atanassov KT (1986) Intuitionistic fuzzy sets. Fuzzy Sets Syst 20(1):87–96

Auinger A, Brandtner P, Großdeßner P, Holzinger A (2012) Search engine optimization meets e-business—a theory-based evaluation: findability and usability as key success factors. In: International conference on e-business, pp 237–250

Aydin S, Kahraman C (2012) Evaluation of e-commerce website quality using fuzzy multi-criteria decision making approach. IAENG Int J Comput Sci 39(1):64–70

Baye MR, Santos BD, Wildenbeest MR (2016) Search engine optimization: what drives organic traffic to retail sites? J Econ Manag Strategy 25(1):6–31

Bilsel RU, Buyukozkan G, Ruan D (2006) A fuzzy preference-ranking model for a quality evaluation of hospital web sites. Int J Intell Syst 21(11):1181–1197

Bustince H, Fernandez J, Kolesarova A, Mesiar R (2013) Generation of linear orders for intervals by means of aggregation functions. Fuzzy Sets Syst 220:69–77

Buyukozkan G, Guleryuz S (2016) Multi criteria evaluation of logistics firms' web site performance. J Fac Eng Archit Gazi Univ 31(4):889–902

CHE (2017) Council of higher education of Turkey. http://www.yok.gov.tr/web/guest/universitelerimiz. Access date 18 Sept 2017

Ching-Lai H, Yoon K (1981) Multiple attribute decision making: methods and applications. Springer, Berlin

Chitika (2013) The value of Google result positioning. https://chitika.com/google-positioning-value. Access date 18 Sept 2017

Chou WC, Cheng YP (2012) A hybrid fuzzy MCDM approach for evaluating website quality of professional accounting firms. Expert Syst Appl 39(3):2783–2793

Dubois D, Prade H (2000) Fundamentals of fuzzy sets. Springer, New York

Ecer F (2014) A hybrid banking websites quality evaluation model using AHP and COPRAS-G: a Turkey case. Technol Econ Dev Econ 20(4):758–782

Egri G, Bayrak C (2014) The role of search engine optimization on keeping the user on the site. Procedia Comput Sci 36:335–342

Enge E, Spencer S, Stricchiola JC (2015) The art of SEO mastering search engine optimization, 3rd edn. O'Reilly Media Press, Sebastopol

Evans MP (2007) Analysing Google rankings through search engine optimization data. Internet Res Electron Netw Appl Policy 17(1):21–37

Ferraz R (2015) Exploring web attributes related to image accessibility and their impact on search engine indexing. Procedia Comput Sci 67:171–184

Garg R, Jain D (2017), Fuzzy multi-attribute decision making evaluation of e-learning websites using FAHP, COPRAS, VIKOR, WDBA. Decis Sci Lett 6(4):351–364

Gasparotto M (2014) Search engine optimization for the research librarian: a case study using the bibliography of U.S. Latina lesbian history and culture. Pract Acad Librariansh Int J SLA Acad Div 4(1):15–34

Gil P (2017) The best search engines of 2017. https://www.lifewire.com/best-search-engines-2483352. Access date 18 Sept 2017

Giomelakis D, Veglis A (2016) Investigating search engine optimization factors in media websites. Digit Journal 4(3):379–400

Gok C, Percin S (2016) DEMATEL-ANP-VIKOR approach for assessing the e-service quality of electronic shopping (e-shopping) sites. Anadolu Univ J Soc Sci 16(2):131–144

Google (2018) Search engine optimization starter guide, https://support.google.com/webmasters/answer/7451184?hl=en. Access date 08 Nov 2018

Gregurec I, Grd P (2012) Search engine optimization: website analysis of selected faculties in Croatia. In: European conference on information and intelligent systems, pp 211–218

Hsu TH, Hung LC, Tang JW (2012) The multiple criteria and sub-criteria for electronic service quality evaluation: an interdependence perspective. Online Inf Rev 36(2):241–260

Hu YC (2009) Fuzzy multiple-criteria decision making in the determination of critical criteria for assessing service quality of travel websites. Expert Syst Appl 36(3):6439–6445

Ip C, Law R, Lee HA (2012) The evaluation of hotel website functionality by fuzzy analytic hierarchy process. J Travel Tour Mark 29(3):263–278

Kabak M, Ozceylan E, Dagdeviren M, Genc T (2017) Evaluation of distance education websites: a hybrid multicriteria approach. Turk J Electr Eng Comput Sci 25:2809–2819

Kang D, Jang W, Park Y (2016) Evaluation of e-commerce websites using fuzzy hierarchical TOPSIS based on E-S-QUAL. Appl Soft Comput 42:53–65

Kaya T (2010) Multi-attribute evaluation of website quality in e-business using an integrated fuzzy AHP-TOPSIS methodology. Int J Comput Intell Syst 3(3):301–314

Kim G, Park CS, Yoon KP (1997) Identifying investment opportunities for advanced manufacturing systems with comparative-integrated performance measurement. Int J Prod Econ 50:23–33

Kostoglou V, Papathanasiou J, Moschidis O, Ladopoulou P (2014) A comparative analysis of Greek universities' presence on the World Wide Web using an analytical MCDM methodology. Int J Multicrit Dec Mak 4(3):279–298

Levene M (2010) An introduction to search engines and web navigation. Wiley, New Jersey

Li J, Wang J, Hu J (2018) Multi-criteria decision-making method based on dominance degree and BWM with probabilistic hesitant fuzzy information. Int J Mach Learn Cybern. https://doi.org/10.1007/s13042-018-0845-2

Lin HF (2010) An application of fuzzy AHP for evaluating course website quality. Comput Educ 54:877–888

Markaki OI, Charilas DE, Askounis D (2010) Application of fuzzy analytic hierarchy process to evaluate the quality of e-government web sites. In: Developments in e-systems engineering, pp 219–224

Moz (2018) On-site SEO. https://moz.com/learn/seo/on-site. Access date 08 Nov 2018

MSPC (2017) Results of undergraduate placement exam. http://dokuman.osym.gov.tr/pdfdokuman/2017/osys/LYS/SayisalBilgiler11072017.pdf. Access date 18 Sept 2017

Nie R, Tian Z, Wang X, Wang J, Wang T (2018a) Risk evaluation by FMEA of supercritical water gasification system using multi-granular linguistic distribution assessment. Knowl-Based Syst 162:185–201. https://doi.org/10.1016/j.knosys.2018.05.030

Nie R, Tian Z, Wang J, Zhang H, Wang T (2018b) Water security sustainability evaluation: applying a multistage decision support framework in industrial region. J Clean Prod 196:1681–1704

Pamučar D, Stević Ž, Zavadskas EK (2018) Integration of interval rough AHP and interval rough MABAC methods for evaluating university web pages. Appl Soft Comput 67:141–163

Petrescu P (2014) Google organic click-through rates in 2014. https://moz.com/blog/google-organic-click-through-rates-in-2014. Access date 18 Sept 2017

Qi S, Law R, Buhalis D (2017) Comparative evaluation study of the websites of China-based and international luxury hotels. J China Tour Res 13(1):1–25

Roy S, Pattnaik PK, Mall R (2017) Quality assurance of academic websites using usability testing: an experimental study with AHP. Int J Syst Assur Eng 8(1):1–11

Saberi S, Saberi G, Mohd M (2013) Past, present and future of search engine optimization. In: The second international conference on informatics engineering and information science, pp 363–369

Sang X, Liu X, Qin J (2015) An analytical solution to fuzzy TOPSIS and its application in personnel selection for knowledge-intensive enterprise. Appl Soft Comput 30:190–204

Sembodo ME (2007) Knowing black hat SEO. https://moz.com/ugc/knowing-black-hat-seo. Access date 08 Nov 2018

Seoptimer (2018) Analyze websites with our free SEO audit and reporting tool. https://www.seoptimer.com. Access date 08 Nov 2018

Seositecheckup (2018) SEO tools, software and articles. https://seositecheckup.com. Access date 08 Nov 2018

Seotesteronline (2018) SEO tester online—SEO analysis online for your website. https://www.seotesteronline.com. Access date 08 Nov 2018

Shih HS, Shyur HJ, Lee ES (2007) An extension of TOPSIS for group decision making. Math Comput Model 45(7–8):801–813

Siteanalyzer (2018) Site analyzer. https://www.site-analyzer.com/en/dashboard. Access date 08 Nov 2018

Sun CC, Lin GTR (2009) Using fuzzy TOPSIS method for evaluating the competitive advantages of shopping websites. Expert Syst Appl 36(9):11764–11771

Terrientes LD, Cavia JF, Huertas A, Moreno A, Valls A (2015) Official tourist destination websites: hierarchical analysis and assessment with ELECTRE-III-H. Tour Manag Perspect 15:6–28

Tian Z, Wang J, Zhang H, Wang T (2018) Signed distance-based consensus in multi-criteria group decision-making with multi-granular hesitant unbalanced linguistic information. Comput Ind Eng 124:125–138

Torra V (2010) Hesitant fuzzy sets. Int J Intell Syst 25(6):529–539

Tsai WC, Chou WC, Lai CW (2010) An effective evaluation model and improvement analysis for national park websites: a case study of Taiwan. Tour Manag 31(6):936–952

Tsuei HJ, Tsai WE, Pan FT, Tzeng GH (2018) Improving search engine optimization (SEO) by using hybrid modified MCDM models. Artif Intell Rev. https://doi.org/10.1007/s10462-018-9644-0

Vatansever K, Akgul Y (2018) Performance evaluation of websites using entropy and grey relational analysis methods: the case of airline companies. Decis Sci Lett 7:119–130

Wang XK, Peng HG, Wang JQ (2018) Hesitant linguistic intuitionistic fuzzy sets and their application in multicriteria decision-making problems. Int J Uncertain Quantif 8(4):321–341

Woorank (2018) Website review tool and SEO checker. https://www.woorank.com. Access date 08 Nov 2018

WWW (2017) The size of the World Wide Web. http://www.worldwidewebsize.com/. Access date 18 Sept 2017

Yalcin N, Kose U (2010) What is search engine optimization: sEO? Procedia Soc Behav Sci 9:487–493

Yavuz M, Oztaysi B, Onar SC, Kahraman C (2015) Multi-criteria evaluation of alternative-fuel vehicles via a hierarchical hesitant fuzzy linguistic model. Expert Syst Appl 42:2835–2848

Yu X, Guo S, Guo J, Huang X (2011) Rank B2C e-commerce websites in e-alliance based on AHP and fuzzy TOPSIS. Expert Syst Appl 38(4):3550–3557

Zhang L, Zou H, Yang F (2011) Web service composition algorithm based on TOPSIS. J China Univ Posts Telecommun 18(4):89–97
Acknowledgements
The authors thank two anonymous reviewers for their constructive comments on an earlier version of this paper.
Additional information
Publisher's Note
Springer Nature remains neutral with regard to jurisdictional claims in published maps and institutional affiliations.
Electronic supplementary material
Below is the link to the electronic supplementary material.
About this article
Cite this article
Özkan, B., Özceylan, E., Kabak, M. et al. Evaluating the websites of academic departments through SEO criteria: a hesitant fuzzy linguistic MCDM approach. Artif Intell Rev 53, 875–905 (2020). https://doi.org/10.1007/s10462-019-09681-z
Keywords
AHP

Hesitant fuzzy linguistic term set

Search engine optimization

TOPSIS

Website evaluation