Abstract
In this work we present a novel approach for evaluating job applicants in online recruitment systems, using machine learning algorithms to solve the candidate ranking problem and performing semantic matching techniques. An application of our approach is implemented in the form of a prototype system, whose functionality is showcased and evaluated in a real-world recruitment scenario. The proposed system extracts a set of objective criteria from the applicants' LinkedIn profile, and compares them semantically to the job's prerequisites. It also infers their personality characteristics using linguistic analysis on their blog posts. Our system was found to perform consistently compared to human recruiters, thus it can be trusted for the automation of applicant ranking and personality mining.
Access options
Buy single article
Instant access to the full article PDF.
US$ 39.95
Tax calculation will be finalised during checkout.
Subscribe to journal
Immediate online access to all issues from 2019. Subscription will auto renew annually.
US$ 79
Tax calculation will be finalised during checkout.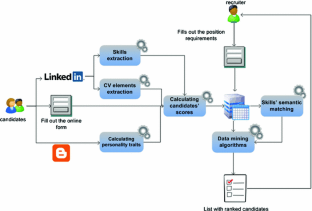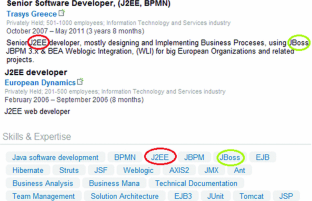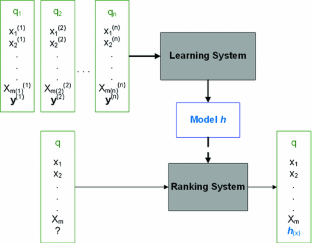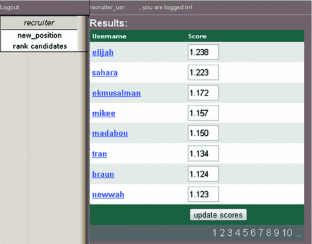 Notes
1.

Weka information interchange with .NET was based on ideas of Wikispaces (2013).
References
Amdouni S, Ben abdessalem Karaa W (2010) Web-based recruiting. In: Proceedings of ACS/IEEE international conference on computer systems and applications, pp 1–7

Argamon DSKMS, Pennebaker J (2005) Lexical predictors of personality type. In: Proceedings of joint annual meeting of the interface and The Classification Society of North America, pp 1–16

Bizer C, Heese R, Mochol M, Oldakowski R, Tolksdorf R, Eckstein R (2005) The impact of semantic web technologies on job recruitment processes. In: Proc. internationale Tagung Wirtschaftsinformatik, pp 1367–1383

Dorn J, Naz T, Pichlmair M (2007) Ontology development for human resource management. In: Proceedings of international conference on knowledge management, pp 109–120

Faliagka E, Kozanidis L, Stamou S, Tsakalidis A, Tzimas G (2011a) A personality mining system for automated applicant ranking in online recruitment systems. In: Proceedings of international conference on web engineering, pp 379–382

Faliagka E, Ramantas K, Tsakalidis AK, Viennas M, Kafeza E, Tzimas G (2011b) An integrated e-recruitment system for CV ranking based on AHP. In: WEBIST, pp 147–150

Faliagka E, Ramantas K, Tsakalidis A, Tzimas G (2012a) Application of machine learning algorithms to an online recruitment system. In: Proceedings of international conference on internet and web applications and services

Faliagka E, Tsakalidis A, Tzimas G (2012b) An integrated e-recruitment system for automated personality mining and applicant ranking. Internet research

Gill A, Nowson S, Oberlander J (2009) What are they blogging about? Personality, topic and motivation in blogs. In: Proceedings of international AAAI conference on weblogs and social media

Hall MA (1999) Correlation-based feature selection for machine learning. PhD thesis, Department of Computer Science, The University of Waikato

Kessler R, Torres-Moreno JM, El-Bèze M (2007) E-gen: automatic job offer processing system for human resources. In: Proceedings of Mexican international conference on advances in artificial intelligence, pp 985–995

Kessler R, Bechet N, Torres-Moreno JM, Roche M, El-Bèze M (2009) Job offer management: how improve the ranking of candidates. In: Foundations of intelligent systems, lecture notes in computer science, vol 5722, Springer, Berlin, Heidelberg, pp 431–441

Liu TY (2009) Learning to rank for information retrieval. Found Trends Inf Retr 3(3):225–331

Mairesse F, Walker MA, Mehl MR, Moore RK (2007) Using linguistic cues for the automatic recognition of personality in conversation and text. J Artif Intell Res 30:457–500

Meo PD, Quattrone G, Terracina G, Ursino D (2007) An xml-based multiagent system for supporting online recruitment services. IEEE Trans Syst Man Cybern Part A 37(4):464–480

Mishne G (2005) Experiments with mood classification in blog posts. In: Proceedings of workshop on stylistic analysis of text for information access

Mochol M, Paslaru E, Simperl B (2006) Practical guidelines for building semantic erecruitment applications. In: Proceedings of international conference on knowledge management, special track: advanced semantic technologies

Mochol M, Wache H, Nixon L (2007) Improving the accuracy of job search with semantic techniques. In: Proceedings of international conference on business information systems, pp 301–313

Oberlander J, Nowson S (2006) Whose thumb is it anyway? Classifying author personality from weblog text. In: Proceedings of Association for Computational Linguists

Pande S (2011) E-recruitment creates order out of chaos at SAT telecom: system cuts costs and improves efficiency. Hum Resour Manag Int Dig 19(3):21–23

Pennebaker JW, Booth RJ (2001) Linguistic inquiry and word count: Liwc 2001. Word J Int Linguist Assoc

Pennebaker JW, King LA (1999) Linguistic styles: language use as an individual difference. J Pers Soc Psychol 77(6):1296–1312

Radevski V, Trichet F (2006) Ontology-based systems dedicated to human resources management: an application in e-recruitment. In: OTM workshops (2), pp 1068–1077

Ramar K, Sivaram N (2010) Applicability of clustering and classification algorithms for recruitment data mining. Int J Comput Appl 4(5):23–28

Rienks HDR (2005) Dominance detection in meetings using easily obtainable features. In: Proceedings of machine learning for multimodal interaction, pp 76–86

Schmid H (1995) Improvements in part-of-speech tagging with an application to german. In: Lexikon und Text, pp 47–50

Wikispaces (2013) Use weka with the microsoft.net framework. http://weka.wikispaces.com/Use+WEKA+with+the+Microsoft+.NET+Framework
Additional information
Author names appear in alphabetical order.
About this article
Cite this article
Faliagka, E., Iliadis, L., Karydis, I. et al. On-line consistent ranking on e-recruitment: seeking the truth behind a well-formed CV. Artif Intell Rev 42, 515–528 (2014). https://doi.org/10.1007/s10462-013-9414-y
Keywords
E-recruitment

Personality mining

Recommendation systems

Data mining