Abstract
The long-acting feature of cabotegravir, an integrase-inhibitor highly effective in preventing acquisition of HIV in adolescents and adults, is both its greatest strength and a challenge to its implementation. Cab-LA is administered at 8-week intervals (after an initial loading dose) but has a long, variable drug "tail" that may leave users vulnerable to future drug resistance if they contract HIV during this critical period. The potential for cab-LA to meaningfully contribute to ending the HIV Epidemic is hindered by, among other factors, limited resources to guide patients and providers on how to safely discontinue injections. We suggest three key strategies to overcome this specific challenge: (1) Comprehensive patient education and counseling about the drug tail; (2) Training and coaching PrEP care teams, including clinical and non-clinical staff, on communication around the tail; (3) Adherence support strategies, including monitoring of cabotegravir drug levels after discontinuation, for a personalized medicine approach to safe discontinuation.
Access options
Buy single article
Instant access to the full article PDF.
USD 39.95
Price excludes VAT (USA)
Tax calculation will be finalised during checkout.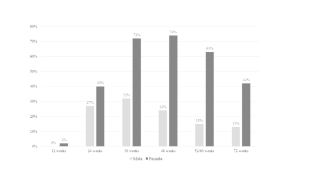 References
National Center for HIV VH, STD, and. Prevention TB,. PrEP for HIV Prevention in the U.S.: National Center for HIV, Viral Hepatitis, STD, and TB Prevention; 2021 [Available from: https://www.cdc.gov/nchhstp/newsroom/fact-sheets/hiv/PrEP-for-hiv-prevention-in-the-US-factsheet.html#Sect.2.

U.S. Department of Health and Human Services. Ending the HIV Epidemic in the U.S.: U.S. Department of Health and Human Services; 2021 [updated 07/2021. Available from: https://www.hiv.gov/federal-response/ending-the-hiv-epidemic/overview.

Centers for Disease Control and Prevention. US Public Health Service: Preexposure prophylaxis for the prevention of HIV infection in the United States—2021 Update: a clinical practice guideline. Centers for Disease Control and Prevention; 2021.

ViiV Healthcare. Apretude Full Prescribing Information In: Healthcare V, editor. Research Triangle Park, NC 27709: GlaxoSmithKline; 2021.

Landovitz RJ, Li S, Grinsztejn B, Dawood H, Liu AY, Magnus M, et al. Safety, tolerability, and pharmacokinetics of long-acting injectable cabotegravir in low-risk HIV-uninfected individuals: HPTN 077, a phase 2a randomized controlled trial. PLoS Med. 2018;15(11):e1002690.

Lazarus G, Wangsaputra VK, Christianto, Louisa M, Soetikno V, Hamers RL. Safety and Pharmacokinetic Profiles of Long-Acting Injectable Antiretroviral Drugs for HIV-1 Pre-Exposure Prophylaxis: A Systematic Review and Meta-analysis of Randomized Trials. Frontiers in Pharmacology. 2021;12.

Han K, Baker M, Lovern M, Paul P, Xiong Y, Patel P, et al. Population pharmacokinetics of cabotegravir following administration of oral tablet and long-acting intramuscular injection in adult HIV-1-infected and uninfected subjects. Br J Clin Pharmacol. 2022.

Delany-Moretlwe S, Hughes JP, Bock P, Ouma SG, Hunidzarira P, Kalonji D, et al. Cabotegravir for the prevention of HIV-1 in women: results from HPTN 084, a phase 3, randomised clinical trial. Lancet. 2022.

Landovitz RJ, Donnell D, Clement ME, Hanscom B, Cottle L, Coelho L, et al. Cabotegravir for HIV prevention in cisgender men and transgender women. N Engl J Med. 2021;385(7):595–608.

Marzinke MA, Grinsztejn B, Fogel JM, Piwowar-Manning E, Li M, Weng L, et al. Characterization of Human Immunodeficiency Virus (HIV) infection in cisgender men and transgender women who have sex with men receiving injectable Cabotegravir for HIV prevention: HPTN 083. J Infect Dis. 2021;224(9):1581–92.

Biello KB, Hosek S, Drucker MT, Belzer M, Mimiaga MJ, Marrow E, et al. Preferences for injectable PrEP among young US cisgender men and transgender women and men who have sex with men. Arch Sex Behav. 2018;47(7):2101–7.

Chan C, Vaccher S, Fraser D, Grulich AE, Holt M, Zablotska-Manos I, et al. Preferences for current and future PrEP modalities among PrEP-experienced gay and bisexual men in Australia. AIDS Behav. 2022;26(1):88–95.

Footer KH, Lim S, Rael CT, Greene GJ, Carballa-Diéguez A, Giguere R, et al. Exploring new and existing PrEP modalities among female sex workers and women who inject drugs in a US city. AIDS care. 2019.

Phillips AN, Bansi-Matharu L, Cambiano V, Ehrenkranz P, Serenata C, Venter F, et al. The potential role of long-acting injectable cabotegravir-rilpivirine in the treatment of HIV in sub-Saharan Africa: a modelling analysis. Lancet Glob Health. 2021;9(5):e620-e7.

Zhang J, Li C, Xu J, Hu Z, Rutstein SE, Tucker JD, et al. Discontinuation, suboptimal adherence, and reinitiation of oral HIV pre-exposure prophylaxis: a global systematic review and meta-analysis. Lancet HIV. 2022;9(4):e254-e68.

Petroll AE, Walsh JL, Owczarzak JL, McAuliffe TL, Bogart LM, Kelly JA. PrEP awareness, familiarity, comfort, and prescribing experience among US primary care providers and HIV specialists. AIDS Behav. 2017;21(5):1256–67.

Pleuhs B, Quinn KG, Walsh JL, Petroll AE, John SA. Health care provider barriers to HIV pre-exposure prophylaxis in the United States: a systematic review. AIDS Patient Care STDs. 2020;34(3):111–23.

Storholm ED, Ober AJ, Mizel ML, Matthews L, Sargent M, Todd I, et al. Primary Care Providers' Knowledge, Attitudes, and Beliefs About HIV Pre-Exposure Prophylaxis (PrEP): Informing Network-Based Interventions. AIDS Educ Prev. 2021;33(4):325–44.

Meyers K, Price D, Golub S. Behavioral and social science research to support accelerated and equitable implementation of long-acting preexposure prophylaxis. Curr Opin HIV AIDS. 2020;15(1):66–72.

Gold J, Zucker J, Theodore DA, Carnevale C, Olender S, Gordon P, et al. Attitudes in Assessing Patients for Pre-Exposure Prophylaxis among Pediatric and Internal Medicine Residents Training in New York City. Late Breaker Abstract. HIV Research for Prevention October 21–25. 2018 Madrid, Spain. 2018.

Hull SJ, Tessema H, Thuku J, Scott RK. Providers PrEP: Identifying Primary Health care Providers' Biases as Barriers to Provision of Equitable PrEP Services. J Acquir Immune Defic Syndr. 2021;88(2):165–72.

Calabrese SK, Kalwicz DA, Modrakovic D, Earnshaw VA, Edelman EJ, Bunting SR, et al. An Experimental Study of the Effects of Patient Race, Sexual Orientation, and Injection Drug Use on Providers' PrEP-Related Clinical Judgments. AIDS Behav. 2022;26(5):1393–421.

Calabrese SK, Earnshaw VA, Krakower DS, Underhill K, Vincent W, Magnus M, et al. A Closer Look at Racism and Heterosexism in Medical Students' Clinical Decision-Making Related to HIV Pre-Exposure Prophylaxis (PrEP): Implications for PrEP Education. AIDS Behav. 2018;22(4):1122–38.

Meyers K, Wu Y, Qian H, Sandfort T, Huang X, Xu J, et al. Interest in Long-Acting Injectable PrEP in a Cohort of Men Who have Sex with Men in China. AIDS Behav. 2018;22(4):1217–27.

Greenwald ZR, Maheu-Giroux M, Szabo J, Robin JAB, Boissonnault M, Nguyen V-K, et al. Cohort profile: l'Actuel Pre-Exposure Prophylaxis (PrEP) Cohort study in Montreal, Canada. BMJ open. 2019;9(6):e028768.

Krakower D, Maloney KM, Powell VE, Levine K, Grasso C, Melbourne K, et al. Patterns and clinical consequences of discontinuing HIV preexposure prophylaxis during primary care. J Int AIDS Soc. 2019;22(2):e25250.

Morgan E, Ryan DT, Newcomb ME, Mustanski B. High rate of discontinuation may diminish PrEP coverage among young men who have sex with men. AIDS Behav. 2018;22(11):3645–8.

Scott HM, Spinelli M, Vittinghoff E, Morehead-Gee A, Hirozawa A, James C, et al. Racial/ethnic and HIV risk category disparities in preexposure prophylaxis discontinuation among patients in publicly funded primary care clinics. Aids. 2019;33(14):2189–95.

Whitfield TH, John SA, Rendina HJ, Grov C, Parsons JT. Why I quit pre-exposure prophylaxis (PrEP)? A mixed-method study exploring reasons for PrEP discontinuation and potential re-initiation among gay and bisexual men. AIDS Behav. 2018;22(11):3566–75.

Talevski J, Wong Shee A, Rasmussen B, Kemp G, Beauchamp A. Teach-back: A systematic review of implementation and impacts. PLoS ONE. 2020;15(4):e0231350.

Rowe K, Theodore DA, Zucker J, Cohensedgh O, LaSota E, Carnevale C, et al. Lost2PrEP: Understanding Reasons for Pre-Exposure Prophylaxis and Sexual Health Care Disengagement Among Men Who Have Sex with Men Attending a Sexual Health Clinic at a Large Urban Academic Medical Center in New York City. AIDS Patient Care STDS. 2022;36(4):153–8.

Spinelli MA, Haberer JE, Chai PR, Castillo-Mancilla J, Anderson PL, Gandhi M. Approaches to Objectively Measure Antiretroviral Medication Adherence and Drive Adherence Interventions. Curr HIV/AIDS Rep. 2020;17(4):301–14.

Landovitz RJ, Li S, Eron JJ Jr, Grinsztejn B, Dawood H, Liu AY, et al. Tail-phase safety, tolerability, and pharmacokinetics of long-acting injectable cabotegravir in HIV-uninfected adults: a secondary analysis of the HPTN 077 trial. Lancet HIV. 2020;7(7):e472-e81.

Andrews CD, Spreen WR, Mohri H, Moss L, Ford S, Gettie A, et al. Long-acting integrase inhibitor protects macaques from intrarectal simian/human immunodeficiency virus. Science. 2014;343(6175):1151–4.

DiFrancesco R, Tooley K, Rosenkranz SL, Siminski S, Taylor CR, Pande P, et al. Clinical pharmacology quality assurance for HIV and related infectious diseases research. Clin Pharmacol Ther. 2013;93(6):479–82.
Funding
This work was supported by the National Institutes of Health [R01MH123262 to KM and SAG; K23AI150378 to JZ; K23-MH124569 to BAK; UM1AI069470 to MES; P30-MH43520 to RHR].
Ethics declarations
Conflict of interest
MES has received grants to her institution from NIH, GSK and ViiV Healthcare to conduct clinical trials of Long-Acting Cabotegravir for treatment and prevention outside of the submitted work. No authors have a conflict of interest.
Ethics Approval
N/A.
Consent to participate
N/A.
Consent publication
N/A.
Code for publication
N/A.
Additional information
Publisher's Note
Springer Nature remains neutral with regard to jurisdictional claims in published maps and institutional affiliations.
About this article
Cite this article
Meyers, K., Nguyen, N., Zucker, J.E. et al. The Long-Acting Cabotegravir Tail as an Implementation Challenge: Planning for Safe Discontinuation. AIDS Behav 27, 4–9 (2023). https://doi.org/10.1007/s10461-022-03816-0
Accepted:

Published:

Issue Date:

DOI: https://doi.org/10.1007/s10461-022-03816-0
Keywords