Abstract
We examined the association of HIV prevention advocacy with social network members (alters) on alter condom use behavior, and factors that may mediate and moderate this relationship, among people living with HIV (PLWH) in Uganda. Ninety PLWH completed all assessments (baseline and 5- and 8-month follow-ups). Internalized HIV stigma, HIV disclosure self-efficacy, positive living behavior (i.e., condom use), and advocacy self-efficacy were examined as mediators (at 5-month follow-up) of the association between condom use advocacy and perceived alter condom use. Individual socio-demographic and social network characteristics at baseline were examined as moderators. Among alters who received condom use advocacy in the months prior to both baseline and 5-month follow-up, 69.9% (51/73) were perceived to mostly/always use condoms at either the 5- or 8-month follow-up, which was significantly higher than the 36.4% (235/645) of alters who received none or less advocacy. Participants' internalized HIV stigma and consistent condom use mediated the association of advocacy and perceived consistent condom use among alters; the participant having any secondary education and the alter being male were associated with increased magnitude of the associations between advocacy and alter condom use. These findings highlight the importance of sustained advocacy to promote consistent condom use, and the value of anti-stigma and positive living interventions as mechanisms for enhancing effective advocacy.
Access options
Buy single article
Instant access to the full article PDF.
USD 39.95
Price excludes VAT (USA)
Tax calculation will be finalised during checkout.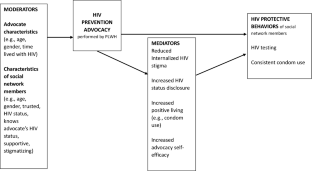 Data Availability
De-identified dataset and statistical code are available to researchers upon submission of proposal and review by the study team.
Material Availability
De-identified dataset and statistical code are available to researchers upon submission of proposal and review by the study team.
Code Availability
De-identified dataset and statistical code are available to researchers upon submission of proposal and review by the study team.
References
Janssen RS, Holtgrave DR, Valdiserri RO, Shepherd M, Gayle HD, De Cock KM. The serostatus approach to fighting the HIV epidemic: prevention strategies for infected individuals. Am J Public Health. 2001;91(7):1019.

Auerbach JD. Principles of positive prevention. J Acquir Immune Defic Syndr. 2004;37:S122–5.

Gordon CM, Forsyth AD, Stall R, Cheever LW. Prevention interventions with persons living with HIV/AIDS: state of the science and future directions. AIDS Educ Prev. 2005;17(Supplement A):6–20.

Lancet T. HIV treatment as prevention—it works. New York: Elsevier; 2011.

Cohen MS, Chen YQ, McCauley M, Gamble T, Hosseinipour MC, Kumarasamy N, et al. Prevention of HIV-1 infection with early antiretroviral therapy. N Engl J Med. 2011;365(6):493–505.

Raja S, McKirnan D, Glick N. The treatment advocacy program-sinai: A peer-based HIV prevention intervention for working with African American HIV-infected persons. AIDS Behav. 2007;11(1):127–37.

Green HD, Atuyambe L, Ssali S, Ryan GW, Wagner GJ. Social networks of PLHA in Uganda: implications for mobilizing PLHA as agents for prevention. AIDS Behav. 2011;15(5):992–1002.

Ssali SN, Atuyambe L, Tumwine C, Segujja E, Nekesa N, Nannungi A, et al. Reasons for disclosure of HIV status by people living with HIV/AIDS and in HIV care in Uganda: an exploratory study. AIDS Patient Care STDs. 2010;24(10):675–81.

Tumwine C, Nannungi A, Ssegujja E, Nekesa N, Ssali S, Atuyambe L, et al. An exploratory study of HIV-prevention advocacy by persons in HIV care in Uganda. Afr J AIDS Res. 2011;10(4):427–33.

Tumwine C, Tumwesigye NM, Mugyenyi P, Wagner G. Psychosocial characterization of HIV clients with potential to be change agents for HIV prevention In Uganda. J Clin Res HIV AIDS Prev. 2012;1(1):3.

Ssali S, Wagner G, Tumwine C, Nannungi A, Green H. HIV clients as agents for prevention: a social network solution. AIDS Res Treat. 2012;2012(3):815823.

Rogers EM. Diffusion of innovations. 2nd ed. New York: Free Press; 1983.

Festinger L. A theory of cognitive dissonance. Stanford: Stanford University Press; 1957.

Broadhead RS, Heckathorn DD, Weakliem DL, Anthony DL, Madray H, Mills RJ, et al. Harnessing peer networks as an instrument for AIDS prevention: results from a peer-driven intervention. Public Health Rep. 1998;113(Suppl 1):42.

Kelly JA. Popular opinion leaders and HIV prevention peer education: resolving discrepant findings, and implications for the development of effective community programmes. AIDS Care. 2004;16(2):139–50.

Latkin CA, Sherman S, Knowlton A. HIV prevention among drug users: outcome of a network-oriented peer outreach intervention. Health Psychol. 2003;22(4):332.

Sikkema KJ, Kelly JA, Winett RA, Solomon LJ, Cargill VA, Roffman RA, et al. Outcomes of a randomized community-level HIV prevention intervention for women living in 18 low-income housing developments. Am J Public Health. 2000;90(1):57.

Hunter RF, de la Haye K, Murray JM, Badham J, Valente TW, Clarke M, et al. Social network interventions for health behaviours and outcomes: a systematic review and meta-analysis. PLoS Med. 2019;16(9):e1002890.

Roura M, Urassa M, Busza J, Mbata D, Wringe A, Zaba B. Scaling up stigma? The effects of antiretroviral roll-out on stigma and HIV testing. Early evidence from rural Tanzania. Sex Transm Infect. 2009;85(4):308–12.

Ministry of Health Uganda, ORC Macro. Uganda HIV/AIDS Sero-Behavioral Survey 2004–2005. Calverton: Ministry of Health Uganda, ORC Macro; 2006.

Goffman E. Stigma: notes on the management of spoiled identity. New York: Simon & Shuster; 1963.

National Forum of People Living with HIV/AIDS Networks in Uganda. The people living with HIV stigma index: Country assessment, Uganda. 2013 August 2013.

Bogart LM, Matovu JK, Wagner GJ, Green HD, Storholm ED, Klein DJ, et al. A pilot test of Game Changers, a social network intervention to empower people with HIV to be prevention advocates in Uganda. AIDS Behav. 2020;24:2490–508.

Wagner G, Bogart L, Klein D, Grenn H, Kambugu A, Nampiima J, et al. Examination of mediators and moderators to understand how and in what context Game Changers increases HIV prevention advocacy among persons living with HIV in Uganda. Int J Behav Med (in press).

Gilbert P. Compassion focused therapy: distinctive features. New York: Routledge/Taylor & Francis Group; 2010.

Gilbert P, Irons C. Focused therapies and compassionate mind training for shame and self-attacking compassion: conceptualisations. Research and use in psychotherapy. New York: . Routledge; 2005. p. 263–325.

Kolts RL. CFT made simple: a clinician's guide to practicing compassion-focused therapy. Oakland: New Harbinger Publications; 2016.

Gilbert P, Procter S. Compassionate mind training for people with high shame and self-criticism: overview and pilot study of a group therapy approach. Clin Psychol Psychother. 2006;13(6):353–79.

Bogart LM, Dale SK, Daffin GK, Patel KN, Klein DJ, Mayer KH, et al. Pilot intervention for discrimination-related coping among HIV-positive Black sexual minority men. Cult Divers Ethnic Minor Psychol. 2018;24(4):541.

EgoWeb 2.0. Computer software, http://egoweb.info.

Campbell K, Lee B. Name generators in surveys of personal networks. Soc Netw. 1991;13(3):203–21.

McCarty C. Measuring structure in personal networks. J Soc Struct. 2002;3:1.

McCarty C, Bernard H, Killworth P, Shelley GA, Johnsen EC. Eliciting representative samples of personal networks. Soc Netw. 1997;19(4):303–23.

Mustanski B, Birkett M, Kuhns LM, Latkin CA, Muth SQ. The role of geographic and network factors in racial disparities in HIV among young men who have sex with men: an egocentric network study. AIDS Behav. 2015;19(6):1037–47.

Fernandez-Rollan L, Stuardo AV, Strömdahl S. Correlates of condomless anal intercourse among men who have sex with men in Santiago de Chile. Int J STD AIDS. 2019;30(3):231–40.

Kalichman SC, Simbayi LC, Cloete A, Mthembu PP, Mkhonta RN, Ginindza T. Measuring AIDS stigmas in people living with HIV/AIDS: the Internalized AIDS-Related Stigma Scale. AIDS Care. 2009;21(1):87–93.

Wagner GJ, Ghosh-Dastidar B, Tebbetts S, Ballan E, Mutchler MG, Green H, et al. A pilot evaluation of "Tayf", a cultural adaptation of Mpowerment for young men who have sex with men (YMSM) in Beirut, Lebanon, and its effects on condomless sex and HIV testing. AIDS and Behavior. 2021. https://doi.org/10.1007/s10461-021-03424-4.

DeRose LF, Ezeh AC. Decision-making patterns and contraceptive use: evidence from Uganda. Popul Res Policy Rev. 2010;29(3):423–39.
Funding
This study was funded by the National Institute of Mental Health (R34 MH111460, P30 MH058107).
Ethics declarations
Conflict of interest
The authors declare that they have no conflict of interest.
Ethical Approval
Approval was obtained from the institutional review boards at the RAND Corporation and the Infectious Diseases Institute. The procedures used in this study adhere to the tenets of the Declaration of Helsinki.
Informed Consent
Informed consent was obtained from all individual participants included in the study. Consent to publication is not applicable.
Additional information
Publisher's Note
Springer Nature remains neutral with regard to jurisdictional claims in published maps and institutional affiliations.
About this article
Cite this article
Wagner, G.J., Bogart, L.M., Klein, D.J. et al. Association of Condom Use Advocacy with Perceived Condom Use Among Social Network Members: The Mediating Role of Advocates' Internalized HIV Stigma and Own Condom Use. AIDS Behav 26, 2485–2493 (2022). https://doi.org/10.1007/s10461-022-03601-z
Accepted:

Published:

Issue Date:

DOI: https://doi.org/10.1007/s10461-022-03601-z
Keywords
HIV

Prevention

Advocacy

Intervention

Mediation

Moderation