Abstract
Adolescents and young people aged 15–24 are underserved by available HIV-testing services (HTS). Delivering HTS through community-based, peer-led, hubs may prove acceptable and accessible to adolescents and young people, thus increasing HIV-testing coverage. We used data from the pilot phase of a cluster-randomised trial of community-based sexual and reproductive health services for adolescents and young people in Lusaka, Zambia, between September 2019 and January 2020, to explore factors associated with uptake of HTS through community-based hubs. 5,757 adolescents and young people attended the hubs (63% female), among whom 75% tested for HIV (76% of females, 75% of males). Community-based hubs provided HTS to 80% of adolescents and young people with no history of HIV-testing. Among females, uptake of HTS was lower among married/cohabiting females; among males, uptake was lower among unmarried males and among individuals at risk of hazardous alcohol use. The high number of adolescents and young people accessing hubs for HIV testing suggests they are acceptable. Enhanced targeting of HTS to groups who may not perceive their HIV risk needs to be implemented.
Access options
Buy single article
Instant access to the full article PDF.
USD 39.95
Price excludes VAT (USA)
Tax calculation will be finalised during checkout.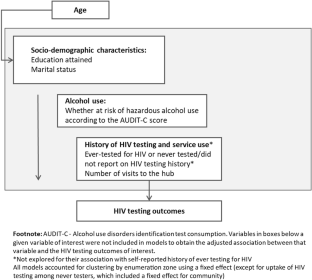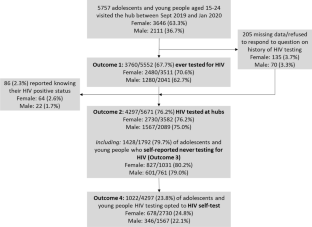 References
UNAIDS Data 2020. Geneva, Switzerland; 2020.

UNAIDS. Women and HIV: A spotlight on adolescent girls and young women [Internet]. Geneva, Switzerland; 2019. Available from: https://www.unaids.org/sites/default/files/media_asset/2019_women-and-hiv_en.pdf

ICAP. 2016 Preliminary Findings: Zambia Population-based HIV Impact Assessment (ZAMPHIA) 2015–2016.

Nkosi B, Seeley J, Ngwenya N, Mchunu SL, Gumede D, Ferguson J, et al. Exploring adolescents and young people's candidacy for utilising health services in a rural district, South Africa. BMC Health Serv Res. 2019. https://doi.org/10.1186/s12913-019-3960-1.

Chikwari CD, Dringus S, Ferrand RA. Barriers to, and emerging strategies for, HIV testing among adolescents in sub-Saharan Africa. Curr Opin HIV AIDS. 2018;13(3):257–64.

Govindasamy D, Ferrand RA, Wilmore SM, Ford N, Ahmed S, Afnan-Holmes H, et al. Uptake and yield of HIV testing and counselling among children and adolescents in sub-Saharan Africa: a systematic review. J Int AIDS Soc. 2015;18(1):20182.

Sam-Agudu NA, Folayan MO, Ezeanolue EE. Seeking wider access to HIV testing for adolescents in sub-Saharan Africa. Pediatr Res. 2016;79(6):838–45.

Kurth AE, Lally MA, Choko AT, Inwani IW, Fortenberry JD. HIV testing and linkage to services for youth. J Int AIDS Soc. 2015. https://doi.org/10.7448/IAS.18.2.19433.

UNAIDS. Parental consent is required in the majority of countries worldwide [Internet]. 2019 [cited 2020 Jun 9]. Available from: https://www.unaids.org/en/resources/presscentre/featurestories/2019/april/20190415_gow_parental-consent#:~:text=In 2017%2C 78 of 110,parental consent for HIV treatment.

Zanoni BC, Elliott RJ, Neilan AM, Haberer JE. Screening for HIV and linkage to care in adolescents: insights from a systematic review of recent interventions in high- versus low- and middle-income settings. Adolesc Health Med Ther. 2018;9:211–35.

Hayes R, Ayles H, Beyers N, Sabapathy K, Floyd S, Shanaube K, et al. HPTN 071 (PopART): Rationale and design of a cluster-randomised trial of the population impact of an HIV combination prevention intervention including universal testing and treatment – a study protocol for a cluster randomised trial. Trials. 2014. https://doi.org/10.1186/1745-6215-15-57.

Shanaube K, Schaap A, Chaila MJ, Floyd S, Mackworth-Young C, Hoddinott G, et al. Community intervention improves knowledge of HIV status of adolescents in Zambia: findings from HPTN 071-PopART for youth study. AIDS. 2017;31(Suppl 3):S221-32.

Shanaube K, Schaap A, Floyd S, Phiri M, Griffith S, Chaila J, et al. What works-reaching universal hiv testing: lessons from HPTN 071 (PopART) trial in Zambia. AIDS. 2017;31:1555–64.

Floyd S, Ayles H, Schaap A, Shanaube K, MacLeod D, Phiri M, et al. Towards 90–90: Findings after two years of the HPTN 071 (PopART) cluster-randomized trial of a universal testing-and-treatment intervention in Zambia. PLoS One. 2018;13(8):e0197904.

Simuyaba M, Hensen B, Phiri M, Chisanga M, Mwenge L, Kabumbu M. 2021 Engaging young people in the design of a sexual reproductive health intervention: Lessons learnt from the Yathu Yathu ("For us, by us") formative study in Zambia. BMC Health Serv Res.

National Guidelines for HIV Counselling and Testing. Lusaka, Zambia: Ministry of Health; 2006.

Bush K, Kivlahan DR, McDonell MB, Fihn SD, Bradley KA. The AUDIT alcohol consumption questions (AUDIT-C): an effective brief screening test for problem drinking. Arch Intern Med. 1998;158(16):1789–95.

Zambia Demographic and Health Survey 2018. Lusaka: MEASURE DHS; Central Statistical Office Lusaka, Zambia, Central Board of Health, Lusaka, Zambia; 2020.

Central Statistical Office, Ministry of Health and II. Zambia Demographic and Health Survey 2013–14. Rockville, Maryland, USA: CSO and Macro International Inc.; 2014.

Hensen B, Lewis JJ, Schaap A, Tembo M, Mutale W, Weiss HA, et al. Factors Associated with HIV-Testing and Acceptance of an Offer of Home-Based Testing by Men in Rural Zambia. AIDS Behav. 2014;19(3):492–504.

Venkatesh KK, Madiba P, De Bruyn G, Lurie MN, Coates TJ, Gray GE. Who gets tested for HIV in a South African urban township? Implications for test and treat and gender-based prevention interventions. J Acquir Immune Defic Syndr JAIDS. 2011;56(2):151–65.

Gage AJ, Ali D. Factors associated with self-reported HIV testing among men in Uganda. AIDS Care. 2005;17(2):153–65.

Rehm J, Probst C, Shield KD, Shuper PA. Does alcohol use have a causal effect on HIV incidence and disease progression? A review of the literature and a modeling strategy for quantifying the effect. Popul Health Metr. 2017;15(1):4.

Kamanga G, Brown L, Jawati P, Chiwanda D, Nyirenda N. Maximizing HIV partner notification opportunities for index patients and their sexual partners in Malawi. Malawi Med J. 2015;27(4):140–4.

Musheke M, Ntalasha H, Gari S, Mckenzie O, Bond V, Martin-Hilber A, et al. A systematic review of qualitative findings on factors enabling and deterring uptake of HIV testing in Sub-Saharan Africa. BMC Public Health. 2013;13(1):220.

Byamugisha R, Astrom A, Ndeezi G, Karamagi C, Tumwine J, Tylleskar T. A letter to the male partner increases antenatal attendance and HIV testing in eastern Uganda: Results from a randomized facility-based intervention trial. Acta Obstet Gynecol Scand. 2012;91:72–3.

Ostermann J, Reddy EA, Shorter MM, Muiruri C, Mtalo A, Itemba DK, et al. Who tests, who doesn't, and why? Uptake of mobile HIV counseling and testing in the Kilimanjaro Region of Tanzania. PLoS ONE. 2011;6(1):e16488.

Young SD, Hlavka Z, Modiba P, Gray G, Van Rooyen H, Richter L, et al. HIV-related stigma, social norms and HIV testing in Soweto and Vulindlela, South Africa: NIMH project accept (HPTN 043). J Acquir Immune Defic Syndr. 2010;55(5):620–4.

Mohlabane N, Tutshana B, Peltzer K, Mwisongo A. Barriers and facilitators associated with HIV testing uptake in South African health facilities offering HIV counselling and testing. Heal SA Gesondheid. 2016;21:86–95.

Indravudh PP, Sibanda EL, d'Elbée M, Kumwenda MK, Ringwald B, Maringwa G, et al. 'I will choose when to test, where I want to test': investigating young people's preferences for HIV self-testing in Malawi and Zimbabwe. AIDS. 2017;31(Suppl 3):S203-12.

Choko AT, MacPherson P, Webb EL, Willey BA, Feasy H, Sambakunsi R, et al. Uptake, accuracy, safety, and linkage into care over two years of promoting annual self-testing for HIV in Blantyre, Malawi: a community-based prospective study. PLOS Med. 2015. https://doi.org/10.1371/journal.pmed.1001873.

Mulubwa C, Hensen B, Phiri MM, Shanaube K, Schaap AJ, Floyd S, et al. Community based distribution of oral HIV self-testing kits in Zambia: a cluster-randomised trial nested in four HPTN 071 (PopART) intervention communities. Lancet HIV. 2019. https://doi.org/10.1016/S2352-3018(18)30258-3.

Bwalya C, Simwinga M, Hensen B, Gwanu L, Hang'andu A, Mulubwa C, , et al. Social response to the delivery of HIV self-testing in households: experiences from four Zambian HPTN 071 (PopART) urban communities. AIDS Res Ther. 2020. https://doi.org/10.1186/s12981-020-00287-y.

Shanaube K, Schaap A, Chaila MJ, Floyd S, Mackworth-Young C, Hoddinottb G, Hayes RJ, Fidler S, Ayles H, Team on behalf of the H 071 (PopART) S. Community intervention improves knowledge of HIV status of adolescents in Zambia: findings from HPTN 071-PopART for youth study (in print). AIDS. 2017. https://doi.org/10.1097/QAD.0000000000001530.

Floyd S, Phiri M, Schaap A, Macleod D, Shanaube K, Griffith S, et al. ART coverage after two years of a UTT intervention in Zambia: Findings from HPTN071. CROI. Seattle; 2017.

Maticka-Tyndale E, Barnett JP. Peer-led interventions to reduce HIV risk of youth: a review. Eval Program Plann. 2010;33(2):98–112.

Napierala Mavedzenge S, Doyle A, Ross D. HIV Prevention in Young People in Sub-Saharan Africa: A Systematic Review. J Adolesc Heal. 2011;49:568–86.
Acknowledgements
Sincere thanks to the study staff, study community leaders, and the study participants.
Funding
This work was supported by the UK Medical Research Council, the Department for International Development, and the National Institute for Health Research (Grant Number: MR/R022216/1).
Ethics declarations
Conflict of interest
The authors have no conflicts of interest to declare.
Ethical approval
The University of Zambia Biomedical Research Ethics Committee (007-04-19) and the London School of Hygiene and Tropical Medicine (17104) approved the study.
Consent to Participate and for Publication
Individuals aged 18 to 24 provided written informed consent to participate. For adolescents aged 15–17, parents/guardians provided written informed consent and adolescents written informed assent. Consent included consent to publication.
Additional information
Publisher's Note
Springer Nature remains neutral with regard to jurisdictional claims in published maps and institutional affiliations.
Supplementary Information
Below is the link to the electronic supplementary material.
About this article
Cite this article
Hensen, B., Phiri, M., Schaap, A. et al. Uptake of HIV Testing Services Through Novel Community-Based Sexual and Reproductive Health Services: An Analysis of the Pilot Implementation Phase of the Yathu Yathu Intervention for Adolescents and Young People Aged 15–24 in Lusaka, Zambia. AIDS Behav 26, 172–182 (2022). https://doi.org/10.1007/s10461-021-03368-9
Accepted:

Published:

Issue Date:

DOI: https://doi.org/10.1007/s10461-021-03368-9
Keywords
HIV testing

HIV infection

Adolescents and young people

Zambia