Abstract
Once daily tenofovir/emtricitabine when used for pre-exposure prophylaxis (PrEP) is effective in preventing HIV acquisition but requires consistent medication adherence. The use of ingestible technologies to monitor PrEP adherence can assist in understanding the impact of behavioral interventions. Digital pill systems (DPS) utilize an ingestible radiofrequency emitter integrated onto a gelatin capsule, which permits direct, real-time measurement of medication adherence. DPS monitoring may lead to discovery of nascent episodes of PrEP nonadherence and allow delivery of interventions that prevent the onset of sustained nonadherence. Yet, the acceptance and potential use of DPS in high-risk men who have sex with men (MSM; i.e., those who engage in condomless sex and use substances) is unknown. In this investigation, we conducted individual, semi-structured qualitative interviews with 30 MSM with self-reported non-alcohol substance use to understand their responses to the DPS, willingness and perceived barriers to its use, and their perceptions of its potential utility. We also sought to describe how MSM would potentially interact with a messaging system integrated into the DPS. We identified major themes around improved confidence of PrEP adherence patterns, safety of ingestible radiofrequency sensors, and design optimization of the DPS. They also expressed willingness to interact with messaging contingent on DPS recorded ingestion patterns. These data demonstrate that MSM who use substances find the DPS to be an acceptable method to measure and record PrEP adherence.
Access options
Buy single article
Instant access to the full article PDF.
USD 39.95
Price excludes VAT (USA)
Tax calculation will be finalised during checkout.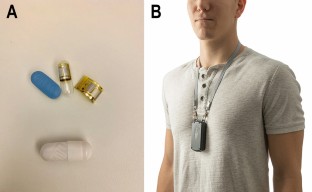 References
Anderson PL, Glidden DV, Liu A, Buchbinder S, Lama JR, Guanira JV, et al. Emtricitabine-tenofovir exposure and pre-exposure prophylaxis efficacy in men who have sex with men. Sci Transl Med. 2012;4(151):151ra125-151ra125.

Doblecki-Lewis S, Cohen S, Liu A. Clinical treatment options infectious diseases: update on PrEP implementation, adherence, and advances in delivery. Curr Treat Options Infect Dis. 2015;7(2):101–12.

Baeten JM, Donnell D, Ndase P, Mugo NR, Campbell JD, Wangisi J, et al. Antiretroviral prophylaxis for HIV prevention in heterosexual men and women. N Engl J Med. 2012;367(5):399–410.

Grant RM, Lama JR, Anderson PL, McMahan V, Liu AY, Vargas L, et al. Preexposure chemoprophylaxis for HIV prevention in men who have sex with men. N Engl J Med. 2010;363(27):2587–99.

Marrazzo JM, Ramjee G, Richardson BA, Gomez K, Mgodi N, Nair G, et al. Tenofovir-based preexposure prophylaxis for HIV infection among African women. N Engl J Med. 2015;372(6):509–18.

Mayer KH, Safren S, Haberer J, Elsesser S, Clarke W, Hendrix CW, et al. Project PrEPARE: high levels of medication adherence with continued condomless sex in U.S. men who have sex with men in an oral PrEP adherence trial. AIDS Res Hum Retroviruses. 2014;30(S1):A23–4.

Van Damme L, Corneli A, Ahmed K, Agot K, Lombaard J, Kapiga S, et al. Preexposure prophylaxis for HIV infection among African women. N Engl J Med. 2012;367(5):411–22.

Haberer JE. Current concepts for PrEP adherence in the PrEP revolution: from clinical trials to routine practice. Curr Opin HIV AIDS. 2016;11(1):10–7.

Grant RM, Anderson PL, McMahan V, Liu A, Amico KR, Mehrotra M, et al. Uptake of pre-exposure prophylaxis, sexual practices, and HIV incidence in men and transgender women who have sex with men: a cohort study. Lancet Infect Dis. 2014;14(9):820–9.

Liu AY, Cohen SE, Vittinghoff E, Anderson PL, Doblecki-Lewis S, Bacon O, et al. Preexposure prophylaxis for HIV infection integrated with municipal- and community-based sexual health services. JAMA Intern Med. 2016;176(1):75.

Spinelli M, Haberer J, Chai P, Castillo-Mancilla J, Anderson P, Gandhi M. Approaches to objectively measure antiretroviral medication adherence and drive adherence interventions. Curr HIV/AIDS Rep. 2020. https://doi.org/10.1007/s11904-020-00502-5In press.

Castillo-Mancilla JR, Haberer JE. Adherence measurements in HIV: new advancements in pharmacologic methods and real-time monitoring. Curr HIV/AIDS Rep. 2018;15(1):49–59.

Stirratt MJ, Dunbar-Jacob J, Crane HM, Simoni JM, Czajkowski S, Hilliard ME, et al. Self-report measures of medication adherence behavior: recommendations on optimal use. Transl Behav Med. 2015;5(4):470–82.

Chai PR, Castillo-Mancilla J, Buffkin E, Darling C, Rosen RK, Horvath KJ, et al. Utilizing an ingestible biosensor to assess real-time medication adherence. J Med Toxicol. 2015;11(4):439–44.

El Alili M, Vrijens B, Demonceau J, Evers SM, Hiligsmann M. A scoping review of studies comparing the medication event monitoring system (MEMS) with alternative methods for measuring medication adherence. Br J Clin Pharmacol. 2016;82(1):268–79.

Baxi SM, Liu A, Bacchetti P, Mutua G, Sanders EJ, Kibengo FM, et al. Comparing the novel method of assessing PrEP adherence/exposure using hair samples to other pharmacologic and traditional measures. JAIDS J Acquir Immune Defic Syndr. 2015;68(1):13–20.

Garrison LE, Haberer JE. Technological methods to measure adherence to antiretroviral therapy and preexposure prophylaxis. Curr Opin HIV AIDS. 2017;12(5):467–74.

Haberer JE, Bangsberg DR, Baeten JM, Curran K, Koechlin F, Amico KR, et al. Defining success with HIV pre-exposure prophylaxis: a prevention-effective adherence paradigm. AIDS. 2015;29(11):1277–85.

Chai P, Rosen R, Boyer E. Ingestible biosensors for real-time medical adherence monitoring: MyTMed. Proceedings of the annual Hawaii international conference on system science. 2016;3416–23.

Vallejos X, Wu C. Digital medicine: innovative drug-device combination as new measure of medication adherence. J Pharm Technol. 2017;33(4):137–9.

Hill LM, Golin CE, Pack A, Carda-Auten J, Wallace DD, Cherkur S, et al. Using real-time adherence feedback to enhance communication about adherence to antiretroviral therapy: patient and clinician perspectives. J Assoc Nurses AIDS Care. 2020;31(1):25–34.

Daar ES, Rosen MI, Wang Y, Siqueiros L, Shen J, Guerrero M, et al. Real-time and wireless assessment of adherence to antiretroviral therapy with co-encapsulated ingestion sensor in HIV-infected patients: a pilot study. Clin Transl Sci. 2020;13(1):189–94.

Chai PR, Carreiro S, Innes BJ, Rosen RK, O'Cleirigh C, Mayer KH, et al. Digital pills to measure opioid ingestion patterns in emergency department patients with acute fracture pain: a pilot study. J Med Internet Res. 2017;19(1):e19.

Chai PR, Carreiro S, Innes BJ, Chapman B, Schreiber KL, Edwards RR, et al. Oxycodone ingestion patterns in acute fracture pain with digital pills. Anesth Analg. 2017;125(6):2105–12.

Carreiro S, Smelson D, Ranney M, Horvath KJ, Picard RW, Boudreaux ED, et al. Real-time mobile detection of drug use with wearable biosensors: a pilot study. J Med Toxicol. 2015;11(1):73–9.

Liu H, Daar E, Wang Y, Siqueiros L, Campbell K, Shen J, et al. Pharmacokinetics of coencapsulated antiretrovirals with ingestible sensors. AIDS Res Hum Retroviruses. 2020;36(1):65–74.

Chai PR, Pereira LM, Jambaulikar GD, Carrico AW, O'Cleirigh C, Mayer KH, et al. Short communication: bioequivalence of tenofovir component of tenofovir/rilpivirine/emtricitabine in digital pills. AIDS Res Hum Retroviruses. 2019;35(4):361–3.

Carey JW, Mejia R, Bingham T, Ciesielski C, Gelaude D, Herbst JH, et al. Drug use, high-risk sex behaviors, and increased risk for recent HIV infection among men who have sex with men in Chicago and Los Angeles. AIDS Behav. 2009;13(6):1084–96.

Ostrow DG, Plankey MW, Cox C, Li X, Shoptaw S, Jacobson LP, et al. Specific sex drug combinations contribute to the majority of recent HIV seroconversions among MSM in the MACS. JAIDS J Acquir Immune Defic Syndr. 2009;51(3):349–55.

Santos G-M, Coffin PO, Das M, Matheson T, DeMicco E, Raiford JL, et al. Dose-response associations between number and frequency of substance use and high-risk sexual behaviors among HIV-negative substance-using men who have sex with men (SUMSM) in San Francisco. JAIDS J Acquir Immune Defic Syndr. 2013;63(4):540–4.

Freeman P. Methamphetamine use and risk for HIV among young men who have sex with men in 8 US cities. Arch Pediatr Adolesc Med. 2011;165(8):736.

Hoenigl M, Chaillon A, Moore DJ, Morris SR, Smith DM, Little SJ. Clear links between starting methamphetamine and increasing sexual risk behavior: a cohort study among men who have sex with men. JAIDS J Acquir Immune Defic Syndr. 2016;71(5):551–7.

Hoenigl M, Chaillon A, Morris SR, Little SJ. HIV infection rates and risk behavior among young men undergoing community-based testing in San Diego. Sci Rep. 2016;6(1):25927.

Vosburgh HW, Mansergh G, Sullivan PS, Purcell DW. A review of the literature on event-level substance use and sexual risk behavior among men who have sex with men. AIDS Behav. 2012;16(6):1394–410.

Grov C, Rendina HJ, John SA, Parsons JT. Determining the roles that club drugs, marijuana, and heavy drinking play in PrEP medication adherence among gay and bisexual men: implications for treatment and research. AIDS Behav. 2019;23(5):1277–86.

Hambrick HR, Park SH, Schneider JA, Mayer KH, Carrico AW, Sherman SE, et al. Poppers and PrEP: use of pre-exposure prophylaxis among men who have sex with men who use inhaled nitrites. AIDS Behav. 2018;22(11):3658–72.

Pew Research Center. Internet & Technology Mobile Fact Sheet [Internet]. 2019. https://www.pewresearch.org/internet/fact-sheet/mobile/. Accessed 24 Aug 2020.

Davis FD. Perceived usefulness, perceived ease of use, and user acceptance of information technology. MIS Q. 1989;13(3):319–40.

Tong A, Sainsbury P, Craig J. Consolidated criteria for reporting qualitative research (COREQ): a 32-item checklist for interviews and focus groups. Int J Qual Health Care. 2007;19(6):349–57.

Braun V, Clarke V. Using thematic analysis in psychology. Qual Res Psychol. 2006;3(2):77–101.

Guest G, MacQueen K, Namey E. Applied thematic analysis. Thousand Oaks: SAGE Publications, Inc.; 2011.

QSR International. NVivo software. 2018.

Ando H, Cousins R, Young C. Achieving saturation in thematic analysis: development and refinement of a codebook. Compr Psychol. 2014;3:03.CP.3.4.

Joint United Nations Programme on HIV/AIDS (UNAIDS). Getting to zero: 2011–2015 strategy [Internet]. Joint United Nations Programme on HIV/AIDS (UNAIDS); 2010. https://www.unaids.org/sites/default/files/sub_landing/files/JC2034_UNAIDS_Strategy_en.pdf.

etectRx®, Inc. etectRx Announces U.S. FDA Clearance of Novel Ingestible Event Marker [Internet]. 2019. https://etectrx.com/etectrx-announces-u-s-fda-clearance-of-novel-ingestible-event-marker/.

Antoni G, Tremblay C, Delaugerre C, Charreau I, Cua E, Rojas Castro D, et al. On-demand pre-exposure prophylaxis with tenofovir disoproxil fumarate plus emtricitabine among men who have sex with men with less frequent sexual intercourse: a post hoc analysis of the ANRS IPERGAY trial. Lancet HIV. 2020;7(2):e113–20.

Parienti J-J. On-demand PrEP efficacy: forgiveness or timely dosing. Lancet HIV. 2020;7(2):e79–80.

Molina J-M, Charreau I, Spire B, Cotte L, Chas J, Capitant C, et al. Efficacy, safety, and effect on sexual behaviour of on-demand pre-exposure prophylaxis for HIV in men who have sex with men: an observational cohort study. Lancet HIV. 2017;4(9):e402–10.

Shrier LA, Koren S, Aneja P, de Moor C. Affect regulation, social context, and sexual intercourse in adolescents. Arch Sex Behav. 2010;39(3):695–705.

Smiley SL, Milburn NG, Nyhan K, Taggart T. A systematic review of recent methodological approaches for using ecological momentary assessment to examine outcomes in U.S. based HIV research. Curr HIV/AIDS Rep. 2020;17(4):333–42.

Hensel DJ, Fortenberry JD, Harezlak J, Craig D. The feasibility of cell phone based electronic diaries for STI/HIV research. BMC Med Res Methodol. 2012;12(1):75.

Dworkin MS, Panchal P, Wiebel W, Garofalo R, Haberer JE, Jimenez A. A triaged real-time alert intervention to improve antiretroviral therapy adherence among young African American men who have sex with men living with HIV: focus group findings. BMC Public Health. 2019;19(1):394.

Sabin LL, Bachman DeSilva M, Gill CJ, Zhong L, Vian T, Xie W, et al. Improving adherence to antiretroviral therapy with triggered real-time text message reminders: the China adherence through technology study. JAIDS J Acquir Immune Defic Syndr. 2015;69(5):551–9.
Funding
PRC is funded by NIH K23DA044874, R44DA051106 and research funding from Gilead Sciences (ISR-17-1018), Hans and Mavis Psychosocial Foundation and e-ink corporation, KM and CO are funded by NIAID P30AI060354, EWB and RKR are funded by NIH R01DA047236.
Ethics declarations
Conflict of interest
This study was funded through unrestricted research funds through the ISR program at Gilead Sciences.
Additional information
Publisher's Note
Springer Nature remains neutral with regard to jurisdictional claims in published maps and institutional affiliations.
Electronic supplementary material
Below is the link to the electronic supplementary material.
About this article
Cite this article
Chai, P.R., Goodman, G., Bustamante, M. et al. Design and Delivery of Real-Time Adherence Data to Men Who Have Sex with Men Using Antiretroviral Pre-exposure Prophylaxis via an Ingestible Electronic Sensor. AIDS Behav 25, 1661–1674 (2021). https://doi.org/10.1007/s10461-020-03082-y
Accepted:

Published:

Issue Date:

DOI: https://doi.org/10.1007/s10461-020-03082-y
Keywords