Abstract
Alcohol use contributes to the progression of liver disease in HIV–HCV co-infected persons, but alcohol interventions have never addressed low levels of alcohol use in this population. We enrolled 110 persons consuming at least 4 alcoholic drinks weekly in a clinical trial comparing two active 18-month long interventions, delivered every 3 months by phone, brief advice about drinking versus a motivational intervention. Final assessment was at 24 months. MI had larger reductions in alcohol use days than the BA arm at all follow-up assessments. The treatment by time effect was not significant for days of drinking (p = 0.470), mean drinks per day (p = 0.155), or for the continuous FIB-4 index (p = 0.175). Drinking declined in both conditions from baseline, but given the small sample, we do not have sufficient data to make any conclusion that one treatment is superior to the other.
Trial Registry Trial registered at clinicaltrials.gov; Clinical Trial NCT02316184.
Access options
Buy single article
Instant access to the full article PDF.
USD 39.95
Price excludes VAT (USA)
Tax calculation will be finalised during checkout.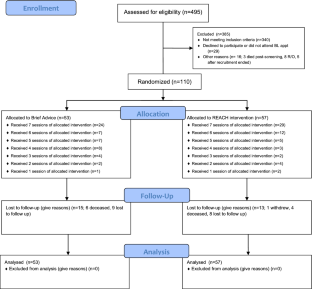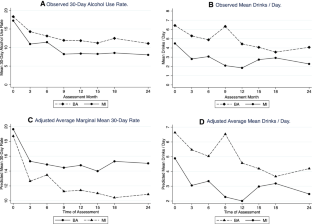 References
Basseri B, Yamini D, Chee G, Enayati PD, Tran T, Poordad F. Comorbidities associated with the increasing burden of hepatitis C infection. Liver Int. 2010;30(7):1012–8.

Bica I, McGovern B, Dhar R, Stone D, McGowan K, Scheib R, et al. Increasing mortality due to end-stage liver disease in patients with human immunodeficiency virus infection. Clin Infect Dis. 2001;32(3):492–7.

Bonacini M. Alcohol use among patients with HIV infection. Ann Hepatol. 2011;10(4):502–7.

Egger M, May M, Chene G, Phillips AN, Ledergerber B, Dabis F, et al. Prognosis of HIV-1-infected patients starting highly active antiretroviral therapy: a collaborative analysis of prospective studies. Lancet. 2002;360(9327):119–29.

Ledergerber B, Egger M, Opravil M, Telenti A, Hirschel B, Battegay M, et al. Clinical progression and virological failure on highly active antiretroviral therapy in HIV-1 patients: a prospective cohort study. Swiss HIV Cohort Study Lancet. 1999;353(9156):863–8.

May MT, Sterne JA, Costagliola D, Sabin CA, Phillips AN, Justice AC, et al. HIV treatment response and prognosis in Europe and North America in the first decade of highly active antiretroviral therapy: a collaborative analysis. Lancet. 2006;368(9534):451–8.

Obel N, Omland LH, Kronborg G, Larsen CS, Pedersen C, Pedersen G, et al. Impact of non-HIV and HIV risk factors on survival in HIV-infected patients on HAART: a population-based nationwide cohort study. PLoS ONE. 2011;6(7):e22698.

Rosenthal E, Salmon-Ceron D, Lewden C, Bouteloup V, Pialoux G, Bonnet F, et al. Liver-related deaths in HIV-infected patients between 1995 and 2005 in the French GERMIVIC Joint Study Group Network (Mortavic 2005 study in collaboration with the Mortalite 2005 survey, ANRS EN19). HIV Med. 2009;10(5):282–9.

Weber R, Sabin CA, Friis-Moller N, Reiss P, El-Sadr WM, Kirk O, et al. Liver-related deaths in persons infected with the human immunodeficiency virus: the D:A: D study. Arch Intern Med. 2006;166(15):1632–41.

Hutchinson SJ, Bird SM, Goldberg DJ. Influence of alcohol on the progression of hepatitis C virus infection: a meta-analysis. Clin Gastroenterol Hepatol. 2005;3(11):1150–9.

Peters MG, Terrault NA. Alcohol use and hepatitis C. Hepatology. 2002;36(5 Suppl 1):S220–S22525.

Schiff ER, Ozden N. Hepatitis C and alcohol. Alcohol Res Health. 2003;27(3):232–9.

Siu L, Foont J, Wands JR. Hepatitis C virus and alcohol. Semin Liver Dis. 2009;29(2):188–99.

Thein HH, Yi Q, Dore GJ, Krahn MD. Natural history of hepatitis C virus infection in HIV-infected individuals and the impact of HIV in the era of highly active antiretroviral therapy: a meta-analysis. AIDS. 2008;22(15):1979–91.

Ferguson TF, Rosen E, Carr R, Brashear M, Simon L, Theall KP, et al. Associations of liver disease with alcohol use among people living with HIV and the role of hepatitis C: the New Orleans alcohol use in HIV study. Alcohol Alcohol. 2020;55(1):28–36.

Thimme R, Bukh J, Spangenberg HC, Wieland S, Pemberton J, Steiger C, et al. Viral and immunological determinants of hepatitis C virus clearance, persistence, and disease. Proc Natl Acad Sci USA. 2002;99(24):15661–8.

McCartney EM, Beard MR. Impact of alcohol on hepatitis C virus replication and interferon signaling. World J Gastroenterol. 2010;16(11):1337–433.

Seronello S, Ito C, Wakita T, Choi J. Ethanol enhances hepatitis C virus replication through lipid metabolism and elevated NADH/NAD+. J Biol Chem. 2010;285(2):845–54.

Bellentani S, Saccoccio G, Costa G, Tiribelli C, Manenti F, Sodde M, et al. Drinking habits as cofactors of risk for alcohol induced liver damage. The Dionysos Study Group. Gut. 1997;41(6):845–50.

Castellano-Higuera A, Gonzalez-Reimers E, Aleman-Valls MR, Abreu-Gonzalez P, Santolaria-Fernandez F, De La Vega-Prieto MJ, et al. Cytokines and lipid peroxidation in alcoholics with chronic hepatitis C virus infection. Alcohol Alcohol. 2008;43(2):137–42.

American Association for the Study of Liver Diseases. HCV Guidance: Recommendations for Testing, Managing, and Treating Hepatitis C; https://www.hcvguidelines.org/ [

Ghany MG, Strader DB, Thomas DL, Seeff LB, American Association for the Study of Liver D. Diagnosis, management, and treatment of hepatitis C: an update. Hepatology. 2009;49(4):1335–744.

Armstrong GL, Wasley A, Simard EP, McQuillan GM, Kuhnert WL, Alter MJ. The prevalence of hepatitis C virus infection in the United States, 1999 through 2002. Ann Intern Med. 2006;144(10):705–14.

Galvan FH, Bing EG, Fleishman JA, London AS, Caetano R, Burnam MA, et al. The prevalence of alcohol consumption and heavy drinking among people with HIV in the United States: results from the HIV Cost and Services Utilization Study. J Stud Alcohol. 2002;63(2):179–86.

Stoller EP, Hund AJ, Webster NJ, Blixen CE, Perzynski AT, McCormick RA, et al. Alcohol consumption within the context of hepatitis C: a qualitative study of non-problematic drinkers. Alcohol Alcohol. 2006;41(5):546–52.

Crane HM, McCaul ME, Chander G, Hutton H, Nance RM, Delaney JAC, et al. Prevalence and factors associated with hazardous alcohol use among persons living with HIV across the US in the current era of antiretroviral treatment. AIDS Behav. 2017;21(7):1914–25.

Kahler CW, Liu T, Cioe PA, Bryant V, Pinkston MM, Kojic EM, et al. Direct and indirect effects of heavy alcohol use on clinical outcomes in a longitudinal study of HIV patients on ART. AIDS Behav. 2017;21(7):1825–35.

Hartzler B, Dombrowski JC, Crane HM, Eron JJ, Geng EH, Christopher Mathews W, et al. Prevalence and predictors of substance use disorders among HIV care enrollees in the United States. AIDS Behav. 2017;21(4):1138–48.

Cheung RC. Epidemiology of hepatitis C virus infection in American veterans. Am J Gastroenterol. 2000;95(3):740–7.

Fireman M, Indest DW, Blackwell A, Whitehead AJ, Hauser P. Addressing tri-morbidity (hepatitis C, psychiatric disorders, and substance use): the importance of routine mental health screening as a component of a comanagement model of care. Clin Infect Dis. 2005;40(Suppl 5):S286–S291291.

Muir AJ, Provenzale D. A descriptive evaluation of eligibility for therapy among veterans with chronic hepatitis C virus infection. J Clin Gastroenterol. 2002;34(3):268–71.

Chander G, Josephs J, Fleishman JA, Korthuis PT, Gaist P, Hellinger J, et al. Alcohol use among HIV-infected persons in care: results of a multi-site survey. HIV Med. 2008;9(4):196–202.

Chander G, Lau B, Moore RD. Hazardous alcohol use: a risk factor for non-adherence and lack of suppression in HIV infection. J Acquir Immune Defic Syndr. 2006;43(4):411–7.

Conen A, Fehr J, Glass TR, Furrer H, Weber R, Vernazza P, et al. Self-reported alcohol consumption and its association with adherence and outcome of antiretroviral therapy in the Swiss HIV Cohort Study. Antiviral Ther. 2009;14(3):349–57.

Cook RL, Sereika SM, Hunt SC, Woodward WC, Erlen JA, Conigliaro J. Problem drinking and medication adherence among persons with HIV infection. J Gen Intern Med. 2001;16(2):83–8.

Justice AC, Lasky E, McGinnis KA, Skanderson M, Conigliaro J, Fultz SL, et al. Medical disease and alcohol use among veterans with human immunodeficiency infection: a comparison of disease measurement strategies. Med Care. 2006;44(8 Suppl 2):S52–60.

Samet JH, Cheng DM, Libman H, Nunes DP, Alperen JK, Saitz R. Alcohol consumption and HIV disease progression. J Acquir Immune Defic Syndr. 2007;46(2):194–9.

Scott-Sheldon LAJ, Carey KB, Johnson BT, Carey MP. Behavioral interventions targeting alcohol use among people living with HIV/AIDS: a systematic review and meta-analysis. AIDS Behav. 2017;21(Suppl 2):126–43.

Hasin DS, Aharonovich E, O'Leary A, Greenstein E, Pavlicova M, Arunajadai S, et al. Reducing heavy drinking in HIV primary care: a randomized trial of brief intervention, with and without technological enhancement. Addiction. 2013;108(7):1230–40.

Chander G, Hutton HE, Lau B, Xu X, McCaul ME. Brief intervention decreases drinking frequency in HIV-infected, heavy drinking women: results of a randomized controlled trial. J Acquir Immune Defic Syndr. 2015;70(2):137–45.

Kahler CW, Pantalone DW, Mastroleo NR, Liu T, Bove G, Ramratnam B, et al. Motivational interviewing with personalized feedback to reduce alcohol use in HIV-infected men who have sex with men: a randomized controlled trial. J Consult Clin Psychol. 2018;86(8):645–56.

Satre DD, Leibowitz AS, Leyden W, Catz SL, Hare CB, Jang H, et al. Interventions to reduce unhealthy alcohol use among primary care patients with HIV: the health and motivation randomized clinical trial. J Gen Intern Med. 2019;34(10):2054–61.

Proeschold-Bell RJ, Evon DM, Yao J, Niedzwiecki D, Makarushka C, Keefe KA, et al. A randomized controlled trial of an integrated alcohol reduction intervention in patients with hepatitis C infection. Hepatology. 2020;71(6):1894–909.

Ballesteros J, Duffy JC, Querejeta I, Arino J, Gonzalez-Pinto A. Efficacy of brief interventions for hazardous drinkers in primary care: systematic review and meta-analyses. Alcohol Clin Exp Res. 2004;28(4):608–18.

Bertholet N, Daeppen JB, Wietlisbach V, Fleming M, Burnand B. Reduction of alcohol consumption by brief alcohol intervention in primary care: systematic review and meta-analysis. Arch Intern Med. 2005;165(9):986–95.

Moyer A, Finney JW, Swearingen CE, Vergun P. Brief interventions for alcohol problems: a meta-analytic review of controlled investigations in treatment-seeking and non-treatment-seeking populations. Addiction. 2002;97(3):279–92.

Whitlock EP, Polen MR, Green CA, Orleans T, Klein J. Behavioral counseling interventions in primary care to reduce risky/harmful alcohol use by adults: a summary of the evidence for the U.S. Preventive Services Task Force. Ann Intern Med. 2004;140(7):557–68.

Saunders JB, Lee NK. Hazardous alcohol use: its delineation as a subthreshold disorder, and approaches to its diagnosis and management. Compr Psychiatry. 2000;41(2 Suppl 1):95–103.

Kaner EF, Beyer F, Dickinson HO, Pienaar E, Campbell F, Schlesinger C, et al. Effectiveness of brief alcohol interventions in primary care populations. Cochrane Database Syst Rev. 2007;2:4148.

Stein MD, Weinstock MC, Herman DS, Anderson BJ, Anthony JL, Niaura R. A smoking cessation intervention for the methadone-maintained. Addiction. 2006;101(4):599–607.

Moyers T, Manuel JK, Ernst D. Motivational Interviewing Treatment Integrity Coding Manual 4.1. Unpublished Manual. 2014.

McLellan AT, Luborsky L, Woody GE, O'Brien CP. An improved diagnostic evaluation instrument for substance abuse patients. The Addiction Severity Index. J Nerv Mental Dis. 1980;168(1):26–33.

Sobell L, Sobell M. Timeline Followback user's guide: a calendar method for assessing alcohol and drug use. Toronto: Addiction Research Foundation; 1996.

Sterling RK, Lissen E, Clumeck N, Sola R, Correa MC, Montaner J, et al. Development of a simple noninvasive index to predict significant fibrosis in patients with HIV/HCV coinfection. Hepatology. 2006;43(6):1317–25.

Raftery AE. Bayesian model selection in social research. Sociol Methodol. 1995;25:111–63.

Babor TF, McRee BG, Kassebaum PA, Grimaldi PL, Ahmed K, Bray J. Screening, Brief Intervention, and Referral to Treatment (SBIRT): toward a public health approach to the management of substance abuse. Subst Abus. 2007;28(3):7–30.

Aalto M, Saksanen R, Laine P, Forsstrom R, Raikaa M, Kiviluoto M, et al. Brief intervention for female heavy drinkers in routine general practice: a 3-year randomized, controlled study. Alcohol Clin Exp Res. 2000;24(11):1680–6.

Aalto M, Seppa K, Mattila P, Mustonen H, Ruuth K, Hyvarinen H, et al. Brief intervention for male heavy drinkers in routine general practice: a three-year randomized controlled study. Alcohol Alcohol. 2001;36(3):224–30.

Kaner E, Bland M, Cassidy P, Coulton S, Dale V, Deluca P, et al. Effectiveness of screening and brief alcohol intervention in primary care (SIPS trial): pragmatic cluster randomised controlled trial. BMJ. 2013;346:e8501.

Edwards AG, Rollnick S. Outcome studies of brief alcohol intervention in general practice: the problem of lost subjects. Addiction. 1997;92(12):1699–704.

Jonas DE, Garbutt JC, Amick HR, Brown JM, Brownley KA, Council CL, et al. Behavioral counseling after screening for alcohol misuse in primary care: a systematic review and meta-analysis for the U.S. Preventive Services Task Force. Ann Intern Med. 2012;157(9):645–54.

McKay J. Is there a case for extended interventions for alcohol and drug use disorders? Addiction. 2005;100(11):1594–610.

DeLorenze GN, Weisner C, Tsai AL, Satre DD, Quesenberry CP Jr. Excess mortality among HIV-infected patients diagnosed with substance use dependence or abuse receiving care in a fully integrated medical care program. Alcohol Clin Exp Res. 2011;35(2):203–10.

Shuper PA, Joharchi N, Irving H, Rehm J. Alcohol as a correlate of unprotected sexual behavior among people living with HIV/AIDS: review and meta-analysis. AIDS Behav. 2009;13(6):1021–36.

Williams EC, McGinnis KA, Edelman EJ, Matson TE, Gordon AJ, Marshall BDL, et al. Level of alcohol use associated with HIV care continuum targets in a national US sample of persons living with HIV receiving healthcare. AIDS Behav. 2019;23(1):140–51.

Metsch LR, Pereyra M, Colfax G, Dawson-Rose C, Cardenas G, McKirnan D, et al. HIV-positive patients' discussion of alcohol use with their HIV primary care providers. Drug Alcohol Depend. 2008;95(1–2):37–44.

Strauss SM, Munoz-Plaza CE, Tiburcio NJ, Gwadz M. Barriers and facilitators in implementing "prevention for positives" alcohol-reduction support: the perspectives of directors and providers in hospital-based HIV care centers. J Assoc Nurs AIDS Care. 2012;23(1):30–40.

Strauss SM, Tiburcio NJ, Munoz-Plaza C, Gwadz M, Lunievicz J, Osborne A, et al. HIV care providers' implementation of routine alcohol reduction support for their patients. AIDS Patient Care STDs. 2009;23(3):211–8.

Aharonovich E, Hatzenbuehler ML, Johnston B, O'Leary A, Morgenstern J, Wainberg ML, et al. A low-cost, sustainable intervention for drinking reduction in the HIV primary care setting. AIDS Care. 2006;18(6):561–8.

Armstrong ML, LaPlante AM, Altice FL, Copenhaver M, Molina PE. Advancing behavioral HIV prevention: adapting an evidence-based intervention for people living with HIV and alcohol use disorders. AIDS Res Treat. 2015;2015:879052.

Miller WR, Baca C, Compton WM, Ernst D, Manuel JK, Pringle B, et al. Addressing substance abuse in health care settings. Alcohol Clin Exp Res. 2006;30(2):292–302.

Saitz R. Alcohol screening and brief intervention in primary care: absence of evidence for efficacy in people with dependence or very heavy drinking. Drug Alcohol Rev. 2010;29(6):631–40.
Funding
This study was funded by the National Institutes of Health RO1 AA023726.
Ethics declarations
Conflict of interest
Dr. Stein received $7000 from Alkermes, Inc to review grants for the Young Investigator Research Program.
Ethical Approval
The questionnaires, interventions, and methodology for this study were approved by the Institutional Review Boards of the funding site and each recruitment site.
Informed Consent
Informed consent was obtained from all individual participants included in the study.
Additional information
Publisher's Note
Springer Nature remains neutral with regard to jurisdictional claims in published maps and institutional affiliations.
About this article
Cite this article
Stein, M.D., Herman, D.S., Kim, H.N. et al. A Randomized Trial Comparing Brief Advice and Motivational Interviewing for Persons with HIV–HCV Co-infection Who Drink Alcohol. AIDS Behav 25, 1013–1025 (2021). https://doi.org/10.1007/s10461-020-03062-2
Accepted:

Published:

Issue Date:

DOI: https://doi.org/10.1007/s10461-020-03062-2
Keywords
HIV–HCV co-infection

Alcohol use

FIB-4

Motivational intervention

Brief advice