Abstract
Psychological reactance is an aversive response to perceived threats against personal agency. For adolescents receiving HIV treatment in Botswana, we utilized a two-question, medication-specific reactance tool to assess whether: (1) verbal reminders to take medicines made adolescents want to avoid taking them, and, (2) whether adolescents felt anger when reminded to take medicines. Reactant adolescents had 2.05-fold (95% CI 1.23, 3.41) greater odds of treatment failure than non-reactant adolescents (p = 0.03). Adjusted risk of treatment failure was 14% (95% CI 3%, 28%) greater for each point elevation in reactance score (p = 0.016). Autonomy over medication-taking did not modify the association between reactance and treatment failure. Psychological reactance may be a useful interventional target for improving adolescent adherence.
Access options
Buy single article
Instant access to the full article PDF.
USD 39.95
Price excludes VAT (USA)
Tax calculation will be finalised during checkout.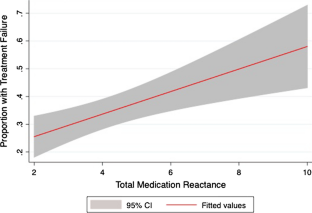 References
Enane LA, Vreeman RC, Foster C. Retention and adherence: global challenges for the long-term care of adolescents and young adults living with HIV. Curr Opin HIV AIDS. 2018;13(3):212–9.

Lowenthal ED, Bakeera-Kitaka S, Marukutira T, Chapman J, Goldrath K, Ferrand RA. Perinatally acquired HIV infection in adolescents from sub-Saharan Africa: a review of emerging challenges. Lancet Infect Dis. 2014;14(7):627–39.

Wood SM, Dowshen N, Lowenthal E. Time to improve the global human immunodeficiency virus/AIDS care continuum for adolescents. JAMA Pediatr. 2015;169(7):619–20.

Brehm JW. A theory of psychological reactance. Oxford: Academic Press; 1966. p. 135.

Steindl C, Jonas E, Sittenthaler S, Traut-Mattausch E, Greenberg J. Understanding psychological reactance: new developments and findings. Z Psychol. 2015;223(4):205–14.

Moreira P, Cunha D, Inman RA. Addressing a need for valid measures of trait reactance in adolescents: a further test of the Hong Psychological Reactance Scale. J Pers Assess. 2019;23:1–13.

Van Petegem S, Soenens B, Vansteenkiste M, Beyers W. Rebels with a cause? Adolescent defiance from the perspective of reactance theory and self-determination theory. Child Dev. 2015;86(3):903–18.

Miller CH, Burgoon M, Grandpre JR, Alvaro EM. Identifying principal risk factors for the initiation of adolescent smoking behaviors: the significance of psychological reactance. Health Commun. 2006;19(3):241–52.

Pavey L, Sparks P. Reactance, autonomy and paths to persuasion: examining perceptions of threats to freedom and informational value. Motiv Emot. 2009;33(3):277–90.

Grandpre J, Alvaro EM, Burgoon M, Miller CH, Hall JR. Adolescent reactance and anti-smoking campaigns: a theoretical approach. Health Commun. 2003;15(3):349–66.

Brown MJ, Serovich JM, Kimberly JA, Hu J. Psychological reactance and HIV-related stigma among women living with HIV. AIDS Care. 2016;28(6):745–9.

Fields EL, Bogart LM, Thurston IB, Hu CH, Skeer MR, Safren SA, et al. Qualitative comparison of barriers to antiretroviral medication adherence among perinatally and behaviorally HIV-infected youth. Qual Health Res. 2017;27(8):1177–89.

De las Cuevas C, de Leon J, Peñate W, Betancort M. Factors influencing adherence to psychopharmacological medications in psychiatric patients: a structural equation modeling approach. Patient Prefer Adherence. 2017;28(11):681–90.

Xu J. The impact of locus of control and controlling language on psychological reactance and ad effectiveness in health communication. Health Commun. 2017;32(12):1463–71.

Zhang X. Effects of freedom restoration, language variety, and issue type on psychological reactance. Health Commun. 2019;22:1–2.

Lee H, Cameron GT. Utilizing audiovisual and gain-framed messages to attenuate psychological reactance toward weight management health messages. Health Commun. 2017;32(1):72–81.

Han KJ, Kim S. Toward more persuasive diabetes messages: effects of personal value orientation and freedom threat on psychological reactance and behavioral intention. J Health Commun. 2019;24(2):95–110.

Richards AS, Banas JA. Inoculating against reactance to persuasive health messages. Health Commun. 2015;30(5):451–60.

Schwartz MB, Just DR, Chriqui JF, Ammerman AS. Appetite self-regulation: environmental and policy influences on eating behaviors. Obesity. 2017;25(S1):S26–38.

Lowenthal ED, Marukutira TC, Chapman J, Mokete K, Riva K, Tshume O, et al. Psychosocial assessments for HIV+ African adolescents: establishing construct validity and exploring under-appreciated correlates of adherence. PLoS ONE. 2014;9(10):e109302.

Morantz G, Heymann J. Life in institutional care: the voices of children in a residential facility in Botswana. AIDS Care. 2010;22(1):10–6.

Lowenthal ED, Ellenberg JH, Machine E, Sagdeo A, Boiditswe S, Steenhoff AP, et al. Association between efavirenz-based compared with nevirapine-based antiretroviral regimens and virological failure in HIV-infected children. JAMA. 2013;309(17):1803–9.

Lowenthal ED, Marukutira T, Tshume O, Chapman J, Nachega JB, Anabwani G, et al. Parental absence from clinic predicts human immunodeficiency virus treatment failure in adolescents. JAMA Pediatr. 2015;169(5):498–500.

Kim MH, Wanless RS, Caviness AC, Golin R, Amzel A, Ahmed S, et al. Multimonth prescription of antiretroviral therapy among children and adolescents: experiences from the Baylor International pediatric AIDS initiative in 6 African Countries. J Acquir Immune Defic Syndr. 2018;78(Suppl 2):S71–80.

Montalto GJ, Sawe FK, Miruka A, Maswai J, Kiptoo I, Aoko A, Oreyo C, Obiero E, Korir S, Bii SK, Song KX. Diagnosis disclosure to adolescents living with HIV in rural Kenya improves antiretroviral therapy adherence and immunologic outcomes: a retrospective cohort study. PLoS ONE. 2017;12(10):e0183180.

Córdova D, Lua FM, Ovadje L, Fessler K, Bauermeister JA, Salas-Wright CP, Vaughn MG, Leadership CY. Adolescent experiences of clinician–patient HIV/STI communication in primary care. Health Commun. 2018;33(9):1177–83.
Acknowledgements
The study team would like to thank the adolescents and staff at the Botswana-Baylor Children's Clinical Centre of Excellence for their support of this work. The project was made possible through core services and support from the Penn Center for AIDS Research (CFAR), an NIH-funded program (P30 AI 045008) the Penn Mental Health AIDS Research Center (P30 MH097488), D43 TW009781, and the Carole Marcus Mid-Career Award to Promote Career Development and Mentoring in Pediatric Research. This work was also supported by NIH K23 MH095669. The funders did not play a role in study design, analysis, or the decision to publish this research.
Additional information
Publisher's Note
Springer Nature remains neutral with regard to jurisdictional claims in published maps and institutional affiliations.
About this article
Cite this article
Lowenthal, E., Matesva, M., Marukutira, T. et al. Psychological Reactance is a Novel Risk Factor for Adolescent Antiretroviral Treatment Failure. AIDS Behav 25, 1474–1479 (2021). https://doi.org/10.1007/s10461-020-02986-z
Published:

Issue Date:

DOI: https://doi.org/10.1007/s10461-020-02986-z
Keywords
HIV

Adherence

Adolescent behavior

Antiretroviral therapy

Africa

Psychological reactance