Abstract
Along with other partners of key population groups, men who purchase sex (MWPS) contributed to around 18% of new reported HIV cases in 2018 among people aged 15–49 years worldwide. A systematic review was performed to evaluate interventions conducted to reduce HIV risk among MWPS in low- and middle-income countries (LMICs). A comprehensive search of studies published in Embase, Medline, Global Health, Scopus, and Cinahl was performed. Among 32,115 studies found, 21 studies met the review's inclusion criteria. Only four studies recruited MWPS, while the rest recruited groups often used as proxy populations for MWPS. The interventions were made primarily to increase HIV-related knowledge or perceptions through education and to improve condom usage rates through promotion and distribution. Few studies evaluated the impact of interventions on HIV testing rates and none looked at HIV treatment. Given the important role of testing as a prevention gate, together with UNAIDS' 90-90-90 testing and treatment coverage goals for people infected with HIV, more studies which evaluate the impact of HIV testing and treatment provision among this group are needed.
Access options
Buy single article
Instant access to the full article PDF.
USD 39.95
Price excludes VAT (USA)
Tax calculation will be finalised during checkout.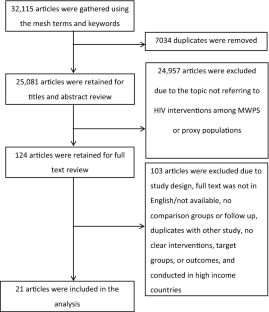 References
Carael M, Slaymaker E, Lyerla R, Sarkar S. Clients of sex workers in different regions of the world: hard to count. Sex Transm Infect. 2006;82(3):26–33.

Baral S, Beyrer C, Muessig K, Poteat T, Wirtz AL, Decker M, et al. Burden of HIV among female sex workers in low-income and middle-income countries: a systematic review and meta-analysis. Lancet Infect Dis. 2012;12(7):538–49.

Mulieri I, Santi F, Colucci A, Fanales-Belasio E, Gallo P, Luzi AM. Sex workers clients in Italy: results of a phone survey on HIV risk behaviour and perception. Annali dell'Istituto Superiore Sanita. 2014;50(4):363–8.

Goldenberg SM, Gallardo Cruz M, Strathdee SA, Nguyen L, Semple SJ, Patterson TL. Correlates of unprotected sex with female sex workers among male clients in Tijuana. Mexico Sex Transm Dis. 2010;37(5):319–24.

McClair TL, Hossain T, Sultana N, Burnett-Zieman B, Yam EA, Hossain S, et al. Paying for sex by young men who live on the streets in Dhaka city: compounded sexual risk in a vulnerable migrant community. J Adolesc Health. 2017;60(2):S29–S34.

Ng JYS, Wong M-L. Determinants of heterosexual adolescents having sex with female sex workers in Singapore. PLoS ONE. 2016;11(1):e0147110.

Xantidis L, McCabe MP. Personality characteristics of male clients of female commercial sex workers in Australia. Arch Sex Behav. 2000;29(2):165–76.

Ompad DC, Bell DL, Amesty S, Nyitray AG, Papenfuss M, Lazcano-ponce E, et al. Men who purchase sex, who are they? An interurban comparison. J Urban Health. 2013;90(6):1166–80.

Darling KE, Diserens EA, N'Garambe C, Ansermet-Pagot A, Masserey E, Cavassini M, et al. A cross-sectional survey of attitudes to HIV risk and rapid HIV testing among clients of sex workers in Switzerland. Sex Transm Infect. 2012;88(6):462–4.

Nadol P, Hoang TV, Le L, Nguyen TA, Kaldor J, Law M. High HIV prevalence and risk among male clients of female sex workers in Hanoi and Ho Chi Minh City, Vietnam. AIDS Behav. 2017. https://doi.org/10.1007/s10461-017-1751-4.

Reilly KH, Wang J, Zhu Z, Li SC, Yang T, Ding G, et al. HIV and associated risk factors among male clients of female sex workers in a Chinese border region. Sex Transm Dis. 2012;39(10):750.

Shaw SY, Parinita B, Isac S, Deering KN, Ramesh BM, Washington R, et al. A cross-sectional study of sexually transmitted pathogen prevalence and condom use with commercial and noncommercial sex partners among clients of female sex workers in Southern India. Sex Transm Dis. 2013;40(6):482–9.

Leng Bun H, Detels R, Heng S, Mun P. The role of sex worker clients in transmission of HIV in Cambodia. Int J STD AIDS. 2005;16(2):170–4.

Villarroel MA. Male clients of sex workers in the United States: correlates with STI/HIV risk behaviors and urbanization level. Sexually Transmitted Infections Conference: STI and AIDS World Congress. 2013;89.

Kolaric B. Croatia: still a low-level HIV epidemic?–seroprevalence study. Coll Antropol. 2011;35(3):861–5.

Wagner KD, Pitpitan EV, Valente TW, Strathdee SA, Rusch M, Magis-Rodriguez C, et al. Place of residence moderates the relationship between emotional closeness and syringe sharing among injection drug using clients of sex workers in the US-Mexico border region. AIDS Behav. 2015;19(6):987–95.

Niccolai LM, Odinokova VA, Safiullina LZ, Bodanovskaya ZD, Heimer R, Levina OS, et al. Clients of street-based female sex workers and potential bridging of HIV/STI in Russia: results of a pilot study. AIDS Care. 2012;24(5):665–72.

UNAIDS. Global AIDS update 2019—Communities at the centre. Geneva: UNAIDS; 2019.

UNAIDS. On the Fast-Track to end AIDS: UNAIDS Strategy 2016–2021 Geneva 2015.

Wariki WM, Ota E, Mori R, Koyanagi A, Hori N, Shibuya K. Behavioral interventions to reduce the transmission of HIV infection among sex workers and their clients in low- and middle-income countries. Cochrane Libr. 2012. https://doi.org/10.1002/14651858.CD005272.pub3.

Moher D, Liberati A, Tetzlaff J, Altman DG. Preferred reporting items for systematic reviews and meta-analyses: the PRISMA statement. PLoS Med. 2009;8(5):336–41.

Jackson N, Waters E. Criteria for the systematic review of health promotion and public health interventions. Health Promot Int. 2005;20(4):367–74.

Vandenbroucke JP, von Elm E, Altman DG, Gotzsche PC, Mulrow CD, Pocock SJ, et al. Strengthening the reporting of observational studies in epidemiology (STROBE): explanation and elaboration. Int J Surg. 2014;12(12):1500–24.

UNAIDS. UNAIDS Data 2017. UNAIDS; 2017.

Glasgow RE, Vogt TM, Boles SM. Evaluating the public health impact of health promotion interventions: the RE-AIM framework. Am J Public Health. 1989;89:1322–7.

Hargreaves JR, Delany-Moretlwe S, Hallett TB, Johnson S, Kapiga S, Bhattacharjee P, et al. The HIV prevention cascade: integrating theories of epidemiological, behavioural, and social science into programme design and monitoring. Lancet HIV. 2016;3(7):e318–e322322.

Hayes R, Kapiga S, Padian N, McCormack S, Wasserheit J. HIV prevention research: taking stock and the way forward. AIDS. 2010;24(Suppl 4):S81–S92.

Armstrong G, Medhi GK, Kermode M, Mahanta J, Goswami P, Paranjape RS. Exposure to HIV prevention programmes associated with improved condom use and uptake of HIV testing by female sex workers in Nagaland, Northeast India. BMC Public Health. 2013;13(1):476.

Celentano DD, Nelson KE, Lyles CM, Beyrer C, Eiumtrakul S, Go VFL, et al. Decreasing incidence of HIV and sexually transmitted diseases in young Thai men: evidence for success of the HIV/AIDS control and prevention program. AIDS. 1998;12(5):F29–F36.

Lipovsek V, Amajit M, Deepa N, Pritpal M, Aseem S, Roy KP. Increases in self-reported consistent condom use among male clients of female sex workers following exposure to an integrated behaviour change programme in four states in southern India. Sex Transm Infect. 2010;86(Suppl. 1):i25–i32.

Tambashe BO, Speizer IS, Amouzou A, Djangone AM. Evaluation of the PSAMAO "Roulez Protege" mass media campaign in Burkina Faso. Prevention du SIDA sur les Axes Migratoires de l'Afrique de l'Ouest. AIDS Educ Prev. 2003;15(1):33–48.

Lowndes C, Alary M, Labbe A, Gnintoungbe C, Belleau M, Mukenge L, et al. Interventions among male clients of female sex workers in Benin, West Africa: an essential component of targeted HIV preventive interventions. Sex Transm Infect. 2007;83:577–81.

Joint United Nations Programme on HIV/AIDS. Fast-tracking combination prevention: towards reducing new HIV infections to fewer than 500 000 by 2020. Geneva 2015.

World Health Organisation. Consolidated strategic information guidelines for HIV in the health sector. Geneva: World Health Organisation; 2015.

UNAIDS. 90-90-90 An ambitious treatment target to help end the AIDS epidemic: UNAIDS; 2014 [cited 2018 6 March]. Available from: https://www.unaids.org/sites/default/files/media_asset/90-90-90_en.pdf.

The Lancet HIV. Divergent paths to the end of AIDS. Lancet HIV. 2017;4(9):e375.

World Health Organisation. Consolidated guidelines on HIV testing services. Geneva: WHO; 2015.

World Health Organisation. Guidelines on HIV self-testing and partner notification: supplement to consolidated guidelines on HIV testing services. Geneva: World Health Organisation; 2016.

World Health Organisation. WHO recommends HIV self testing—evidence update and considerations for success. Geneva: World Health Organisation; 2019.

Thirumurthy H, Akello I, Murray K, Masters S, Maman S, Omanga E, et al. Acceptability and feasibility of a novel approach to promote HIV testing in sexual and social networks using HIV self-tests. J Int AIDS Soc. 2015;18:22–3.

Wulandari LPL, Kaldor J, Guy R. Brothel-distributed HIV self-testing by lay workers improves HIV testing rates among men who purchase sex in Indonesia. 2018 Australasian HIV&AIDS Conference; Sydney 2018.

Wulandari LPL, Kaldor J, Guy R. Uptake and acceptability of assisted and unassisted HIV self-testing among men who purchase sex in brothels in Indonesia: a pilot intervention study. BMC Public Health. 2020;20:730. https://doi.org/10.1186/s12889-020-08812-4.

Schick V, Calabrese SK, Herbenick D. Survey methods in sexuality research. Am Psychol Assoc. 2014. https://doi.org/10.1037/14193-004.

DiFranceisco W, McAuliffe TL, Sikkema KJ. Influences of survey instrument format and social desirability on the reliability of self-reported high risk sexual behavior. AIDS Behav. 1998;2(4):329–37.

Schaefer R, Gregson S, Fearon E, Hensen B, Hallett TB, Hargreaves JR. HIV prevention cascades: a unifying framework to replicate the successes of treatment cascades. Lancet HIV. 2019;6(1):e60–e6666.

Jewkes R, Nduna M, Levin J, Jama N, Dunkle K, Puren A, et al. Impact of Stepping Stones on incidence of HIV and HSV-2 and sexual behaviour in rural South Africa: cluster randomised controlled trial. BMJ. 2008;337(7666):391–5.

Jackson DJ, Rakwar JP, Richardson BA, Mandaliya K, Chohan BH, Bwayo JJ, et al. Decreased incidence of sexually transmitted diseases among trucking company workers in Kenya: results of a behavioral risk-reduction programme. Aids. 1997;11(7):903–9.

Celentano DD, Bond KC, Lyles CM, Eiumtrakul S, Go VF, Beyrer C, et al. Preventive intervention to reduce sexually transmitted infections: a field trial in the Royal Thai Army. Arch Intern Med. 2000;160(4):535–40.

Lau JT, Wong WS. Behavioural surveillance of sexually-related risk behaviours for the cross-border traveller population in Hong Kong: the evaluation of the overall effectiveness of relevant prevention programmes by comparing the results of two surveillance surveys. Int J STD AIDS. 2000;11(11):719–27.

Laukamm-Josten U, Mwizarubi BK, Outwater A, Mwaijonga CL, Valadez JJ, Nyamwaya D, et al. Preventing HIV infection through peer education and condom promotion among truck drivers and their sexual partners in Tanzania, 1990–1993. AIDS Care. 2000;12(1):27–40.

Leonard L, Ndiaye I, Asha K, Eisen G, Diop O, Mboup S, et al. HIV prevention among male clients of female sex workers in Kaolack, Senegal: results of a peer education program. AIDS Educ Prev. 2000;12(1):21–37.

Bronfman M, Leyva R, Negroni MJ. HIV prevention among truck drivers on Mexico's southern border. Cult Health Sex. 2002;4(4):475–88.

Williams BG, Taljaard D, Campbell CM, Gouws E, Ndhlovu L, Dam JV, et al. Changing patterns of knowledge, reported behaviour and sexually transmitted infections in a South African gold mining community. AIDS. 2003;17(14):2099–107.

Ross MW, Essien EJ, Ekong E, James TM, Amos C, Ogungbade GO, et al. The impact of a situationally focused individual human immunodeficiency virus/sexually transmitted disease risk-reduction intervention on risk behavior in a 1-year cohort of Nigerian military personnel. Mil Med. 2006;171(10):970–5.

Cornman DH, Schmiege SJ, Bryan A, Benziger TJ, Fisher JD. An information-motivation-behavioral skills (IMB) model-based HIV prevention intervention for truck drivers in India. Soc Sci Med. 2007;64(8):1572–84.

Bing EG, Cheng KG, Ortiz DJ, Ovalle-Bahamon RE, Ernesto F, Weiss RE, et al. Evaluation of a prevention intervention to reduce HIV Risk among Angolan soldiers. AIDS Behav. 2008;12(3):384–95.

Lau JTF, Wan SP, Yu XN, Cheng F, Zhang Y, Wang N, et al. Changes in condom use behaviours among clients of female sex workers in China. Sex Transm Infect. 2009;85(5):376–82.

Lafort Y, Geelhoed D, Cumba L, Lazaro C, Delva W, Luchters S, et al. Reproductive health services for populations at high risk of HIV: performance of a night clinic in Tete province, Mozambique. BMC Health Serv Res. 2010;10:144.

Lau JT, Tsui HY, Cheng S, Pang M. A randomized controlled trial to evaluate the relative efficacy of adding voluntary counseling and testing (VCT) to information dissemination in reducing HIV-related risk behaviors among Hong Kong male cross-border truck drivers. AIDS Care. 2010;22(1):17–28.

Pandey A, Mishra RM, Sahu D, Benara SK, Sengupta U, Paranjape RS, et al. Heading towards the Safer Highways: an assessment of the Avahan prevention programme among long distance truck drivers in India. BMC Public Health. 2011;11(6):S15.

Bai RL, Surya AV, Balasubramaniam R. Increasing awareness on prevention of HIV/AIDS in the clients of sex workers influencing their safe sexual practices. Int J BioSci Technol. 2012;5(13):67–75.

Himmich H, Ouarsas L, Hajouji FZ, Lions C, Roux P, Carrieri P. Scaling up combined community-based HIV prevention interventions targeting truck drivers in Morocco: effectiveness on HIV testing and counseling. BMC Infect Dis. 2015;15:208.
Additional information
Publisher's Note
Springer Nature remains neutral with regard to jurisdictional claims in published maps and institutional affiliations.
About this article
Cite this article
Wulandari, L.P.L., Guy, R. & Kaldor, J. Systematic Review of Interventions to Reduce HIV Risk Among Men Who Purchase Sex in Low- and Middle-Income Countries: Outcomes, Lessons Learned, and Opportunities for Future Interventions. AIDS Behav 24, 3414–3435 (2020). https://doi.org/10.1007/s10461-020-02915-0
Published:

Issue Date:

DOI: https://doi.org/10.1007/s10461-020-02915-0
Keywords
Systematic review

Interventions

Human immunodeficiency virus—HIV

Men who purchase sex

Clients of sex workers